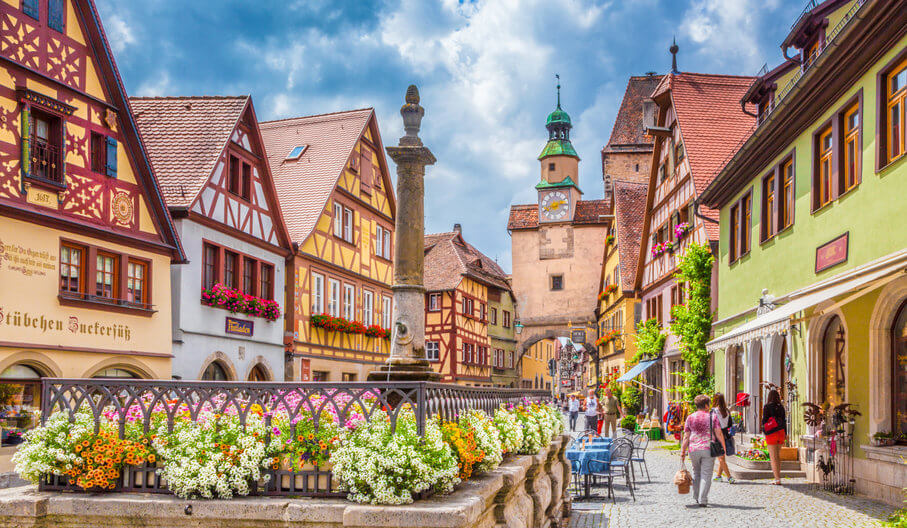 This list of upcoming fellowship deadlines includes German studies research grants for university students and post-graduates,  fellowships for graduate students to implement community research projects, a fully-funded PhD program in Health Policy and Management, funding for interdisciplinary post-graduate research teams, grants for policy researchers interested in U.S. inequality, a two-year research fellowship for scientific leaders interested in offshore energy system safety and coastal communities, and a visiting fellowship for journalists. You've got 8 weeks to apply — Let's get started!
Not ready to apply this year? Click the links to bookmark these fellowships to your ProFellow account.
Upcoming Fellowship Deadlines: May 1 – 7, 2022
German Studies Research Grant

: This specialized DAAD program offers up to ten German Studies Research Grants to highly qualified undergraduate and graduate students who are nominated by their department/program chairs. The grant may be used for short-term research (1-2 months) in either Germany or North America. The program is designed to encourage research and promote the study of cultural, political, historical, economic, and social aspects of modern and contemporary German affairs from an inter-and multidisciplinary perspective. / Due May 1, 2022
Study Abroad in Japan: Bridging Scholarships: The Bridging Project offers scholarships to American undergraduate students participating in at least a 3 month-long study-abroad program in Japan. A stipend of $2,500 (for students on semester-long programs) or $4,000 (for students on academic year programs) will be given to each candidate. Stipends will cover the travel and living expenses they will incur while studying abroad in Japan for a semester or an academic year. Applications are accepted twice a year for Bridging Scholarships. / Due May 1, 2022
IGNITE Fellowships: IGNITE recruits a new cohort of diverse and passionate women in communities across the United States and provides them with resources, training, and networks to launch political careers. Each Fellow launches a regional college council for 20-30 politically ambitious young women from a group of local college campuses. Each College Council meets for bi-monthly weekend retreats. Fellows represent the political spectrum and are deeply motivated, take initiative, have organizing experience on college campuses, and have a track record building new initiatives. IGNITE Fellows are compensated with a $10,000 stipend. Different deadlines for each city. / Due May 1, 2022
DAAD Research Grant

: Research Grants are awarded to highly qualified candidates who have completed either: a Master's degree or Diploma, a Bachelor's degree (by the time they begin their grant-supported research), or a  Ph.D. (postdoctoral candidates). Applications for long-term grants (7-10 months) are accepted annually in November. Short-term grants (1-6 months) accept applications in November and May. / Due May 1, 2022
Leo Baeck Institute – DAAD Fellowship

: The Leo Baeck Institute is a research, study, and lecture center whose library and archives offer comprehensive documentation for the study of the history and culture of German-speaking Jewry. Fellowships are awarded for research in New York or Germany on the social, communal, and intellectual history of German-speaking Jewry. Financial assistance is provided to doctoral students for dissertation research and to young academics for the preparation of a scholarly essay or book. / Due May 1, 2022
Group Study Visit

: DAAD offers financial support for academic information visits to Germany which are organized by faculty members for groups of students. Group Study Visit grants are intended to encourage contact with academic institutions, groups, and individuals in Germany, and offer insight into current issues in the academic, scientific, economic, political, and cultural realms. All departments are eligible for this funding. / Due May 1, 2022
Byron Hanke Fellowship

: The Foundation for Community Association Research (FCAR) awards its Byron Hanke Fellowship to selected graduate students to implement research projects related to the development, management, and governance of common interest communities and their community associations. Applicants must be enrolled, at the time of application and through the research period, in a graduate-level program (masters, doctoral, legal) at an accredited higher education institution in the United States or Canada. The Hanke Fellowship stipends range from $3,000-$5,000 over one year, or as determined by the Foundation. / Due May 1, 2022
Indiana University-Purdue University Fully Funded PhD Program in Health Policy and Management

: IUPUI offers a fully funded PhD program in Health Policy and Management. PhD students will focus on the creation of new knowledge that informs the advancement of health services delivery within and across the public, private, and non-profit sectors. With a PhD degree in Health Policy and Management, students will be well-prepared to take on independent research roles as academic faculty members. Collaboration with other schools at IUPUI is encouraged as students conduct their research and finish their thesis. Students are fully funded with packages including tuition remission, health insurance, and a living stipend. April 1 application deadline for international students and to receive priority for financial support is January 5. / Due May 1, 2022
Western University Fully Funded PhD in Chemical and Biochemical Engineering: Western University in Ontario, Canada offers a fully funded Ph.D. Program in Chemical and Biochemical Engineering. The Ph.D. is a 4-year research program working closely with an advisor. There are several fields of research to focus on including biomaterials and biochemical, environmental and green, macromolecular and materials, particle technology and fluidization, and reaction and process systems. Funding comes from a mixture of scholarships, fellowships, studentships, and grants. Minimum aid for Ph.D. students includes a full tuition waiver and a stipend of $14,000 CAD per year. Deadlines vary for domestic and international applicants in the fall, winter, and summer. / Due May 1, 2022
Dalla Lana Fellowship in Global Journalism: Each year, the University of Toronto selects 15 outstanding people from around the world with specialist knowledge of their discipline for an 8-month fellowship. Applicants must have a graduate degree, or professional degree, or a few years' work experience in their discipline; have strong communications instincts; and are hungry to cover their disciplines as journalists in all platforms including print, online, broadcast, and radio, full-time or part-time. Prior experience as a journalist is NOT necessary, but some specific qualities are. Fellows graduate with a Certificate in Global Journalism. Fellowship provides $20,000 towards tuition. / May 2, 2022
David Bohnett Victory Congressional Fellowship: The Victory Institute is offering a year-long intensive leadership fellowship for one outstanding LGBTQ young professional. The fellow will work in the office of a co-chair of the LGBT Equality Caucus supporting the Executive Director of the LGBT Equality Caucus and learning about the legislative process and careers in policy-making. The LGBTQ Leaders Conference begins the fellowship in December and many more networking opportunities are available throughout the year. Eligible applicants must be US citizens, 21 years of age before the start date, and hold a bachelor's degree or graduate degree from an accredited university. A stipend of $30,000 will be allotted as well as healthcare reimbursements and airfare. / May 3, 2022
Echoing Green Fellowship: This is a full-time, 1.5-year Fellowship for people working on a plan to make the world better in a big way through their own organizations. Social innovators, visionary leaders, and change-makers who identify as Black, Indigenous, and people of color who are committed to upending structural oppression and creating change in their communities so that all people can thrive are strongly encouraged to apply. Fellows can be based anywhere in the world and must be the primary decision-maker and able to commit full-time to your organization. Organizations can be structured as nonprofit, for-profit, or hybrid. A stipend over 18 months (80,000 USD) is provided.
Interdisciplinary Research Leaders

: Fellows in this national leadership development program are researchers and community partners working together in three-person teams. Some are advancing existing projects; others represent new and unexpected collaborations that bring many perspectives to a critical issue. Individuals must apply as part of a team of three—two researchers and one community partner (teams can be newly formed or already existing). Researchers must have a terminal degree (PhD, MD, DrPH) or a master's degree with extensive professional experience. The time commitment is approximately one day per week–approximately 20% FTE — for three years. To support the fellows' time to participate in the program, each fellow will receive financial support of $25,000 per person for each year of the three-year program. / Due May 4, 2022
William T. Grant Foundation Research Grants

: The William T. Grant Foundation Grants support high-quality research that is relevant to policies and practices that affect the lives of young people ages 5 to 25 in the United States. Grants are to be used for programs, policies, and practices that reduce inequality in youth outcomes and benefit American youth. Research grants about reducing inequality typically range between $100K to $600K and cover 2-3 years of support. Research grants about improving the use of research initiatives will range between $100K to $1M and cover 2-4 years of support. The Foundation supports a diverse group of researchers who are currently employed at a tax-exempt organization. / Due May 4, 2022
Gulf Research Program: Early-Career Research Fellowships

: The Gulf Research Program's Early-Career Research Fellowship supports emerging scientific leaders as they take risks on research ideas not yet tested, pursue unique collaborations, and build a network of colleagues who share their interest in improving offshore energy system safety and well-being of coastal communities and ecosystems. The program provides a grant of $76,000 to support the fellow for 2 years of research which can be used to cover costs, salaries, and other professional expenses. Applicants must have received their final degree within the last 10 years and be employed at a research organization. / Due May 4, 2022
Russell Sage Foundation's Visiting Journalists Fellowship

: The Visiting Journalists Fellowship provides journalists the time and resources needed to carry out an original project focused on social, economic, or political conditions in the United States. RSF provides an environment where journalists and social scientists can interact with the goal of making journalistic work more informed and social science research more valuable and accessible to the public. Fellows receive a stipend of $8,000 per month for full-time visits of up to three months and are provided with an office at the Foundation, computers and software, library access, and limited research assistance. / Due May 4, 2022
Laboratory Leadership Service Fellowship: This 2-year program in Atlanta, GA bridges lab science and public health and teaches fellows how to lead a public health laboratory or program. Fellows conduct cutting-edge research, support rapid response to disasters and disease outbreaks, help investigate emerging health threats, and enhance the laboratory systems and practices that are essential for public health. Fellows experience the practical application of laboratory methods to a wide range of contemporary public health problems. Fellows should have PhDs in a laboratory-related discipline or other relevant field and at least 2 years of post-graduate laboratory experience. / Due May 6, 2022
The Coelho Center Law Fellowship: The Coelho Center Law Fellowship Program targets early-year college students with disabilities to intervene and provide encouragement, support, and mentorship that is crucial to success. In particular, they believe in creating a strong pipeline of law students with disabilities who will go on to serve as attorneys, judges, public policy professionals, and politicians. Their ultimate goal is to increase representation in policy spaces where decisions are being made. Students will attend a two-week summer intensive course held virtually and an academic year-long virtual course. There is a $1,000 stipend upon completion of the program. / Due May 6, 2022
Bryce Harlow Fellowship: The Bryce Harlow Fellowship supports highly motivated students in pursuit of a career in professional advocacy through government relations and lobbying. Fellowships are awarded to individuals who undertake graduate-level studies on a part-time basis and work full-time. Graduate programs may include but are not limited to, public policy, law, and business. The $8,000 award will help defray tuition costs and will be paid directly to the university. Students will also receive mentoring from the foundation's board members and career development support throughout the fellowship, which can be renewed each year of the graduate degree. / Due May 6, 2022
City Year Corps: City Year Americorps Members are as diverse a group as the communities they serve. We're looking for individuals to commit to one year of service to work alongside teachers and their peers to support the students who need that extra attention, to work on a diverse team, and who are ready to make a difference through a challenging and fulfilling experience. Applicants must be able to dedicate 11 months to full-time service; be between ages 18 and 25, and be a U.S. citizen or legal permanent resident alien. City Year operates in 24 locations in the U.S. Multiple deadlines. / Due May 6, 2022
Don't see what you're looking for? Sign up to discover and bookmark more than 1500 professional and academic fellowships in the ProFellow database.
© ProFellow, LLC 2022, all rights reserved.