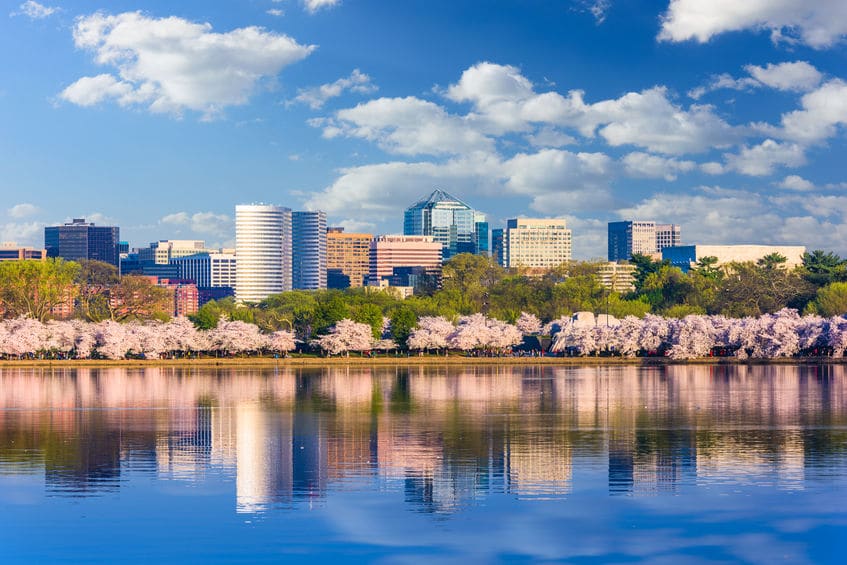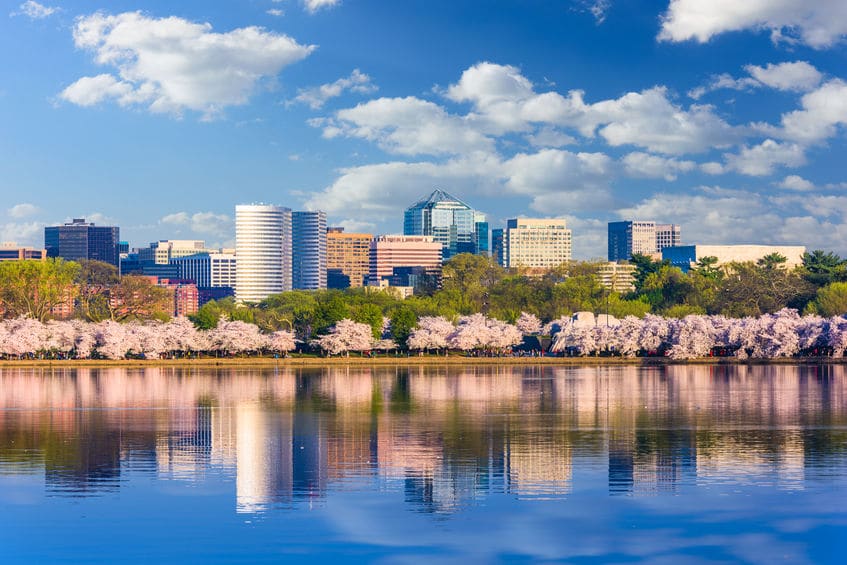 You've got 8 weeks to apply! This week's list includes a program with the U.S. Federal Government, a summer teaching fellowship, a research grant, and an award for graduate students. There is also a unique opportunity for social entrepreneurs! Apply now!
Not ready to apply this year? Click the links to bookmark these fellowships to your ProFellow account.
Upcoming Fellowship Deadlines: May 3 – 9, 2020
Presidential Innovation Fellows

: The Presidential Innovation Fellows (PIF) program is a highly competitive 1-year fellowship that seeks to attract top innovators into government, capable of tackling issues at the convergence of technology, policy, and process. Fellows are embedded within federal agencies to collaborate on challenges with innovators. Fellows are based in Washington D.C. for the duration of the Fellowship, and are considered full-time employees of the federal government. Fellows receive a GS15 level salary, which typically ranges between $120-150,000. We accept applications throughout the year and hire on a rolling basis depending on the needs of our agency partners. / Due / May 4, 2020
America Needs You Fellows Program: America Needs You helps first-generation college students, who are the first in their families to attend college, select, secure, and succeed in their careers. The Fellows Program is an intensive mentoring and training program where Fellows develop relationships with highly accomplished community and business leaders. ANY Fellows attend 28 full-day workshops over two years, receiving intense career development and leadership training. All Fellows are matched one-on-one with a young professional Mentor Coach dedicated to their personal and professional growth. Fellows earn a $2,500 professional development grant. / Due May 4, 2020
Insight Data Science Fellows Program: Insight is an intensive, seven week postdoctoral training fellowship that bridges the gap between academia and a career in data science. Based in Silicon Valley, New York City, Boston, Seattle, as well as a growing network across the country, the program enables scientists to learn the industry-specific skills needed to work in the growing field of big data at leading companies. The program includes a full tuition scholarship for all accepted students and living stipends are also available to help cover costs while attending. International applicants are welcome but must obtain a visa to stay in the U.S. for the duration of the program. / Due May 4, 2020
Moton Fellowship Program: Dr. Robert Russa Moton was an African American educator and author. The Moton Fellowship Program, named after Dr. Moton, offers a select group of highly motivated undergraduate and graduate students the opportunity to experience one-on-one coaching and mentoring from some of the leading experts and practitioners in business, government and nonprofit organizations. Fellows are paid a $1,500 stipend over the course of the summer. The program recruits exceptional students to a fellowship designed to produce the next generation of world-class leaders. Fellows are selected to work at the Gloucester Institute's Moton campus in downtown Richmond, Virginia. / Due May 4, 2020
Generation Teach

: Generation Teach provides six- or seven-week summer teaching fellowships to undergraduate students (freshman, sophomore, and juniors) in Boston, Denver, Holyoke, MA, and Providence, RI. Fellows complete two weeks of full-time training, learn core instructional strategies and practice key teaching skills, and work closely with a professional teacher. Fellows receive scholarships of $1,650 – $2,000 or subsidized housing and $750 scholarships. / Due May 5, 2020
William T. Grant Foundation Research Grants

: The William T. Grant Foundation Grants support high-quality research that is relevant to policies and practices that affect the lives of young people ages 5 to 25 in the United States. Grants are to be used for programs, policies, and practices that reduce inequality in youth outcomes and benefit American youth. Research grants about reducing inequality typically range between $100K to $600K and cover 2-3 years of support. Research grants about improving the use of research initiative will range between $100K to $1M and cover 2-4 years of support. The Foundation supports a diverse group of researchers who are currently employed at a tax-exempt organization. / Due May 6, 2020
DOE Office of Science Graduate Student Research (SCGSR) Program

: The SCGSR program provides supplemental awards to outstanding U.S. graduate students to pursue part of their graduate thesis research at a Department of Energy (DOE) laboratory in areas that address scientific challenges central to the Office of Science mission. The award period for the proposed research project at DOE laboratories may range from 3 to 12 consecutive months. Awardees are eligible to receive a monthly stipend in the amount of up to $3,000. Applicants must be U.S. Citizens or Permanent Resident Aliens. / Due May 6, 2020
Fulbright Specialist Program: The Fulbright Specialist Program is a unique opportunity for U.S. academics and established professionals to engage in two- to six-week, project-based exchanges at host institutions in over 150 countries. Specialists, who represent a wide range of professional and academic disciplines, are competitively selected to join the Fulbright Specialist Roster based on their knowledge, skill sets, and ability to make a significant contribution to projects overseas. Specialists receive full funding to participate in Fulbright Specialist projects, including travel, stipend and lodging. / Due May 6, 2020
TOMODACHI- Mitsui & Co. Leadership Program: Ten American and ten Japanese young professionals will travel to each other's country for one week to meet with leaders from business and government. The focus will be on innovation, new technology, and industrial development in the context of U.S.- Japan relations. The American delegation will travel to Fukushima Prefecture and Tokyo, and the Japanese delegation will travel to Silicon Valley in California and Washington, D.C. for the week-long fellowship. Eligible applicants up to age 40 with English proficiency and professional accomplishments in the field of industrial development are invited to apply. / Due May 7, 2020
Wellcome Trust International Training Fellowships: The International Training fellowships offer nationals of low- and middle-income countries the opportunity to receive training at the postgraduate or postdoctoral level. Research proposals should focus on a health priority in a low- or middle-income country. The fellowship is for 3 years and includes a salary plus coverage of other fees and research costs. Fellows are encouraged to collaborate with researchers in other low- and middle-income countries. Fellows will work with a sponsoring institution to learn new skills and become leaders in independent research. / Due May 7, 2020
Are you interested in Social Entrepreneurship?
Apply for the ProFellow Social Entrepreneurship Fellowship!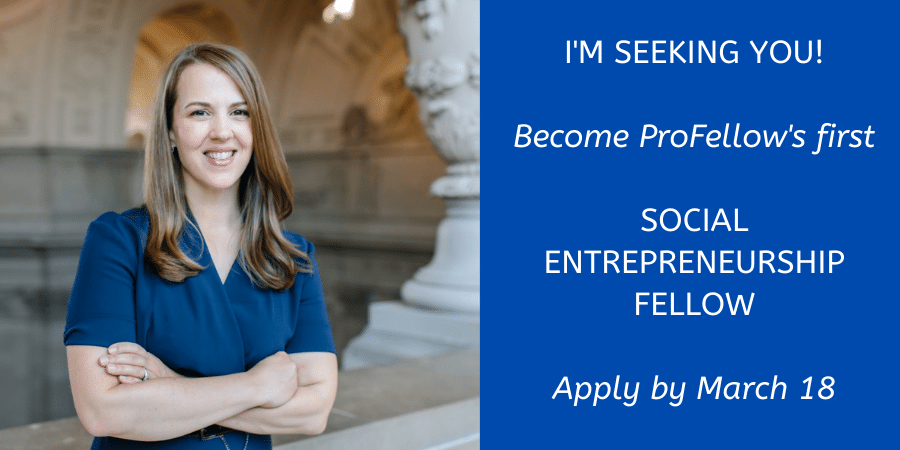 We are seeking a Social Entrepreneurship Fellow to join our team for a 6-month full-time professional fellowship from April 2020 to September 2020 (start and end date is flexible). This fellow will have the opportunity to work directly with ProFellow CEO Dr. Vicki Johnson to learn the nuts & bolts of running a global social enterprise and the strategies to sustaining a social impact mission through entrepreneurship. The fellowship is fully remote with flexible hours. Learn more here.


© Victoria Johnson 2020, all rights reserved.