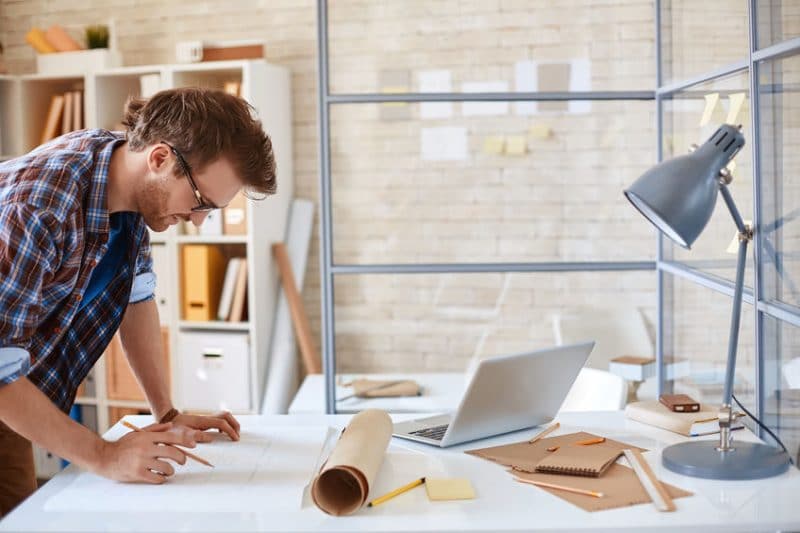 If you're passionate about impactful design, these fellowships would be a great way to make a positive difference through your creative work. This list includes opportunities for designers in various fields, including specialists in web, fashion, architecture, interior, and industrial design, among others. The programs take place all over the world, including Italy, India, California, New Jersey, Massachusetts and more. If one of these sounds exciting to you, be sure to bookmark it to your ProFellow account!
Through Code for America's fellowship program, talented web developers, designers, and entrepreneurs leverage the power of the internet to make governments more open and efficient. CfA is revisiting how best to connect local talent with local needs through the fellowship and will be relaunching in mid-2018. Bookmark this listing for updates. Fellowship applications open on February 11.
d.fellowship Teaching Fellowship
The d.school teaching fellowship is a 12.5 month program aimed at developing excellence in experiential teaching and learning of design thinking. Fellows are creative professionals excited about the future of design and science, the intersection of k12 education and systems design, or the possibilities of merging design with public policy. Fellows teach courses, work in small groups and have a high degree of autonomy. Candidates must have significant design and design thinking experience outside of school, currently working as a designer or in a creative role and hold a Master's Degree or higher.
The Effective Philanthropy Learning Initiative Fellowship position is intended for behavioral scientists or social scientists, designers/design thinkers, or data scientists who want to be part of a unique lab working at the intersection of academia and the philanthropy sector, or for people with deep knowledge of the philanthropy sector to conduct research and develop user friendly tools for philanthropic intermediaries. These are full-time contractor positions, for a duration of 9 months. Fellows will be provided with a stipend of $50,000-60,000 for 9 months and a travel stipend to cover a portion of local ground transportation.
This is a full-time year-long position sponsored by Chime for Change – Gucci's inclusion project – and promoted by the Design Department of Politecnico di Milano. The selected candidate will lead the design processes of an early stage award-winning circular design brand, I was a Sari. Candidates should be experienced fashion designers with a master's degree in fashion design. Stipend for the fellowship is Euro 19,367 net p.a. Designers will work both in Milan with the faculty team of the Design Department of Politecnico di Milano and at the I was a Sari social business's office in Mumbai, India.
The SCH+ARC Studio is offering a 3-month intensive fellowship program for emerging female practitioners who seek to impact social outreach through design. Fellows engage in design-advocacy projects along one of four impact tracks : community enrichment, social equity, environmental awareness, and educational access. This fellowship is open to female students or recent design graduates in architecture, interior design, industrial design, and related disciplines. Program will run from June 3- August 17.
Loeb Fellows represent the broadest spectrum of accomplished practitioners who are influential in shaping the built and natural environment and whose work advances positive social outcomes. Loeb Fellows are architects and landscape architects, urban planners and journalists, public artists and affordable housing developers. After a transformative Fellowship year in residence at the Harvard Graduate School of Design, they join a powerful worldwide network of over 450 colleagues and friends. The stipend for the academic year is $50,000 and the fellowship covers the cost of housing for Fellows and their families coming from outside the Boston area.
Princeton Arts Fellowships will be awarded to artists whose achievements have been recognized as demonstrating extraordinary promise in any area of artistic practice and teaching. Applicants should be early career poets, novelists, choreographers, playwrights, designers, performers, directors, filmmakers, composers, and performance artists. Princeton Arts Fellows spend two consecutive academic years (September 1-July 1) at Princeton University and formal teaching is expected. An $80,000 a year stipend is provided. One need not be a U.S. citizen to apply.
Sketch Model: Olin College Creative Residency
Olin College of Engineering hosts a creative residency program, an initiative that's part of Sketch Model, supported by the Andrew W. Mellon Foundation, to bring artists and other creative practitioners to Olin's campus to awaken the political and cultural contexts for technology. The residency is a one-year opportunity for early, mid-, and late-career practitioners and/or scholars in the arts or humanities to carry out independent projects, collaborative engagement with students and faculty, and campus-wide events. Practitioners can come from the fine arts, design and architecture, craft, music, theatrical or dance performance, film, writing, new media, and the many hybrid forms of socially engaged and durational practices in contemporary global culture.  The stipend for the year is $75,000.
SOM Prize and Travel Fellowship Awards in Architecture, Design & Urban Design
The SOM Prize is a $50,000 research and travel fellowship that enables one outstanding applicant the opportunity to travel in connection with carrying out in-depth research on a subject of their choosing; to meet with other professionals in the field; and to pursue study outside the realm of established patterns. A second award, the $20,000 SOM Travel Fellowship, offers an applicant the opportunity to expand their professional education beyond the classroom through the observation of buildings, design, culture and history that can only be achieved through travel. U.S. Citizenship is not required.
Space & Society Fellowship
MASS is currently seeking applications for the inaugural Space & Society Fellowship. The Space & Society Fellowship creates an avenue for participation in related themes by pairing emerging architects and designers with projects and research topics that address inequities in the built environment. Over the course of a year, fellows will work on project teams and develop research and community engagement projects. Although the Fellowship will be primarily based in Boston, there is the possibility of travel and/or work in other offices, depending on project scope.
© Victoria Johnson 2019, All rights reserved