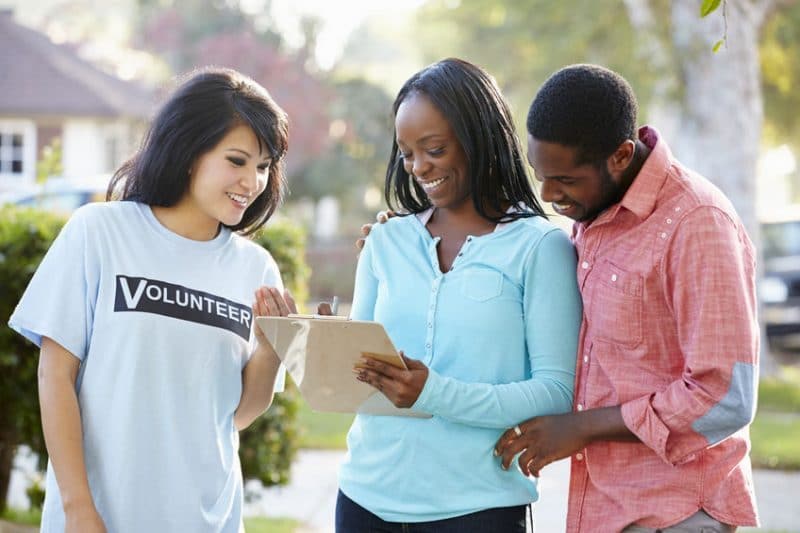 If you're looking for a meaningful way to plunge into the workforce after college, these nonprofit fellowships for recent graduates will be up your alley! These programs offer hands-on experience at nonprofits across the United States and represent various missions including fighting poverty and hunger, furthering democracy, and assisting journalism and law nonprofit organizations. If one of these sounds exciting to you, be sure to bookmark it to your ProFellow account!
AmeriCorps VISTA is the national service program designed specifically to fight poverty. VISTA members commit to serve full-time for a year at a nonprofit organization or local government agency, working to fight illiteracy, improve health services, create businesses, strengthen community groups, and much more. The AmeriCorps VISTA program provides a living allowance that enables you to live very frugally, like the community you are serving. In successfully completing your year of service, you're eligible to receive either the Segal AmeriCorps Education Award or the end-of-service cash stipend. AmeriCorps VISTA is open to all U.S. citizens, nationals, or lawful permanent resident aliens age 18 and older.
CORO Pittsburgh seeks to engage the next generation of diverse leaders who have a passion for working across sectors to build a stronger democracy. The CORO Fellowship is a 9-month, full-time intensive training program designed for young leaders (age 21-35). Pittsburgh Fellows are placed for 6 to 30 weeks in local nonprofit, government, labor, business, and community-based organizations. All applicants selected into the Pittsburgh program receive a full tuition scholarship and a monthly living stipend of $1,300.
The El Pomar Fellowship is a two-year program focused on cultivating the next generation of leaders in the state of Colorado. Fellows learn everything from marketing and development to management and leadership, and go on to become nonprofit CEOs, public officials, graduate students, and business executives. Candidates must be graduates of a four-year university or college and have a Colorado connection (resident, student/graduate from a Colorado college or university, immediate family) and/or an explicit interest in serving the communities of Colorado. Fellows receive a competitive salary and benefits.
For up to 13 weeks over the spring, summer, or fall, Future Leaders in Action ("FLIA") places fellows, emerging social sector leaders in youth-oriented nonprofit organizations to develop or implement enrichment programs which cultivate their leadership skills. Fellows work full-time, on-site with a partner on an enrichment program that focuses on one of the following areas: advancing skills for success, promoting public health and protecting the environment. There are fellowships available in New York, Portland and Iowa and past partners have included Boys & Girls Clubs, the Fiver Children's Foundation, Big Brothers Big Sisters and other health-related organizations.
The New York City Office of Emergency Management is accepting applications for the John D. Solomon Fellowship for Public Service. Fellows will complete a nine-month, paid fellowship in a New York City government agency or nonprofit focusing on emergency management. Graduate students in the fields of emergency management, public safety, journalism, social work, law, or a related field are eligible. For further eligibility requirement and to learn more about participating agencies, visit the fellowship Website.
The Ben Bagdikian Fellowship Program offers a crash course in investigative journalism. It also supports emerging journalists and media professionals, allowing them to make invaluable contributions to a high-flying news organization. Based in San Francisco or Washington, DC, Mother Jones fellows dive deep into every aspect of a national multimedia outfit—from the making of news, to making it pretty, to ensuring its impact, to mastering the inner workings of nonprofit publishing. Fellows receive a $1,500 monthly stipend. After six months, fellows can apply to stay on for a 6-month senior fellowship with an increased $1,800 monthly stipend.
OSF Fellowship in Nonprofit Law
The OSF Fellowship in Nonprofit Law permits a fellow to spend 1 year in residence at the Open Society Foundations Office of the General Counsel, working with the General Counsel and the staff of attorneys on legal issues facing the Foundations. A Fellowship at OSF will provide a recent law school graduate with exposure to an unusually wide variety of legal and organizational issues encountered by private foundations. Fellows are selected for their scholarship, leadership, and commitment to practicing in the field of nonprofit law. The fellowship includes a salary of $65,000+, plus additional benefits.
Public Allies identifies talented young adults who have a passion to make a difference and helps them turn that passion into a career. Allies become leaders who can bring people together, lead projects and organizations, and commit to creating a more just society. Our 10-month-long AmeriCorps program offers a full-time, paid apprenticeships at a nonprofit organization. Each Public Allies program provides a stipend of $1,300-$1,800 per month, health insurance, child care, interest-free student loan deferment and a post-service education award of $5,500. Application deadlines vary by location.
Emerson Hunger Fellows shape and implement local anti-hunger programs all over the U.S., and then research and support national policy initiatives in Washington, D.C. Fellows are placed for 5 months with community-based organizations involved in fighting hunger and poverty at the local level. In mid-February, the Fellows regroup in Washington, D.C. to debrief and share their field experiences and participate in an extensive policy training. Fellows then work in nonprofit organizations and government agencies on national level policies. The fellowship is for 1-year and offers a salary and benefits.
The Walter Sondheim Jr. Public Service Law Fellowship is offered to students attending either of Maryland's two law schools, The University of Maryland Francis King Carey School of Law and the University of Baltimore School of Law.  Fellows intern in the public service law sector, usually within the Office of the State's Attorney for Baltimore City, the Maryland Attorney General's Office, or in a nonprofit or government organization which assists in providing legal services to low-income or under-represented individuals or groups.  Fellows are paid a $3,000 stipend and the program runs from May to August.
© Victoria Johnson 2019, all rights reserved