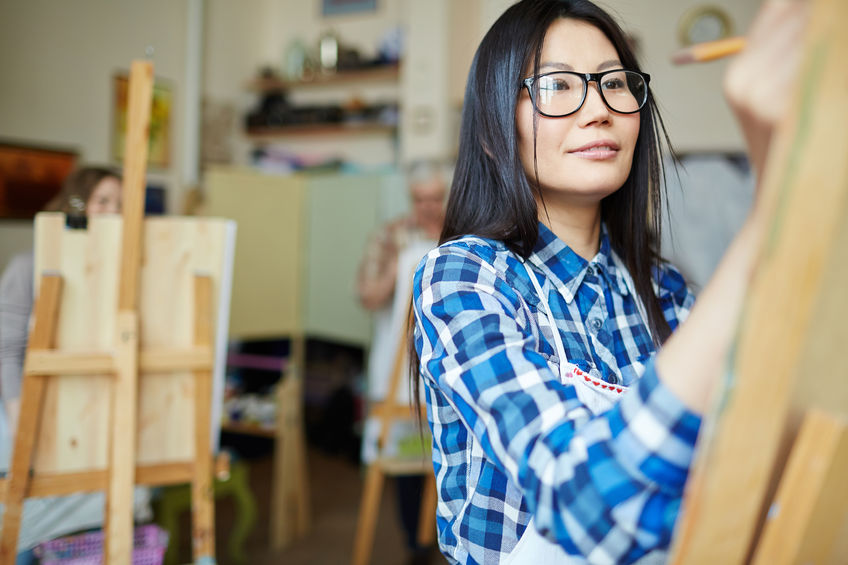 There are a wide range of art fellowships in the U.S. and abroad for emerging and established artists seeking a residency or opportunities to teach, conduct research, engage with multidisciplinary scholars or give back to their local community. Click the links below to bookmark these unique fellowships for artists to your ProFellow account.
Often characterized as "midcareer" awards, Guggenheim Fellowships are intended for men and women who have already demonstrated exceptional capacity for productive scholarship or exceptional creative ability in the arts. Guggenheim Fellowships are grants to selected individuals for 6-12 months. No special conditions attach to them, and Fellows may spend their grant funds in any manner they deem necessary to their work. Open to citizens and permanent residents of the United States and Canada.
The Hodder Fellowship will be given to writers and non-literary artists of exceptional promise to pursue independent projects at Princeton University during the academic year. Potential Hodder Fellows are writers, composers, choreographers, visual artists, performance artists, or other kinds of artists or humanists who have "much more than ordinary intellectual and literary gifts"; they are selected more "for promise than for performance." Given the strength of the applicant pool, most successful Fellows have published a first book or have similar achievements in their own field. Provides a stipend of $75K. Open to all citizenships.
DAAD scholarships offer graduates the opportunity to continue their education in Germany with a postgraduate or continuing course of study. Foreign applicants who have gained a first university degree in the fields of Fine Art, Design/Visual Communication and Film are eligible. In this study programme, you can complete: a Master's degree/postgraduate degree leading to a final qualification, or a complementary course that does not lead to a final qualification at a state or state-recognised German university of your choice (not an undergraduate course). If you are not a citizen of the United States or Canada, it is usually required that your last degree was obtained in the US/Canada, or you will have received a degree here before your scholarship starts.
Radcliffe Fellows are award-winning artists, academics, and professionals who convene at the Radcliffe Institute for Advanced Study at Harvard University for a full year to focus on individual projects and research while benefiting from a multidisciplinary community in the University setting. Stipends are funded up to $70,000 for one year with additional funds for project expenses. Fellows receive office or studio space and access to libraries and other resources of Harvard University during the fellowship year, September through May. Deadlines vary by discipline, check website.
For over a century, the American Academy in Rome has awarded the Rome Prize to support innovative and cross-disciplinary work in the arts and humanities. Prize recipients are invited to Rome, Italy for five months or eleven months to immerse themselves in the Academy community. Each Rome Prize winner is provided with a stipend, meals, a bedroom with private bath, and a study or studio. Those with children under 18 live in partially subsidized apartments nearby. Winners of half-term and full-term fellowships receive stipends of $16,000 and $28,000, respectively. Winners of the Two-Year fellowships receive $28,000 annually.
Artists' Fellowships are $7,000 cash awards made to individual originating artists living and working in the state of New York for unrestricted use. Grants are awarded in 15 artistic disciplines, with applications accepted in five categories each year. To be eligible for a NYFA Fellowship, applicants must be a resident of New York State for at least two years prior to the application deadline and cannot be enrolled in a degree program of any kind.
Each year, the AAF/Seebacher Prize for Fine Arts offers U.S.-based fine arts graduate students, or those who have completed their graduate studies within the past 2 years, the opportunity to study at the International Summer Academy of Fine Arts Salzburg in Austria. Up to 5 Fine Arts Fellows are selected annually by a jury of artists and arts professionals. Fellows are invited to attend a specific course at the Summer Academy and participate in daily classes for 2-5 weeks. The fellowship covers tuition to one Summer Academy course, $1,000 for travel expenses, accommodation and a small stipend.
The Native Arts and Cultures Foundation Fellowships are an annual program that supports Native artists in dance, filmmaking, literature, music, traditional arts, and visual arts. Grants of $20,000 will be awarded in recognition of the creativity and expression of exceptional Native artists who have had a significant impact on their discipline. Artists must demonstrate artistic excellence, earned respect from their colleagues, and achieved broad recognition. To be eligible, artists must be a member of a federally and state-recognized tribe in the United States, an Alaska Native, or a Native Hawaiian.
Kresge Arts in Detroit provides significant financial support for Kresge Artist Fellowships annually, each consisting of a $25,000 award and professional practice opportunities for emerging and established metropolitan Detroit artists in the dance/music, film/theatre, literary arts and visual arts. The Kresge Artist Fellowships are given to artists whose commitment to artistic achievement, in contemporary or traditional forms, is evident in the quality of their work. Fellowship applications are accepted by artists who are current legal residents of the metropolitan Detroit tri-county area (Macomb, Oakland or Wayne counties) in Michigan.
© Victoria Johnson 2017, all rights reserved