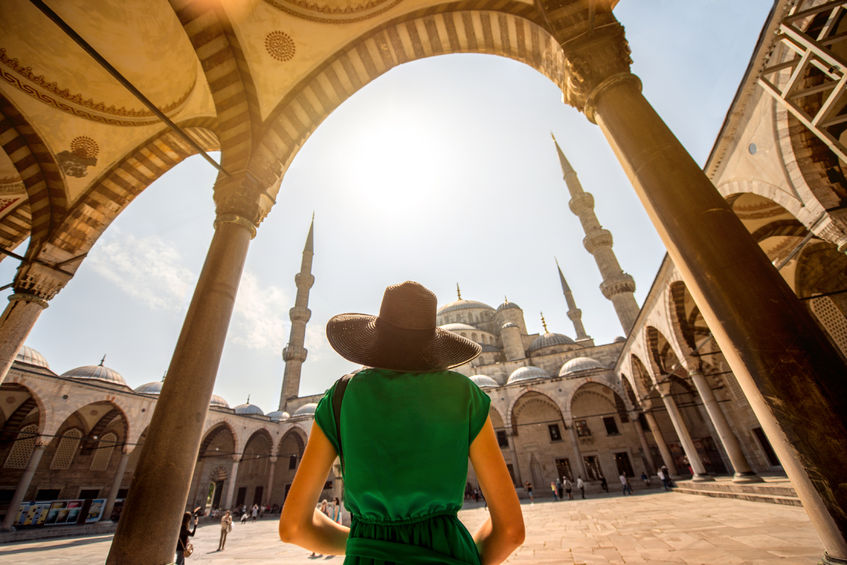 Every year, thousands of Americans apply for the Fulbright U.S. Student Awards. This highly competitive fellowship program sponsored by the U.S. government funds an exciting year of study, research or English-teaching abroad in one of more than 140 countries. The awards are geared towards graduating seniors and recent bachelor's degree recipients, Master's and doctoral candidates, and young professionals, including writers, creative and performing artists, journalists, and those in law, business, and other professional fields.The upcoming deadline to apply is October 6, 2017.
Given how hard you have worked on your Fulbright application, you may want to apply to Fulbright alternatives (considering that some Fulbright countries have an award rate of less than 5%). The good news is, there are a large number of international fellowships that provide merit-based awards to fund an extraordinary experience abroad.
The U.S. Department of State's Benjamin A. Gilman International Scholarship is a grant program that enables students of limited financial means to study or intern abroad, thereby gaining skills critical to national security and economic competitiveness. The Gilman Scholarship Program is open to U.S. citizen undergraduate students who are receiving Federal Pell Grant funding at a two-year or four-year college or university to participate in study and intern abroad programs worldwide. Award amounts will vary depending on the length of study and student need. Multiple deadlines per year, check the website. Deadline: October 3, 2017
America Solidaria is an international non-profit that places Spanish-speaking international fellows in local nonprofit organizations across Latin America to serve for a year in capacity-building projects focused on education, health, and economic development. Applicants should have a strong desire to implement local projects that build capacity for communities living in poverty and inequality. Candidates must be a U.S. citizen or permanent resident; 35 years or younger; possess a bachelor's degree or equivalent; possess professional experience in the NGO/nonprofit/social or public sector, and demonstrate Spanish language ability. Deadline: early October; review of applications will begin on October 24, 2017.
Kiva Fellows
A Kiva fellowship allows you to immerse yourself in the culture and language of your host country or region for 6 months while applying your skills in new ways with one or more of 300 Field Partners. You'll gain a behind-the-scenes understanding of microfinance and social enterprise. The Kiva Fellows Program has a small budget to help offset costs by reimbursing fellows for international travel (up to $1,500) and monthly living expenses (up to $2,500 total for a 6-month fellowship, or around $400/month). Kiva fellows must be 21 years of age by the start of the training week. You must be able to legally travel to the U.S. for the week-long training program. Deadline: October 29, 2017
Princeton in Latin America (PiLA) seeks to connect recent college graduates with one-year, service-oriented positions at NGOs and community-based service organizations in Latin America. For all positions, basic professional competency in Spanish or Portuguese is required. In addition to Spanish, French may be helpful for some placements in the Dominican Republic, for those projects serving the Haitian immigrant population. Application interviews are conducted partly in Spanish or Portuguese, and a language-competency evaluation is part of the application. Applications to PiLA are open to U.S. citizens and permanent residents who are recent graduates of U.S. and Canadian universities. Deadline: November 6, 2017
The Congress-Bundestag Youth Exchange for Young Professionals offers a full-year, reciprocal work-study fellowship providing 75 Americans, age 18-24, with an understanding of everyday life, education, & professional training in Germany. It includes RT transatlantic flight, university tuition, language training, living stipend, program-related travel costs in Germany, 2 months language training, 4 months of study at a German university, and a 5-month internship in a German-speaking work environment. The fellowship also provides accommodation in a German home/student residence, seminars, in-country support during the program and health and accident insurance. Deadline: December 1, 2017
Blakemore Freeman Fellowships are awarded for one academic year of full-time, intensive language study at the advanced level in East or Southeast Asia in approved language programs. Applicants must have a well-defined career objective involving Asia in which regular use of the language is an important aspect, the potential to make a significant contribution to a field of study or area of professional or business activity in an Asian country, prior experience in the Asian country or involvement or participation in activities related to the country, and a sound academic, professional, or business background appropriate to the career program. The fellowship covers tuition or tutoring fees and offers a stipend for travel, living and study expenses. Deadline: December 30, 2017
The AIF William J. Clinton Fellowship for Service in India is a 10-month volunteer program that pairs a select number of young professionals from the U.S. and India with NGOs and social enterprises in India in order to accelerate impact and create effective projects that are replicable, scalable, and sustainable. Applicants must be U.S. or Indian citizens or U.S. permanent residents between the ages of 21 and 34 and have completed an undergraduate degree. AIF provides a living stipend, insurance coverage, and program-related travel to each Fellow. Deadline: January 15, 2018
Global Health Corps is mobilizing a global community of emerging leaders to build the movement for health equity. We place talented individuals from a wide variety of backgrounds in paid, high-impact roles in NGOs and government agencies in sub-Saharan Africa and the US for one year. During the fellowship year, fellows collaborate, innovate, and create sustainable and impactful change. Applicants can apply for up to 3 positions that match their interests and skills, from project management to monitoring and evaluation, engineering, communications and more. We are looking for people from a broad range of sectors and disciplines. Deadline: January 17, 2018
The Whitaker Program is a funding opportunity for emerging U.S. leaders in biomedical engineering to build collaborative ties with individuals and institutions overseas. The program is for U.S.-based biomedical engineers who are graduating seniors, graduate students, post-docs or early-career professionals. Fellows and Scholars can conduct academic or scientific research in a university or laboratory, pursue coursework, or intern at a policy institute, industrial or non-profit setting. Benefits include maintenance allowance, airfare, accident and sickness insurance, and partial tuition reimbursement (Fellows only). Deadline: January 2018 (check website)
The AVANGRID Foundation scholarship program is open to students of U.S. nationality to pursue masters-level work with an emphasis on sustainable energy, energy efficiency and climate-related areas of study, in addition to more specific business areas. Applicants should intend to start a full-time, on-campus master's programme at the University of Edinburgh, Scotland. The grants cover full tuition, fees and health insurance and a monthly stipend of £1,200. Deadline: February 2018 (check website)
The Spiritual Ecology Fellowship is an initiative of Kalliopeia Foundation, developed to support its mission to create a future where universal spiritual values form the foundation of how we care for our common home. Funding is provided to emerging young leaders and innovators (age 22-30) for the development and implementation of pilot projects that have the potential to be catalysts for change. The fellowship is open to people of all faith backgrounds as well as people without any direct religious or spiritual affiliation. The fellowship follows a 9-month program and covers program tuition and a $10,000 stipend to assist with project development. Deadline: March 2018 (check website)
Winston Foundation for World Peace Fellowships support undergraduate and graduate students with an interest in cooperative security, conflict resolution, and disarmament. Fellows design their own projects, usually involving public education, media outreach, grassroots organizing, or another active approach to issues of cooperative security, nuclear arms control, conventional arms transfers, demilitarization, democracy building, conflict resolution, and the like. Applicants are expected to work full-time with a non-profit organization. A $300/week stipend is provided for the duration of the project, which lasts from 2-4 months. Deadline: Rolling
 © Victoria Johnson 2017, all rights reserved.