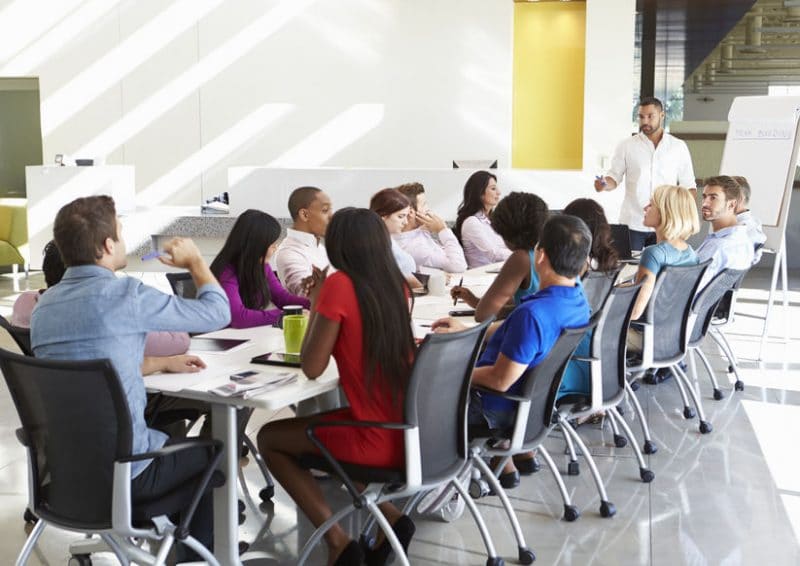 These fellowships are designed to further work in philanthropy. Whether you are a student hoping to intern in a nonprofit organization, an established professional with years of experience, or somewhere in between, these fellowships have something to offer you. The fellowships cover lots of different philanthropic fields such as childhood development, environmental conservation, business, and medicine! This list, ordered by the amount of experience the fellowships require, begins with programs for students and finishes with those for professionals. If one of them catches your eye, be sure to bookmark it to your ProFellow account!
The Aspen Institute Program on Philanthropy and Social Innovation (PSI) in Washington, DC offers the William Randolph Hearst Endowed Fellowship to one student three times annually. Candidates for this fellowship are highly motivated graduate or undergraduate students from underrepresented communities of color.  The fellow must be able to work as an intern for 12-15 weeks in the Washington, DC office of the Aspen Institute during the academic semester in which the fellowship is awarded. Fellows will be compensated on an hourly basis in the fall, spring and summer.
The Momentum Fellowship is designed to prepare professionals from underrepresented communities, particularly communities of color, for successful careers in the philanthropic sector through professional development, networking and mentoring opportunities. Fellows will be placed in temporary full-time positions at host foundations. Candidates should come from a community that is currently underrepresented in philanthropy, such as a community of color, LGBTQ, disability or other group. Preference will be given residents of the Pacific Northwest, with a willingness to commit to service in the region.
As a strategic initiative of LGT Impact Ventures, the LGT Impact Fellowship aims to provide additional know-how and capacity to social enterprises and offers professionals the opportunity to apply their skills in a meaningful. Eligible candidates have an undergraduate degree and at least two years of full-time work experience in diverse business areas such as consulting, finance, operations, data analytics, IT, M&E, sales, product development or marketing. Fellows work full-time for one year based on a monthly living stipend with our portfolio companies or regional investment teams in Africa, Brazil, China, India, the Philippines or the UK.
The Fellowship is a full-time, two-year experience that encourages creative thinking and leadership development. Fellows are exposed to all aspects of philanthropy in the Endowment's four program areas: Child Care, Health Care, Higher Education and Rural Church. Fellows rotate through each area, giving them experience with many different issues across the Carolinas. Candidates must be past or current residents of North Carolina or South Carolina, or recent graduates of a college or university in either state, and demonstrate a strong interest in the non-profit sector. Fellows receive a salary and full benefits.
The Do Good Institute, located within the University of Maryland School of Public Policy, is dedicated to helping students become more effective and innovative citizens and leaders committed to improving our world. This award, valued at up to $10,000, is provided to up to 4 newly admitted students to the Master of Public Policy graduate program to support an opportunity to be intensely immersed in philanthropy, international development, and nongovernmental leadership and management. Candidates must apply to the UMD School of Public Policy MPP program and submit an additional one page statement.
Environmental Fellows Program (EFP)
The Environmental Fellows Program (EFP) is a national program that seeks to diversify the environmental and conservation philanthropic sector by supporting the career aspirations of graduate students from traditionally underrepresented groups. Fellows are placed in a 12-week paid internship with one of our partner philanthropic organizations. Applicants must be U.S. citizens, permanent residents, or DACA/DREAMers (Deferred Action for Childhood Arrivals). International students are ineligible.
Virginia G. Piper Charitable Trust Resident Scholars Program provides a dynamic opportunity for promising early professionals to work at a place-based philanthropic organization. Piper Trust supports organizations that enrich health, well-being, and opportunity for the people of Maricopa County, Arizona; it concentrates its efforts in six areas: arts and culture, children, education, healthcare and medical research, older adults, and religious organizations. The Resident Scholars Program is a two-year, full-time commitment at Piper Trust in Phoenix, Arizona/Maricopa County. Scholars will receive a stipend of $45,000 per year, plus full health benefits, professional development support, and work-related travel expenses.
Philanthropy New York, the regional association of grant makers with global impact, provides the Public Policy Fellowship for candidates completing or recently graduated from a masters-level or Ph.D. program in public policy, government, social work or related field of study for a two-year fellowship. The program aims to identify early-career professionals who will benefit from learning about and networking within the philanthropic sector. The fellowship is a two-year full-time commitment, with pay and benefits.
This fellowship seeks to build the capacity and stature of the public health workforce, encourage collaboration between health departments, and improve communication with the public.  The fellowship is for a period of one year, with a possible one-year extension.  During that time, the fellow will learn about the field of public health philanthropy through active participation and deep practical application in the areas of program development, strategic planning, grants review and monitoring, and data analysis and scientific inquiry. Candidates must have received their masters or doctorate degrees within the last five years.
The Multicultural Fellowship Program is a two-year, full-time program that aims to increase diversity in the philanthropic and nonprofit sectors. Successful candidates represent diverse backgrounds and come with the promise and passion to create significant social change. The Fellowship provides on-the-job training at our office in San Francisco. Applicants must have a Master's degree or relevant experience, and a minimum of 5 years related work experience. There are additional skills requirements for each offered fellowship (Arts & Culture, Community Health, Public Policy & Civic Engagement). Compensation is $50-54K/year plus benefits.
The Institute's fellowship program is offered free of charge to arts managers from across the U.S. and around the world who are selected through a competitive application process. These fellows attend a 4-week program in residence at the University of Maryland each spring for three consecutive years. Fellowships include intensive academic training in nonprofit management, finance, planning, fundraising, evaluation, and marketing and access to leaders of cultural institutions from throughout the United States, including site visits to select institutions. Applicants must have a minimum of 5 years working experience in an administrative capacity in an arts or cultural organization, and currently serve as an executive or department head with decision-making authority.
The George Gund Foundation Fellowship provides an opportunity for promising professionals to work inside the Foundation, a philanthropic organization that plays a vital role in supporting the civic life of Greater Cleveland and in various national policy deliberations that impact our community. The fellowship is a two-year, full-time commitment requiring residence in Northeast Ohio during the term of engagement. Each Fellow will receive a stipend of $45,000 per year and benefits. Successful candidates for this fellowship will have a graduate degree and/or several years work experience in the nonprofit sector.
The fellowship, which was launched as a partnership with the Minnesota Council on Foundations (MCF) and Bush Foundation in 2013, will prepare individuals from underrepresented communities for careers in philanthropy. Fellows will be employed by MCF and placed in full-time positions at host foundations within the region MCF serves — Minnesota, North Dakota, South Dakota, and the 23 Native nations that share the same geography. Over the course of a 3-year appointment, fellows will receive significant professional development and networking opportunities. Each fellow will receive a $60,000 starting salary plus full benefits.
© Victoria Johnson 2018, all rights reserved