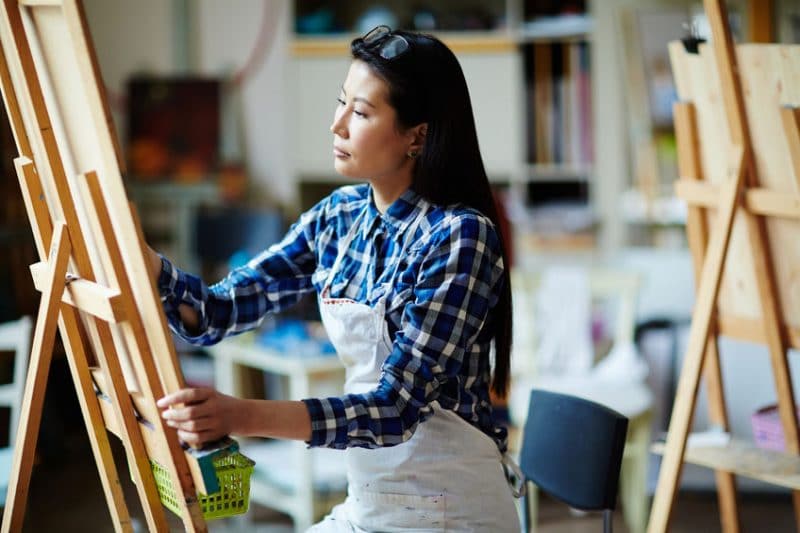 Dedicated to bringing about change through music, painting, film, writing, or another field in the creative arts? These fellowships offer funding and immersive environments that will help you hone your craft while also being a voice for social justice. With opportunities spanning the globe, this list features something for any type of artist. If one of these programs catches your eye, make sure to bookmark it to your ProFellow account.
One Love is partnering with the Allstate Foundation to find and support filmmakers between the ages of 18 and 25 who can help empower young people to recognize the signs of unhealthy behaviors and abuse and deepen the conversation about healthy relationships in classrooms across the country. Three filmmakers will each earn a grant of $15,000 to produce their films. Additionally, they'll receive masterclasses with top filmmakers, screenwriters, and producers who will mentor them and help bring their vision to life.
Boehm Media Fellowship
The Boehm Media Fellowships provide journalists, storytellers, authors, bloggers, writers, editors, filmmakers, and other media experts at the helm of social innovation with a major focus on poverty alleviation the opportunity to participate as Delegates to the Opportunity Collaboration. This fellowship aims to grow networking opportunities for fellows, enrich knowledge and skills, encourage innovation and create social impact through media. The fellowship includes a 5-night stay in Ixtapa, Mexico, a $3,200 tuition scholarship, and all meals; financial need is the primary consideration for the fellowship.
The Culture of Health Leaders program provides cross-sector leadership development based on evidence, informed by experience, and grounded in principles of equity and social justice. The program is open to individuals from a variety of disciplines—such as technology, the arts, public policy, business, community development, education, transportation, public health, health care, and others—who are committed to working with organizations, communities, health systems, and policymakers to build a Culture of Health in America. Each leader will have access to up to $20,000 per year for three years (a total of up to $60,000). Additional tools and resources will be available for year 3 project-related activities.
The Creative Community Fellows program is for leaders working at the intersection of culture and community. All Fellows enter the program with an idea for a cultural project that responds to a problem they want to solve in their communities. The program consists of a 6-month online course starting with a 1 week of residence in a breathtaking, farmhouse-style estate in Vermont. Eligible applicants are cultural entrepreneurs igniting change through arts and culture in their community. Tuition, including room and board, is completely underwritten for all Fellows. Fellows are only responsible for their travel costs to any in-person events.
Culture Push's Fellowship for Utopian Practice is a testing ground for new ideas that aim to create positive social change through civic engagement and horizontal learning opportunities. Culture Push serves artists by providing creative, analytical, and logistical tools for the creation of truly transformative projects. Artists must complete their project in New York City and will have support and mentoring through all aspects of the project as they build and exhibit their work. Financial assistance of $1,000 is provided at the start and other fundraising opportunities are available to help complete the project within 1 year.
The Fulbright/National Geographic Digital Storytelling Fellowship is a new component of the Fulbright U.S. Student Program that provides opportunities for U.S. citizens to participate in an academic year of overseas travel and digital storytelling in up to three countries on a globally significant social or environmental topic. In addition to receiving Fulbright benefits (for travel, stipend, health, etc.), Fellows will receive instruction in digital storytelling techniques and will be paired with one or more National Geographic editors. Applicants may submit proposals for grants to 1-3 foreign countries.
Loeb Fellows represent the broadest spectrum of accomplished practitioners who are influential in shaping the built and natural environment and whose work advances positive social outcomes. Loeb Fellows are architects and landscape architects, urban planners and journalists, public artists, and affordable housing developers. After a transformative Fellowship year in residence at the Harvard Graduate School of Design, they join a powerful worldwide network of over 450 colleagues and friends. The stipend for the academic year is $50,000 and the fellowship covers the cost of housing for Fellows and their families coming from outside the Boston area.
Residency fellowships of 4-12 weeks for nonfiction reporters and writers working on important social, political, health, environmental, human rights, and justice topics. Logan Nonfiction fellows at the Carey Institute are provided with all the necessary tools to complete their critical work. Lodging, workspace, sophisticated technological support (including Wi-Fi, a state-of-the-art screening room and dedicated space, equipment, and software for video, film, and radio editing), and meals are provided. Professional journalists and writers of all nationalities are invited to apply but knowledge of the English language is required.
The Nathan Cummings Foundation Fellowship supports visionary leaders by giving them boundless space to turn an inspired idea in the field of social justice into a world-changing reality. The Fellowship awards three individuals up to $150,000 each to pursue an innovative project that seeks to address a challenge related to climate change or inequality – or within the intersection of these two major issues. Fellows will be thought partners informing the Foundation's work and will have the use of a dedicated office at NCF's New York City headquarters. Only U.S. citizens whose projects are focused on work within the U.S. are eligible for the Fellowship at this time.
Sesame Street Writers' Room is a brand new fellowship opportunity from the creators of Sesame Street seeking fresh new writing talent from underrepresented racial backgrounds. In the intensive six-week program to be held at Sesame Workshop's New York City office, participants will meet weekly with industry writers, producers, agents, and executives, and are expected to complete at least one script.  The two participants whose scripts show the most promise will be offered creative development deals and mentored by Sesame Workshop executives. "Sesame Street Writers' Room" is open to writers 21 and older.
The SFFILM/Rainin Filmmaking Grants program provides meaningful support to projects that benefit and uplift the Bay Area filmmaking community in a professional and economic capacity. The grant is open to filmmakers internationally whose films explore social justice and can commit to spending time developing the work in San Francisco, with priority given to Bay Area-based filmmakers. There are grants in screenwriting, development, and post-production ranging from $10-50K.
The Soros Justice Fellowships support outstanding individuals—including lawyers, advocates, grassroots organizers, writers, print and broadcast journalists, artists, filmmakers, and other individuals with distinctive voices—to undertake full-time projects that engage and inform, spur debate and conversation, change policy or practice, and catalyze change around the U.S. criminal legal system at the local, state, and national levels. Fellowships can be either 12 or 18 months in duration and may be undertaken with the support of a host organization
The Writing as Activism Fellowship reimagines the role of writers in NYC, offering tools and support to produce literary work that centers activism on community and social justice issues. The fellowship will offer a six-month immersive workshop experience for six New York City-based writer-activists committed to uplifting the voices of those most marginalized in the city through writing. The program will culminate with individual and collective work brought to the public and the launch of a cohort of writers ready to mobilize their creativity in activist spaces. Each fellow will be awarded a $2,000 honorarium.
PEN America's Writing for Justice Fellowship will commission six writers—emerging or established—to create written works of lasting merit that illuminate critical issues related to mass incarceration and catalyze public debate. Proposed projects may include—but are not limited to—fictional stories; works of literary or long-form journalism; theatrical, television or film scripts; memoirs; poetry collections; or multimedia projects. Fellows will receive mentoring, and an honorarium of $10,000 and may request up to $5,000 in additional funding for travel and research. Writers 21 and up are invited to apply.
© Victoria Johnson 2019, all rights reserved.