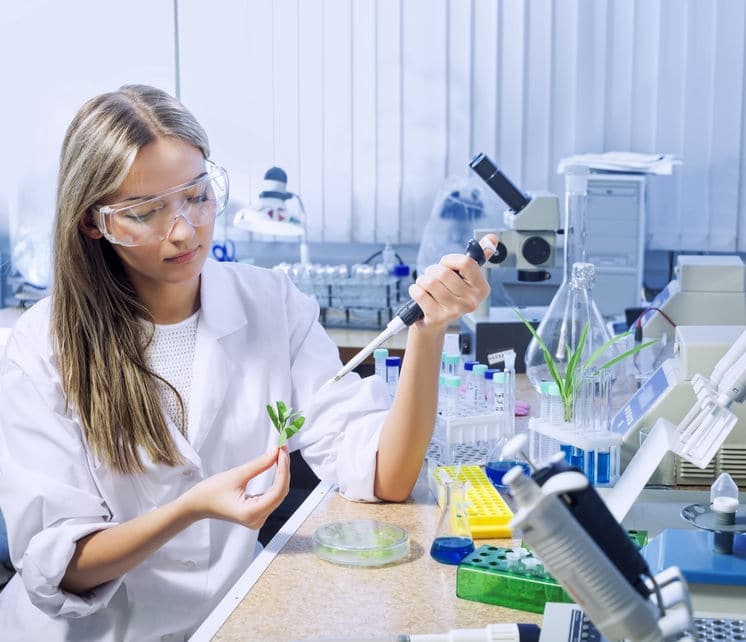 Updated March 2022
It's about time we overcome the STEM gap. Women make up just 28% of the workforce in science and STEM-related fields, but these fellowships for women in science can help bridge the gap by providing female scientists, researchers, and engineers with funding, mentorship, research opportunities, and professional connections.
Pave the way for the next generation of female scientists by applying to one of the fellowships for women in science below! This list includes dissertation funding, research programs, grants, and funded graduate programs. Remember — you can always bookmark fellowships that interest you to your ProFellow account.
Dissertation Fellowships provides $20,000 to offset a woman scholar's living expenses while she completes her dissertation. The fellowship must be used for the final year of writing the dissertation. Candidates must be U.S. citizens or permanent residents. Open to applicants in all fields of study.
Postdoctoral Research Leave Fellowships provide $30,000 to assist women scholars in obtaining tenure and other promotions by enabling them to spend a year pursuing independent research. The primary purpose of the fellowship is to increase the number of women in tenure-track faculty positions and to promote equality for women in higher education. Tenured professors are not eligible. Candidates must be U.S. citizens or permanent residents. American Fellowships are open to scholars in all fields of study.
AAUW's Research Publication Grant in Engineering, Medicine, and Science funds women conducting research for a project that will culminate in a scholarly scientific publication. The grantee must plan to publish this research in a scholarly scientific publication within six months of the end of the grant year and be listed as the sole author, senior author, first author, or author of equivalent significance. Applicants must be women who hold a doctorate degree in engineering, medicine, or the physical or biological sciences. The award amount will range from $10,000-$35,000. The grant year will run from July 1 to June 30.
AAUW Selected Professions Fellowships to provide opportunities for women to pursue graduate and first-professional degrees in architecture, computer and information sciences, engineering, and mathematics, fields where women traditionally have been underrepresented and where the employment outlook and earnings potential are strong. To address the underrepresentation of women of color in promising professions and encourage cultural diversity in these areas, fellowships in business administration, law, and medicine are also available, but only to women of color. Recipients must be U.S. citizens or permanent residents.
AAUW Short-Term Research Publication Grants provide $6,000 for women college and university faculty and independent researchers to prepare research for publication. Time must be available for 8 consecutive weeks of final writing and editing in response to issues raised in critical reviews. These grants can be awarded to both tenure-track and part-time faculty, and new and established researchers. The grants are designed to assist the candidate in obtaining tenure and other promotions. Tenured professors are not eligible. Candidates must be U.S. citizens or permanent residents.
Established in 1938 in honor of famed pilot and Zontian, Amelia Earhart, the Amelia Earhart Fellowship is awarded annually to women pursuing Ph.D./doctoral degrees in aerospace-related sciences and aerospace-related engineering. The Fellowship of US$10,000, awarded to 35 Fellows around the globe each year, may be used at any university or college offering accredited post-graduate courses and degrees in these fields. Open to women of any nationality.
The Brooke Owens Fellowship is designed to serve both as an inspiration and as a career boost to capable young women who, like Brooke, aspire to explore the sky and stars, to shake up the aerospace industry, and to help their fellow men and women on planet Earth. Fellows are matched by industry leaders to specific intern positions at one of the most exciting organizations in aerospace. Over the course of a 12-week summer, fellows receive mentoring, complete meaningful projects, learn valuable skills, and are paid a living wage. Women undergraduate students at U.S. universities or community colleges are invited to apply.
The Faculty for the Future program awards fellowships to women from developing and emerging economies to pursue Ph.D. or post-doctoral studies in science, technology, engineering, and mathematics (STEM) disciplines at leading universities worldwide. Candidates should have applied to, have been admitted to, or be currently enrolled in a university abroad when submitting their grant application. Faculty for the Future grants are based on actual costs for eligible expenses up to a maximum of USD 50,000 per year and may be renewed.
Graduate Women in Science (GWIS) is proud to offer fellowships to help increase knowledge in the sciences and to encourage research careers in the sciences by women. GWIS Fellowships are awarded to women of outstanding ability and promise, holding or seeking a degree from a recognized institution of higher education, who are performing hypothesis-driven research in the U.S. or abroad. A maximum of $10,000 may be requested to purchase supplies and equipment, to defray the travel costs associated with field study and collaborative projects, and to support the publication of the research findings.
The L'Oréal USA Fellowships for Women in Science program is a national awards program that annually recognizes and rewards five U.S.-based women researchers at the beginning of their scientific careers. Recipients receive up to $60,000 each that they must put towards their postdoctoral research. Applicants must be involved in life, physical/material sciences, engineering, technology, computer science, or mathematics. Additional eligible areas of study include immunology, all areas of chemistry, earth science, and medical research. Applicants to the L'Oréal USA Fellowships must have completed their Ph.D. by the time of application.
The Mickey Leland Energy Fellowship (MLEF) Program provides undergraduate, graduate, and doctoral students with opportunities to gain hands-on research experience with the Department of Energy's (DOE) Office of Fossil Energy (FE). The goal of the MLEF program is to improve opportunities for women and minority students in STEM majors, however, all eligible candidates are encouraged to apply. Selected candidates will train under the mentorship of program officials and scientists on focused research projects. During the 10 weeks, Fellows will receive a stipend and some may be eligible to receive housing and a travel allowance.
The National Oceanic and Atmospheric Administration's (NOAA) Dr. Nancy Foster Scholarship Program provides support for master's and doctoral studies in oceanography, marine biology, maritime archaeology, and all other science, engineering, social science, and resource management disciplines involving ocean and coastal areas, particularly by women and members of minority groups. Scholarships may provide up to $42,000 a year as well as additional support throughout the master's or Ph.D. program for collaborations and field studies.
The Fellowship is offered to women scientists from Science and Technology Lagging Countries (STLCs) to undertake Ph.D. research in the Natural, Engineering, and Information Technology sciences at a host institute in the Global South. The general purpose of the fellowship program is to contribute to the emergence of a new generation of women leaders in science and technology and to promote their effective participation in the scientific and technological development of their countries. The fellowship is for up to 4 years and includes full tuition and a monthly living stipend plus other benefits including insurance and visa expenses.
TechWomen brings emerging women leaders in science, technology, engineering, and mathematics (STEM) from Africa, Central, and South Asia, and the Middle East together with their professional counterparts in the United States for a mentorship and exchange program. TechWomen provides participants access to networks, resources, and knowledge to empower them to reach their full potential. During the five-week program, participants engage in project-based mentorships at leading companies in the San Francisco Bay Area and Silicon Valley and participate in professional development workshops. Applicants must be women with, at minimum, two years of full-time professional experience in the STEM fields and eligible to obtain a U.S. J-1 exchange visitor visa. Check at www.techwomen.org
15.
The Leadership Incubator
The Leadership Incubator supports women and those who identify as female (ages 20-35) in the United States who are at an early stage or tipping point in their leadership journey. Participants will convene in New York, NY for a week-long, in-person program featuring leadership training, communications and storytelling workshops, community building, and mentorship. Virtual training throughout the year will allow participants to build upon their action plan with the tools they need to turn their idea into reality. Participants will also be able to apply for small seed funding opportunities to help implement their projects.
Didn't find what you're looking for? Check out this list of 24 STEM Graduate Fellowships for Minorities and Women!
© ProFellow, LLC 2021, all rights reserved.