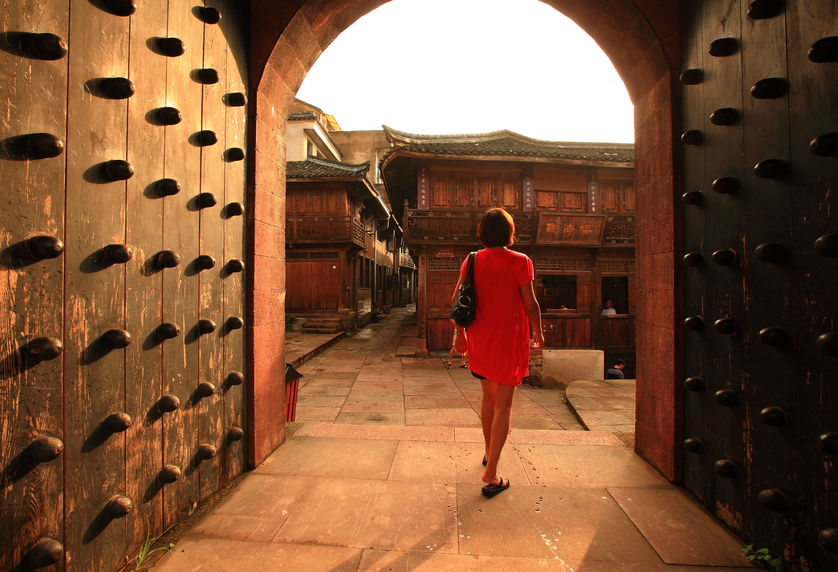 Have you ever dreamt of visiting, working or studying abroad in China? These fellowships for teaching, research, professional development and self-designed projects in China offer opportunities abroad for those with Chinese language skills ranging from beginner to advanced. To be alerted on upcoming deadlines, bookmark these fellowships in China to your ProFellow account.
Zhi-Xing China Eisenhower Fellowship
The Zhi-Xing (or "learning and travel") Fellowship, is a fully-funded four-week professional and leadership development program that brings 10 mid-career U.S. leaders to China each fall. The fellowship features intensive cultural immersion, group sessions with Chinese and U.S. leadership experts and two weeks of individually-tailored travel and learning in four to six Chinese cities around the country. Eisenhower Fellowships seeks a mix of applicants from all professional sectors – public, private and nonprofit – and representing diverse disciplines.
Predissertation travel grants provide funding for graduate students to explore venues, make preliminary research arrangements, and gain advice from Chinese scholars that prepare them for research in China. The grant provides $5,000 for a preliminary visit of 3-4 months in China to prepare for beginning basic research for the dissertation. An applicant must be enrolled in a PhD program at a university in the United States or Canada. A working knowledge of Chinese is required.
The Confucius China Studies Program (CCSP) offers two fellowships. The Research Ph.D. Fellowship offers generous funding to students in doctoral programs at U.S. institutions who are pursuing China-related research across a broad range of fields in the arts, education, humanities and social sciences. Grantees will be supported for a period of at least one semester but support is available for up to 2 years. The Ph.D. in China Fellowship provides funding for three to four years to earn a doctoral degree at a Chinese institution. 
As part of LGT VP's support to scale proven local solutions, the Impact Fellowship Program was established to provide additional know-how to social organizations. The selected Fellows form a class by meeting with their peers in Zurich (Switzerland), undertaking orientation training before the assignment and receiving intense support throughout their engagement. Fellows participate in an 11-month, full time engagement in social organizations located in China, Latin America, Africa, India, and Southeast Asia. Fellows receive a fixed remuneration package to cover basic costs of living during the engagement, insurance and travel.
Chinese Government Scholarship Programme
Established by the Ministry of Education of the P.R. of China to provide both full scholarships and partial scholarships to international students and scholars to study or research at universities in China. All undergraduate programs for international students are instructed in Chinese. Applicants with no command of Chinese are required to take the college preparatory courses for 1-2 years before pursuing major studies. The programme provides full or partial tuition and a monthly stipend.
The National Science Foundation (NSF) East Asia and Pacific Summer Institutes (EAPSI) Fellowship Program provides U.S. graduate students in science and engineering with an opportunity to spend 8 weeks during the summer conducting research at one of the seven host locations in East Asia and Pacific: Australia, China, Japan, Korea, New Zealand, Singapore, and Taiwan. EAPSI is open to graduate students who are U.S. citizens or permanent residents and are enrolled in a research-oriented Masters or Ph.D. program in science or engineering. NSF provides EAPSI Fellows with a $5,000 stipend and roundtrip airplane ticket to the host location. Our foreign counterparts provide in-country living expenses and accommodations (arrangements vary by host location).
UNESCO/People's Republic of China (The Great Wall) Co-Sponsored Fellowships Programme
The Government of the People's Republic of China has placed at the disposal of UNESCO for the academic year 2016-2017, under the co-sponsorship of UNESCO, seventy-five (75) fellowships for advanced studies at undergraduate and postgraduate levels. These fellowships are for the benefit of developing Member States in Africa, Asia–Pacific, Latin America, Europe, North America and Arab regions. The fellowships, tenable at a selected number of Chinese universities, are for a one year duration. These fellowships are, in most cases, to be conducted in English.
Schwarzman Scholars is a highly selective, one-year master's program at Tsinghua University in Beijing, China. Whether in politics, business or science, the success of future leaders around the world will depend upon an understanding of China's role in global trends. Students will live and study together on the campus of Schwarzman College, a newly-built, state-of-the-art facility, where all classes will be taught in English. Students can pursue a degree in Public Policy, Economics and Business, or International Studies. Schwarzman Scholars receive tuition and a stipend, room and board, RT travel, and an in-country study tour.
The Confucius Institute Scholarship program was established by Hanban/Confucius Institute Headquarters in order to encourage students and Chinese language teachers all over the world to study Chinese or conduct research regarding Chinese language and culture in China. Scholarships are offered for a Master's Degree in Teaching Chinese to Speakers of Other Languages (MTCSOL), and one academic year or one academic semester study in China. Open to non-Chinese citizens age 18-35 (MTCSOL applicants age 18-45). Language requirements apply. The scholarship provides full tuition and a monthly stipend. 
The Luce Scholars Program is a nationally competitive fellowship program. It was launched by the Henry Luce Foundation in 1974 to enhance the understanding of Asia among potential leaders in American society. The program provides stipends, language training, and individualized professional placement in Asia for 15-18 Luce Scholars each year, and welcomes applications from college seniors, graduate students, and young professionals in a variety of fields who have had limited exposure to Asia. Placements are made in 17 Asian countries, including China. Candidates must be U.S. citizens who would not have reached their 30th birthday by July 1st of the year they enter the program. 
Princeton in Asia (PiA) is an independent, non-profit organization located at Princeton University. Founded by students in 1898, the program has long been driven by a mission to foster cross-cultural understanding between East and West, broadly defined. PiA offers year-long, service-oriented fellowships in 21 Asian countries, including China, in the fields of education, international development, public health, environmental advocacy, journalism and business, with a majority of fellows working as English teachers at universities and high schools. PiA fellowships are open to graduates or graduating seniors from all accredited U.S. colleges and universities.
Critical Language Scholarship (CLS) institutes provide fully-funded group-based intensive language instruction and structured cultural enrichment experiences for 7-10 weeks for U.S. citizen undergraduate, Master's and Ph.D. students. Countries may include: Azerbaijan, Bangladesh, China, Egypt, India, Indonesia, Japan, Jordan, Morocco, Oman, Russia, South Korea, Tajikistan, Tunisia, Turkey, or others where the target languages are spoken.
IMUSE is a non-profit organization aiming to foster a strong relationship between young Chinese and U.S students. Every summer, 30 students from China and the USA meet in Beijing to participate in a two-week exchange program. Fellows participate in panel discussion events, where they will discuss the pertinent issues facing Chinese-American relations today. Travel expenses are paid for, including accommodations, food, ground transportation, and $500 toward transportation to and from Beijing. All students in an American postsecondary school (including 2 and 4-year colleges, graduate schools, and vocational, technical, and trade schools) are eligible to apply. Students need not be American citizens to apply.
JDC's Jewish Service Corps (JSC) offers young Jews the opportunity to directly engage with JDC's global mission and actively fulfill the value of Jewish responsibility through a year-long, paid, service opportunity connected to JDC's overseas programs. There are also 8-10 week Jewish Service Corps opportunities. Currently, JSC fellows are based in Argentina, China, Ethiopia, Germany, India, Israel, Latvia, Rwanda, Russia, Turkey, and Ukraine. JDC covers round-trip travel expenses, housing, a monthly payment for basic living expenses, an end-of-year bonus, and a health insurance package.
A U.S. Student Fulbright Grant allows for individually designed study/research projects that will take place during one academic year (9-12 months) in a country outside the U.S. The Fulbright Program supports roughly 60-70 U.S. Fulbright researchers in China each year. Applicants design their own projects and will typically work with advisers at foreign universities or other institutes of higher education. Eligible applicants include recent BA/BS graduates, graduate and doctoral students, and young professionals including artists, musicians, writers, journalists, and those in law, business, and other professional fields. Undergraduate and graduate students must apply through their institution; professionals and former students can apply through their alma mater or At Large.
The Critical Language Enhancement Award (CLEA) is a feature of the U.S. Student Fulbright Program, which provides an opportunity for some Fulbright U.S. Student grantees to receive 3-6 months of intensive language study as an enhancement to their Fulbright grants. They must be approved by local Fulbright Commissions or U.S. Embassies in the host countries. CLEA is offered to students once they have been awarded a Fulbright U.S. Student grant which requires that they use one of the eligible languages for their Fulbright project and beyond. Eligible countries include China (mainland China program only), Egypt, India, Indonesia, Jordan, Morocco, and Russia.
© Victoria Johnson 2016, all rights reserved.