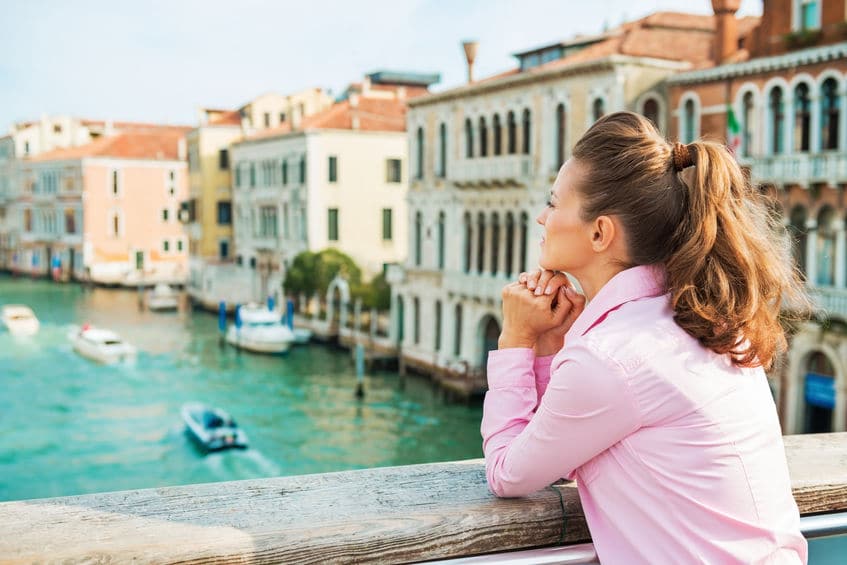 If you've always dreamed of working or studying in Italy, these fellowships would give you that opportunity! There are opportunities in many disciplines in Italian cities including Rome, Sicily, Uppsala, Florence, Bologna, Milan, and more. If one of these sounds exciting to you, make sure to bookmark it to your ProFellow account!
For over a century, the American Academy in Rome has awarded the Rome Prize to support innovative and cross-disciplinary work in the arts and humanities. Prize recipients are invited to Rome, Italy for five months or eleven months to immerse themselves in the Academy community. Each Rome Prize winner is provided with a stipend, meals, a bedroom with private bath, and a study or studio. Those with children under 18 live in partially subsidized apartments nearby. Winners of half-term and full-term fellowships receive stipends of $16,000 and $28,000, respectively. Winners of the Two-Year fellowships receive $28,000 annually.
The Bellagio Residency program in Italy offers researchers in the humanities, natural sciences, social sciences, and other academic disciplines a serene setting conducive to focused, goal-oriented work. Residencies last between 2-4 weeks. The Center has a strong interest in proposals that align with the Foundation's work to expand opportunities and to strengthen resilience for poor or vulnerable people, in particular projects relevant to the Foundation's core issue areas: Advance Health, Revalue Ecosystems, Secure Livelihoods, and Transform Cities. Room and board are provided to all residents and their spouses/partners.
The Bellagio Arts & Literary Arts residency in Italy is for composers, fiction and non-fiction writers, playwrights, poets, video/filmmakers, and visual artists who share in the Foundation's mission of promoting the well-being of humankind and whose work is inspired by or relates to global or social issues. The residency is for artists seeking time for disciplined work, reflection, and collegial engagement. The Center typically offers stays of 2-4 weeks long, in a community of 15 fellows that typically includes 3-5 arts resident fellows. Artists of significant achievement from any country are welcome to apply.
The Rockefeller Foundation Bellagio Center's mission is to promote innovation and identify impact-oriented solutions to critical global problems. The Center offers residencies in Italy to policymakers, nonprofit leaders, journalists, and public advocates in fields and institutions relevant to the Rockefeller Foundation's work and its current issue areas of Advance Health, Revalue Ecosystems, Secure Livelihoods, and Transform Cities. We seek practitioner applicants with demonstrated leadership qualities. Room and board are provided to all residents and their spouses/partners. Residencies last between 2-4 weeks.
The Etruscan Foundation Research Fellowship is designed to support research in all areas of research on Etruscan and indigenous cultures of non-Greek Italy dating from the Neolithic through the 1st Century BCE. The fellowship is open to Canadian and U.S. citizens and those affiliated with U.S. institutions who are PhD candidates (ABD), PhD independent researchers and PhD untenured faculty. The fellowship carries an award of $7,500 which can be used to support all travel, meals, lodging and ancillary materials for the fellow as they conduct their research.
EURIAS offers 10-month residencies in one of the 16 participating Institutes: Berlin, Bologna, Budapest, Cambridge, Delmenhorst, Edinburgh, Freiburg, Helsinki, Jerusalem, Lyon, Marseille, Paris, Uppsala, Vienna, Wassenaar, Zürich. The Institutes for Advanced Study support the focused, self-directed work of outstanding researchers. EURIAS is designed for experienced researchers having a minimum of 2 years of research experience post PhD. EURIAS offers approximately 33 fellowships (17 junior, 16 senior positions). The fellowship includes a living allowance (€26,000 for juniors and €38,000 for seniors), accommodation, research budget, and travel expenses.
The European University in Florence is offering 3, 6, or 9 month-long fellowships for early- or mid-career professionals in public policy, politics, civil service, media and non-governmental organisations. In the School of Transnational Governance, fellows will live in Florence, Italy and work in workshops, training and skills development sessions and conferences. Fellows are expected to contribute to peer discussions and have a strong interest in policy issues, especially related to transnational governance. Each fellowship is fully-funded with a grant of 2,500 euros per month for applicants from anywhere in the world.
The Fulbright Schuman Program offers scholars and professionals in U.S. – EU relations grants of 2-4 months to give lectures in universities in Belgium and Italy. Strong applicants include current professors of EU studies or related academic fields, as well as professionals from EU-related think tanks. Proficiency in the language of the host institution is recommended but not required. Candidates may not reside in Europe at the time of application. A stipend of 3000 Euro/month and 2000 Euro travel relocation grant are provided. Grants are also available for professionals in international education administration from U.S. universities.
A U.S. Student Fulbright Grant allows for individually designed study/research projects that will take place during one academic year (9-12 months) in a country outside the U.S. Applicants design their own projects and will typically work with advisers at foreign universities or other institutes of higher education. The study/research awards are available in approximately 140 countries. For recent BA/BS graduates, graduate and doctoral students, and young professionals including artists, musicians, writers, journalists, and those in law, business, and other professional fields. Undergraduate and graduate students must apply through their institution; professionals and former students can apply through their alma mater or At Large.
The Fulbright/National Geographic Digital Storytelling Fellowship is a new component of the Fulbright U.S. Student Program that provides opportunities for U.S. citizens to participate in an academic year of overseas travel and digital storytelling in up to three countries on a globally significant social or environmental topic. In addition to receiving Fulbright benefits (for travel, stipend, health, etc.), Fellows will receive instruction in digital storytelling techniques and will be paired with one or more National Geographic editors. Applicants may submit proposals for grants to 1-3 foreign countries.
The English Teaching Assistant (ETA) Programs place recent college graduates and young professionals from the U.S. in classrooms abroad for up to 1 year to provide assistance to the local English teachers. ETA's help teach English language while serving as cultural ambassadors for the U.S. The age and academic level of the students varies by country, ranging from kindergarten to university level. Applicants for English Teaching Assistant Programs can apply to only one country. Applicants must be U.S. citizens at the time of application.
This is a full-time year-long position sponsored by Chime for Change – Gucci's inclusion project – and promoted by the Design Department of Politecnico di Milano. The selected candidate will lead the design processes of an early stage award-winning circular design brand, I was a Sari. Candidates should be experienced fashion designers with a master's degree in fashion design. Stipend for the fellowship is Euro 19,367 net p.a. Designers will work both in Milan with the faculty team of the Design Department of Politecnico di Milano and at the I was a Sari social business's office in Mumbai, India.
The Robert Schuman Centre for Advanced Studies in Florence, Italy offers fellowships to scholars who have obtained their doctorate at least 5 years before the start of the fellowship. During their stay at the RSCAS, fellows work on a research topic that fits well in the overall research profile of the RSCAS (Integration, Governance and Democracy; Regulating Markets and Governing Money; and 21st Century World Politics and Europe) and participate in the academic life of the Centre and of the EUI. Jean Monnet Fellowships have a duration of 1 year, renewable once.
Max Weber fellowships are designed for junior post-docs who would like to pursue an academic career, concentrate on their own research and enhance their academic practice in a multidisciplinary environment. Max Weber Fellowships are for 1 or 2 years and are open to candidates who have received a doctorate in the social sciences (economics, law, political science, sociology, history and related fields) within the last 5 years. 55-60 fellowships are awarded annually. The basic grant is €2,000 per month and Fellows are required to live in Florence, Italy for the duration of their Fellowship.
The Raiziss/de Palchi Translation Awards recognize outstanding translations into English of modern Italian poetry through a $10,000 book prize and a $25,000 fellowship, given in alternating years. Candidates must be American translators currently engaged in the translation of twentieth-century Italian poetry. The fellowship provides a stipend of $25,000 and a 5-week residency at the American Academy in Rome. Applicants must be U.S. citizens.
Story Rebels brings together diverse voices in literature, screenwriting, playwriting, and the blogosphere. They support writers as they travel and pry open new portals into the imagination. The writing fellowship is open to women-identifying writers of all ages. The fellowship covers a 5-day retreat focusing on writing, wellness, and cultural immersion. Accommodations include lodging, a travel stipend, meals, activities, and ground transportation for the 2019 retreat in Sicily, Italy.
© Victoria Johnson 2020, all rights reserved.