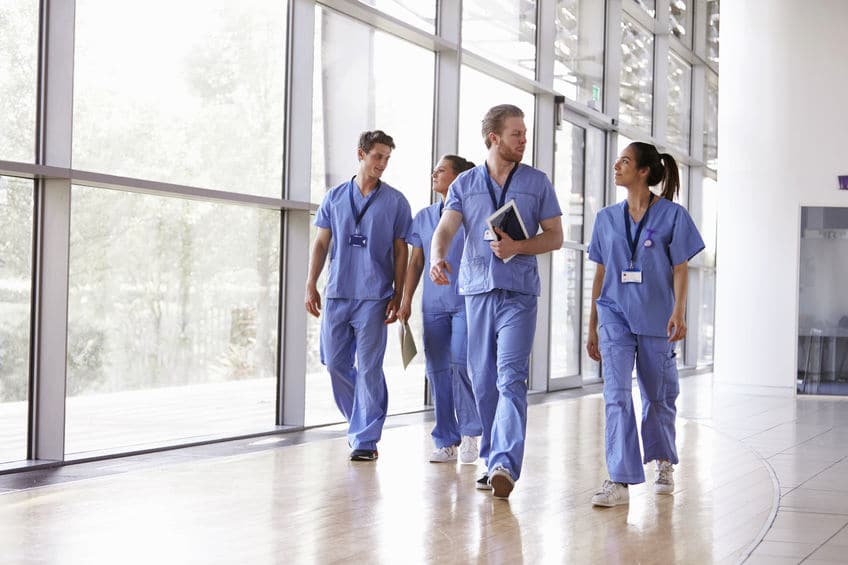 If you're a healthcare professional looking for a hands-on program for training and development, these fellowships are for you! There are opportunities to contribute to new health initiatives, receive leadership training, work internationally in the field of global health, and more. Click the links below to bookmark your favorites to your ProFellow account!
The AANS International Visiting Surgeon Fellowship provides meaningful educational experiences in North America to international neurosurgeons who will practice and/or teach neurosurgery in their home countries. The applicant must be a neurosurgeon or neurosurgeon-in-training from a developing country. He/she should be on staff at a local hospital or university involved in neurosurgical patient care and neurosurgical education. Fellows will receive $2,000 a month for up to 3 months and will be reimbursed for airfare. The fellowship also includes admittance to the AANS Annual Scientific Meeting, offering additional learning opportunities.
Administered by APHL, the APHL-CDC Antimicrobial Resistance (AR) Fellowship Program provides Masters and postdoctoral graduates with the opportunity to collaborate on a range of antimicrobial resistance issues. Qualified applicants will apply to be placed in one of eight state public health laboratories they are interested in working for a 12-month term and will have the opportunity to extend for an additional 12 months, provided funding is available. There are currently two fellowship tracks being offered: Antimicrobial Resistance and Drug Resistant Tuberculosis.
The APHL-CDC Bioinformatics Fellowships provide post-masters and post-doctoral level professionals the opportunity to apply their skills to a range of important and emerging public health problems, while gaining experience in their fields. Fellows are placed at an infectious disease laboratory in The Centers for Disease Control and Prevention (CDC) or at a state or local public health laboratory. These 12-month fellowships include a stipend, opportunities to participate in training and attend conferences, as well as other benefits. Post-doctoral fellows may extend for an additional 12 months, provided funding is available.
The fellowship's goal is to address emerging needs of public health, and to provide leadership and professional opportunities at the Centers for Disease Control and Prevention (CDC) for students and graduate students of ASPPH member graduate schools and programs of public health. The fellowships are from one to two years in duration, depending on the needs of CDC and the fellow. The Fellowship Program was established to strengthen the relationship between the academic public health community and public health practice agencies. Applicants and early career professionals with an MPH or Doctorate degrees are invited to apply.
The goal of the ASPPH Environmental Health Fellowship Program is to provide professional training and opportunities for early career public health professionals by enabling them to work with the EPA on current and emerging environmental public health needs. These placements will be for one year, with a possible one-year extension. The program capitalizes on an important interdependence between the academic public health community and the EPA. Candidates must have received their masters or doctorate degrees from an ASPPH-member school or program of public health within the last five years and be a U.S. Citizen or permanent resident.
The ASPPH/NHTSA Public Health Fellowship is a unique training opportunity offered to graduates of accredited schools and programs of public health. The selected fellow(s) will work with national experts in injury prevention and motor vehicle and highway safety issues to examine the causes and etiology of motor vehicle crashes and injuries. The fellowship's mission is to save lives, prevent injuries and reduce economic costs due to road traffic crashes, through education, research, safety standards and enforcement activity. Early career professionals with Masters or Doctorate degrees and recent graduates are invited to apply.
This is a year long, paid fellowship that provides recent graduates interested in disability and international development an opportunity to work full time with Mosaic's local partner at the grassroots level in Moshi, Tanzania. Fellows are provided a monthly stipend, housing allowance and round-trip travel to Tanzania. The fellowship is seeking candidates with a Bachelor's degree in International Studies, International Relations, Global or Public Health, or related field and previous field experience in an international setting.
The Fellowship offers a 14-month self-guided program for women professionals who have demonstrated outstanding leadership potential in the health field and wish to increase leadership competencies, hands-on experience, and work with exceptional mentors. Each fellow is paired with two hand-selected mentors who are nationally recognized senior health leaders. Each fellow receives an honorarium to help cover desired professional development enrichment experiences. Additionally, fellows attend four sponsored onsite events that provide a framework for the program. Candidates are nominated by their sponsoring organization; qualified nominees are invited to apply.
This collaborative fellowship is designed for recent or impending master's or doctoral-level graduates in epidemiology or a related field who are interested in the practice of public health at the state or local level. While the program provides rigorous training for its participants, it is also designed with flexibility in order to meet the particular interests of the fellow. Fellows are matched to a state health department for a two-year fellowship position based on program area of interest. Fellows will work under mentorship and the program includes extensive on-the-job training to acquire and develop skills in epidemiology.
CDC's EIS program offers a unique opportunity to investigate disease outbreaks around the world while protecting people and saving lives. EIS officers are selected from among highly qualified applicants drawn to public health service and interested in practicing applied epidemiology. EIS officers may be assigned to work in the areas of infectious diseases, chronic diseases, injury prevention, environmental health, or occupational health, either at CDC, or at another federal agency, state, or local health department. The fellowship is for 2 years and includes an annual base salary of $67,840 plus other health and retirement benefits.
Global Health Corps is mobilizing a global community of emerging leaders to build the movement for health equity. We place talented individuals from a wide variety of backgrounds in paid, high impact roles in NGOs and government agencies in sub-Saharan Africa and the US for one year. During the fellowship year, fellows collaborate, innovate, and create sustainable and impactful change. Applicants can apply for up to 3 positions that match their interests and skills, from project management to monitoring and evaluation, engineering, communications and more. We are looking for people from a broad range of sectors and disciplines.
The Infectious Diseases Laboratory Fellowship Program, sponsored by APHL and CDC, trains and prepares scientists for careers in public health laboratories and supports public health initiatives related to infectious disease research. The program is a one-year full-time working fellowship for those holding a recent master's-level degree (for example, MS, MPH, or MSPH) in biology, microbiology, virology, chemistry, public health or a related discipline. Fellows are placed in local, state or federal (CDC) public health laboratories throughout the US. Fellows are provided with a stipend, medical insurance, travel to the host laboratory and a professional development allowance.
The Medical Missionaries Global Health Fellowship offers two recent college graduates, graduate students, or professionals interested in global health an opportunity to gain experience in health care delivery in a developing country. Fellows spend one year in rural Thomassique, Haiti, working at St. Joseph's Clinic. The Fellowship is not intended to be a clinical experience, but rather an introduction to global health in a resource-limited setting. All living expenses and travel are covered by the fellowship. Medical Missionaries is a non-profit, non-religiously affiliated organization.    
The Ronald H. Laessig Memorial Newborn Screening Fellowship aims to attract and prepare laboratory scientists for careers in public health. Candidates should hold a PhD and indicate interest in conducting newborn screening and/or genetics research in a public health laboratory. Applicants will be screened by the host laboratory as well as by the selection team. The selected candidate will receive intensive training in newborn screening laboratory practice at a state public health laboratory, and an introduction to newborn screening follow-up, treatment and management.
The Post-Bachelor Fellowship (PBF) provides a unique opportunity for recent college graduates with strong quantitative skills to train with faculty and senior researchers on a variety of public health projects. PBFs are eligible to apply to the Master of Public Health in Health Metrics and Evaluation (HME), offered through the Department of Global Health at the University of Washington. The Post-Bachelor Fellowship program is limited to recent college graduates who are eligible to work in the US for a minimum of two years (most often, US citizens or residents). Individuals with graduate training are not eligible to apply. Fellows receive a salary and benefits.
The Public Health Informatics Fellowship Program (PHIFP) is a 2-year applied training fellowship for professionals with a master's or higher degree. We train professionals to apply principles of public health informatics to the practice of public health. Public health informatics is the systematic application of information and computer science and technology to public health practice, research, and learning. A doctoral (e.g., PhD, MD, PharmD) or masters level degree is required. Relocation to Atlanta, Georgia is required. U.S. citizenship is not required.
The Takemi Program in International Health seeks to improve health and health systems around the world by welcoming mid-career health professionals and scholars to the Harvard T. H. Chan School of Public Health to conduct path breaking research and develop their leadership skills. The program focuses on helping middle to lower income countries and creating systems that work when resources are scarce. Applicants must have completed a graduate degree in medicine, law, public health, economics, management, or social sciences and have several years of work experience. The program provides four to five fully funded fellowship positions each year.
© Victoria Johnson 2020, all rights reserved