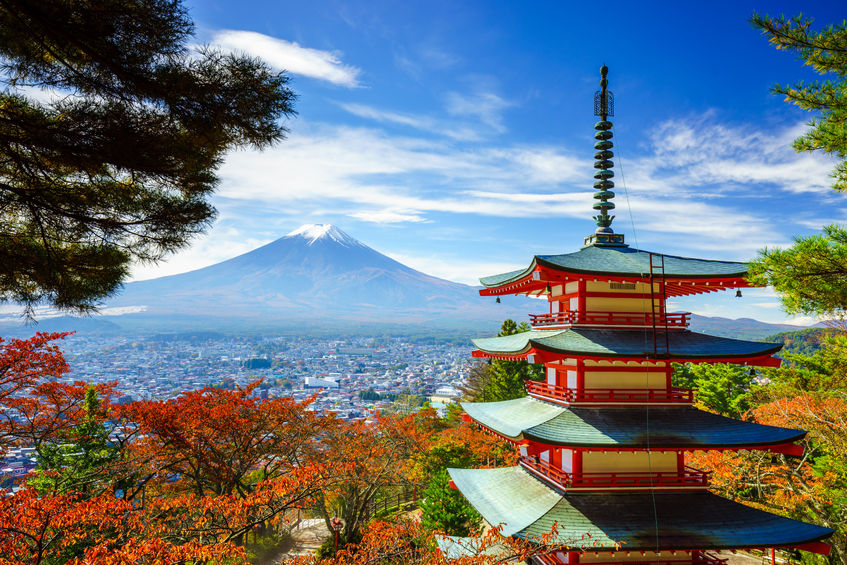 With its thriving economy, innovative technology sector, and rich culture and history, Japan has plenty to offer both professionals and students. The list below includes opportunities for anyone and everyone interested in a fellowship in Japan, whether it be for two weeks or two years. Check out the fellowships below, and don't forget to bookmark any that catch your eye to your ProFellow account!
Founded in 1997, the International Affairs Fellowship in Japan (IAF-J), sponsored by Hitachi, Ltd., seeks to strengthen mutual understanding and cooperation between the rising generations of leaders in the United States and Japan. The program provides a selected group of mid-career U.S. citizens the opportunity to expand their professional horizons by spending a period of research or other professional activity in Japan. The IAF-J is only open to U.S. citizens. The duration of the fellowship is 3-12 months. The program awards a stipend in Yen which covers travel and living expenses in Japan.
Critical Language Scholarship (CLS) institutes provide fully-funded group-based intensive language instruction and structured cultural enrichment experiences for 7-10 weeks for U.S. citizen undergraduate, Master's and Ph.D. students. Countries may include: Azerbaijan, Bangladesh, China, Egypt, India, Indonesia, Japan, Jordan, Morocco, Oman, Russia, South Korea, Tajikistan, Tunisia, Turkey, or others where the target languages are spoken. Apply in November for a fellowship the following summer.
The International Education Administrators (IEA) seminars help U.S. higher education administrators establish lasting connections within the social, cultural, and higher education systems of other countries. Selected administrators have the opportunity to gain in-depth knowledge about the host country's higher education system and establish networks of U.S. and international colleagues during a two-week fully funded visit abroad. The IEA Seminars are open to experienced international education administrators and senior administrators. Deadlines vary by country.
The JET Programme enables local authorities in Japan (prefectures, designated cities and other municipalities) to employ foreign college graduates for the purpose of improving foreign language education as well as promoting international exchange at the local level. Appointment is for one year. Participants are assigned to be either Assistant Language Teachers (ALTs) who provide language instruction in elementary, junior and senior high schools; Coordinators for International Relations (CIRs) who work in communities on international exchange activities; or Sports Exchange Advisors (SEAs) who promote international exchange through sports.
There are seven types of Japanese government-sponsored scholarships available under the Japanese Government (Monbukagakusho) Scholarship program for study in Japan: those for research students, teacher training students, undergraduate university students, Japanese studies students, college of technology students, special training students and Young Leader's Program (YLP) students. Japanese language requirements apply. Scholarship recipients are recruited and initially screened by a Japanese embassy (or consulate general, depending on the country).
The Japan Society for the Promotion of Science (JSPS) Fellowship Program provides recent PhD recipients and ABDs with opportunities to conduct research in Japan under the leadership of a host researcher. Fellows are encouraged to advance their own research and at the same time closely collaborate with young Japanese researchers and contribute to Japanese research communities. Applications are welcome from all social science and humanities disciplines and need not be explicitly related to the study of Japan. Projects propose a single, continuous stay in Japan from 1-12 months (short-term) or 1-2 years (long-term).
The program is offered to young pre- and postdoctoral researchers from the US, the UK, France, Germany and Canada. Held over a 2-month period in the summer, the program provides the participants with an orientation in Japanese language and culture and an opportunity to do cooperative research at a Japanese university or research institute. The program includes International travel (round-trip airfare), a maintenance allowance (534,000 yen) and accommodation. Deadlines vary by country and applicants must be nominated by the official authority in their county – see website.
The Luce Scholars Program is a nationally competitive fellowship program. It was launched by the Henry Luce Foundation in 1974 to enhance the understanding of Asia among potential leaders in American society. The program provides stipends, language training, and individualized professional placement in Asia for 15-18 Luce Scholars each year, and welcomes applications from college seniors, graduate students, and young professionals in a variety of fields who have had limited exposure to Asia. Candidates must be U.S. citizens up to age 30, and candidates must be nominated by one of 75 participating colleges and universities. Check with university for internal deadlines.
The Matsumae International Foundation's Research Fellowship Program was created to deal with national egoism and help nations move toward world peace. The fellowship is particularly geared toward enhancing Japan's foreign relations with other nations and ensuring the preservation of mankind. Fellowships are for 3-6 months of research in Japan with an institution of the fellow's choosing. Fellows must hold a PhD, be over 49 years old and have an interest in solving major problems facing humanity. Fellows in the fields of science, engineering and medicine will be given first priority.
This multidisciplinary program will facilitate deep and context-rich engagement with key traditions and primary texts (in translation), enabling participants to appreciate how common Confucian values were given different practical and institutional expression as they were carried from China to Korea, Japan and Vietnam. Participants will receive a total stipend of $3,900 to help meet costs associated with attending the summer Institute at the East-West Center in Honolulu, Hawaii, including travel, subsidized housing and meals. These projects are designed primarily for teachers of American undergraduate students. Qualified independent scholars and those employed by museums, libraries, historical societies, and other organizations may be eligible.
The Fellowship Program for Advanced Social Science Research on Japan is a joint activity of the Japan-U.S. Friendship Commission (JUSFC) and the National Endowment for the Humanities. Awards support research on modern Japanese society and political economy, Japan's international relations, and U.S.-Japan relations. Fellowships support continuous full-time work for a period of 6-12 months. Successful applicants receive a stipend of $4,200 per month. The maximum stipend is $50,400 for a twelve-month period.
Through GROW, NSF Graduate Research Fellows are provided an opportunity to engage in international collaborations with investigators in partner countries around the world. GROW offers funding for international stays of 2-12 months, with the duration varying by country and partner organization. GROW is offered in Australia, Brazil, Chile, Colombia, Denmark, Finland, France, India, Indonesia, Ireland, Japan, Korea, Netherlands, Norway, the Philippines, Senegal, Singapore, South Africa, Sweden and Switzerland. GROW is open to active NSF Graduate Research Fellows who have completed at least one year of their graduate program.
The OSDC PIRE program provides up to ~15 competitive summer fellowships abroad at one of our international partner sites to qualified graduate students and early career scientists to develop skills in data-intensive computing and work on research projects involving big data and cloud computing. Partner sites are located in the Netherlands, UK, Japan, Brazil and Namibia. Applicants must be a US Citizen or Permanent Resident (green card holder); a graduate student, senior undergrad, postdoc, or early career faculty; and actively conducting research in a field related to computing or a data-intensive science. Lodging, airfare, and a stipend based on a modest per diem for the international location are provided.
Princeton in Asia (PiA) is an independent, non-profit organization located at Princeton University. Founded by students in 1898, the program has long been driven by a mission to foster cross-cultural understanding between East and West, broadly defined. PiA offers year-long, service-oriented fellowships in 21 Asian countries in the fields of education, international development, public health, environmental advocacy, journalism and business, with a majority of fellows working as English teachers at universities and high schools. PiA fellowships are open to graduates or graduating seniors from all accredited U.S. colleges and universities.
Each year, Rotary selects up to 100 individuals from around the world to receive fully funded academic fellowships at one of our peace centers in Australia, England, Japan, Sweden and the U.S. These fellowships cover tuition and fees, room and board, and RT transportation. Two types of fellowships are available: (1) 15-24 month master's degree fellowships at premier universities in fields related to peace and conflict prevention and resolution and (2) 3-month fellowships for experienced professionals working in peace-related fields at Chulalongkorn University in Thailand. For more information, contact your local Rotary club or the Rotary Peace Centers Department at The Rotary Foundation.
The fellowship provides mid-level professionals (age 25-40) from developing States opportunities for advanced education and research in the field of ocean affairs and the law of the sea, and related disciplines including marine science. Fellows obtain the necessary knowledge to assist their countries to formulate comprehensive ocean policy and to implement the legal regime set out in UNCLOS and related instruments. The 9-month fellowship is composed of: 1) a 3-month Research and Training phase normally undertaken at DOALOS at the United Nations Headquarters in New York and 2) a 6-month Advanced Academic Research and Study phase undertaken at one of the prestigious participating Host Institutions.
© Victoria Johnson 2017, all rights reserved.