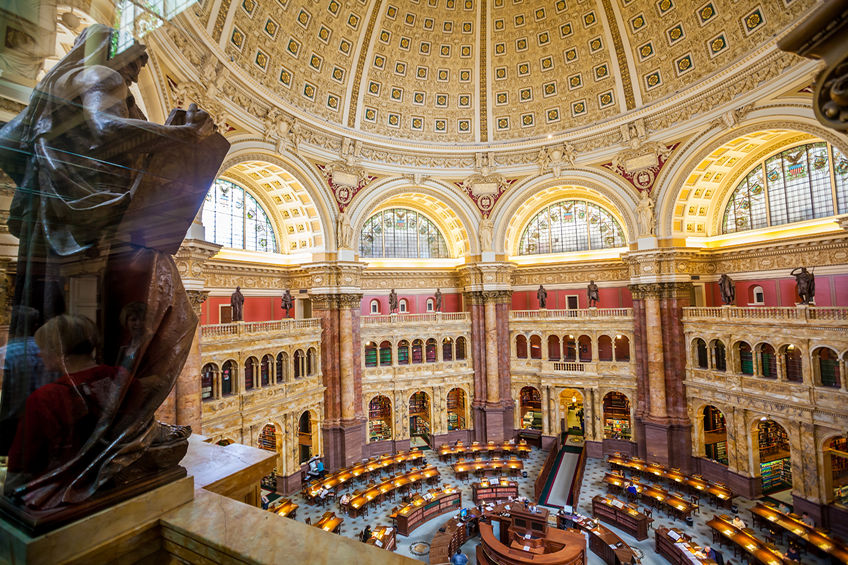 Ready to hit the books? The 18 fellowships below take fellows to the Library of Congress, the New-York Historical Society, and the Center for the History of Medicine, to name a few. If you need to carry out some heavy-duty archival history research, the opportunities below should be of interest! Be sure to bookmark any fellowship that catches your eye to your ProFellow account!
The American Antiquarian Society (AAS) maintains a major research library in American history, literature, and culture through 1876 in Worcester, MA. The AAS-NEH fellows are part of a community that includes the AAS staff, area college and university faculty, and the recipients of AAS short-term fellowships (including scholars from all over the U.S. and abroad, Ph.D. candidates, and creative artists and writers producing work for the general public) and other long-term fellows. Twenty-eight months of AAS-NEH fellowship support are available.
The purpose of this fellowship is to facilitate library and archival research in business or economic history. Individual grants range from $1,000 to $3,000. Three categories of applicants will be eligible for grants: 1) Harvard University graduate students in history, economics, or business administration, whose research requires travel to distant archives or repositories; 2) graduate students or non-tenured faculty in those fields from other universities, in the U.S. and abroad, whose research requires travel to Baker Library and other local archives; and 3) Harvard College undergraduates writing senior theses in these fields whose research requires travel away from Cambridge.
Andrew W. Mellon Foundation Fellowships
Two Andrew W. Mellon Foundation Fellowships will be awarded to candidates who have earned their PhD in the last three to five years. Research projects may include the conversion of a dissertation into a publishable manuscript or the initiation of new research based on the collections and resources of the New-York Historical Society. This ten-month residency will carry a stipend of $60,000, plus benefits.
The Center for Jewish History in New York City offers 10-month fellowships to PhD candidates supporting original research using the collections at the Center. Preference is given to those candidates who draw on the library and archival resources of more than one partner. It is required that each fellow spend a minimum of 3 days per week in residence in the Lillian Goldman Reading Room using the archival and library resources. Full fellowships carry a stipend of up to $17,500 for one academic year. It is expected that applicants will have completed all requirements for the doctoral degree except for the dissertation.
The fellowship provides a bursary of US$3000/£1800* towards travel and accommodation in support of research on any aspect of eighteenth-century Scottish studies. It is open to post-doctoral scholars of all nationalities, in all disciplines, and at all career levels. The Fellowship is for 2-6 months and may be taken at any time of the year. Fellows are expected to be in residence in Edinburgh for the duration of the Fellowship and to participate fully in IASH activities. IASH is housed in an eighteenth-century courtyard close to the Edinburgh University Library, and about twenty scholars are in residence at any time.
Foundation for the History of Women in Medicine Research Fellowship
The Foundation for the History of Women in Medicine provides one $5,000 grant to support travel, lodging, and incidental expenses for a flexible research period. Foundation Fellowships are offered for research related to the history of women to be conducted at the Center for the History of Medicine at the Francis A. Countway Library of Medicine at Harvard University in Boston, MA. Preference will be given to: projects that engage specifically with the history of women physicians, other health workers or medical scientists; those who are using collections from the Center's Archives for Women in Medicine; and applicants who live beyond commuting distance of the Countway; however, all are encouraged to apply, including graduate students.
The Beckman Center for the History of Chemistry at the Science History Institute, an independent research library in Philadelphia, accepts applications for short- and long-term fellowships in the history of science, technology, medicine, and industry. The center supports 20 fellows a year whose work is in some way tied to the history of materials and materiality, chemistry, and related sciences. Applications come from a wide range of disciplines across the humanities and social sciences. Short-term fellowships are $3,000; dissertation fellowships are $26,000; and postdoctoral fellowships are $45,000.
JMC Research Fellowships
JMC is partnered with four of America's foremost independent research libraries: the Newberry Library in Chicago, the Huntington Library in San Marino, the John D. Rockefeller Library in Colonial Williamsburg, and the American Philosophical Society in Philadelphia. In collaboration with these libraries, JMC provides 1 to 3-month research fellowships primarily for early and mid-career scholars engaged in projects that advance the study of American political thought and history. JMC research fellowships provide scholars the rare opportunity to explore unparalleled collections of documents and manuscripts from the Founding era.
Kislak Fellowship for the Study of the History and Cultures of the Early Americas
The Kislak Fellows Program supports scholarly research that contributes significantly to a greater understanding of the history and cultures of the Americas. It provides for a period of up to 8 months, at a stipend of $4,200 per month, for residential research at the Library of Congress. The program supports research projects in the disciplines of archaeology, history, cartography, epigraphy, linguistics, ethnohistory, ethnography, bibliography, and sociology, with particular emphasis on Florida, the circum-Caribbean region, and Mesoamerica. Applicants may be of any nationality and must possess a Ph.D. degree or equivalent terminal degree.
The Leo Baeck Institute is a research, study, and lecture center whose library and archives offer comprehensive documentation for the study of the history and culture of German-speaking Jewry. Fellowships are awarded for research in New York or Germany on the social, communal, and intellectual history of German-speaking Jewry. Financial assistance is provided to doctoral students for dissertation research and to young academics for the preparation of a scholarly essay or book.
The American Philosophical Society Library offers short-term residential fellowships for conducting research in its collections. The Library is a leading international center for research in the history of American science and technology and its European roots, as well as early American history and culture. The fellowships, funded by generous benefactors, are open to both U.S. citizens and foreign nationals. Applicants may be holders of the Ph.D. or its equivalent, Ph.D. candidates who have passed their preliminary examinations, and degreed independent scholars. A stipend of $3,000 per month is awarded for 1-3 months.
Fellowships up to $4,200 per month will assist pre- and post-doctoral scholars in financing a research visit to the Linda Hall Library in Kansas City. Residential Fellowships are offered for 1-9 months and support research and history projects in science, engineering, and technology or in interdisciplinary topics that link science or technology to the broader culture. Linda Hall is also offering an 80/20 Fellowship to help prepare graduate students for diverse career possibilities within and outside the academy. A pre-doctoral fellow can spend 80 percent of the time pursuing dissertation-related research in the Library's collections and 20 percent gaining valuable career-related skills by planning, curating, and installing an exhibition based on the fellow's research and the Library's holdings.
An in-residence postdoctoral fellowship at the Hagley research library to perform historical research on business and its impact on the world. Scholars can connect their research to other topics in the humanities and social sciences to explain the impact business has had on them and all of the library's resources will be available for the fellow to aid their research. Fellows must be U.S. citizens or foreign nationals who have lived in the U.S. for at least 3 years. The fellowships are for either 4 or 8 months and include lodging, a stipend of $4,200/month and an office space.
NEH Fellowship at the New-York Historical Society
One fellowship for the length of a single academic year is supported by the National Endowment for the Humanities for research at the New-York Historical Society. The fellowship is available to individuals who have completed their formal professional training and have a strong record of accomplishment within their field. There is no restriction relating to age or academic status of applicants. Foreign nationals are eligible to apply if they have lived in the United States for at least three years immediately preceding the application deadline. The ten-month residency will carry a stipend of $42,000, plus benefits.
Patricia and John Klingenstein Short-Term Fellowships
The Patricia D. Klingenstein Library at the New-York Historical Society is home to more than 350,000 books, three million manuscripts, and distinctive collections of maps, photographs, and prints, as well as ephemera and family papers documenting the history of the United States from a distinctly New York perspective.  Two or more Patricia and John Klingenstein Short-Term Fellowships will be awarded to scholars at any academic level. Fellows will conduct research in the library collections of the New York Historical Society for two to four weeks at a time, and will receive a stipend of $1,500 to $2,000.
LancasterHistory.org will make available several short-term research fellowships for scholars utilizing the collections during the academic year. Our extensive archival, library, and object collections are capable of supporting research in a variety of fields and disciplines relating to the history of Lancaster County, the Commonwealth of Pennsylvania, and America from the late 17th century to the present. Fellowships are available for periods of one to four weeks ($500 per week; a total pool of $5,000) and must be used within 12 months of the award notification. There are two opportunities to apply each year.
The New York Public Library offers Short-Term Research Fellowships to support visiting scholars from outside the New York metropolitan area engaged in graduate-level, post-doctoral and independent research. Fellowship stipends are $1,000 per week for up to 4 weeks and researchers must be in residence at the Library for a minimum of 2 weeks between July and June. Supports on-site research in the Library's special collections for projects in the humanities including art history, cultural studies, history, literature, performing arts and photography. Applicants must be U.S. citizens or permanent residents.
The fellowship enables established scholars from around the world whose primary interest is the business and economic history of the United States to spend time in residence at Harvard Business School. The main activities of the Thomas K. McCraw Fellow will be to conduct research in the archives of Baker Library or in other Boston-area libraries, present his or her work at a seminar, and interact with HBS faculty. The Thomas K. McCraw Fellow will receive a stipend of $7,000 to cover travel and living expenses. Fellows are expected to be in residence for a minimum of two months.
© Victoria Johnson 2018, all rights reserved.