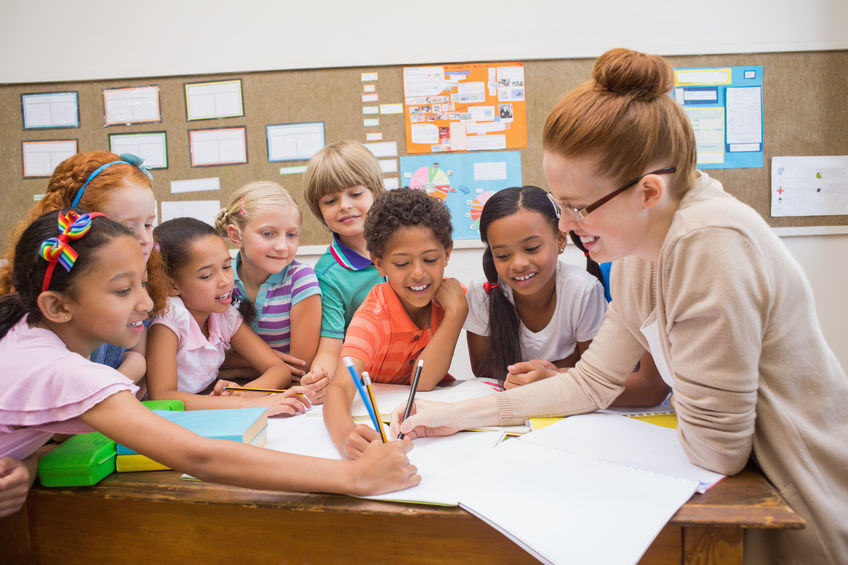 Teaching fellowships are a common way for graduates to gain classroom experience and expand their professional skill set. Coupling such fellowships with travel abroad and cross-cultural immersion makes for some of the most exciting and unique teaching opportunities out there, whether it's teaching English in Japan or math in the Marshall Islands. Interested in teaching abroad? Check out these 18 fellowships, and be sure to bookmark any that catch your eye to your ProFellow account!
Atlas Corps offers two fellowships. One seeks global nonprofit/NGO professionals age 22-35 to apply for a paid 6-18 month; overseas fellowship program in the U.S. Atlas Corps engages nonprofit leaders in fellowships at organizations to learn best practices, build organizational capacity, and return home to create a network of global leaders. The other is an English Teaching Fellowship in Colombia for U.S. applicants up to age 50. Fellowship benefits include a living stipend to cover basic expenses (food, local transportation, and shared housing) and health insurance. There are different deadlines by country, check the website for deadlines.
The Fellowship Program consists of five scholarship programs that offer tailored financial support. Scholarships are granted to students and young professionals (up to two years after graduation) from Germany wishing to realize a study or research project abroad or to foreign students/young professionals who would like to pursue a project in Germany. Scholarships are available in Life Sciences, Medicine, Agro Sciences, Biology and Chemistry Education, Healthcare, Technology, and Business.
For North American guest lecturers to be hosted at German universities. This program serves to strengthen the internationalization of the educational experience for scholars, host institutions, and students by welcoming educators from North America to university campuses in Germany for guest lectureships. International degree programs at German universities and traditional curricula seeking to infuse an international aspect provide opportunities for professors in all fields to contribute their expertise in particular subjects and teaching methods. Courses need not be taught in German.
The English Language (EL) Fellow Program promotes English language learning around the world and fosters mutual understanding between the U.S. and other countries. It places talented, highly qualified U.S. educators with Master's degrees with a focus in TEFL/TESL or Applied Linguistics in all regions of the world for 10 months. Fellows typically serve as full-time teachers of English as a foreign or second language to diverse groups, ranging from college students to professionals. Senior Fellows serve primarily as teacher trainers. Fellows receive a $30,000 stipend, roundtrip travel and other benefits.
The English Language Specialist Program provides opportunities for U.S. academics and professionals in the field of teaching English to Speakers of Other Languages (TESOL) to conduct short-term (2-16 week) programs overseas. English Language Specialists assist U.S. embassies in teacher training, curriculum and textbook development, host institution program evaluation, and other related activities. Successful candidates will be placed into a pool of potential candidates to be matched to suitable assignments throughout the year. Qualified candidates must have Master's or PhD in TESOL or related field and 5 years English teaching experience. Applications accepted year round on a rolling basis.
The English Teaching Assistant (ETA) Programs place recent college graduates and young professionals from the U.S. in classrooms abroad for up to 1 year to provide assistance to the local English teachers. ETA's help teach the English language while serving as cultural ambassadors for the U.S. The age and academic level of the students varies by country, ranging from kindergarten to university level. Applicants for English Teaching Assistant Programs can apply to only one country. Applicants must be U.S. citizens at the time of application.
Through the Fulbright Distinguished Awards in Teaching Short-Term Program, U.S. K-12 teachers and international educators can apply for long-term grants (3-6 months for U.S. teachers or 4 months for international teachers) or short-term grants (2-6 weeks) abroad to study at a university, observe classes and complete a project pertaining to their field of educational inquiry during their time abroad. The program is open to teachers from the United States and selected countries in multiple world regions. U.S. teachers have a December deadline for long-term grants, February deadline for short-term grants.
The Fulbright Global Scholar Award allows U.S. academics and professionals to engage in multi-country, trans-regional projects. As a truly worldwide award, U.S. scholars will be able to propose research or combined teaching/research activity in two to three countries with flexible schedule options; trips can be conducted within one academic year or spread over two consecutive years. Projects are welcome in all disciplines, as well as those with an interdisciplinary focus. Minimum length of the total grant is 3 months, and the maximum is 6 months.
The Core Fulbright Scholar Program offers over 500 teaching, research or combination teaching/research awards of 2-12 months in over 125 countries. Opportunities are available for college and university faculty and administrators as well as for professionals, artists, journalists, scientists, lawyers, independent scholars and many others. In addition to several new program models designed to meet the changing needs of U.S. academics and professionals, Fulbright is offering more opportunities for flexible, multi-country grants. Only U.S. citizens are eligible to apply.
Up to 12 grants are available to recent graduates to serve as Teaching Fellows at the Hellenic American Educational Foundation (HAEF) and act as young ambassadors, strengthening the ties between the Foundation and the United States, and providing a cross-cultural educational experience. The Fellowship is open to recent U.S. Bachelor's and Master's degree holders with a record of academic excellence at both the undergraduate and graduate level. The preferred age limit at the time of application is 26. Majors in Education and English literature and language (including TESOL/TEFL) are preferred, but not required.
The JET Programme enables local authorities in Japan (prefectures, designated cities and other municipalities) to employ foreign college graduates for the purpose of improving foreign language education as well as promoting international exchange at the local level. The appointment is for one year. Participants are assigned to be either Assistant Language Teachers (ALTs) who provide language instruction in elementary, junior and senior high schools; Coordinators for International Relations (CIRs) who work in communities on international exchange activities; or Sports Exchange Advisors (SEAs) who promote international exchange through sports.
MENAR sends fellows to work with the Elm International School which strives to be a leading progressive school based in Alexandria, Egypt. Elm's mission is to develop leaders of the 21st century that are global citizens with an international mindset, have respect for diversity and belief in universal human values while honoring our deeply rooted heritage, values and language. In the pursuit of this mission, the school believes in a balanced development approach for each child; spiritual, moral, intellectual, social, emotional, and physical. Children are ages 3-12, and the fellow will be responsible for lesson plans and running the classroom.
ClubAnglais is pleased to offer an opportunity for MENAR Fellows to join the staff of ClubAnglais for the 2018-19 academic years as we pursue our mission to transform lives in Tunisia by teaching English to children ages 18 months through 14 years. This specific opportunity consists of teaching English 20 hours per week: 9 hours per week in our after-school programs for children ages 6-14 years, and 11 hours per week in our early childhood programs for children ages 18 months through 5 years. Applicants must be native English speakers and have a passion for working with children.
Princeton in Asia (PiA) is an independent, non-profit organization located at Princeton University. Founded by students in 1898, the program has long been driven by a mission to foster cross-cultural understanding between East and West, broadly defined. PiA offers year-long, service-oriented fellowships in 21 Asian countries in the fields of education, international development, public health, environmental advocacy, journalism and business, with a majority of fellows working as English teachers at universities and high schools. PiA fellowships are open to graduates or graduating seniors from all accredited U.S. colleges and universities.
The Teaching Assistant Program in France offers the opportunity to work in France for 7 months, teaching English to French students of all ages. Each year, over 1,100 American citizens and permanent residents teach in public schools across all regions of metropolitan France and the overseas departments of French Guiana, Guadeloupe, Martinique and Réunion. Most TAPIF program participants have just finished their university studies. We also welcome people under the age of 30 who have just finished their graduate studies, young professionals looking for a new challenge, etc. The monthly salary is approximately 780 Euro.
Fellowships in teaching English as a foreign language (TEFL) are offered annually to full-time students who wish to pursue a master's degree in TEFL and to acquire language teaching experience at The American University in Cairo. Fellowships are offered in the Department of English Language Instruction for two academic years and the intervening summer session. The award includes a waiver of tuition fees, monthly stipend, accommodation and one-way home travel. Fellows pursue degree study and teach eight hours of English per week.
As a WorldTeach volunteer in the Marshall Islands, you teach English, math or science in either the urban centers or on the remote atolls across the vast ocean. The program funding covers international airfare, visa, housing, monthly living stipend, supplemental overseas health and emergency evacuation insurance, orientation and additional training conferences, 24-hour in-country field director support, access to a remote teacher quality coordinator, alumni support and networking. However, volunteers are required to make a US$2,000 deposit, which will be refunded upon successful completion of the program. Candidates must have a bachelor's degree and be between age 21-74.
In American Samoa, WorldTeach volunteers serve as either a co-teacher in elementary schools teaching English, or a high school teacher teaching science, math, or social studies. The program funding covers international airfare, visa, housing, monthly living stipend, supplemental overseas health and emergency evacuation insurance, orientation and additional training conferences, 24-hour in-country field director support, access to a remote teacher quality coordinator, alumni support and networking. However, volunteers are required to make a US$2,000 deposit, which will be refunded upon successful completion of the program. Candidates must have a bachelor's degree, be between age 21-74, and pass the PRAXIS I exam with at least a score of 170 before their program start date.
© Victoria Johnson 2017, all rights reserved.