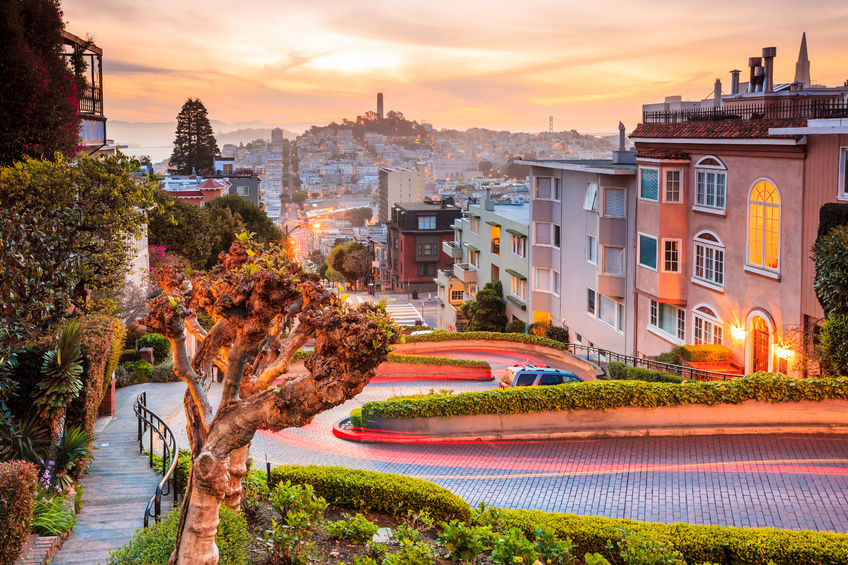 San Francisco: The birthplace of the United Nations, the hippie movement, and biotechnology. This city has something for everyone, not to mention a variety of fellowships for teachers, scientists, community leaders, and everything in between. If you are interested in furthering your career or education in the city by the bay, check out these 19 fellowships! And don't forget to bookmark any fellowships that catch your eye to your ProFellow account.
Root Division is a visual arts non-profit located in the San Francisco's Mid-Market/SOMA district. Root Division's mission is to empower artists, promote community service, inspire youth, and enrich the Bay Area through engagement in the visual arts. The Fellowship, named for Ms. Darwin's late mother, Emmy Blau- Gold, is designed to support an emerging artist for one year by providing free studio space and a monetary stipend. The fellow will act as Resident Teaching Artist in one of our partner school sites (grades K-8).
Butler Koshland Fellowships (BKF) is a unique program designed to pass on public service leadership skills and legacy. Our model is simple and personal—we ask extraordinary leaders to mentor an emerging leader. Each mentor and fellow pair work closely together on a project for one year, during which time we fund the fellow's salary. The fellow is also integrated into and supported by a community of Butler Koshland fellows and mentors—past, current, and future—doing important work for the common good. Fellowship opportunities based in the San Francisco Bay Area are published as they arise. Please view the website for the latest opportunities.
The Cansbridge Fellowship seeks to build future leaders through a program that fosters growth through creating new ideas and using a powerful network for change. Leaders and entrepreneurs who think outside the box and who have a past as risk-takers are invited to apply. The fellowship includes international work experience in Asia, a conference in San Francisco and access to the Cansbridge Global Network. Applicants must be undergraduates currently enrolled in a Canadian college or university and pursuing a degree in business, science, design or technology.
A Climate Corps Bay Area (CCBA) Fellowship offers 10 months of experience implementing climate change resiliency projects with community partners such as government agencies and non-profits. Along with extensive personal development and training, Fellows receive a modest stipend and other benefits. The Fellowship will start in late September and end in August. Applications are accepted on a rolling basis: submit applications as soon as possible in order to receive priority placement consideration.
The Data Incubator is a Cornell-funded data science training organization that runs an advanced 8-week fellowship for PhDs looking to enter industry. A variety of innovative companies' partner with The Data Incubator for their hiring and training needs, including LinkedIn, Genentech, Capital One, Pfizer, and many others. The program is free for admitted Fellows. Fellows have the option to participate in the program either in person in New York City, Washington DC, the San Francisco Bay Area, or online. Multiple sessions offered each year, check website for deadlines.
The EnCorps STEM Teaching Fellowship is a career pathway that includes a volunteer pre-service component: tutoring and/or guest teaching in high-need schools and after-school programs. Fellows are matched with an EnCorps partner school and commit to 2-5 hours per week. EnCorps provides study materials for such exams as the CSET, credentialing resources and research and scholarship and professional development award opportunities. Applicants must have 3+ years of work or research experience as a STEM industry professional and currently live in an area we serve: Greater San Francisco Bay Area, Greater Sacramento Area, Greater Los Angeles Area, Orange County, or San Diego.
Ignited (formerly IISME) offers research and industry-based professional development opportunities for K-16 teachers in Alameda, Contra Costa, Marin, San Francisco, San Mateo, Santa Clara and Santa Cruz Counties. The IISME Summer Fellowship Program places eligible K-16 teachers of all subjects into high-performance work sites for the summer. Teachers work full-time for 8 weeks, complete a project for their sponsors, and are paid $8,200 for their work. Teachers also spend 10% of their paid time focusing on how they will transfer their Fellowship experience back to their students. Applications are accepted on a rolling basis until all Fellowships are filled.
Jeremiah is for 22-32 year old Jews who live in a Jeremiah region (Los Angeles, San Francisco Bay Area, Washington, DC). The Jeremiah Fellowship gives Jews who are committed to economic and social justice the opportunity to explore how Jewish values, culture and community support and further their goals. Throughout the program, which lasts 9 months, Fellows meet together regularly for skill building sessions, Jewish study and reflection, and mutual support. Participants do not pay for their Fellowship, which includes nine months of trainings, guest speakers, and materials; as well as accommodations and meals.
The Kleiner Perkins Caufield & Byers Fellows Program is a 3-month work-based program that pairs top U.S. students interested in design, engineering and product management with innovative startup companies in Silicon Valley. Over the course of a summer, Fellows are employed at our portfolio companies, where they can develop their technical skills and be mentored by an engineering executive within the company. Fellows are also be invited to attend private events held by KPCB and by portfolio companies, where they can meet other talented engineering students, network with technology luminaries and explore the San Francisco Bay Area.
The Ben Bagdikian Fellowship Program offers a crash course in investigative journalism. It also supports emerging journalists and media professionals, allowing them to make invaluable contributions to a high-flying news organization. Based in San Francisco or Washington, DC, Mother Jones fellows dive deep into every aspect of a national multimedia outfit—from the making of news, to making it pretty, to ensuring its impact, to mastering the inner workings of nonprofit publishing. Fellows receive a $1,500 monthly stipend. After six months, fellows can apply to stay on for a 6-month senior fellowship with an increased $1,800 monthly stipend.
The Multicultural Fellowship Program is a two-year, full-time program that aims to increase diversity in the philanthropic and nonprofit sectors. Successful candidates represent diverse backgrounds and come with the promise and passion to create significant social change. The Fellowship provides on-the-job training at our office in San Francisco. Applicants must have a Master's degree or relevant experience, and a minimum of 5 years related work experience. There are additional skills requirements for each offered fellowship (Arts & Culture, Community Health, and Public Policy & Civic Engagement). Compensation is $50-54K/year plus benefits.
The New Sector Residency in Social Enterprise (RISE) is an 11-month professional development program designed for emerging leaders with up to 5 years of professional work experience. In addition to full-time employment at one of our partner host-sites, Fellows receive monthly professional development trainings, mentorship, and individual career coaching to support their long-term careers in the social sector. RISE operates in the Boston, Chicago, San Francisco, and Twin Cities areas. Salary and benefits are provided by the host site partner and range from $28K – $38K. (Program currently suspended, check back in 2018).
Our flagship program, the ProInspire Fellowship, recruits top business professionals with 2-5 years of business experience who want to use their skills for social impact and to invest in a growing community of ProInspire fellows. Fellows spend 1 year working in an analytical or strategic role at a nonprofit organization. ProInspire provides Fellows a robust professional development program to support their transition into the social sector. After the Fellowship, Fellows engage with other alumni to continue investing in the sector. ProInspire has programs in Washington, DC and San Francisco. 3 deadlines – check the website.
The mission of the program is to foster community stewardship by preparing recent college graduates for 11+month leadership roles in public service. Fellows are full-time City employees who earn an annual salary of approximately $50,000, plus comprehensive health and dental benefits. The program is looking for enthusiastic, creative, hard-working individuals who are interested in public service and who would like to learn about policy implementation in the City and County of San Francisco.
TechWomen brings emerging women leaders in science, technology, engineering and mathematics (STEM) from Africa, Central and South Asia, and the Middle East together with their professional counterparts in the United States for a mentorship and exchange program. TechWomen provides participants access to networks, resources, and knowledge to empower them to reach their full potential. During the five-week program, participants engage in project-based mentorships at leading companies in the San Francisco Bay Area and Silicon Valley and participate in professional development workshops. Applicants must be women with, at minimum, two years full-time professional experience in the STEM fields and eligible to obtain a U.S. J-1 exchange visitor visa.
TOLA is an intensive training academy in the San Francisco Bay Area designed to teach community organizing and leadership. Taught by experienced community, business, educational and political leaders in California, the program includes classroom instruction and project-based learning, where the core focus of the fellowship is on the ground training in effective organizing skills and tactics. Each TOLA Fellow commits to a full-time organizer's schedule for 4 months. The program seeks candidates between the ages of 22 and 35 with an associate or baccalaureate degree, or relevant experience and is fully funded, offering a stipend of $2,500/month.
The San Francisco Trial Lawyers Association (SFTLA) Diversity Committee has established a summer-long Fellowship Program to introduce a diverse group of law students to the plaintiffs' bar generally and to the SFTLA specifically. Fellows will gain exposure to the work of trial attorneys by "shadowing" three mentor law firms, each for a three to four week period. Fellows will attend depositions, hearings, settlement proceedings, and possibly even trial with their mentors.  They will also have the opportunity to work on short-duration projects, including a writing assignment. Participants receive a stipend of $7,500 for the summer.
Tetra Tech DPK's Global Law and Development Fellowship Program provides a short-term concentrated experience for students enrolled in, or professionals having completed, graduate programs in law, international development, court administration, public policy, or related fields. The program provides exposure to the management and implementation of international development projects on access to justice, anti-corruption, or various aspects of the rule of law. Fellows spend 8-12 weeks assigned to one of our field projects or to our San Francisco home office. Stipend and travel provided. Applications are received year round.
The Work First Fellowship connects young professionals with the opportunity to have a direct impact on urban poverty. Fellows work one-on-one with individuals living below the poverty level to help them find employment and get back on their feet, while also conducting policy research on effective job placement programs. This service year combines direct support to the needy while also reviewing public policy that shapes the lives of their clients. Fellows receive $40,000/calendar year salary rate plus benefits. An additional $5,000 award is available to eligible Fellows upon successful completion of each Fellow's individual research project. Start date in June.
© Victoria Johnson 2017, all rights reserved.