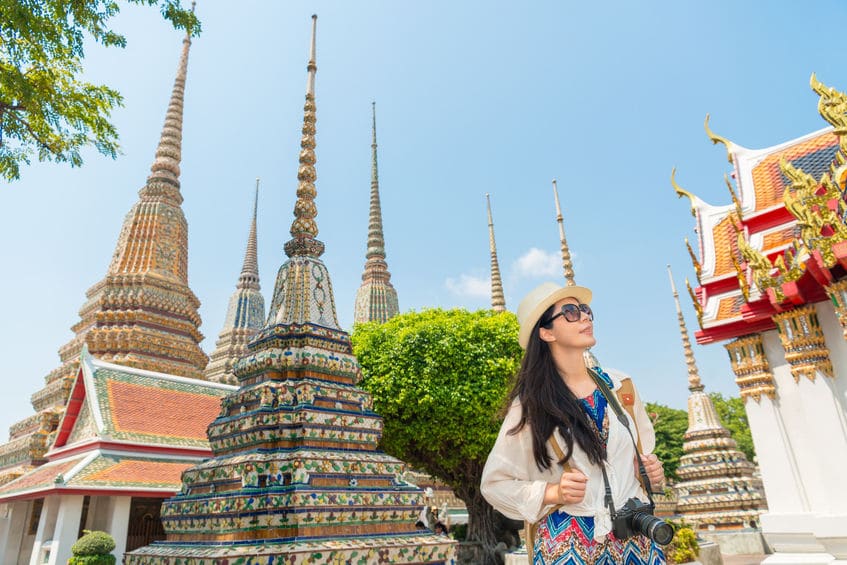 If you have always wanted to explore the world and immerse yourself in another culture, you might consider applying for a Fulbright U.S. Student Award. Presenting a huge array of opportunities for everyone from recent graduates, professionals, to Ph.D. candidates, fellows embark on a research project, further their academic studies, or teach English as a second language in one of over 140 countries. Fellows come from all disciplines and can be at any stage in their academic or professional career.
These awards can be highly competitive, with some countries having an award rate of less than 5%. However, there is good news! There are many lesser-known and equally exciting international fellowships that also offer research, study, and teaching opportunities all over the world. If you're applying for a Fulbright, you could re-purpose your application documents to apply for these unique and prestigious opportunities.
This list of Fulbright alternatives showcases 20 international fellowship opportunities for recent graduates, beginning with those that have the earliest deadlines and ending with those that have rolling deadlines. If one of these programs sounds like a great fit for you, be sure to bookmark it to your ProFellow account!
Princeton in Asia (PiA) is an independent, non-profit organization affiliated with Princeton University. Founded in 1898, the program has long been driven by a mission to foster mutual appreciation and cultural understanding by connecting service-minded graduates and partner organizations in Asia through immersive work experiences. PiA offers year-long, service-oriented fellowships in 22 countries and regions of Asia in the fields of education, public health, economic development, environmental sustainability, and peace, justice, and access to information. PiA fellowships are open to graduates or graduating seniors of any university. Deadline: November 9, 2020
Princeton in Latin America (PiLA) seeks to connect recent college graduates with one-year, service-oriented positions at NGOs and community based service organizations in Latin America. For all positions, basic professional competency in Spanish or Portuguese is required. In addition to Spanish, French may be helpful for some placements in the Dominican Republic, for those projects serving the Haitian immigrant population. Application interviews are conducted partly in Spanish or Portuguese, and a language-competency evaluation is part of the application. Applications to PiLA are open to U.S. citizens and permanent residents who are recent graduates of U.S. and Canadian universities. Deadline: November 12, 2020
The Global Community Fellowship is a 13-15 month program for graduating seniors and young or established professionals. Fellows work at NGOs and schools across Asia to support community development and youth education programs. Candidates include starting and experienced professionals with a BA or BS degree. Although the fellowship is primarily aimed towards US citizens, applications are accepted from international residents who have a previous connection to VIA or a substantial US connection. The fellowship provides a living and housing stipend, medical insurance, Intra-Asia travel and language study grants. Deadline: November 15, 2020
The JET Programme enables local authorities in Japan (prefectures, designated cities and other municipalities) to employ foreign college graduates for the purpose of improving foreign language education as well as promoting international exchange at the local level. Appointment is for one year. Participants are assigned to be either Assistant Language Teachers (ALTs) who provide language instruction in elementary, junior and senior high schools; Coordinators for International Relations (CIRs) who work in communities on international exchange activities; or Sports Exchange Advisors (SEAs) who promote international exchange through sports. Deadline: November 20, 2020
The MENAR Fellowship Program is working to achieve this objective by offering one-year post-graduation fellowships for top graduates of American colleges at leading organizations in the Middle East and North Africa. The program offers these graduates an opportunity to engage with the people and institutions of the Middle East through high-impact, professional fellowships; provides service organizations with passionate young professionals who can forge a bridge between the U.S. and the region and aid in the region's development; and fosters a new generation of U.S. leaders in service, politics, and policy who have experience with the challenges the region faces and the potential it holds. Deadline: December 15, 2020
Blakemore Freeman Fellowships are awarded for one academic year of full-time, intensive language study at the advanced level in East or Southeast Asia in approved language programs. Applicants must have a well-defined career objective involving Asia in which regular use of the language is an important aspect; the potential to make a significant contribution to a field of study or area of professional or business activity in an Asian country; prior experience in the Asian country or involvement or participation in activities related to the country; and a good academic, professional, or business background appropriate to the career program. The fellowship covers tuition or tutoring fees, plus a stipend for travel, living and study expenses. Deadline: December 30, 2020
A Kiva fellowship allows you to immerse yourself in the culture and language of your host country or region for 6 months, while applying your skills in new ways with one or more of our 300 Field Partners. You'll gain a behind-the-scenes understanding of microfinance and social enterprise. The Kiva Fellows Program has a small budget to help offset costs by reimbursing fellows for international travel (up to $1,500) and monthly living expenses (up to $2,500 total for a 6-month fellowship, or around $400/month). Kiva fellows must be 21 years of age by the start of training week. You must be able to legally travel to the U.S. for the week-long training program. Estimated Deadline: December 2020
During each two-year fellowship cycle, 12-15 Leland Fellows are placed with international development organizations that include international and local NGOs, U.S. government agencies and multilateral organizations. Host organizations in the past have included Concern Worldwide, the UN World Food Program, Catholic Relief Services, Mercy Corps, and many more. Fellows work on a variety of food security issues, such as agricultural development, nutrition, natural resource management, agribusiness development and women's empowerment. CHC provides each fellow a financial package designed to support living expenses (placement location specific), and help offset the costs of housing, relocation, and acquisition of public market health insurance. Deadline: January 11, 2021
Fellowships in teaching English as a foreign language (TEFL) are offered annually to full-time students who wish to pursue a master's degree in TEFL and to acquire language teaching experience at The American University in Cairo. Fellowships are offered in the Department of English Language Instruction for two academic years and the intervening summer session. The award includes a waiver of tuition fees, monthly stipend, accommodation and one-way home travel. Fellows pursue degree study and teach eight hours of English per week. Deadline: January 11, 2021
Global Health Corps is mobilizing a global community of emerging leaders to build the movement for health equity. We place talented individuals from a wide variety of backgrounds in paid, high impact roles in NGOs and government agencies in sub-Saharan Africa and the US for one year. During the fellowship year, fellows collaborate, innovate, and create sustainable and impactful change. Applicants can apply for up to 3 positions that match their interests and skills, from project management to monitoring and evaluation, engineering, communications and more. We are looking for people from a broad range of sectors and disciplines. Deadline: January 13, 2021
The Samuel Huntington Public Service Award provides a $15,000 stipend for a graduating college senior from a U.S. university to pursue one year of public service anywhere in the world. The award allows recipients to engage in a meaningful public service activity for one year before proceeding on to graduate school or a career. To apply, please develop a proposal for public service in this country or abroad. The proposal may encompass any activity that furthers the public good. It can be undertaken by yourself alone or by working through established charitable, religious, educational, governmental, or other public service organizations. Deadline: January 15, 2021
Boren Fellowships provide up to $24,000 to U.S. graduate students to add an important international and language component to their graduate education through specialization in area study, language study, or increased language proficiency. Boren Fellowships support study and research in areas of the world that are critical to U.S. interests, including Africa, Asia, Central & Eastern Europe, Eurasia, Latin America, and the Middle East, with a focus on studying less commonly taught languages. Boren Fellowship awards are made for a minimum of 12 weeks and maximum of 24 months. Deadline: January 27, 2021
AIF William J. Clinton Fellowship for Service in India is a volunteer service program that pairs a select number of young professionals from the U.S. and India with under-resourced NGOs and social enterprises in India in order to support projects that are replicable, scalable, and sustainable. Applicants must be U.S. or Indian citizens or U.S. permanent residents between the ages of 21 and 34 and have completed a Bachelor's degree. AIF provides a living stipend, insurance coverage, and program-related travel to each Fellow. Estimated deadline: January 2021
The U.S. Department of State's Benjamin A. Gilman International Scholarship is a grant program that enables students of limited financial means to study or intern abroad, thereby gaining skills critical to our national security and economic competitiveness. The Gilman Scholarship Program is open to U.S. citizen undergraduate students who are receiving Federal Pell Grant funding at a two-year or four-year college or university to participate in study and intern abroad programs worldwide. Award amounts will vary depending on the length of study and student need. There are multiple deadlines per year, so make sure to check out the website. Estimated Deadline: March 2021
The NIF/Shatil Social Justice Fellowship is a 10-month immersive experience in Israel, where fellows work on cutting-edge social justice issues alongside veteran activists. Fellows spend four days per week working on the front lines of social change in Israel at a premiere Israeli social change organization. In addition to monthly seminars, fellows will learn about coalition and movement building from experts. Living expenses are covered by a stipend. Fellows should have strong Hebrew language skills or proficiency in Arabic. Estimated Deadline: March 2021
The Profugo Field Fellowship is a program offered to recent graduates or master's students. The program offers credit to master's students who must complete their field practicum in order to graduate. Field Fellows coordinate a specific project or program at the Center of Development in India and gain hands-on experience by supporting local staff on various projects and programs. The Fellowship program is 1 year in duration but longer or shorter terms of service may be considered depending on the circumstances. Field Fellows will be provided room, board, and a modest stipend; students of all disciplines are invited to apply. Estimated deadline: April 2021
The International Innovation Corps (IIC) is a new, unique opportunity for graduates to play an active role in building and implementing innovative solutions to some of India's toughest social problems. Fellows will work at Indian public sector enterprises for paid, one-year assignments that tackle important social challenges. The Fellowship is open to recent and forthcoming University of Chicago graduates of the college and any graduate degree program as well as other US-based institutions. Each IIC fellow receives a stipend, health insurance, and round-trip airfare to India. Estimated deadline: May 2021
Each year, Rotary selects up to 100 individuals from around the world to receive fully funded academic fellowships at one of our peace centers in Australia, England, Japan, Sweden and the U.S. These fellowships cover tuition and fees, room and board, and round-trip transportation. Two types of fellowships are available: (1) 15-24 month master's degree fellowships at premier universities in fields related to peace and conflict prevention and resolution and (2) 3-month fellowships for experienced professionals working in peace-related fields at Chulalongkorn University in Thailand. For more information, contact your local Rotary club or the Rotary Peace Centers Department at The Rotary Foundation. Estimated deadline: May 2021
The Consular Fellows Program offers candidates a unique opportunity to serve their country, utilize their foreign language skills, and develop valuable skills and experience that will serve them well in follow-on professions. Using their language skills in Spanish, Portuguese, Mandarin Chinese, or Arabic, their primary duty is to adjudicate visas for foreign nationals. Duties and responsibilities are similar to those of entry-level career Foreign Service Officers. Full benefits are provided and fellows will receive a starting salary of at least $48,135. This fellowship lasts from 12-60 months and can be ended at any time with 30 days notice. Deadline: Rolling
© Victoria Johnson 2020, all rights reserved