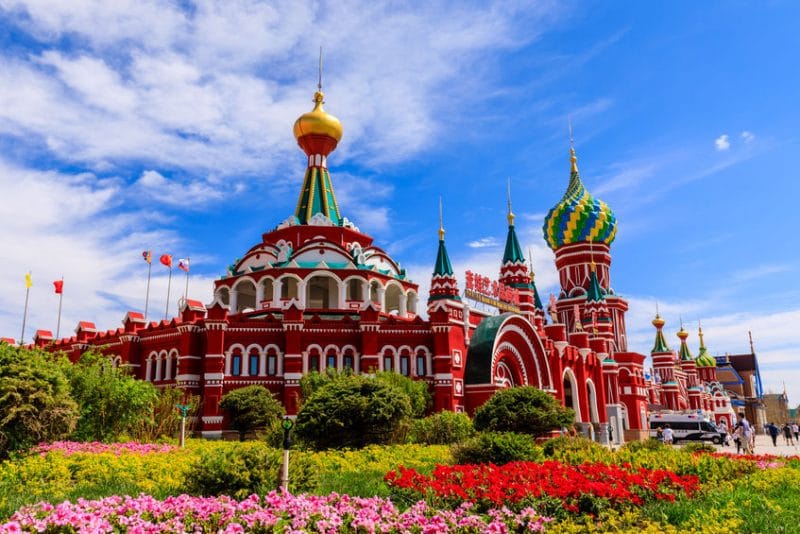 If you're looking for a short-term opportunity to immerse yourself in a new culture while undertaking research or getting valuable professional experience, these fellowships are for you! These programs are for U.S. citizens in a variety of disciplines including journalism, music, education, and medicine, among others. They are based in locations including Morocco, Austria, Mongolia, Italy, Russia, China, and Japan. If one of these sounds exciting to you, make sure to bookmark it to your ProFellow account!
The American Center for Mongolian Studies is inviting applications to conduct short-term library development projects and/or research for a period of up to 12 weeks in Mongolia. Fellows must be US citizens with at least a bachelor's degree and currently enrolled or employed at a university or college in library or information sciences. The projects will be conducted between May and September with an up to $4,000 award given with additional funding for travel. The goal of the fellowship is to help support the development of the ACMS Library.
This fellowship provides promising young conductors the opportunity to spend up to 4 weeks at the Salzburg Festival observing the world's leading conductors and artists at work during rehearsals and performances. The chance to observe and actually meet the maestros is an unforgettable experience for any young conductor. Qualified young conductors who have recently finished their academic studies or who are working toward graduate diplomas in conducting at top-ranking American music schools, up to the age of 30, may apply. Proficiency in English is required; working knowledge of German is desirable. Non-US citizens are welcome to apply.
The AsiaGlobal Fellows Program at the University of Hong Kong (HKU) is a 13-week interdisciplinary program designed to nurture future leaders. AsiaGlobal Fellows are promising mid-career professionals from around the world and across a spectrum of occupations, including policy makers, policy advisors, business and civil society. They share a common policy interest in Asia, have demonstrated strong leadership potential, and are committed to making a positive impact on society. The program provides Fellows a monthly stipend to help with living costs, accommodation, round-trip travel, site-visit travel expenses and insurance.
The Bellagio Arts & Literary Arts residency in Italy is for composers, fiction and non-fiction writers, playwrights, poets, video/filmmakers, and visual artists who share in the Foundation's mission of promoting the well-being of humankind and whose work is inspired by or relates to global or social issues. The residency is for artists seeking time for disciplined work, reflection, and collegial engagement. The Center typically offers stays of 2-4 weeks long, in a community of 15 fellows that typically includes 3-5 arts resident fellows. Artists of significant achievement from any country are welcome to apply.
The Rockefeller Foundation Bellagio Center's mission is to promote innovation and identify impact-oriented solutions to critical global problems. The Center offers residencies in Italy to policymakers, nonprofit leaders, journalists, and public advocates in fields and institutions relevant to the Rockefeller Foundation's work and its current issue areas of Advance Health, Revalue Ecosystems, Secure Livelihoods, and Transform Cities. We seek practitioner applicants with demonstrated leadership qualities. Room and board are provided to all residents and their spouses/partners. Residencies last between 2-4 weeks.
The Bicentennial Fund awards grants up to SEK 30,000 in support of intensive research trips to Sweden of 2-4 weeks in length. Applicants should have well-developed projects within the prioritized fields of politics, public administration, working life, human environment, mass media, business and industry, education or culture. The grant is specifically intended for professional enrichment and is thus not applicable to work related to academic degrees, programs or conferences. Only U.S. citizens or permanent residents are eligible.
Eisenhower Fellowships identify, empower and link outstanding leaders from around the world, helping them to achieve consequential outcomes across sectors and borders. The USA program provides overseas exposure of 4-5 weeks designed to enhance Fellows' professional and personal growth, develop new contacts, and promote the exchange of ideas and international understanding. Fellows have meetings with leaders in their field, as well as cultural site visits and hospitality by local citizens. Fellows become an engaged member of an exclusive network of more than 1,900 international leaders. Candidates are U.S. citizens approximately 32-45 years old.
The English Language Specialist Program provides opportunities for U.S. academics and professionals in the field of Teaching English to Speakers of Other Languages (TESOL) to conduct short-term programs overseas (10 working days to three months). English Language Specialists assist U.S. embassies in teacher training, curriculum and textbook development, program evaluation, and other related activities. Successful candidates will be placed into a pool of potential candidates to be matched to suitable assignments throughout the year. Qualified candidates must have a Master's or PhD in TESOL or a related field and 10 years' English teaching experience. Applications accepted year round on a rolling basis.
Through the Fulbright Distinguished Awards in Teaching Short-Term Program, U.S. K-12 teachers and international educators can apply for long-term grants (3-6 months for U.S. teachers or 4 months for international teachers) or short-term grants (2-6 weeks) abroad to study at a university, observe classes and complete a project pertaining to their field of educational inquiry during their time abroad. The program is open to teachers from the United States and selected countries in multiple world regions. Two deadlines a year.
The Fulbright Specialist Program is a unique opportunity for U.S. academics and established professionals to engage in two- to six-week, project-based exchanges at host institutions in over 150 countries. Specialists, who represent a wide range of professional and academic disciplines, are competitively selected to join the Fulbright Specialist Roster based on their knowledge, skill sets, and ability to make a significant contribution to projects overseas. Specialists receive full funding to participate in Fulbright Specialist projects, including travel, stipend and lodging.
The Marshall Memorial Fellowship (MMF) is GMF's flagship leadership development program. Created in 1982 to introduce a new generation of European leaders to the United States, it now prepares leaders from both sides of the Atlantic for transatlantic relations. The program relies on 6 months of distance learning and 24 days of first-hand experience to facilitate knowledge and network development for effective transatlantic engagement. GMF awards 75 Marshall Memorial Fellowships each year to candidates from all sectors, including business, government and civil society. Candidates should have a minimum of 6 years work experience in a leadership position.
The fellowships allow American and German experts from journalism, the public sector, think tanks, nonprofits, law, and cultural organizations to research and assess the most pressing topics on the transatlantic agenda while engaging with their counterparts overseas.Proposals must address one of the following global trends: climate change and sustainability, demographics and social change, technological breakthroughs, and urbanization. The fellowships allow Americans to travel to Germany and Germans to travel to the United States for at least 3 weeks to conduct research. Fellows receive a $5,000 stipend, which covers transatlantic airfare and domestic travel, as well as room and board, for a minimum of 21 days. Candidates are 45 years of age or younger at the time of the application deadline and have a minimum of 5 years of relevant, full-time work experience.
Summer Stipends support individuals pursuing advanced research that is of value to humanities scholars, general audiences, or both. Recipients usually produce articles, monographs, books, digital materials, archaeological site reports, translations or editions. Summer Stipends provide $6,000 for two consecutive months of full-time research and writing. Recipients must work full-time on their projects for these two months and may hold other research grants supporting the same project during this time. Summer Stipends normally support work carried out during the summer months, but arrangements can be made for other times of the year.
Peace Corps Response provides opportunities for qualified individuals to undertake short-term, high impact assignments in programs around the world. To be eligible for service applicants must be age 18 or older and a U.S. citizen. In addition, Peace Corps Response requires that all applicants meet one of the following eligibility requirements below: Have significant professional experience; a doctor or nurse applying to Global Health Service Partnership (GHSP); or a returned Peace Corps Volunteer. View current opportunities or search on specific criteria to find opportunities that match your interests.
Each year, Rotary selects up to 100 individuals from around the world to receive fully funded academic fellowships at one of our peace centers in Australia, England, Japan, Sweden and the U.S. These fellowships cover tuition and fees, room and board, and RT transportation. Two types of fellowships are available: (1) 15-24 month master's degree fellowships at premier universities in fields related to peace and conflict prevention and resolution and (2) 3-month fellowships for experienced professionals working in peace-related fields at Chulalongkorn University in Thailand. For more information, contact your local Rotary club or the Rotary Peace Centers Department at The Rotary Foundation.
The Salaam Fellowship is a fully funded week-long program that takes place in Morocco. Twenty participants–10 American and 10 Moroccan–will be selected to partake in the training. In addition to formal class work, it will feature speakers from academia, think tanks, non-profits, the media, international organizations, and the public and private sectors. There will be opportunities for cultural immersion, teambuilding, and a group-based project.
The Eurasia Foundation's US-Russia Social Expertise Exchange (SEE) "Independent Professionals Project Initiative" is open to individuals from the U.S. and Russia who are interested in implementing bilateral projects focused on (1) Community Engagement and Volunteerism (2) Social inclusion of people with disabilities (3) Social entrepreneurship (4) Youth Engagement and Mentorship. Competitively selected candidates travel to an organization in the host country for 14 to 21 days to conduct activities related to their proposed project and will implement follow-up activities after returning to their home country. Independent professionals are strongly encouraged to have at least a working proficiency with both the English and Russian languages.
The program offers support for graduate students, faculty, Ph.D. candidates, post-doctorate, and independent scholars to conduct policy-relevant research for 3-9 months in Central Asia, Russia, the South Caucasus, Ukraine, Southeast Europe and Moldova. The total value of Title VIII Research Scholar fellowships ranges from $5K to $25K each. Typical awards include: international roundtrip airfare from the scholar's home city to his/her host city overseas, academic affiliation at a leading local university, visa(s), opportunity for housing with a local host family and a living stipend. Scholars in the social sciences and humanities are eligible.
TOMODACHI- Mitsui & Co. Leadership Program
Ten American and ten Japanese young professionals will travel to each other's country for one week to meet with leaders from business and government. The focus will be on innovation, new technology, and industrial development in the context of U.S.- Japan relations. The American delegation will travel to Fukushima Prefecture and Tokyo, and the Japanese delegation will travel to Silicon Valley in California and Washington, D.C. for the week-long fellowship. Eligible applicants up to age 40 with English proficiency and professional accomplishments in the field of industrial development are invited to apply.
In 2014, Peking University in China founded the Yenching Academy, with the hope of shaping a new generation of global citizens with a nuanced understanding of China and its role in the world. The Academy's flagship event, the Yenching Global Symposium, is a four-day event consisting of multidisciplinary lectures, panel discussions, site visits, and interactive sessions on Chinese innovation. The Symposium will select and invite approximately 75 students and young professionals under age 30 to participate in the event as delegates. It will cover all fees associated with the trip—including flights, ground transportation, meals, and accommodation.
The Zhi-Xing (or "learning and travel") Fellowship, is a fully-funded four-week professional and leadership development program that brings 10 mid-career U.S. leaders to China each fall. The fellowship features intensive cultural immersion, group sessions with Chinese and U.S. experts and two weeks of individually-tailored travel and meetings in four to six Chinese cities around the country. Eisenhower Fellowships seeks a mix of applicants from all professional sectors – public, private and nonprofit – and representing diverse disciplines in the preferred age range of 32 to 45 years old.
© Victoria Johnson 2019, all rights reserved