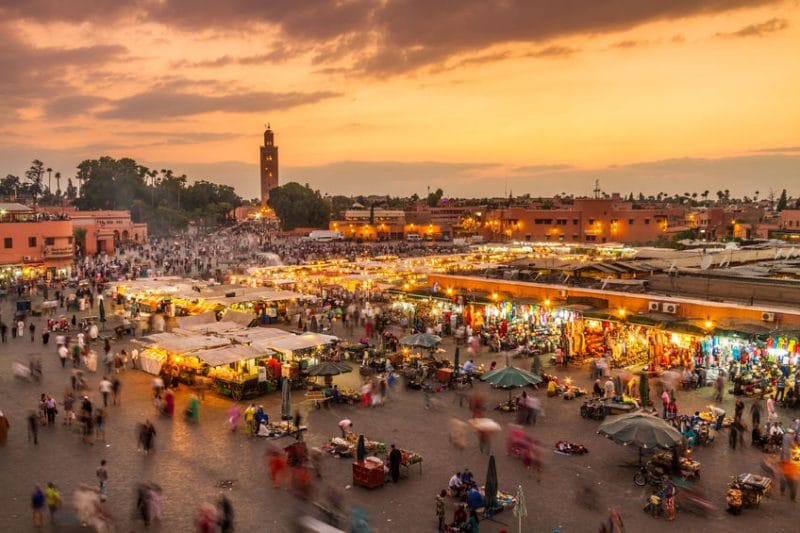 Have you ever wanted to walk down the colorful streets of Rabat, Morocco, see the golden Egyptian pyramids in Cairo, or float atop the Dea Sea along the coast of Israel? These fellowships, which are all based in the Middle East or North Africa, could make this a reality for you! They offer all kinds of opportunities for study, teaching, and research in a variety of disciplines. If one of these sparks your interest, be sure to bookmark it to your ProFellow account!
The American Center of Oriental Research (ACOR) in Amman, Jordan, is a private, international, non-profit academic institution dedicated to promoting research and publication in the fields of archaeology, anthropology, ancient through modern history, art history, conservation and preservation studies, Arabic and other Near Eastern languages, Islamic studies, and many other fields related to Near Eastern studies. One NEH postdoctoral fellowship award of $16,800–$25,200, for tenure of 4–6 months residence at ACOR in Amman, will be available.
The Anna Sobol Levy Foundation provides fellowships to U.S. citizens who are college graduates to pursue a master's degree in English at the prestigious IDC Herzliya's Raphael Recanati International School, located near Tel Aviv. The Fellowship covers tuition at the IDC (up to $16,000). Levy Fellows must enroll in one of the IDC's security-related MA programs: (1) counter-terrorism and homeland security, or (2) diplomacy and conflict studies. Candidates must be U.S. citizens under age 30 at the time application and should have studied in the fields of military studies, economic geography, international relations, political science, history, or similar fields.
The ARIT fellowships support research in Turkey for the academic year. Scholars and advanced graduate students engaged in research on ancient, medieval, or modern times in Turkey, in any field of the humanities and social sciences, are eligible to apply. Non-U.S. applicants who reside in the U.S. or Canada are expected to maintain an affiliation with an educational institution in the U.S. or Canada.
Boren Fellowships provide up to $24,000 to U.S. graduate students to add an important international and language component to their graduate education through specialization in area study, language study, or increased language proficiency. Boren Fellowships support study and research in areas of the world that are critical to U.S. interests, including Africa, Asia, Central & Eastern Europe, Eurasia, Latin America, and the Middle East, with a focus on studying less commonly taught languages. Boren Fellowship awards are made for a minimum of 12 weeks and maximum of 24 months.
Boren Scholarships provide funding to U.S. undergraduate students to study abroad in areas of the world that are critical to U.S. interests and underrepresented in study abroad, including Africa, Asia, Central & Eastern Europe, Eurasia, Latin America, and the Middle East. Boren Scholars represent a variety of academic backgrounds, but all are interested in studying less commonly taught languages. Max scholarship awards are $8K for a summer program (special initiative for STEM students only), $10K for a semester and $20K for a full academic year. Boren Scholars commit to working in the federal government for at least 1 year after graduation.
CAORC Multi-Country Research Fellowship Program
The Multi-Country Fellowship Program supports advanced regional or trans-regional research in the humanities, social sciences, or allied natural sciences for U.S. doctoral candidates and scholars who have already earned their Ph.D. Preference will be given to candidates examining comparative and/or cross-regional research. Scholars must carry out research in two or more countries outside the United States, at least one of which hosts a participating American overseas research center. Approximately eight awards of up to $10,500 each will be given each year.
The Council of American Overseas Research Centers (CAORC)/National Endowment for the Humanities (NEH) Senior Research Fellowship Program supports advanced research in the humanities for U.S. postdoctoral scholars, and foreign national postdoctoral scholars who have been residents in the US for three or more years. Scholars must carry out research in a country which hosts a participating American overseas research center: Algeria, Armenia, Azerbaijan, Cambodia, Cyprus, Georgia, Indonesia, Mexico, Mongolia, Morocco, Nepal, Senegal, Sri Lanka or Tunisia. Fellowship stipends are $4,200 per month for a total of 4 months.
Critical Language Scholarship (CLS) institutes provide fully-funded group-based intensive language instruction and structured cultural enrichment experiences for 7-10 weeks for U.S. citizen undergraduate, Master's and Ph.D. students. Countries may include: Azerbaijan, Bangladesh, China, Egypt, India, Indonesia, Japan, Jordan, Morocco, Oman, Russia, South Korea, Tajikistan, Tunisia, Turkey, or others where the target languages are spoken. Apply in November for a fellowship the following summer.
EMDAP is a cooperative activity between the U.S. Agency for International Development (USAID) and IIE. Through EMDAP, U.S. current and recent graduates with business, public policy, and international relations backgrounds provide technical assistance and support to overseas organizations in USAID-assisted countries. EMDAP advisers are selected for their background and skills, their leadership qualities, problem-solving capabilities, and communication/analysis abilities for 12 month work assignments in regions including Africa, Asia, Latin America, the Caribbean, and the Middle East. Include a stipend, housing language training & travel.
The Critical Language Enhancement Award (CLEA) is a feature of the U.S. Student Fulbright Program, which provides an opportunity for some Fulbright U.S. Student grantees to receive 3-6 months of intensive language study as an enhancement to their Fulbright grants. They must be approved by local Fulbright Commissions/Foundations or U.S. Embassies in the host countries. CLEA is offered to students once they have been awarded a Fulbright U.S. Student grant which requires that they use one of the eligible languages for their Fulbright project and beyond. Eligible countries include China (mainland China program only), Egypt, India, Indonesia, Jordan, Morocco, and Russia.

The English Teaching Assistant (ETA) Programs place recent college graduates and young professionals from the U.S. in classrooms abroad for up to 1 year to provide assistance to the local English teachers. ETA's help teach English language while serving as cultural ambassadors for the U.S. The age and academic level of the students varies by country, ranging from kindergarten to university level. Applicants for English Teaching Assistant Programs can apply to only one country. Applicants must be U.S. citizens at the time of application.
The Fulbright Global Scholar Award allows U.S. academics and professionals to engage in multi-country, trans-regional projects. As a truly worldwide award, U.S. scholars will be able to propose research or combined teaching/research activity in two to three countries with flexible schedule options; trips can be conducted within one academic year or spread over two consecutive years. Projects are welcome in all disciplines, as well as those with an interdisciplinary focus. Minimum length of the total grant is 3 months and the maximum is 6 months.
The Fulbright Specialist Program is a unique opportunity for U.S. academics and established professionals to engage in two- to six-week, project-based exchanges at host institutions in over 150 countries. Specialists, who represent a wide range of professional and academic disciplines, are competitively selected to join the Fulbright Specialist Roster based on their knowledge, skill sets, and ability to make a significant contribution to projects overseas. Specialists receive full funding to participate in Fulbright Specialist projects, including travel, stipend and lodging.
The Core Fulbright Scholar Program offers over 500 teaching, research or combination teaching/research awards of 2-12 months in over 125 countries. Opportunities are available for college and university faculty and administrators as well as for professionals, artists, journalists, scientists, lawyers, independent scholars and many others. In addition to several new program models designed to meet the changing needs of U.S. academics and professionals, Fulbright is offering more opportunities for flexible, multi-country grants. Only U.S. citizens are eligible to apply.
The Gabr Fellowship is for emerging leaders in the areas of art, science, media, law and both social and business entrepreneurship. Gabr Fellows travel to Egypt and the U.S. to develop a better and in depth understanding of each other's societies, customs, traditions, religions, politics, law, art, science and business environments. The group meets with renowned public figures to explore challenges faced by their societies and the global community today. Applicants should have big ideas and a strong interest in transnational dialogue. All applicants must be 24 to 35 years of age and must be citizens of Egypt, Great Britain, Jordan, Lebanon, France and the United States.
The MENAR Fellowship Program is working to achieve this objective by offering one-year post-graduation fellowships for top graduates of American colleges at leading organizations in the Middle East and North Africa. The program offers these graduates an opportunity to engage with the people and institutions of the Middle East through high-impact, professional fellowships; provides service organizations with passionate young professionals who can forge a bridge between the U.S. and the region and aid in the region's development; and fosters a new generation of U.S. leaders in service, politics, and policy who have experience with the challenges the region faces and the potential it holds.
We provide fellowship programs that are open to all young peace activists who believe that inner peace + outer peace = sustainable world peace. Include venues in Latin America, Asia Pacific, Central America and the Caribbean, Europe, Africa and the Middle East and North Africa. The fellowship offers a 2-week intensive training program. The fellowship includes: full or partial sponsoring of airfare, accommodation, catering, local transportation, and meditation retreat fee. Candidates should be 20-32 years old at the time of submitting the application in order to receive the airfare support. Multiple programs – check website for deadlines.
Peace Corps Volunteers work abroad for a period of 24 months after 3 months of training. Volunteers work with governments, schools, non-profit organizations, non-government organizations, and entrepreneurs in education, hunger, business, information technology, agriculture, and the environment. Peace Corps Volunteers serve in 75 countries in Africa, Asia, the Caribbean, Central America and Mexico, South America, Europe, the Pacific Islands and the Middle East. PCVs receive a living allowance, free travel and transition reward after completing 27 months of service. Check website for deadlines by opportunity.
The Pierre & Patricia Bikai Fellowship will be awarded to assist one graduate student for two months or two students for one month in conducting archaeological research in Jordan. The fellowship will provide room and board at ACOR and a stipend of $600 per month. The fellowship may be combined with another ACOR fellowship that will assist with travel, or the applicant may find travel funds from other sources. This fellowship is not for field work support, but to allow the awardee to continue study or research at ACOR after the field project has concluded and residency at the ACOR center is required. Open to enrolled graduate students of any nationality except Jordanian citizens.
The Shapiro Family Fellowship is a highly selective, yearlong experience designed to cultivate future leaders of the New York Jewish community through high-level discussion with peers, leaders, and mentors in the U.S. and Israel. The fellowship includes yearlong programming that provides meaningful personal and professional development, and deepened knowledge of Israel, the New York Jewish community, and UJA-Federation of New York, and a 10-day trip to Israel. Candidates for the fellowship must be between 22-28 years-old, live in the greater New York metropolitan area, and must have traveled to Israel at least once prior to application.
Fellowships in teaching English as a foreign language (TEFL) are offered annually to full-time students who wish to pursue a master's degree in TEFL and to acquire language teaching experience at The American University in Cairo. Fellowships are offered in the Department of English Language Instruction for two academic years and the intervening summer session. The award includes a waiver of tuition fees, monthly stipend, accommodation and one-way home travel. Fellows pursue degree study and teach eight hours of English per week.
This program offers Arabic language students from the U.S. who have already developed their Arabic at the intermediate and advanced levels the opportunity to master their skills in an intensive Arabic language program at Qatar University in Doha for an entire academic year. The scholarship includes tuition, room and board, RT airfare, local transportation and books. All applicants must apply directly through Qatar University.
© Victoria Johnson 2018, all rights reserved.