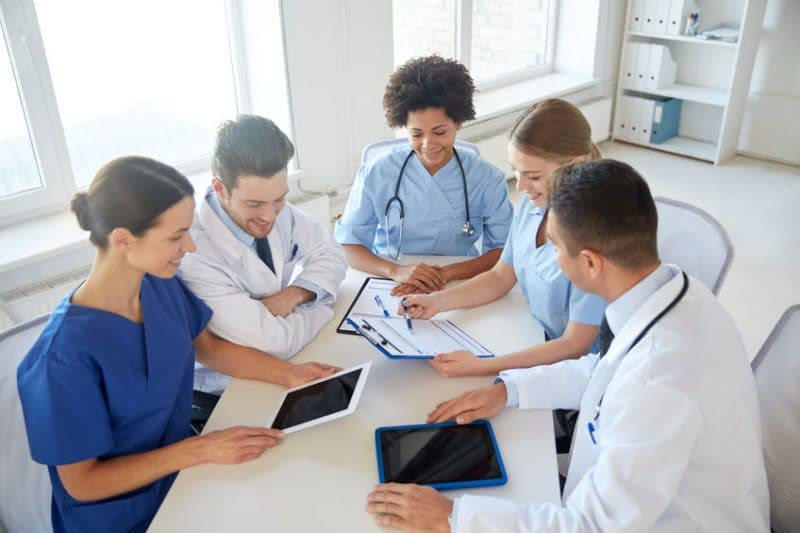 If you're looking for a fellowship that would let you explore new avenues of research in medicine or public health, these programs are for you! All of the fellowships on this list are fully-funded opportunities to do research in a variety of locations around the world. There are opportunities at The University of Texas MD Anderson Cancer Center, the National Institute of Health (NIH), the Centers for Disease Control and Prevention (CDC), as well as positions at Harvard and Stanford, among other locations worldwide. If one of these sounds promising, make sure to bookmark it to your ProFellow account.
The Physician Assistant Education Association (PAEA) and the American Academy of PAs (AAPA) offer three one-year-long research fellowships. This program provides substantial investment to strengthen the research skills and productivity for qualified Physician Assistant (PA) faculty and to develop the next generation of PA researchers. The AAPA-PAEA Fellowship will provide up to $25,000 to the fellow's institution to secure protected time for research as well as a travel stipend of up to $7,500. Preference will be given to candidates who have been in education for less than 10 years and have received their doctorate within the past 5 years.
Academic Fellowship in Primary Care Research
The Academic Fellowship in Primary Care Research aims to prepare future leaders in academic primary care, with a vision to improve access to high quality primary health care, reduce health disparities and improve the health of citizens and communities in Wisconsin. The full-time postdoctoral fellowship is for 2-3 years and prepares residency-trained primary care physicians, as well as pharmacists, advanced practice nurses and social scientists from complementary health-related fields for successful and rewarding careers in academic medicine, with a focus on primary care and community engaged research. A stipend and other benefits are provided.
Antimicrobial Resistance Fellowship
Administered by APHL, the APHL-CDC Antimicrobial Resistance (AR) Fellowship Program provides Masters and postdoctoral graduates with the opportunity to collaborate on a range of antimicrobial resistance issues. Qualified applicants will apply to be placed in one of eight state public health laboratories they are interested in working in for a 12-month term and will have the opportunity to extend for an additional 12 months, provided funding is available. There are currently two fellowship tracks being offered: Antimicrobial Resistance and Drug Resistant Tuberculosis.
APHL-CDC Bioinformatics Fellowship
The APHL-CDC Bioinformatics Fellowships provide post-masters and post-doctoral level professionals the opportunity to apply their skills to a range of important and emerging public health problems, while gaining experience in their fields. Fellows are placed at an infectious disease laboratory in The Centers for Disease Control and Prevention (CDC) or at a state or local public health laboratory. These 12-month fellowships include a stipend, opportunities to participate in training and attend conferences, as well as other benefits. Post-doctoral fellows may extend for an additional 12 months, provided funding is available.
Designed to stimulate or sustain interest in research in tropical infectious diseases, this unique fellowship provides funding for physician-scientists to conduct research focused on infectious diseases of low and low-middle income countries. Applicants must be a citizen or permanent resident of the U.S. or Canada with an academic appointment of fellow at an accredited U.S. or Canadian institution. The award is made to the applicant's home institution and is meant to offset costs associated with the proposed project, including travel to/from the overseas site, lab assistant, insurance, and other expenses.
The overarching goal of the CPFP is to provide a strong foundation for scientists and clinicians to train in the field of cancer prevention and control. The Program provides to 4 years of financial support, a Master of Public Health (MPH) or an equivalent degree at any one-year accredited university program, and mentored research opportunities at the NCI or at the FDA. You must possess an MD, PhD, JD, or other doctoral degree in a related discipline and have less than 5 years postdoctoral experience. Each stipend will be determined by the individual's degree and years of relevant postdoctoral experience.
CDC Evaluation Fellows work under the leadership of CDC's Chief Evaluation Officer; they will be matched with CDC host programs in Atlanta to work on program evaluation activities for/with those programs for two years. Fellows are PhD or master's degree professionals with backgrounds in evaluation, behavioral and social sciences, public health, and other disciplines relevant to CDC's work. Successful applicants also typically have significant experience in applied evaluation projects. Fellows are typically based in Atlanta, although we have had some Fellows at CDC Centers in Washington, DC. Fellows receive a monthly stipend depending on education level and experience. Non-U.S. citizens are eligible to apply.
The D. Kim Foundation provides fellowships and grants to support graduate students and young scholars who are working in the history of science and technology in East Asia from the beginning of the 20th century, regardless of their nationality, origins, or gender. Comparative studies of East Asia and the West as well as studies in related fields (mathematics, medicine and public health) are also welcome. One postdoctoral fellowship (up to $55,000) will be awarded annually, and 1-2 fellowships (up to $25,000 each) will be awarded to Ph.D candidates who are writing their dissertations; Travel grants ($2500) are also available.
CDC's EIS program offers a unique opportunity to investigate disease outbreaks around the world while protecting people and saving lives. EIS officers are selected from among highly qualified applicants drawn to public health service and interested in practicing applied epidemiology. EIS officers may be assigned to work in the areas of infectious diseases, chronic diseases, injury prevention, environmental health, or occupational health, either at CDC, or at another federal agency, state, or local health department. The fellowship is for 2 years and includes an annual base salary of $67,840 plus other health and retirement benefits.
Fellowship on Guidelines Methodology
The Fellowship on Guidelines Methodology is designed to meet the increasing demand for well-developed, evidence-based clinical practice guidelines. It provides the necessary training and placements for researchers to gain the theoretical and practical skills required for developing high quality guidelines. Candidates should be postgraduates holding a university degree in any field related to respiratory medicine or science, reside in Europe and be fluent in English. Grants are provided to develop projects and fellows receive a monthly stipend of 2,500-3,000 Euros to cover living expenses during the 6-month fellowship.
The George E. Burch Fellowship Program is an opportunity that awards a stipend to defray living expenses during independent research and study to a post-doctoral scholar, whose research interests lie within at least one of the following areas: medicine, biology, physics, chemistry, and fields in the social science and humanities, as it applies to health and medicine. The 1-year fellowship of in residence research at the Smithsonian carries a $60,000 stipend and additional allowances of up to $4,000 to cover other costs such as travel and supplies.
The Fogarty Global Health Training Program offers opportunities in global health research training for pre- and post-doctoral candidates from the U.S. and lower-middle-income countries (LMICs), sponsored by the Fogarty International Center (FIC) and several collaborating Institutes and Centers at the National Institutes of Health (NIH). The program supports specific areas of interest in HIV/AIDS, non-communicable diseases, mental health, maternal and child health and nutrition. The fellowship is 12 months in length and has location assignments throughout Africa and Asia. The fellowship includes a stipend, health insurance, roundtrip travel and other benefits.
Fellows in this national leadership development program are researchers and community partners working together in three-person teams. Some are advancing existing projects; others represent new and unexpected collaborations that bring many perspectives to a critical issue. Individuals must apply as part of a team of three—two researchers and one community partner (teams can be newly formed or already existing). Researchers must have a terminal degree (PhD, MD, DrPH) or a master's degree with extensive professional experience. The time commitment is approximately one day per week–approximately 20% FTE — for three years. To support the fellows' time to participate in the program, each fellow will receive financial support of $25,000 per person for each year of the three-year program.
The LRF Postdoctoral Fellowship Grant is designed to support investigators that are currently working at the level of advanced fellow or postdoctoral researcher in laboratory or clinic based research with results and conclusions that must be clearly relevant to the treatment, diagnosis or prevention of Hodgkin and/or non-Hodgkin lymphoma. Areas of research may include, but are not limited to, etiology, immunology, genetics, therapies and transplantation. Fellows must be affiliated with a sponsor institution in the U.S. or Canada, but citizenship is not required. 2-year commitment with stipend of 105k paid over the course of the 2-year fellowship.
The Cancer Prevention Research Training Program at The University of Texas MD Anderson Cancer Center prepares scientists and clinicians to achieve leadership roles as research investigators in the field of cancer prevention and control. Trainees are immersed in the type of cross-disciplinary research environment typical of cancer prevention and control research. The program is for 2 years and awardees receive an annual salary of $51,000 plus other benefits. Applicants must have already earned or be within 5 months of earning a doctoral degree in health science or related disciplines by the application deadline.
Meharry Medical College Post-Doctoral Research Associate
The primary purpose of this position is to provide training in and experience with community-engaged research as a way to address the disproportionate health burdens experienced by racial/ethnic minorities. The position will also serve as way to gain relevant training and experience necessary for developing an independent research career. Applicants must have completed a doctoral degree in a public health, community health, or related scientific field and have experience in health disparities research. Fellows will receive a salary, professional development training and other benefits including insurance.
The NBBTP offers two-year Masters and post-doctoral fellowships at the NIH Bethesda Campus providing a rare opportunity to receive professional training in biosafety and biocontainment at one of the foremost biomedical research centers in the world. Fellowships provide an extraordinary learning environment and rigorous program including academic training, experiential learning, mentorship, developmental assignments, and applied occupational safety and health research opportunities. NBBTP Fellows do not engage in any primary patient care activities. Fellowships are funded and offered in one year increments. Applicants must have a Masters or be a post-graduate with academic degree(s) in microbiology, public health, medicine (human or veterinary), or other allied sciences (industrial hygiene, engineering, etc.).
The Nemours/Alfred I. duPont Hospital for Children is offering a six-month fellowship in Health Disparities Epidemiology Control and Elimination. Research will focus on social and biological determinants of pediatric health disparities through epidemiologic methods such as etio-pathogenesis. Pre-doctoral and post-doctoral fellows studying Epidemiology or Biostatistics will explore exposomes, genomics and epigenetic findings. Housing is available on an as-needed basis in Wilmington, Delaware for the program from May-November. A stipend of $13,700 will be given to each fellow.
Newborn Screening Lab Fellowship
The Ronald H. Laessig Memorial Newborn Screening Fellowship aims to attract and prepare laboratory scientists for careers in public health. Candidates should hold a PhD and indicate interest in conducting newborn screening and/or genetics research in a public health laboratory. Applicants will be screened by the host laboratory as well as by the selection team. The selected candidate will receive intensive training in newborn screening laboratory practice at a state public health laboratory, and an introduction to newborn screening follow-up, treatment and management.
Post-doctoral scholars will conduct Maternal and Child Health research in Sao Paulo, Brazil on "Interventions in early childhood and trajectories of cognitive, social and emotional development". Applicants must have a PhD in the area of Collective Health, Psychology or Psychiatry, proficiency in Portuguese and English and experience in reporting. The selected candidate will receive FAPESP postdoctoral fellowship for a period of 12 months in the amount of R$ 7,373.10 (Brazilian currency) per month and Technical Reserve equivalent to 15% of the annual value of the scholarship to meet unforeseen expenses directly related to the research activity.
Columbia University offers three interdisciplinary postdoctoral positions in the Presidential Scholars in Society and Neuroscience program for researchers who have earned the doctorate, or its equivalent, in (1) a humanities, arts, or social science discipline and who have extensive acquaintance with, and critical understanding of, neuroscience research; OR (2) neuroscience or a related discipline in the natural sciences and who have extensive acquaintance with, and critical understanding of, another discipline in the arts, humanities, or social sciences. The appointments are three years, $80,000/year.
The Program on U.S.-Japan Relations enables scholars and outstanding professionals from government, business, finance, journalism, NGOs, and other fields to come together at Harvard. The Program offers postdoctoral fellowships for social scientists in a broad range of fields, including anthropology, economics, education, history, law, political science, public health, public policy, and sociology. Projects that focus on Japan or Japan's international role from a comparative, historical, or global perspective are welcome. A knowledge of the Japanese language is not required. Awards are for the academic year and provide $50,000 over 10 months.
The Fellowship provides $25,000 in support for international training opportunities in arbovirology and emerging diseases for those with an MD, DVM, PhD or the equivalent. Recipients will be involved in arbovirology and/or emerging diseases from clinical to field to laboratory studies. This award provides support for a short-term research experience in the tropics in the area of arbovirology and/or emerging diseases. Eligible applicants are full-time post-doctoral fellows with positions at accredited U.S. or Canadian institutions studying any tropical infectious disease in arbovirology and/or emerging tropical infectious diseases.
This fellowship is for outstanding post-doctoral scientists wishing to build their own UK-based, independent research career addressing an important biomedical question. Grants support research ranging from the molecules and cells vital to life and their role in the global spread of disease, to clinical and public health research seeking to improve the quality of healthcare. It can be based in the laboratory, clinic or field, and may involve experimental or theoretical approaches. PhDs with significant postdoctoral research experience are invited to apply.
SMDM Fellowship in Medical Decision Making
The goal of the SMDM Fellowship in Medical Decision Making is to build and support a cohort of future leaders with the skills to effectively apply decision science to research and practice. The Fellowship provides support for early-career researchers who have shown an interest in the decision sciences and aids in developing their potential to influence clinical practice and health policy. The Fellowship provides exposure to the field of decision sciences, and introductions to and mentorship by leaders in the field. Financial support is $10,000 USD per year, which can be used as needed for salary support and/or research operating funds.
These awards provide funding to postdoctoral scientists at Stanford University engaging in highly interdisciplinary research in the neurosciences broadly defined. Selected scholars will be provided funding for two years, to be utilized for payments toward tuition, salary, and health benefits. In addition, our scholars meet quarterly, visit each others' labs to learn about different areas of study and research techniques, develop skills to communicate with a non-scientific audience, and how present "elevator pitches." Candidates in a variety of disciplines will be considered and are encouraged to apply.
© Victoria Johnson 2019, all rights reserved.