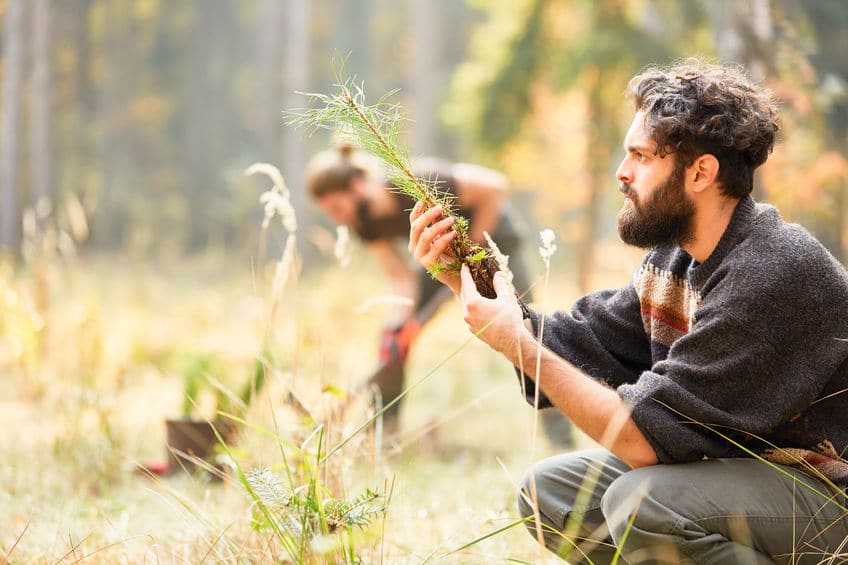 If you are interested in a new opportunity in wildlife or conservation, these fellowships are for you! There are opportunities in this list for people at every career level, from age 13 to postdoctoral scholars. If one of these programs sounds like it would be a good fit for you, be sure to bookmark it to your ProFellow account!
The Smithsonian Tropical Research Institute (STRI) maintains research facilities in different marine and terrestrial locations on the Isthmus of Panama. STRI awards the Earl S. Tupper 3-Year Postdoctoral Fellowship on a yearly basis, allowing scientists to test their innovative hypothesis. Disciplines include ecology, anthropology, paleontology, paleoecology, evolutionary biology, molecular phylogenetics, biogeography, animal behavior, neurobiology, soils sciences, and physiology of tropical plants and animals. Research should be based at one of the STRI facilities; proposals that include comparative research in other tropical countries will be considered. Annual stipend is $40,000 with yearly travel and research allotments.
The Ann & Tom Friedman Fellows for Science Program recognizes and supports the key role that science plays in achieving Conservation International's conservation goals. During the two-year program, Friedman Science Fellows have the opportunity to participate in a cohort program that will provide leadership training, site visits and mentoring. Supported by CI's vast network of staff and partners, they will effectively advance their research and its application on the ground in our priority regions around the world. Fellows receive an annual salary plus paid vacation time.
EarthCorps brings together passionate and hardworking young adults from the US and countries around the world, for a yearlong leadership training program in Seattle, Washington. Corps members learn leadership skills by working collaboratively, leading community volunteers, and executing technical restoration projects along shorelines, trails and in forests. Young leaders leave EarthCorps with the tools and skills to tackle pressing issues – including climate change, pollution, and ecological degradation – and create a better world. EarthCorps members receive a modest stipend to offset housing and living expenses.
The Echoing Green Climate Fellowship, built in partnership with the ZOOM Foundation, was launched for leaders committed to mitigation and adaptation to climate change. Echoing Green is interested in applications from social entrepreneurs interested in the full spectrum of mitigation and adaptation responses. This can be anything from a US-based technological solution to a developing world-based community organizing solution. Fellows receive a stipend paid in four equal installments over two years ($80,000 for individuals; $90,000 for two-person partnerships), in addition to health insurance and professional development stipends.
The EDGE Fellows programme aims to create a new global network of in-country conservationists trained in cutting-edge wildlife management techniques and well-equipped to design and implement a project for a local EDGE species. In addition to receiving a grant of up to £5,000 per year, EDGE Fellows attend two regional training courses; undertake online modules in relevant topics; and receive one-to-one support from a scientific advisor based at ZSL or a partner organisation. Fellowships are aimed at early-career (less than 10 years' experience) conservation biologists or wildlife managers.
The Feldman Fellowship is a partial tuition scholarship that supports up to two MA-SID students who are interested in environmental conservation. The Fellowship is solely a partial tuition scholarship that varies based on the applicant's merit and experience. Fees, airfare, living expenses, and second year fieldwork are not included in the fellowship. Consideration is given to all applicants who meet the priority deadline of January 15th and who express interest in the fellowship on the application. Preference is given to students from developing countries who seek to address world development issues.
Kinship believes in investing in individuals with the potential to advance the future of conservation. Fellows are awarded a $6,000 stipend and a month of valuable, cutting-edge training. In return, Fellows are asked to invest a month of their time working with the organization. The month-long curriculum is delivered by a faculty of global experts who work closely with each carefully selected cohort of Fellows to explore fresh ways to apply market-based approaches to environmental concerns. The Fellows are mid-career conservation professionals with 5+ years of experience.
Lui-Walton Innovators Fellowship
The Lui-Walton Innovators Fellowship Program strategically combines the collaborative effort of recognized leaders and emerging talent to address critical conservation issues at a global, regional and local level. Throughout a two-year program, Lui-Walton Fellows work alongside CI's program and field staff to address global conservation challenges. The Lui-Walton Fellowship is distinguished by four key areas of opportunity: travel, access to resources, professional development and direct participation in CI programs. Fellows receive an annual salary and other benefits.
Michigan Clean Energy Leaders Project
The Michigan Clean Energy Leaders Project seeks to build a generation of clean energy leaders in Michigan that is diverse, collaborative, and deeply interconnected. Such a community will develop new leaders, help attract and retain talented young professionals, and create a practical community to help drive growth in the clean energy economy now and for decades to come. Fellows will participate in retreats and other networking opportunities to collaborate and develop new projects that promote clean energy. Applicants must be residents of Michigan, a leader in the clean energy sector and 24-35 years of age.
Coastal Management Fellows spend two years (starting in August) working on substantive state-level coastal resource management issues that pertain to federal management policies and regulations. Any student who will have completed a master's, doctoral or professional degree in coastal, aquatic or environmental management related studies at any accredited university in the U.S. is eligible. This opportunity offers a competitive salary, medical benefits, and travel and relocation expense reimbursement.
The Fellowship Program was established to respond to the need for additional coral reef management capacity in the U.S. Flag Pacific and Caribbean islands. State and territorial coral reef management agencies are provided two-year Fellows whose education and work experience meet each island's specific needs, while providing the individual fellows with professional experience in coastal and coral reef resources management. Fellows are government contractors and receive a non-negotiable yearly salary. Applicants typically have a master's degree and 2 years of experience or a bachelor's degree and 4 years of experience.
National Wildlife Federation EcoLeader Graduate Student Fellows help to educate and engage the EcoLeaders community through dedicated research projects. Fellowship grants are awarded to graduate students working with National Wildlife Federation staff on research that helps to expand the content and development of the EcoLeaders program to help college students and recent graduates to use project-based learning to develop their environmental leadership and sustainable career goals. Fellows receive $3,000 stipend, professional development assistance and networking and the possibility of academic credit for successful completion of the project.
The Pew Fellows Program in Marine Conservation provides fellowships to outstanding scientists and other individuals across the globe to support innovative, applied projects aimed at developing and implementing solutions to critical challenges facing the world's oceans. Each year, five individuals or, occasionally, teams are selected by a prominent international panel of experts to receive the prestigious Pew Fellowship in Marine Conservation. Each Pew Fellow is awarded a $150,000 grant, allocated over three years, to complete an original, research-based marine conservation project. Fellowships applications are by nomination only.
Stanford University's Center on Food Security and the Environment addresses critical global issues of hunger, poverty and environmental degradation by generating vital knowledge and policy-relevant solutions. The FSE postdoc will be awarded to promising young scholars with a demonstrated ability to do innovative and rigorous work related to global hunger, poverty alleviation, and environmental degradation. Successful candidates will be expected to lead projects of their own design, while also interacting with other faculty and students at FSE. The position is for one year, at a competitive annual salary and benefits package.
Rainer Arnhold Fellows are social entrepreneurs with particularly promising solutions to the big problems in health, poverty, and conservation in the Third World. Fellows are recruited through our network of leaders, thinkers, and doers in the social and private sectors. The Fellows course brings Fellows and faculty together for a week to work on design for maximum impact and scalability. Held in a mountain nature preserve, the course gives Fellows the rare opportunity to focus completely on their ideas and a systematic way to apply them. Fellowships are for two years and include a discretionary stipend of $10k/year.
The Roddenberry Fellowship is a 12-month program for activists from across the country who are working to protect the most vulnerable and to make the US a more inclusive and equitable place to live. Twenty Fellows will be selected to receive $50,000 each, as well as tailored support, to help implement a project or initiative in one of four areas: civil rights, climate change and environmental justice, immigration and refugee rights, and LGBTQIA and women's rights. Fellows are free to try different approaches to achieve impact and the organization provides 1-on-1 coaching as well as other mentoring resources.
Russell E. Train Fellowships support individuals pursuing a master's or doctoral degree in conservation. Each year, WWF supports committed conservationists from target countries in Latin America, Asia, and Africa to receive financial support for their studies and field research. Fellows can attend any university around the world, but must return to their home countries to work in conservation for at least two years after completing their degree. Candidates must have a minimum of two years work experience in conservation.
The Science to Action Fellowship supports graduate students in developing a product that puts science into action, directly applying scientific research related to climate change impacts on fish, wildlife, or ecosystems to decision making about natural resources. During the fellowship year and beyond, Fellows benefit from collaborations with university and USGS mentors, from interactions with other colleagues and partners of USGS, and from exposure to high priority, real-world challenges in the natural resources policy arena. The program is open to Master's and Doctoral students at any Climate Science Center consortium institution. Fellows receive a financial award of $10,000 each.
The purpose of the Smith Conservation Research Fellowship is to create opportunities for leading conservation scientists to strengthen their skills through two years of applied post-doctoral research, supplemented by training programs, peer networking, and field learning experiences. Fellows build productive partnerships with conservation practitioners while contributing and communicating scientific knowledge about problems in conservation. The program develops future world leaders in conservation research and application through training and mentorship. Annual salary of $55K is provided as well as additional funding for research and travel.
Merlyn Climate Grants is offering grants for individuals between the age of 13 and 30 who have a clear vision for impacting climate and environmental justice, support for science, and a free press. Leading on climate action is the focus of Merlyn Climate Grants. Applicants may request from $500 to $3,000 and be based in New England or New York. No affiliation with a 501c3 is required to make applicants eligible. Grants underwrite activities that have a positive impact on the fellow's community – such as carbon footprint reduction, community action, artistic and dramatic productions, organizing, training, and outreach.
The Rob and Bessie Welder Wildlife Foundation's graduate research fellowship program is designed to promote the education of exceptionally qualified students and provide research information to manage wildlife populations. Fellowships are awarded directly to properly accredited U.S. colleges or universities for graduate students who are approved candidates for M.S. or Ph.D. degrees after project proposals have been approved by the Foundation. Students working on or near the Refuge are provided dormitory apartment living quarters, utilities, office space, computer access, and such field and laboratory facilities as are available.
Each year, Wild Gift selects a small group of "better world entrepreneurs" age 21 to 35 for a 12-month Fellowship that includes mentoring, fundraising support, and wilderness-based programs that teach leadership and business skills while building a lifelong support network. Each Fellowship includes a three-week back country trek and a week-long whitewater river trip. Wild Gifts works with entrepreneurs from seed stage to fully operating social ventures. At a minimum, you should have written plans for a social venture that serves the Wild Gift mission.
© Victoria Johnson 2019, all rights reserved