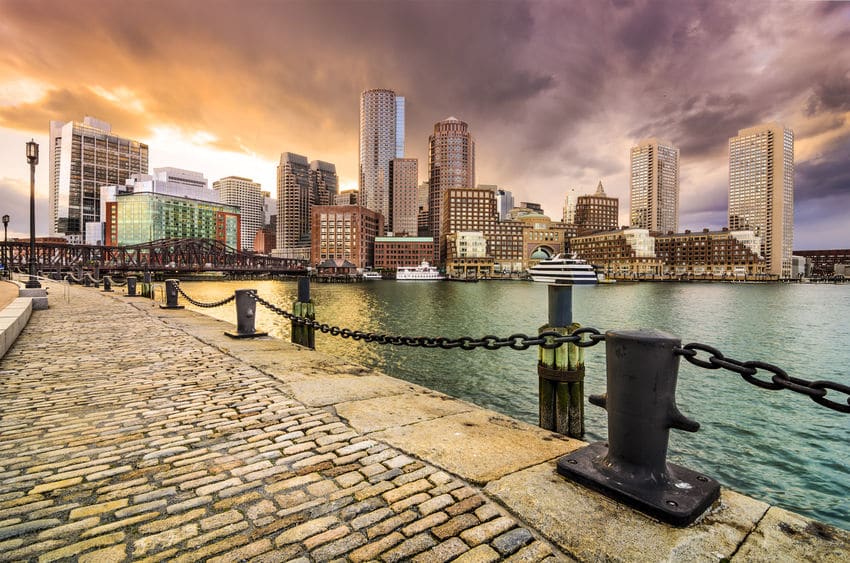 Last updated February 20, 2023
Known for vibrant academic institutions and its many opportunities for young professionals, Boston, Massachusetts is the home of a variety of fellowship programs. There are opportunities for funded graduate study as well as professional experiences in journalism, research, education, the arts, and other fields. If one of these sounds exciting to you, make sure to bookmark it to your ProFellow account!
The purpose of this fellowship is to facilitate library and archival research in business or economic history. Individual grants range from $1,000 to $3,000. Three categories of applicants will be eligible for grants: 1) Harvard University graduate students in history, economics, or business administration, whose research requires travel to distant archives or repositories; 2) graduate students or nontenured faculty in those fields from other universities, in the U.S. and abroad, whose research requires travel to Baker Library and other local archives; and 3) Harvard College undergraduates writing senior theses in these fields whose research requires travel away from Cambridge.
The Aspiring Latino Leaders Fellowship is an academic-year program that invests in Latino education leaders with 5-13 years of experience living in Greater Boston and Greater Houston. A talented network of Latino changemakers come together, cultivating effective Latino leaders and providing long-term career support. Fellows attend monthly sessions and two overnight retreats that are designed to increase self-efficacy around critical leadership competencies. Fellows also have opportunities to interact with education organizations across the local ecosystem. They also receive personal coaching and support to maximize their experiences.
The Belfer Center at Harvard University offers both pre-doctoral and post-doctoral research fellowships for one year, with a possibility for renewal. Applications for fellowships are welcome from recent recipients of the PhD or equivalent degree, university faculty members, and employees of government, military, international, humanitarian, and private research institutions who have acquired appropriate professional experience. The Center seeks applications from political scientists, lawyers, economists, those in the natural sciences, and others of diverse disciplinary backgrounds. The Center offers 10-month stipends of $20K-$34K.
The Berkman Center for Internet & Society at Harvard University welcomes an interdisciplinary and diverse community of academics and practitioners to join the Center as fellows in its mission to engage the challenges and opportunities of cyberspace. Each Berkman fellow develops and coordinates their fellowship work plan with the Center's directors and staff. Fellowship terms typically run the course of the academic year. Most Berkman fellows work out of the greater Boston area and spend a significant amount of time at the Berkman Center. Stipends and all other administrative determinations are made on a case-by-case basis.
The Associates of the Boston Public Library sponsors a Children's Writer-in-Residence program annually. The program is intended to provide an emerging children's writer with the financial support and office space needed to complete one literary work for children or young adults. The Children's Writer-in-Residence receives a $20,000 stipend and office space at the BPL's Central Library in Copley Square. He or she must work a minimum of 19 hours per week at the BPL during the nine-month residency (September – May). Projects eligible for this program are fiction, non-fiction, a script, or poetry, intended for children or young adults.
Designed for all senior-level executives working with state and local governments — including government officials, nonprofit leaders, and elected officeholders — this intensive, three-week Executive Education program at the Harvard Kennedy School in Cambridge, Massachusetts, hones skills and furthers the leadership potential of accomplished individuals from across the United States. Candidates must concurrently apply to Harvard University's Kennedy School of Government, Senior Executives in State and Local Government. The fellowship typically covers half of the total cost of tuition, housing, and many of the meals (approximately $5,725).
Education Pioneers Fellowships
Education Pioneers launches and advances the careers of professionals who are eager to discover opportunities to use expertise in data, operations, policy, and more to make a difference for students and families from outside the classroom. The Education Pioneers Summer Fellowship is a 10-week summer experience that lays the foundation you need to become a lifelong leader in education. The Education Pioneers Impact Fellowship is an intensive, 10-month experience that helps turn rising leaders' skills and passions for social good into new, tangible leadership opportunities — supporting educational equity and advancing careers, at the same time. The 10-month placement offers a $47,500 stipend ($58,000 annualized), plus benefits.
The Elizabeth Neuffer Fellowship gives academic and professional opportunities to women journalists who focus on covering human rights and social justice. Fellows will have the chance to complete research and coursework at MIT's Center for International Studies and participate in internships with media outlets including The Boston Globe and The New York Times. The Fellowship is open to women journalists worldwide working in print, broadcast and/or Internet-based media, including freelancers. Applicants must have a minimum of three years professional experience working full-time in news media. A fixed monthly stipend will be provided to cover housing, meals, and ground transportation during the fellowship.
The FAO Schwarz Fellowship offers six paid two-year Fellowships at high-impact nonprofit organizations in New York City, Boston and Philadelphia to recent graduates who have the potential to become future social impact leaders. These transformative Fellowship experiences combine direct service and special projects with professional development, mentoring and networking opportunities and help Fellows launch successful careers in the nonprofit sector. A salary of $30,000 per year plus a $2,000 end-of-fellowship bonus is provided along with full health care benefits and free subway pass.
Frank Knox Memorial Fellowships are awarded each year for students from Canada, Australia, New Zealand and the United Kingdom for graduate study at Harvard University. A Knox Fellowship pays full Harvard tuition and mandatory health insurance fees and provides a stipend sufficient to cover the living expenses of a single Fellow for a 10-month academic year. Each Knox Fellowship applicant must also submit an application for admission directly to the Harvard graduate or professional school of his/her choice. Each country has a different deadline – check website.
Generation Teach provides six- or seven-week summer teaching fellowships to undergraduate students (freshman, sophomore, and juniors) in Boston, Denver, Holyoke, MA, and Providence, RI. Fellows complete two weeks of full-time training, learn core instructional strategies and practice key teaching skills, and work closely with a professional teacher. Fellows receive scholarships of $1,650 – $2,000 or subsidized housing and $750 scholarships.
The Harvard University Center for the Environment created the Environmental Fellows program to enable recent doctorate recipients to use and expand Harvard's extraordinary resources to tackle complex environmental problems. The Environmental Fellows work for two years with Harvard faculty members in any school or department to create new knowledge while also strengthening connections across the University's academic disciplines. The fellowship includes a salary of $64,000 per year, employee health insurance eligibility, up to $2,500 reimbursement for travel expenses, and a $2,500 allowance for travel and other professional expenses. Candidates with a doctorate or equivalent in any field are eligible, and they may propose research projects in any discipline.
Harvard-Newcomen Postdoctoral Fellowship in Business History
To be awarded for 12 months' residence, study, and research at Harvard Business School. The fellowship is open to scholars who, within the last ten years, have received a PhD in history, economics, or a related discipline. The fellowship has two purposes: The first is to enable scholars to engage in research that will benefit from the resources of Harvard Business School and the larger Boston scholarly community. The second purpose is to provide an opportunity for the fellow to participate in the activities of Harvard Business School. Fellows receive a stipend, travel fund and book fund.
The Health Coverage Fellowship is designed to help newspaper, radio, television, and online reporters and editors do a better job covering critical healthcare issues. Each year 10 journalists are selected from across the country for an intensive 9 days and nights of training. The fellowship is housed at Babson College's Center for Executive Education in Wellesley, MA. The program requires no financial contribution from media outlets.
Insight is an intensive, seven week postdoctoral training fellowship that bridges the gap between academia and a career in data science. Based in Silicon Valley, New York City, Boston, Seattle, as well as a growing network across the country, the program enables scientists to learn the industry-specific skills needed to work in the growing field of big data at leading companies. The program includes a full tuition scholarship for all accepted students and living stipends are also available to help cover costs while attending. International applicants are welcome but must obtain a visa to stay in the U.S. for the duration of the program.
JOIN for Justice's Jewish Organizing Fellowship is a year-long, paid community organizing training program in Boston. The fellowship trains Jewish young adults (ages 21-30) to organize communities to effectively fight against structural injustice and inequality. JOIN supports candidates in finding paid jobs as community organizers. If already employed, fellows will be supported at their current organizing job. Fellows are paid a salary of $31,000-37,000 and provided with health insurance for the duration of the fellowship.
The mission of the Joan Shorenstein Fellowship Program is to advance research in the field of media, politics and public policy, provide an opportunity for reflection, and create a vibrant and long-lasting community of scholars and practitioners. The primary focus for a Fellow is to research, write and publish a 15-20-page paper on a media/politics topic. The Shorenstein Center currently hosts 8 one-semester residential fellowships each year (4 per semester). Stipend is $30,000 for one semester. Fellows are in residence, full-time, for one semester. Mid to late-career full-time journalists, politicians, scholars or policymakers are eligible.
The Knight Science Journalism program at MIT offers full-year fellowships, and week-long workshops to journalists to increase their understanding of science, technology, engineering, medicine and environment. Mid-career, full-time journalists from all countries are welcome to apply. Applicants must have at least three full years of experience covering science, technology, the environment, or medicine; or at least five years of other journalism experience and a desire to cover those areas in the future. The 9 month fellowship requires Fellows to reside full-time in the Boston/Cambridge area for the academic year: August 15 through May 15.
Loeb Fellows represent the broadest spectrum of accomplished practitioners who are influential in shaping the built and natural environment and whose work advances positive social outcomes. Loeb Fellows are architects and landscape architects, urban planners and journalists, public artists and affordable housing developers. After a transformative Fellowship year in residence at the Harvard Graduate School of Design, they join a powerful worldwide network of over 450 colleagues and friends. The stipend for the academic year is $50,000 and the fellowship covers the cost of housing for Fellows and their families coming from outside the Boston area.
Massachusetts Promise Fellows dedicate a year of service to build their leadership skills and make an impact on young people in Massachusetts. Through the supportive network of the Fellowship, individuals gain a lifetime of experience as they develop their organizational and communication skills and grow as leaders of their own projects. Fellows receive a $15,500 annual living stipend, health insurance options, a $6,195 AmeriCorps Education Award, and free courses at Northeastern's College of Professional Studies. Applicants must be U.S. citizens or permanent residents, 17 years of age or older with a high school diploma or GED.
The Nieman-Berkman Fellowship in Journalism Innovation brings individuals to Harvard University to work on a specific course of research or a specific project relating to journalism innovation. Proposals from Nieman-Berkman Fellowship candidates may deal with any issue relating to journalism's digital transformation. The fellowship is open to both U.S. and international applicants. Candidates should either be working journalists or work for a news organization in a business, technology, or leadership capacity. Freelance journalists are welcome to apply. Most Nieman Fellows receive a stipend of $65,000 paid over a 9-month period.
This 1-2 year program prepares scholars with the knowledge and skills necessary to become leaders in the field of bioethics. Research scholars will be fully integrated into the community of faculty and students at the Center for Bioethics, with access to the resources of Harvard Medical School and Harvard University. There will also be opportunities to collaborate with the scholars at the Hastings Center. Research scholars will receive an annual stipend, benefits, and an allotment for academic expenses and travel.
Private Equity Fellowship
Participants of the fellowship are paired with an SFA Searcher & work as full-time analysts and will acquire hands-on experience in various industries and business models. Analysts will build a strategic network of entrepreneurs and investors and develop their analytical & critical thinking skills. Fellows must have graduated in the past two years with a Bachelor's degree or an international equivalent. Analysts are compensated at the prevailing hourly minimum wage and are entitled to health benefits.
Radcliffe Fellows are award-winning artists, academics, and professionals who convene at the Radcliffe Institute for Advanced Study at Harvard University for a full year to focus on individual projects and research while benefiting from a multidisciplinary community in the University setting. Stipends are funded up to $77,500 for one year with additional funds for project expenses. Fellows receive office or studio space and access to libraries and other resources of Harvard University during the fellowship year, September through May. Deadlines vary by discipline, check website.
The Strategic Data Project Fellowship (SDP) is a paid two-year program at Harvard University that places and develops talented data strategists in partner agencies where they can have an immediate impact on policy decisions that affect student outcomes. Fellows receive a rich complement of professional development designed to boost skills and knowledge in three key areas: measurement and analysis, leadership and change management, and education policy. Requirements include an advanced degree (Master's level or higher), strong quantitative/analytical skills, 3+ years of work experience, and a demonstrated passion for education reform.
The fellowship enables established scholars from around the world whose primary interest is the business and economic history of the United States to spend time in residence at Harvard Business School. The main activities of the Thomas K. McCraw Fellow will be to conduct research in the archives of Baker Library or in other Boston-area libraries, present his or her work at a seminar, and interact with HBS faculty. The Thomas K. McCraw Fellow will receive a stipend of $7,000 to cover travel and living expenses. Fellows are expected to be in residence for a minimum of two months.
The Walter Feldman Fellowship for Emerging Artists supports the careers of emerging artists located in New England through the opportunity to produce a solo exhibition. This fellowship also provides professional support, including expert guidance on improving business skills for the effective presentation and promotion of the fellow's work. The Fellowship is open to artists working in 2D media other than photography who have yet to have their first solo exhibition.
The Zuckerman Fellows Program equips people from the fields of medicine, law, and business to provide leadership for the common good by making it possible for them to pursue public service degrees at the Harvard Graduate School of Education, Harvard School of Public Health, or Harvard Kennedy School. The Zuckerman Fellowship provides recipients with full tuition and health insurance fees plus a stipend of $17,000 for one year. In addition to their formal coursework, Zuckerman Fellows participate in a yearlong co-curricular program that includes small-group discussions, professional skill-building workshops, and a field trip.
© Victoria Johnson 2020, all rights reserved.