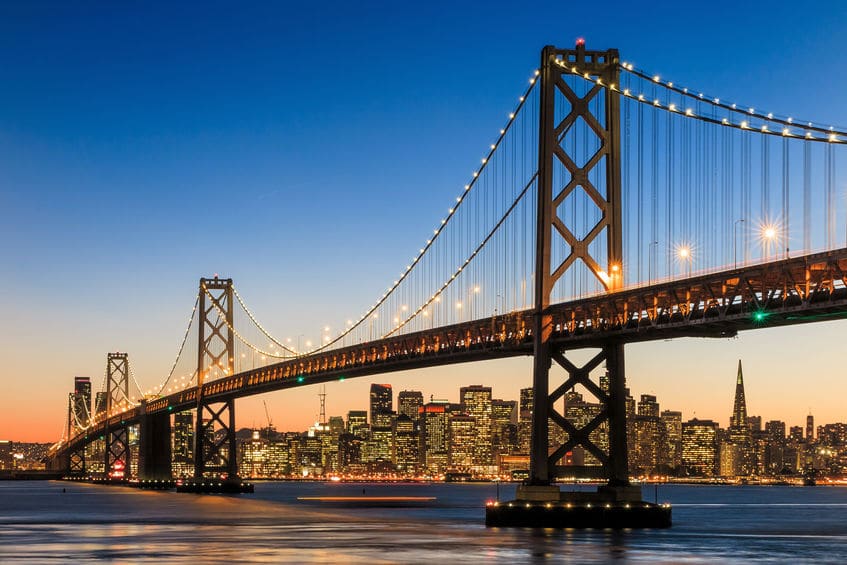 If you've ever dreamed of calling the Golden State home, here is your chance! This list includes opportunities for students, recent graduates, and young professionals. There are fully funded PhD programs, technology development positions in Silicon Valley, and fellowships for writers, filmmakers, and conservationists. If one of the programs below sounds exciting to you, make sure to bookmark it to your ProFellow account!
The California Data Fellowship introduces 10 competitively-selected California journalists to a wealth of data sources that can inform and elevate their health reporting. The all-expenses-paid program, funded with generous grants from the California HealthCare Foundation and The California Endowment, includes a $2,000 reporting stipend. The Fellowship is designed for reporters who want to harness and analyze data that can shape health care decision-making, policy and legislation across California and beyond. It will help skilled journalists to mine health data to reveal key insights essential to high-impact journalism.
The Science Communication fellowship provides a unique educational opportunity for an early-career science communicator to gain hands-on experience in marine and coastal science communication. Applications may be submitted by a graduate student close to completing a degree (Masters, Ph.D., or J.D) in a field related to science communication, journalism, or science, at a U.S. university. The successful applicant will be placed at California Sea Grant's office at the Scripps Institution of Oceanography, UC San Diego. The fellow will receive $46,860 in stipend for the twelve-month assignment ($3,905/month).
CivicSpark is a Governor's Initiative AmeriCorps program in California dedicated to building capacity for local governments to address climate change, water, and land-use needs. Fellows have the opportunity to gain valuable experience in their field, build office professional skills, and develop a strong network, while creating a lasting impact in their service community during their 11 months of service. The program offers two fellowship tracks: CivicSpark Climate (50 Fellows) and CivicSpark Water (20 Fellows). Fellows receive a $16,000+ living allowance (before taxes) spread evenly over 11 months; Segal Education Award of $5,815 at the completion of service; and health insurance, among other benefits.
A Climate Corps Bay Area (CCBA) Fellowship offers 10 months of experience implementing climate change resiliency projects with community partners such as government agencies and nonprofits. Along with extensive personal development and training, Fellows receive a modest stipend and other benefits. The Fellowship will start in late September and end in August. Applications are accepted on a rolling basis: submit applications as soon as possible in order to receive priority placement consideration.
The University of California at Berkeley- Social Welfare is offering many different fellowships for high-achieving Master of Social Work students and graduates. Fellowship awards range from $1,000 to $5,000 for eligible applicants. Areas include Adult Health and Aging, Children Youth and Families, Mental Health, Need-based Awards, Poverty, Public Social Services, Social Work and Raza People Communities, Adult Health and Aging.
This program is a nationally recognized municipal management program that offers an intense and fulfilling paid one-year apprenticeship at the City of Long Beach, CA. The program provides a structured one-year learning opportunity through which Fellows gain broad professional experience in local government. Applicants must have received a Masters Degree in Public Administration, Public Policy or related field by the start date of the program (July). Fellows receive a comprehensive benefits package that includes insurance, membership in the State of California Public Employees Retirement System, paid time off, and a salary of approximately $58,354.
The Geballe Laboratory for Advanced Materials (GLAM) at Stanford University invites applications for the GLAM Postdoctoral Fellowships. Early-career scientists of exceptional ability who will flourish in, and contribute to, the highly interactive and collaborative research environment of GLAM are invited to apply. The appointment includes 2 years of support with a competitive salary and benefits, plus $5,000 in discretionary funds to cover research and/or travel expenses.
The Greenlining Institute – Leadership Academy is offering a year-long advocacy and training program for leaders who have recently completed law school and attained their Juris Doctor by the start of the program. Legal Fellows will be assigned to either the Energy or Environmental Equity program and work at the Oakland, CA office. Fellows will participate in coalitions, assist team members with developing advocacy strategy, and represent Greenlining before Commissioners, Administrative Law Judges, and legislators. Compensation is $60,000 per year with health benefits with up to $2000 reimbursement for Bar.
The Greenlining Institute – Leadership Academy is offering a year-long development and experiential learning program for emerging leaders seeking hands-on public policy experience to work in Oakland, CA. Fellows will be placed into one of Greenlining's policy teams to working with the Academy for racial and economic justice. The areas of placement are: Economic Equity, Energy Equity, Environmental Equity, Health Equity, and Technology Equity. Eligible applicants must be at 18 years of age or older with at least one year of relevant work experience. Compensation is $55,000 per year with health benefits.
The Academy Summer Associate Program is an intensive 10-week training program for young leaders to participate in leadership discussions, skills building workshops, and conduct site visits to community, government, and corporate entities. Associates learn about issues impacting California and the nation and manage research and advocacy projects under the direction of a Greenlining staff member. Associates present their findings and projects in both a written and oral report at the end of the program. As an Associate, one works 37.5 hours per week and earns a $5,500 total stipend for 10 weeks.
This summer fellowship is an opportunity for international and U.S. students to build leadership skills and better cultural understanding to help form a more peaceful future. Fellows receive hands-on training in team-building, public speaking, negotiation, mediation and working together to solve international problems. Leadership training includes meeting with political and business leaders to learn real world skills and how to implement these skills at home after the program. The program is located in San Diego, CA and open to international and U.S. undergraduate and master's students aged 20-25. Non-U.S. citizens: January deadline; U.S. citizens: March deadline.
Insight is an intensive, seven week postdoctoral training fellowship that bridges the gap between academia and a career in data science. Based in Silicon Valley, New York City, Boston, Seattle, as well as a growing network across the country, the program enables scientists to learn the industry-specific skills needed to work in the growing field of big data at leading companies. The program includes a full tuition scholarship for all accepted students and living stipends are also available to help cover costs while attending. International applicants are welcome but must obtain a visa to stay in the U.S. for the duration of the program.
Stanford University is offering up to one hundred, fully-funded graduate degree programs including the DMA, JD, MA, MBA, MD, MFA, MS and PhD degrees as well as joint- and dual-degrees. Scholars will receive a living and academic stipend to live within the Stanford graduate community at the Denning House, which is dedicated to interaction with each other and distinguished visitors. Eligible applicants can be from any country, while holding at least the equivalent of a U.S. bachelor's degree. After the application materials have been obtained, there will be a candidate immersion weekend for 200 applicants to determine the accepted fellows.
Latin American Fishery Fellows (LAFF) Program
The Latin American Fishery Fellows (LAFF) Program at the Bren School of Environmental Science & Management, University of California, Santa Barbara provides full fellowship support to earn a 2-year Master of Environmental Science & Management degree (MESM) specializing in Coastal Marine Resources Management. The program seeks students dedicated to impactful careers and leadership in Latin America.  The fellowship includes full tuition, a living stipend, $5,000 to cover costs associated with a summer internship, and RT airfare to home country and internship site in Latin America each year, among other benefits.
The Miller Institute for Basic Research in Science at UC Berkeley invites department chairs, faculty advisors, professors and research scientists at institutions around the world to submit online nominations for Miller Research Fellowships. The Miller Institute seeks to discover and encourage talented researchers, and to provide them with the opportunity to pursue their research on the Berkeley campus. Miller Research Fellowships are intended for scientists who have recently been awarded, or who are about to be awarded, the doctoral degree to pursue a topic in basic sciences through interdisciplinary research. These 3-year fellowships offer an annual salary of $65K.
The Momentum Fellowship is designed to prepare professionals from underrepresented communities, particularly communities of color, for successful careers in the philanthropic sector through professional development, networking and mentoring opportunities. Fellows will be placed in temporary full-time positions at host foundations. Candidates should come from a community that is currently underrepresented in philanthropy, such as a community of color, LGBTQ, disability or other group. Preference will be given residents of the Pacific Northwest, with a willingness to commit to service in the region.
The Ben Bagdikian Fellowship Program offers a crash course in investigative journalism. It also supports emerging journalists and media professionals, allowing them to make invaluable contributions to a high-flying news organization. Based in San Francisco or Washington, DC, Mother Jones fellows dive deep into every aspect of a national multimedia outfit—from the making of news, to making it pretty, to ensuring its impact, to mastering the inner workings of nonprofit publishing. Fellows receive a $1,500 monthly stipend. After six months, fellows can apply to stay on for a 6-month senior fellowship with an increased $1,800 monthly stipend.
New America CA Fellow
The goal of the New America Fellows program is to find bold, iconoclastic California-based thinkers and to provide financial support for one year. This tenure is designed to be long enough so that they can improve their ability to tell compelling stories about their work, expand their capacity to reach targeted audiences through media, determine if their idea is replicable in other locations or nationally, and be long enough to be able to build a real community among the fellows. Fellows receive a financial stipend of $30,000 per year.
The Next Generation Fellowship (NGF) is a leadership development and policy advocacy training for formerly incarcerated or justice-involved individuals from across California. It supports emerging leaders in 1) advancing racial justice and cultural healing, and 2) influencing state and local government through policy advocacy. The fellowship focuses on the movement to end mass incarceration with an emphasis on promoting healthy, safe communities. Over three 2-day sessions, participants will take part in culturally-relevant activities intended to foster effective storytelling, civic participation, and strategic advocacy.
The Getty Conservation Institute's (GCI) postdoctoral fellowship is a two-year program designed to provide recent PhDs in chemistry and other physical or material sciences with experience in conservation science. In support of the GCI's mission to advance conservation practice in the visual arts, much of the Science department's work in preventive conservation involves assessing the effects of environmental conditions on museum objects. Fellows will receive an annual stipend plus benefits including a travel allowance, an apartment and health insurance.
Stanford University's Center on Food Security and the Environment addresses critical global issues of hunger, poverty and environmental degradation by generating vital knowledge and policy-relevant solutions. The FSE post-doc will be awarded to promising young scholars with a demonstrated ability to do innovative and rigorous work related to global hunger, poverty alleviation, and environmental degradation. Successful candidates will be expected to lead projects of their own design, while also interacting with other faculty and students at FSE. The position is for one year, at a competitive annual salary and benefits package.
The Institute for Conservation Research at the San Diego Zoo offers undergraduate summer student fellowships in each research team: Recovery Ecology, Population Sustainability, Community Engagement, Global Partnerships, Conservation Genetics, Plant Conservation, Reproductive Sciences, and Disease Investigations.  The program is only open to currently enrolled undergraduate students continuing their undergraduate or graduate studies the following fall. The current stipend amount is $7,000 for the 12-week program.
The mission of the program is to foster community stewardship by preparing recent college graduates for 11+month leadership roles in public service. Fellows are full time City employees who earn an annual salary of approximately $57,642, plus comprehensive health and dental benefits. The program is looking for enthusiastic, creative, hard-working individuals who are interested in public service and who would like to learn about policy implementation in the City and County of San Francisco.
The SFFILM/Rainin Filmmaking Grants program provides meaningful support to projects that benefit and uplift the Bay Area filmmaking community in a professional and economic capacity. The grant is open to filmmakers internationally whose films explore social justice and can commit to spending time developing the work in San Francisco, with priority given to Bay Area-based filmmakers. There are grants in screenwriting, development and post-production ranging from $10-50K.
Stanford Medicine and Intermountain Healthcare is offering a joint fellowship to help train the next generation of leaders in population health, primary care, and delivery science. The two-year program includes tuition support for a Master's degree in Health Services Research that gives fellows a basic understanding of epidemiology, study design, cost-effectiveness, health policy, implementation science and other disciplines needed for a successful research or program development career. The program will also provide each fellow with $50K to support their research efforts.
Stanford University offers a fully funded PhD program in Computer Science. Students begin by completing 3 breadth requirements in mathematical and theoretical foundations, computer systems and applications to form a foundation in the program. After completing these requirements, students select an advisor and pursue independent research to complete their thesis. Students are encouraged to collaborate with other departments across the university to broaden their research and utilize the Stanford network. All PhD students are fully supported through fellowships, teaching assistantships and research assistantships.
The Stanford Vascular Medicine fellowship is a multidisciplinary program with the goal of producing vascular medicine specialists with expertise in the diagnosis and non-invasive treatment of a wide spectrum of arterial, venous and lymphatic diseases. This non-ACGME accredited 1-year fellowship is for fellows who have finished at minimum a 3-year internal medicine residency and wishes to expand their expertise in vascular medicine. The clinical training will mainly occur in multiple outpatient specialty clinics. Certain rotations will occur in block rotations, but many of the continuity clinics will be spread throughout multiple weeks.
The Steinbeck Fellowship Program is a one-year fellowship for emerging writers of any age and background to pursue a significant writing project while in residence at SJSU. The fellowship provides a stipend of $10,000, the opportunity to interact with other writers, faculty and graduate students, and share work in progress by giving a public reading once each semester during the fellowship. Residency in the San José, CA area is required. The fellowship is for creative writers, including fiction, drama, creative nonfiction, and biography. Applications in poetry will not be accepted.
SV Academy's Tech Sales Fellowship is an exclusive 12 week, part-time, online program where fellows receive mentorship from top business executives in Silicon Valley. Upon completion, fellows receive a high paying full-time job with one of their fast-growing portfolio companies in the Bay Area. 100% of SV Academy graduates are employed in junior business development roles in the software industry. Applications are accepted on a rolling basis. Check the website for the next deadline.
The goal of the Switzer Environmental Fellowship Program is to support highly talented graduate students in New England and California whose studies are directed toward improving environmental quality and who demonstrate the potential for leadership in their field. The Fellowship provides a one-year $15,000 cash award for graduate study as well as networking and leadership support to awardees. 20 annual awards to students pursuing environmental policy, economics, land and water conservation, public health, journalism, architecture, environmental justice, business and law as well as sciences including biology, chemistry and engineering.
TOLA is an intensive training academy in the San Francisco Bay Area designed to teach community organizing and leadership. Taught by experienced community, business, educational and political leaders in California, the program includes classroom instruction and project-based learning, where the core focus of the fellowship is on the ground training in effective organizing skills and tactics. Each TOLA Fellow commits to a full-time organizer's schedule for 4 months. The program seeks candidates between the ages of 22 and 35 with an associate or baccalaureate degree, or relevant experience and is fully funded, offering a stipend of $2,500/month.
The Molecular Pharmacology PhD in Diagnostics, Therapeutics and Biology of Disease is a part of the broader UCLA graduate programs in bioscience. This interdepartmental "Home Area" provides beginning PhD students with training in basic and clinical research and provides them with a foundational knowledge of biological systems and disease states. Students are supported throughout their studies through fully funded packages that allow them to focus on their research. These fully funded packages include a full payment of tuition, fees and health insurance and also include a stipend.
The Institute of American Cultures offers in-residence appointments to support research on African Americans, American Indians, Asian Americans, and Chicanas/os. Researchers proposing to advance the understanding of new social and cultural realities occasioned by the dramatic population shifts of recent decades, including greater heterogeneity within ethnic groups and increased interethnic contact, are especially encouraged to apply. Visiting Scholars will receive funding for one or more quarters and may receive up to $35,000 for three quarters. Applicants must hold a PhD from an accredited college or university in a relevant field.
UC Irvine offers a fully funded PhD program in Education. Students receive quality mentoring, relevant coursework and opportunities for research apprenticeships on major projects. The program consists of basic coursework forming a strong foundation for all students before they select a specialization in learning, teaching, cognition and development (LTCD), educational policy and social context (EPSC), or language, literacy and technology (LTT). After selecting a specialization, students conduct independent research under an advisor. All accepted students receive payment of tuition and fees, health insurance and a living stipend.
The Wallace Stegner Fellowship at Stanford University provides 10 two-year professional fellowships annually: 5 fellowships in fiction writing and 5 fellowships in poetry writing. Fellows meet weekly in a 3 hour class with teachers, but do not need to meet any curricular demands except for attending workshops. The Fellowship does not offer a degree. Candidates must demonstrate the quality of their creative work, their willingness to develop their skills, and their capacity to expand their expertise. Fellowships receive a stipend of $26,000 annually and Stanford University pays educational costs and medical health insurance.
The Maddy Institute at California State University, Fresno aims to foster the next generation of San Joaquin Valley bi-partisan leaders and problem-solvers by helping San Joaquin Valley students obtain their graduate degree from top graduate programs and return home to apply what they have learned to make the San Joaquin Valley a better place. Funding is provided towards eligible graduate degrees including MBA, Master's in Social Work (MSW), Master's in Public Affairs, and more.  Two $56,000 fellowships will be awarded. A summer internship and for at least two years after graduation, the fellow is required to work in the San Joaquin Valley. 
© Victoria Johnson 2020, all rights reserved