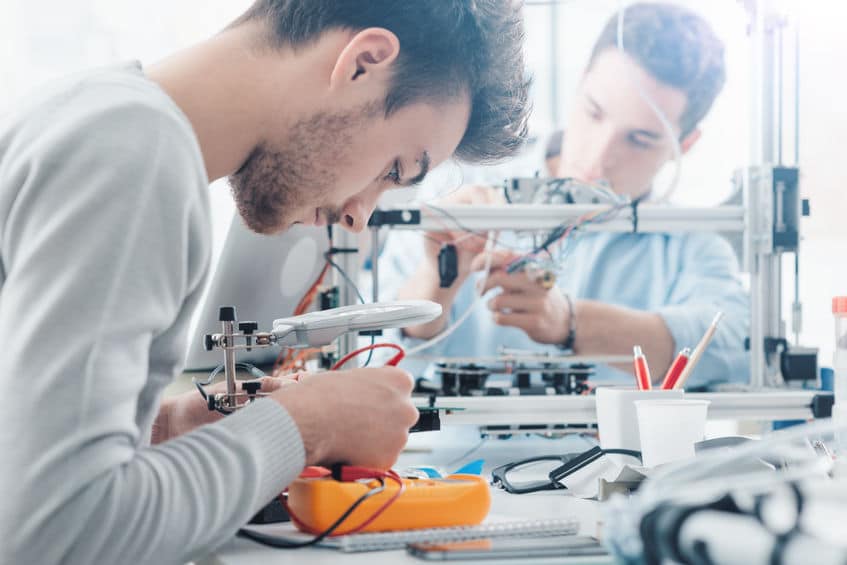 If you've recently obtained your Ph.D. in engineering, one of these fellowships might be a great next step in your career! They offer funded research opportunities in engineering and related fields around the world, including the United States, Germany, and India. Some of them have specific citizenship requirements, but many are open to all nationalities. If one of these sounds like a great fit for you, be sure to bookmark it to your ProFellow account!
Postdoctoral Research Leave Fellowships provide $30,000 to assist women scholars in obtaining tenure and other promotions by enabling them to spend a year pursuing independent research. The primary purpose of the fellowship is to increase the number of women in tenure-track faculty positions and to promote equality for women in higher education. Tenured professors are not eligible. Candidates must be U.S. citizens or permanent residents. American Fellowships are open to scholars in all fields of study.
The Division of Atmospheric and Geospace Sciences (AGS) awards Postdoctoral Research Fellowships (PRF) to highly qualified investigators within 3 years of obtaining their PhD to carry out an independent research program. The program supports researchers for a period of up to 2 years with Fellowships that can be taken to the institution or national facility of their choice. Fellowships are $86,000/year. Applicants must be U.S. citizens and currently be a graduate student, or have held a PhD degree in a scientific or engineering field for no more than 3 years prior to the award start date.
The Association awards Fellowships at the graduate (Masters, PhD or post-doctoral) level of up to US$40,000 each year. Fellowships are available for Australians who will benefit from doing advanced research or study in the fields of business, science, technology, medicine, engineering and sustainable development in the United States. Applicants must make their own arrangements for university affiliation and have a confirmed placement by the time the Fellowship is awarded. Applicants must be Australian citizens or permanent residents of Australia doing research or studying at the graduate level – Masters, PhD or post-doctoral. Applicants may already be in the U.S. at the time of application.
The Azrieli International Postdoctoral Fellowship supports the best and brightest minds in their postdoctoral research, connecting them with world-class academics and leading researchers. The fellowship provides generous funding for eligible international applicants to conduct research in any academic discipline at accredited institutions in Israel, a country long recognized for outstanding achievements in research and higher education. The fellowship is open to candidates who have received, or will receive, their PhD at a recognized university in the EU or EFTA states, UK and Canada.
The Belgian American Educational Foundation (B.A.E.F.) encourages applications for fellowships for advanced study or research during one academic year at a Belgian University or institution of higher learning. The B.A.E.F. will award up to ten fellowships as outright non-renewable grants carrying a stipend of $27,000 for Master's or Ph.D. students and $32,000 for Post-doctoral Fellows. Applicants must be citizens or permanent residents of the United States. Applicants must also either be registered in a graduate program towards a Ph.D. or equivalent degree in the U.S., plan to register in a graduate program (Master's or Ph.D.) in Belgium, or currently hold a Master's, Ph.D., or equivalent degree.
The Banting Postdoctoral Fellowships program provides funding to the very best postdoctoral applicants, both nationally and internationally, who will positively contribute to Canada's economic, social and research-based growth. Fellows can pursue research in health, natural sciences, engineering, social sciences and humanities-based topics. The award is for 2 years and awardees receive $70,000 per year. This program allows applicants to launch a successful research-intensive career while working on a project that aligns with the host institution's strategic priorities. All applicants must be endorsed by a Canadian research institution.
The Belfer Center at Harvard University offers both pre-doctoral and post-doctoral research fellowships for one year, with a possibility for renewal. Applications for fellowships are welcome from recent recipients of the PhD or equivalent degree, university faculty members, and employees of government, military, international, humanitarian, and private research institutions who have acquired appropriate professional experience. The Center seeks applications from political scientists, lawyers, economists, those in the natural sciences, and others of diverse disciplinary backgrounds. The Center offers 10-month stipends of $20K-$34K.
CIMI LabEx offers funded post-doctoral positions for one year that may be extended for a second year. Positions are open to holders of a doctorate in mathematics or computer science obtained in France or in a foreign country. Offers are not theme-based and all mathematical and computer science disciplines are welcome. Selection is based on excellence in scientific accomplishment and the quality of the scientific project. The scientific project must be written together with a member of either IMT or IRIT or both institutes. Fellows receive a salary of €2,330 per month and health insurance and social coverage.
Research Grants are awarded to highly qualified candidates who have completed either: a Master's degree or Diploma, a Bachelor's degree (by the time they begin their grant-supported research), or a  Ph.D. (postdoctoral candidates). Applications for long-term grants (7-10 months) are accepted annually in November. Short-term grants (1-6 months) accept applications in November and May.
DLR-DAAD Research Fellowships in the fields of Space, Aeronautics, Energy and Transportation Research. A new program implemented by the Deutsches Zentrum für Luft- und Raumfahrt (DLR) and DAAD. DLR is Germany's national research center for aeronautics and space. This special program is intended for highly-qualified foreign doctoral and postdoctoral students as well as senior scientists. DLR-DAAD Fellowships offer outstanding scientists and researchers the opportunity to conduct special research at the institutes of the DLR in Germany. Check 'Current Offers' for opportunities.
The Fellows Program provides innovative postdoctoral scholars with the opportunity to build a foundation in one of the core disciplines represented within the Earth Institute (i.e., any of the social sciences, earth sciences, biological sciences, engineering sciences and health sciences), and cross-disciplinary expertise related to sustainable development and reducing environmental degradation, poverty, hunger and disease. Earth Institute fellowships will ordinarily be granted for a period of 24 months and includes a $12,000 research allowance for the two year appointment, and carries an annual salary of about $61,800.
The initiative addresses researchers in science and engineering as well as in the life sciences, who want to put a potentially transformative and risky research idea to the test. They are given the opportunity to demonstrate preliminary evidence for a concept's potential during an exploratory phase which is limited to 18 months and up to 120,000 Euro. Towards the end of a grant the projects' progress will be presented at the Foundation's 'Forum Experiment!'. Eligible applicants are postdoctoral researchers and professors in Germany, optionally with international partners.
The Faculty for the Future program awards fellowships to women from developing and emerging economies to pursue PhD or post-doctoral studies in science, technology, engineering and mathematics (STEM) disciplines at leading universities worldwide. Candidates should have applied to, have been admitted to, or be currently enrolled in a university abroad when submitting their grant application. Faculty for the Future grants are based on actual costs for eligible expenses up to a maximum of USD 50,000 per year and may be renewed.
The Fulbright-Nehru Postdoctoral Research Fellowships are designed for Indian faculty and researchers who are in the early stages of their research careers in India. The Postdoctoral Research Fellowships will provide opportunities to talented faculty and researchers to strengthen their research capacities. Fellowships are for 8 to 24 months and are available in many different fields including science, technology, the arts, economics, law and the humanities. Fellows will work with a host institution in the U.S. and the fellowship includes J-1 visa support, a living stipend and round trip airfare between the U.S. and India.
The Harvard University Center for the Environment created the Environmental Fellows program to enable recent doctorate recipients to use and expand Harvard's extraordinary resources to tackle complex environmental problems. The Environmental Fellows work for two years with Harvard faculty members in any school or department to create new knowledge while also strengthening connections across the University's academic disciplines. The fellowship includes a salary of $64,000 per year, employee health insurance eligibility, up to $2,500 reimbursement for travel expenses, and a $2,500 allowance for travel and other professional expenses. Candidates with a doctorate or equivalent in any field are eligible, and they may propose research projects in any discipline.
Harvard University is offering three-year long fellowships for men and women to conduct post-doctoral research in any department of the University. Fellows must be persons of exceptional ability, originality, and resourcefulness, and should be of the highest calibre of intellectual achievement, comparable to successful candidates for junior faculty positions at leading universities. Nominations are required for each applicant. The offered stipend for the first year is $83,000.
HFSP postdoctoral fellowships encourage early career scientists to broaden their research skills by moving into new areas of study while working in a foreign country. Fellows may choose to stay for up to three years in the host country or use the last year of their fellowship to return to their home country or to move to another HFSPO member country. The program offers Long-Term Fellowships (LTF) for applicants with a Ph.D. in a biological discipline and Cross-Disciplinary Fellowships (CDF) for applicants with a Ph.D. from outside the life sciences (e.g. in physics, chemistry, mathematics, engineering or computer sciences), who have had limited exposure to biology during their previous training.
The Alexander von Humboldt Foundation was established by Germany in order to promote international cooperation in research. The Humboldt Research Fellowship Program supports highly qualified post-doctoral scholars of all nationalities and disciplines so that they may carry out long-term research projects in Germany. There are no quotas with respect to country of origin or academic discipline.
The IC Postdoc Program offers scientists and engineers from a wide variety of disciplines unique opportunities to conduct research relevant to the Intelligence Community. The research is conducted by the postdocs, while working in partnership with a research advisor and collaborating with an advisor from the intelligence community. Postdoc appointments are for 24 months, but can allow for a third year, if outlined in the original proposal. Fellows receive annual stipends of $75,000-$79,000 plus extra funding for travel and laboratory expenses. Applicants must be U.S. citizens and have received their PhD within the last 5 years.
The goal of the Killam Postdoctoral Research Fellowships program is to bring outstanding scholars from around the world to the University of British Columbia in order to engage in innovative research that will enhance interdisciplinary collaborations and help establish them in leadership positions in the academic and wider community. Applicants must have completed all requirements of their PhD no more than 24 months prior to the anticipated fellowship start date. Fellows receive an annual stipend of $50,000 for a maximum of two years plus a travel and research allowance of $4,000 over two years.
The Linda Hall Library offers funding to graduate students, postdoctoral researchers, and independent scholars in the history of science and related areas of science and technology studies. Scholars may apply for travel grants to support short (1-3 week) research visits to Kansas City or residential fellowships that provide more time (1-4 months) for in-depth engagement with the Library's collections. In addition, fellows participate in a rich intellectual community of in-house experts, fellows, and scholars from nearby Kansas City institutions, including the University of Missouri-Kansas City (UMKC), the University of Kansas (KU), and the Clendening History of Medicine Library at the KU Medical Center. Fellowships cover travel and living expenses up to $750/week for travel fellows, $3,000/month for doctoral residential fellows, and $4,200/month for postdoctoral residential fellows.
The English-Speaking Union offers up to five grants a year worth $100,000 each for postdoctoral scientists to carry out research in the USA. The Fellowships are awarded to graduates of exceptional promise in both the pure and applied physical sciences who have shown capacity for producing original research. Each fellowship lasts for two years and supports research in the fields of astronomy, biophysics, chemistry, engineering, geology, geophysics, mathematics and physics. To be eligible to apply, candidates must be British or Commonwealth citizens, a resident in the UK, and have recently completed a doctorate or are expecting to complete before the fellowship.
The L'Oréal USA Fellowships for Women in Science program is a national awards program that annually recognizes and rewards five U.S.-based women researchers at the beginning of their scientific careers. Recipients receive up to $60,000 each that they must put towards their postdoctoral research. Applicants must be involved in the life, physical/material sciences, engineering, technology, computer science or mathematics. Additional eligible areas of study include: immunology, all areas of chemistry, earth science and medical research. Applicants to the L'Oréal USA Fellowships must have completed their Ph.D. by time of application.
The Institute for Advanced Studies in Culture at the University of Virginia is offering a postdoctoral Research Associate position from a diverse pool of candidates to analyze and publish papers about a data set from a historic national survey on moral formation at home and in the school. A year-long fellowship to reflect and advance the intellectual mission of the Institute in general and the Institute's Colloquy on Culture & Formation in particular. Fellows receive an annual stipend of $45,000- $49,000, as well as full-time benefits and office space at the Institute for Advanced Studies in Culture in Charlottesville, Virginia.
The NASA Postdoctoral Program (NPP) provides early-career and more senior scientists the opportunity to share in NASA's mission, to reach for new heights and reveal the unknown so that what we do and learn will benefit all humankind. NASA Postdoctoral Fellows work on 1 to 3 year assignments with scientists and engineers at NASA centers and institutes to advance missions in earth science, heliophysics, planetary science, astrophysics, space bioscience, aeronautics, engineering, human exploration and space operations, astrobiology, and science management. Stipends start at a minimum of $60K/year and include other benefits and travel allowances.
The Newton International Fellowship selects the very best early stage post-doctoral researchers to work at one of three participating academies (the Royal Society, the British Academy and the Academy of Medical Sciences). The Royal Society is open for applications within the remit of natural sciences, which includes but is not limited to biological research, chemistry, engineering, mathematics and physics. Applicants for clinical or patient-oriented research should apply to the Academy of Medical Sciences. Applicants for social science and humanities should apply to the British Academy. An option of 0.6 FTE is also available. Grants of £24,000 per annum to cover subsistence and up to £8,000 per annum to cover research expenses, plus a one-off relocation allowance of up to £2,000.  The fellowship provides a one-off payment of up to £3,000 for relocation expenses (£2,000 for EEA Nationals).
This fellowship program is designed to provide an independent research opportunity to recently graduated PhDs who want to pursue interests that align with the NOAA Climate Program Office. The program focuses on observing, understanding, modeling, and predicting the climate system on seasonal and longer time scales. Experienced scientists at U.S. universities and research institutions host the appointed fellows providing mentoring and a collaborative environment to carry out their research projects. Preference is given to new graduates who are seeking their first fellowship and who have held a PhD for no more than three years.
The NREL Director's Fellowship attracts the next generation of exceptionally qualified scientists and engineers with outstanding talent and credentials in renewable energy research and related disciplines. Candidates are selected based on eligibility, program expectations, and research proposals. Successful candidates will serve a two-year term, with a possible third-year renewal paid with program funding. The Director's Postdoctoral Fellowship includes a premium salary rate, additional funding for conferences/presentations, competitive benefits package, and relocation assistance.
RMIT University in Australia is recruiting Senior Research Fellows, Research Fellows, Postdoctoral Fellows and Indigenous Research Fellows whose experience and expertise align with one of RMIT's 8 Enabling Capability Platforms (ECPs): Advanced Manufacturing and Fabrication; Advanced Materials; Biomedical and Health Innovation; Design and Creative Practice; Global Business Innovation; Information and System Engineering; Social Change; and Urban Futures. Fellows will engage in high-quality, high impact research projects, which address local, national, regional and global challenges. To be eligible, you must hold a PhD/Doctorate qualification.
The Rose Award provides for an academic year residency focusing on hydrogen safety and fuel cell technologies at Pacific Northwest National Laboratory in Richland, WA. Awardees will receive a stipend of $25,000 to $35,000 for full program, health insurance, round-trip travel to Washington, D.C. for a 3 week orientation seminar conducted in cooperation with the U.S. Department of Energy and following travel to Richland. Awardees will also receive a professional development subsidy for attendance at one professional conference. Open to current or recent graduate students at the Masters, Doctoral or Post-Doctoral level in relevant STEM fields.
The goal of the SBE Postdoctoral Research Fellowship (SPRF) program is to promote fundamental research in the Social, Behavioral and Economic Sciences; enhance the participation of underrepresented groups in science and engineering; provide an opportunity for independence and advanced training under the direction of a sponsor; and encourage doctoral-level scientists (who are not yet in full-time positions) to take advantage of the two-year fellowship to prepare for scientific careers in academia, industry or private sector, and government. Support may be requested for up to 24 months at a level of $69,000 per year and may be prorated accordingly.
Shastri Indo-Canadian Institute supports doctoral students, post-doctoral scholars and students enrolled in degree programmes in recognised Indian & Canadian universities or institutions to undertake research in fields in which scholars may desire research experience in Canada or India. Doctoral students and post-doctoral scholars are provided $590 per week for up to 6 months of research. There are also awards for undergraduate and graduate students of $500 per week for up to 12 weeks of research.
These awards provide funding to postdoctoral scientists at Stanford University engaging in highly interdisciplinary research in the neurosciences broadly defined. Selected scholars will be provided funding for two years, to be utilized for payments toward tuition, salary, and health benefits. In addition, our scholars meet quarterly, visit each others' labs to learn about different areas of study and research techniques, develop skills to communicate with a non-scientific audience, and how to present "elevator pitches." Candidates in a variety of disciplines will be considered and are encouraged to apply.
The TomKat Center Postdoctoral Fellowships support outstanding recent PhD graduates working on projects that explore new research directions in sustainable energy and its intersection with food, water, the environment, or human health. TomKat Fellows will have support for up to two years to work on creative, multidisciplinary research. The TomKat Fellowship provides annual support as salary in the amount of $65,000, or the minimum postdoctoral salary rate as stipulated by Stanford, whichever is greater. Foreign scholars must have or be able to obtain an H1B visa (to receive the award as salary). Citizenship is not a selection factor.
Recognized as Western Canada's first university and located in the city of Winnipeg, the University of Manitoba is committed to advancing Indigenous research and achievement, recognizing the significant contributions of Indigenous peoples in Canada. The Banting Postdoctoral Fellowships program provides funding to the very best postdoctoral applicants who will positively contribute to Canada's economic, social and research-based growth. Fellows can pursue research in health, natural sciences, engineering, social sciences and humanities-based topics. The award is for 2 years and awardees receive $70,000 per year.
The University of Michigan offers postdoctoral research fellowships in science, technology, engineering, mathematics (STEM), economics, and political science, coupled with faculty mentoring, professional development, and academic networking opportunities. The University seeks applicants whose research, teaching and service will contribute to diversity and equal opportunity in higher education. The fellowship provides a salary of $50-60,000, depending on the field and level of experience, and $10,000 for research and professional development.
The Association awards Fellowships each year at the graduate (Masters, PhD or Postdoctoral) level of up to $40,000 USD for US scholars undertaking advanced research or study in Australia. Fellowships are available for Americans who will benefit from doing research or study in the fields of biophotonics, engineering, environmental and marine sciences, mathematics, medicine, sciences, sustainability and technology. Applicants must make their own arrangements for university affiliation and have a confirmed placement by the time the Fellowship is awarded. Applicants must be US citizens or US permanent residents doing research or study at the graduate level. Applicants may already be in Australia.
The mission of the U.S. Geological Society is to provide reliable scientific information to (1) describe and understand the Earth; (2) minimize loss of life and property from natural disasters; (3) manage water, biological, energy, and mineral resources; and (4) enhance and protect our quality of life. The USGS invites postdoctoral scholars to conduct concentrated research in association with selected members of the USGS professional staff. Fellows will have two-year appointments to the USGS, receiving a full salary and benefits at the GS-12 level. Applicants must have their PhD degree no earlier than 5 years before the application opening date and prepare a proposal in addition to other application materials. Each Research Opportunity has a different application deadline, so double check on the web page to confirm.
The Mortimer B. Zuckerman Stem Leadership Program attracts Israel postdoctoral scholars to study at an American university of research institute. Once they complete their research, Zuckerman postdocs create a network of academic collaboration and goodwill that will greatly benefit US Israeli scientific cooperation. Postdoctoral scholarships are for up to two years for $20,000 USD per academic year plus travel expenses and applicants must hold a PhD degree from one of the four participating universities (The Hebrew University of Jerusalem, Technion‑Israel Institute of Technology, Tel Aviv University, or the Weizmann Institute of Science).
The Mortimer B. Zuckerman Stem Leadership Program attracts high achieving postdoctoral scholars from premier universities in the United States to do research at one of seven Israeli universities. Once they complete their research, many Zuckerman postdocs are expected to accept faculty positions at top North American universities, weaving a network of academic collaboration and goodwill that will greatly benefit US Israeli scientific cooperation. Postdoctoral scholarships are for up to two years for $52,000 per academic year and applicants must hold a PhD degree from a premier university.
© Victoria Johnson 2020, all rights reserved.