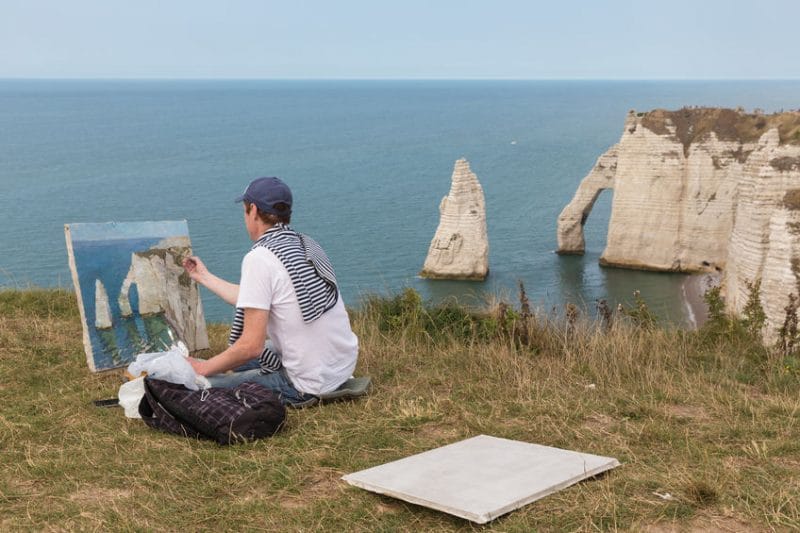 Does the idea of getting lost in the Louvre, attending the Cannes film festival, or listening to an Italian opera in Rome excite you? If so, one of these fellowships for creative artists in Europe might be up your alley! They are designed to provide artists — including composers, playwrights, painters, and filmmakers — time to focus on their work while immersing themselves in French or Italian culture. If one of these sparks your interest, be sure to bookmark it to your ProFellow account!
For over a century, the American Academy in Rome has awarded the Rome Prize to support innovative and cross-disciplinary work in the arts and humanities. Prize recipients are invited to Rome, Italy for five months or eleven months to immerse themselves in the Academy community. Each Rome Prize winner is provided with a stipend, meals, a bedroom with private bath, and a study or studio. Those with children under 18 live in partially subsidized apartments nearby. Winners of half-term and full-term fellowships receive stipends of $16,000 and $28,000, respectively. Winners of the Two-Year fellowships receive $28,000 annually.
Artistic Research Residency Programme
IRCAM's Artistic Research Residency Programme offers artists of all disciplines the opportunity to collaborate with one or more IRCAM research teams as part of a residency that can be extended in a partner institution. The residency offers many benefits including the potential to collaborate with other artists/researchers, time for reflection and the creation of a new performance or piece, utilizing the institute's technology and the opportunity for interaction with many international experts. Each laureate will be granted a residence at Ircam for periods of 2 weeks to 6 months. A stipend of 1200 Euros per month is awarded to cover expenses.
Bellagio Residency Program: Arts and Literary Arts
The Bellagio Arts & Literary Arts residency in Italy is for composers, fiction and non-fiction writers, playwrights, poets, video/filmmakers, and visual artists who share in the Foundation's mission of promoting the well-being of humankind and whose work is inspired by or relates to global or social issues. The residency is for artists seeking time for disciplined work, reflection, and collegial engagement. The Center typically offers stays of 2-4 weeks long, in a community of 15 fellows that typically includes 3-5 arts resident fellows. Artists of significant achievement from any country are welcome to apply.
The Camargo Foundation, located in Cassis, France, is a residential center offering programming in the Arts and Humanities. It offers time and space in a contemplative environment to think, create, and connect. Applications from all countries, nationalities, and career levels are welcome. Scholars & Thinkers (including professionals and practitioners in creative fields such as curators, critics, urban planners, independent scholars, etc.) should be connected to the Arts and Humanities working on French and Francophone cultures, including but not limited to cross-cultural studies that engage the cultures and influences of the Mediterranean region. Artists, in all disciplines, who are the primary creators of a new work/project. Roundtrip transportation and a stipend of 1,000 USD per month is available.
The Terra Summer Residency in Giverny, France provides eight-week fellowships for emerging artists and predoctoral scholars to pursue individual work and research within a framework of interdisciplinary exchange and dialogue, and senior advisor positions for established artists and scholars to serve as mentors and seminar leaders. For visual artists with a master's degree (or its equivalent); doctoral candidates researching a subject on American art and visual culture pre-1980 or its role in a context of international artistic exchange. All fellows are provided with 8 weeks of lodging in Giverny, a stipend of $5,000 and travel costs.
© Victoria Johnson 2018, all rights reserved