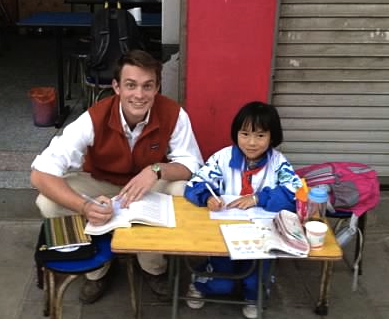 Christopher Magoon, a 2011 Yale University graduate, just returned to the U.S. after a year of exploration and professional development on the Luce Foundation's Luce Scholars Program. Each year the Luce Scholars Program sends 15-18 young Americans abroad for yearlong, full-time work placements in one of 15 Asian countries. The program was established in 1974 to enhance the understanding of Asia among potential leaders in American society. The program is unique in that is intended for those under age 30 who have had limited to no exposure to Asia. The program provides generous support for language study, travel and living expenses. Christopher Magoon provides his insights on applying to the program to how the experience influenced his career trajectory.
By Christopher Magoon
The Henry Luce Scholars Program was the perfect fit for me.  In college, I had positioned myself for a career in public education, but I was hesitant to jump into a teaching job after graduation.  I had done enough teaching in college to know how difficult the work is.  If I was going to do it, I wanted to make sure I was in for the long haul. The Luce, which places seventeen young professionals in an individually tailored work placement in Asia, allowed me to gain critical work experience while also providing for a year of adventure, travel, and reflection.  The Luce gave me a taste of working with education while also gaining an entirely unrelated set of skills.  One of the reasons the Luce is so great is because it allows you to gain experience in a given profession in a low-stakes, one-year commitment.
The Luce is an unusual program.  All Luce Scholars are placed in an Asian country, but "those who already have significant experience in Asia or Asian studies are not eligible" to apply.  Applicants may have taken an Asian language or a few classes that focus on Asia, but any sort of expertise is not permitted.  As a result, the Luce is "experiential rather than academic in nature," which is reflected in the selection process.  While a strong academic record is a plus, the qualities of leadership, curiosity, and flexibility are the main selection criteria.  The Luce Foundation staff is very supportive during the placement year, but living and working in Asia with a limited cultural and linguistic background is very challenging.  Hard days are guaranteed, and The Luce Foundation wants to make sure Luce Scholars are willing to roll with the punches and fulfill their obligations under difficult circumstances.  During the selection process, which includes a weekend of finalist interviews in New York City or San Francisco, I emphasized that I get the most out of experiences with steep learning curves and that I have a history of making lemonade out of lemons.  I think that helped make me stand out as a candidate.
Immediately after you are selected as a Luce Scholar you begin working with Luce Foundation staff to nail down your placement.  They take your input for what kind of work you want to do and in which part of Asia.
I was intrigued by China and I knew I wanted to work in education, so they presented me with a placement with Teach For China, a relatively new NGO that works to close the achievement gap in China by placing recent American and Chinese graduates into underserved classrooms in the Chinese countryside.  I then signed a contract saying that I would work with Teach For China during the Luce year, helping to overhaul their teacher evaluation program.
In June all of the Luce Scholars met in New York for a weeklong orientation and soon we went our separate ways, dispersing across Asia to work with a wide range of organizations including human rights law, social entrepreneurship, carbon consulting, journalism, urban planning, library sciences, and evolutionary biology.  Before starting the work placement, every Luce Scholar must complete language training in their host country.  The Luce Foundation takes language learning seriously and generously covers one-on-one classes for most Scholars with extra funds available for continued study after the work placement begins.
When I began working with Teach For China they were in a period of transition and the new staff struggled to meet the needs of the 100 Teaching Fellows who had just arrived for training.  It was a hectic but exciting time filled with many late nights and unglamorous tasks.  As the year wore on, I undertook numerous projects including filming classrooms and making a beginner's Chinese language textbook tailored to English teachers.
While I'm glad I was placed with Teach For China, the most rewarding experiences came outside of work.  I lived in a small city in southwestern China named Lincang. There were only a handful of other Americans, so I was more or less on my own.  My best friends were a nine-year-old Chinese girl named Keke and her dad, who owned the noodle shop attached to my apartment building, which was a converted worker's dormitory.  After work each day I would sit with my little friend and her dad.  I would study Chinese, she would do her homework, and he would prepare the noodle shop for its nighttime customers.  As my Chinese improved I began making other friends, eventually joining an adult soccer league and hiking group.  Soon I spent every night out with my new Chinese community.  There were certainly some frustrating days, but generally speaking I was in awe of my good fortune to be embedded with "real China" during the country's period of meteoric change.  I was there long enough to see the city and its citizens undergo various transformations.  Everyday there was a new part of town to explore, and as my Chinese got better, I was able to understand more about my friends' lives.
Still, I was happy to get out of Lincang from time to time.  One of the best parts about the Luce is that you have sixteen other Luce Scholars scattered across the continent who are excellent travel companions.  They have had similar struggles, and it is illuminating to see the lives they've carved for themselves in their own corner of Asia.  As I visited the Luce Scholars in Korea, Hong Kong, India, Thailand, and Japan throughout the year and we discussed our experiences, I came to understand China in the larger context of Asia.
One of the most common discussion topics with other Luce Scholars was how our experience in our placement country has impacted our own career plans.  For many, the Luce year solidified their career paths.  For me, though, the Luce year made me realize that I did not want to work in education in the immediate future.  Instead, living in China helped me to realize the importance of medicine and public health and pushed me towards being a doctor.  Many of the students we taught did not have access to clean drinking water and sanitation was generally lacking.  Most of my friend's jobs were labor intensive, which clarified the relationship between people's productivity and their health.  The Luce expanded my horizons and helped me to realize that I could go beyond education to have a positive impact on people's lives.  The Luce year was marvelous for many reasons, but I will always be thankful that I had the opportunity to try out my planned career in such a unique and fruitful environment.