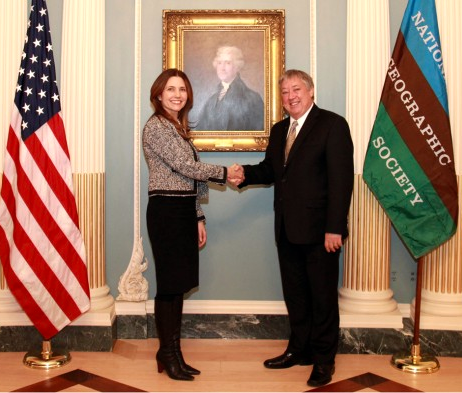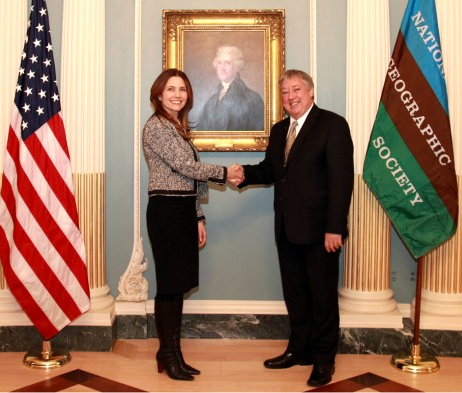 We've gotten lots of questions about the new Fulbright-National Geographic Digital Storytelling Fellowship, so we reached out to David Braun of National Geographic, who is currently serving a senior digital editor and point person for the new Fulbright program. According to the website, the Fulbright – National Geographic Digital Storytelling Fellowship is a new component of the Fulbright U.S. Student Program that provides opportunities for U.S. citizens to participate in an academic year of overseas travel and digital storytelling in up to three countries on a globally significant social or environmental topic. The inaugural group of Fellows will undertake an in-depth examination of a globally relevant issue, comparing and contrasting how that issue is experienced across borders. Fellows can use a variety of digital storytelling tools, including text, photography, video, audio, graphic illustrations, and/or social media, and will have the opportunity to publish their work on National Geographic media platforms with the support of National Geographic's editorial team. In addition to receiving Fulbright benefits for travel and living expenses, Fellows will receive ongoing mentorship and an orientation on digital storytelling techniques at National Geographic's headquarters in Washington, DC before departure.
This year, digital storytelling project proposals will be accepted for the following themes: Biodiversity, Cities, Climate Change, Cultures, Energy, Food, Oceans, and Water. Candidates must have an undergraduate degree and experience in digital storytelling, including but not limited to publications in print, online or multimedia platforms. The deadline for the fellowship application is February 28, 2014.
To learn more about the new fellowship and the types of candidates they are looking for, we sat down with David Braun who provided his insights on this extraordinary opportunity. 
1. What inspired the creation of the new Fulbright – National Geographic Digital Storytelling Fellowship?
The State Department's Bureau of Educational and Cultural Affairs approached us with the idea. They were looking for new opportunities to extend the Fulbright program in meaningful ways and they had the idea that partnering with National Geographic would be a good fit. We were not the first media partner for the Fulbright program. They have been working with mtvU to provide fellowships to U.S. students to pursue projects around an aspect of international contemporary or popular music as a cultural force for expression.
The Department of State felt that it shared a common interest with National Geographic in ensuring that individuals throughout the world have access to information that serves to break down barriers between people. We agreed that this would be a good fit as we explore and expand digital storytelling – and what could be a better fit than having Fulbright students sharing their experiences on our blogging and other digital platforms.
2. What significant social and environmental issues do you hope the Fellows will help illustrate?
The eight themes (Biodiversity, Cities, Climate Change, Cultures, Energy, Food, Oceans, and Water) were selected by National Geographic in consultation with the Department of State precisely because they are the critical issues faced by all the people of the world, and National Geographic has a long legacy of covering them. On the theme of freshwater, for example, we have a Freshwater Initiative that in part is focused on restoring the health and flow of rivers, which sustain all of life, including and especially humans. Our magazine produced a single-topic issue on water a few years ago and we continue to focus on freshwater issues in our digital news, blogs, and interactives.
Similarly, we have a special focus on energy, especially on providing sustainable energy for everyone. Sustainable energy means not only providing energy to the more than a billion people who still don't have access to electricity. It also means that everyone using energy does so in a way that reduces the impact on the environment. That can be done through using different sources of energy to more efficient generation, distribution, and use of energy. How we produce and use energy has an impact on our freshwater, food production, cities, biodiversity, climate, and so on.
This year National Geographic is focusing on food and how we can feed nine billion people while keeping Earth healthy and productive for future generations. The production and distribution of food has a big impact on freshwater, energy, biodiversity, and civilization. The focus on oceans relates to this, so we concentrate on restoring and maintaining the sea to feed us sustainably while also preserving a marvelous resource of biodiversity. How are local communities adapting to the challenges, and what may we learn from one another?
National Geographic has also focused intensely on cities, where more than half of all people now reside. How we green our cities and organize them may in fact be one of our best tools to reduce our footprint on the planet.
Finally, we have a long legacy of covering cultures, not only those that are ancient and disappearing but also those that are emerging and adapting to the changing world. Human culture is amazingly diverse and we have much to learn across cultural boundaries and from the keepers of traditional knowledge. Culture may even be evolving more rapidly than ever before, in response to technology, education, sharing of ideas, and communications that allow so many of us to travel or watch in real time what various societies are going through as they struggle to reform and adapt civilization in response to new challenges and opportunities.
Now, just think how the Fulbright-National Geographic Digital Storytelling Fellowship can play into any or all these themes, allowing Fellows to immerse themselves in different situations around the world and sharing with everyone experiences, observations, and solutions of different peoples.
3. What would be the characteristics of a strong applicant to the fellowship?
The fellowships are open to U.S. citizens with a minimum of a bachelor's degree. They are not qualified if they have a PhD. There is no age restriction, but we are generally seeking recent graduates and young professionals as Fellows who should understand that they are committing to nine months abroad with a stipend from the Department of State to pay their basic living expenses and some expenses for the tools to do their work. The guidelines make it clear that experience and a proven ability to tell stories are required. They may also need some language skills, depending on where they apply to be located. As stated on the Fulbright website: While foreign language skills are not strictly required for the Fulbright – National Geographic Digital Storytelling Fellowship, the ability to communicate effectively is critical to success in any country to which Fellows will travel on this program. In some countries and for some subjects, language skills are necessary to function effectively and successfully complete a project. Applicants with relevant language skills may receive preference in the application review process. Project feasibility assessment will be based, in part, upon applicant language capabilities.
The Fulbright has a very clear list of requirements. National Geographic will be looking for some evidence of an ability to tell good stories, which would require a thoughtful proposal of what the applicant wants to accomplish. Applicants should be versed in the theme or themes that they select to cover, the countries and communities in which they want to be immersed, and they should impress the judges with their storytelling ideas. We are looking for candidates who are willing to consider any of the digital storytelling tools, including video, writing, and photography.
4. Tell us more about the digital storytelling training provided at the outset of the fellowship.
There will be two days' induction in Washington, DC, including a full day at National Geographic. Everyone will get some basic instruction from our editorial specialists as to what makes a good story, some basic guidelines for photography and video. Depending on the projects of the successful applicants, we may also arrange some sessions with our editorial and scientific specialists in specific fields.
5. Should applicants propose to use multiple digital storytelling tools?
We can't expect anyone to be an expert in all of the digital storytelling tools. I don't want to rule out the possibility that there is someone out there who can do it all, but we're certainly not expecting that. Some grasp of the theme or themes that have been proposed paired with a demonstrated proficiency to tell a good story with at least one of the tools would be good. That could be photography or video or reporting. We will provide the initial instruction to give the fellows some basic guidance about the most egregious amateur errors to avoid in using the tools they may be less experienced using, and there will be access to some of our webinars where they can check in to update themselves about these basic skills. There will also be ongoing mentoring throughout the program, so we hope in that way it will be learning experience for the fellows and they will become more proficient in digital storytelling.
6. Can candidates apply with a digital storytelling project they are already working on, or should the project be entirely new?
It would help if the proposal is fresh, something the judges may not have not heard before. It could be some aspect of one of the themes that has not been reported widely. It could also be an unusual combination of the themes. If people apply with tired and widely reported ideas, I can't imagine they would have very strong prospects for success. Much may also depend on the strength of the applicant's storytelling skills.
7. Who is the main audience of the National Geographic Society and Department of State platforms and social networking sites, where the fellows' projects will be shared?
National Geographic has a global reach of more than 500 million individuals around the world. Our magazine is published in some three dozen languages and our Channel is widely distributed in international markets. Our digital audience clearly reflects what people know and like about our brand and mission. We receive a million visits to our website per day, and a good percentage of them are from outside North America. We will publish the work of the Fellows on a dedicated blog for the program and, at the discretion of the editors, on other parts of the National Geographic website. The Fulbright program may also publish the work on its sites.
8. What are the travel, stipend and health benefits provided by the fellowship? 
Funding for this Fellowship is provided by the U.S. Department of State's Bureau of Educational and Cultural Affairs, through the cooperating partner organization implementing the Fulbright U.S. Student Program, the Institute of International Education (IIE). All fellows will receive standard Fulbright Program benefits, including funds for travel, a living stipend, and health benefits as well as a modest professional stipend. The cost of moving between countries will be covered by the stipend and there is a materials allowance.  Living stipends will be calculated based on host-country cost-of-living indices. In addition, Fulbright-National Geographic Digital Storytelling Fellows will be paired with National Geographic editors who will offer training, mentoring, and guidance. Over the course of the grant, Fellows will engage with National Geographic editors and other mentors on story assignments and submissions.
David Braun is a 17-year veteran of National Geographic, currently serving as Director of Outreach for Digital. David develops stories focused on National Geographic's mission programs. He also directs his popular National Geographic News Watch blog, including a companion blog to Tales of the Weird, a bestseller book he edited for National Geographic in 2012. David's 40-year journalism career in the US, UK, and South Africa includes coverage of stories in Congress, the White House, international legislatures, and the United Nations. David's work has been published or broadcast by the BBC, CNN, AP, UPI, National Geographic, De Telegraaf, Travel World, and the Johannesburg Star. 
© Victoria Johnson 2014, all rights reserved.