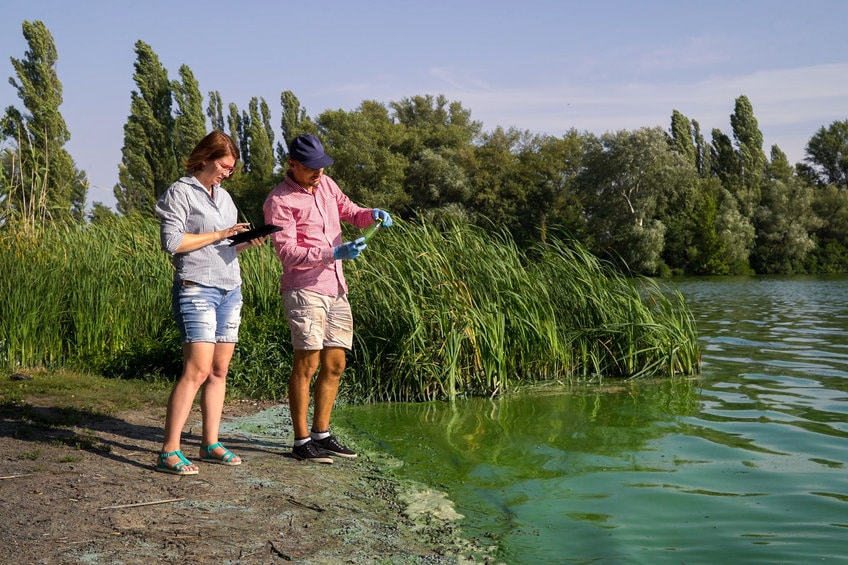 There's no shortage of distressing climate change news these days. A recent UN report insisted that governments immediately reassess their energy policies, or prepare for dire consequences. Scientists are being arrested globally for dramatic attempts to protest climate inaction. And extreme weather events are displacing an increasing number of people around the globe with each passing year. 
It's understandable that all of this news might make you feel a bit hopeless. In fact, "climate anxiety" — a form of anxiety that stems from struggling with the direct effects of climate change or experiencing debilitating worry from simply thinking about or researching the subject — is leading more and more people to seek out ecotherapists who can help them process their emotions. 
But it isn't all doom and gloom. At this very moment, thousands of scientists, researchers, innovators, and environmental advocates are striving to make the world a more inhabitable planet — and through climate change fellowships, you can be one of them. 
Climate change is a global problem that requires local solutions. It requires people across the globe to work together and do their part to advocate for reduced greenhouse gas emissions and more sustainable environmental policies. Climate change fellowships are an excellent way for professionals at every career level to conduct research, launch projects, and get hands-on experience in fighting the global climate change crisis. 
Hear what past fellowship recipients had to say about how their climate change fellowships helped them pave the way for a greener future, and check out our list of  20 Climate Change Fellowships. Remember, you can bookmark fellowships that interest you to your ProFellow account!
EDF Climate Corps Fellows are embedded within leading environmental organizations to identify customized energy management solutions.
"This unique fellowship allowed me to combine my experience in business with my expertise in sustainability management. It provided me with practical training on life cycle costing techniques, carbon accounting, employee engagement, and energy efficiency opportunities in the areas of lighting, heating, cooling, and more. It gave me the opportunity to enter into a network of sustainability professionals connected through EDF Climate Corps.  Whoever said "what's good for the environment is bad for business" clearly has not met an EDF Climate Corps Fellow, nor one of their supervisors at the more than 250 companies, cities, and universities that have benefited from this game-changing fellowship."
The 1 Hotels Fellowship at E2 selects leaders to identify environmental issues and organize and execute projects that help communicate and amplify the business and economic case for smart policies to address them.
My dream is to innovate, design, and engineer technology solutions to climate change and environmental degradation, so Environmental Entrepreneurs (E2) seemed like a perfect fit for my passions and ambitions. The project-based fellowship was very attractive because I had the freedom to pursue a topic area of my choosing that was aligned with my passions (in my case, carbon capture). It came with a lot of benefits, like mentoring and financial support, and became a great way to positively network in the field, support those in need, and learn about the industry. 
The Green Corps Fellowship offers training and support for the next generation of environmental organizers and activists.
For as long as I can remember, I have had a passion for the outdoors and felt a special connection with the environment. When I heard about Green Corps, I knew this was exactly what I was looking for: an opportunity to learn how to strategically build a campaign from the grassroots up that would have a real impact on some of the greatest issues we face. Each week of the fellowship is different, which allows you to learn a lot of different skills and gain a wide variety of experiences.
The Environment America Fellowship empowers environmental leaders by providing training on lobbying, social media campaigns, research and report writing, and more.
The Environment America Fellowship stood out to me because of the amount and breadth of experience you can gain in just two years. Early in the program, you become an expert on [an environmental] campaign and at writing and submitting op-eds, lobbying elected officials, and in some cases even writing legislation. I wanted to not only gain those skills but also more completely understand the full life cycle of policy, starting with visibility work in communities. 
The Russell E. Train Fellowship supports committed conservationists from target countries in Latin America, Asia, and Africa.
The fellowship is focused on conservation, with an emphasis on climate change and food security issues. My research is on ecosystem services (the benefits that humans receive from ecosystems) that accrue from conservation agriculture. I strive to decrease the drudgery of small-scale farmers, particularly women, in rural areas by empowering them through training. I focus my research on the nexus of environment and agriculture, looking for efficient technologies and approaches to increase farm produce, reduce farmers' vulnerability to climate change, and improve farmers' livelihoods while at the same time conserving natural resources.
EarthCorps brings together passionate young adults from the U.S. and countries around the world for a year-long leadership training program in Seattle, Washington.
I am a woman from Cameroon with an M.Sc. in environmental restoration. I applied to Earthcorps because its activities directly align with my field of study and my future career path as an environmentalist focusing on climate change. I was attracted to Earthcorps because of the richness and diversity of the six-month program, which, while focusing on outdoor work, also offers leadership training. On a typical day at Earthcorps, we are outside interacting with and nourishing Mother Earth. We plant a ton of native species throughout the state, and also do a lot of trail building and maintenance, lead volunteer events, and participate in leadership training and workshops.
Fellowships are an excellent way to jump-start your career in the field of climate resiliency and environmental conservation. Bookmark these fellowships to your ProFellow account today and get ready for an exciting, fulfilling career preserving our Earth's natural resources.
Feeling inspired to jump-start your climate career? Check out our list of 20 Fellowships for Jobs and Research in Climate Change, and start preparing to create a winning application!
© 2022 ProFellow, LLC all rights reserved.