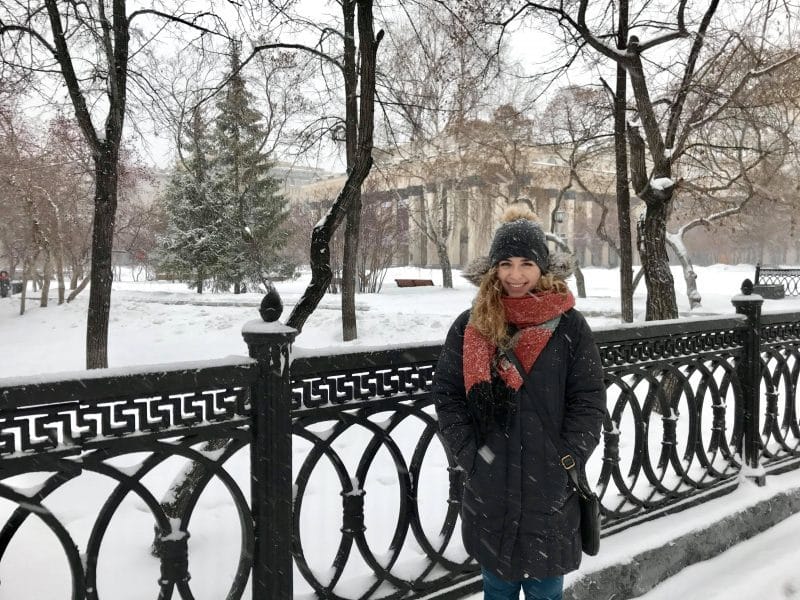 The Fulbright English Teaching Assistantship in Russia is designed for recent college graduates to get experience teaching abroad while also serving as cultural ambassadors for the United States. In Russia, English Teaching Assistants (ETAs) work with university-level students in regional towns outside of Moscow and St. Petersburg. In their positions, the ETAs are involved in teaching, assisting Russian teachers of English, and doing an independent study or research project. The grant, which lasts one year, requires an intermediate level of Russian and provides a living stipend.
We spoke with Erin Brousseau, a current Fulbright ETA in Russia, to learn about her experience and get some application tips!
Disclaimer: The views and opinions in this interview are my own, and do not represent the Fulbright Program or the Department of State.
1. What inspired you to apply for the Fulbright ETA in Russia?
Because I started studying Russian later than most (during my second year of college) and was already double majoring in two other subjects, I wasn't able to study abroad in Russia during my undergraduate years. So when I heard about the Fulbright ETA, it felt like the perfect opportunity to finally see the country whose language and literature had increasingly fascinated me. When I read that Russia ETA's teach university students rather than primary and secondary school students, I was sold. I eagerly applied during the fall of my senior year—and failed to make it past the first round. Though I was fairly devastated, — I had really dreamed up my entire year in Russia by that point –being turned away dispelled any lingering hesitations about leaving home for a year or going to a completely foreign place. This initial rejection helped me realize that the ETA really was something I wanted to do. So I applied again, this time successfully. That's one great thing about the Fulbright ETA—you can apply numerous times, as long as it's during different cycles.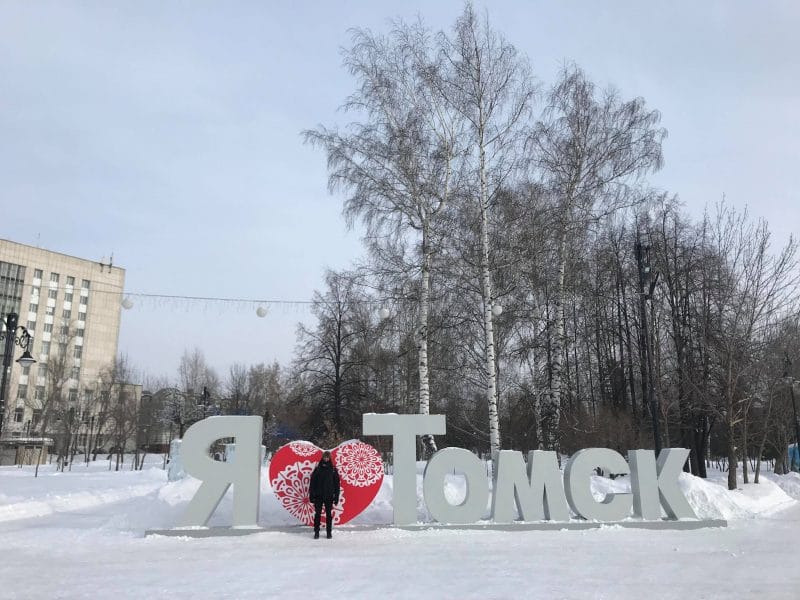 2. What have been some of the most eye-opening moments during your fellowship?
A few weeks ago, my language exchange partner, Anna, invited me to her grandparents' apartment to celebrate her grandmother's birthday with her family. As an American studying Russian, this was the dream: to successfully be immersed in the culture to the point where you are invited to a family event. I arrived nervous but excited. As soon as Anna and I entered the door to the narrow entryway, I was swept up in a flurry of introductions; my coat was pulled off of me, my purse plucked away. They offered me house slippers, knitted in bright multicolored yarn, which, oddly, fit perfectly. After delivering my gift of tea to the hostess and wishing her a happy birthday, I was nudged along to a dinner table full of homemade Russian dishes, some of which I had already tried, some of which were new to me. I sat down to a fast-paced dance of reaching arms and rapid-fire questions in Russian and answered between bites as best I could, smiling bashfully at the jokes that I couldn't quite understand but knew were aimed playfully at me. The whole thing was over before I knew it; suddenly the slippers were off, Anna's six-year-old cousin was trying to kiss me good-bye, and I was pressed out of the apartment as gently as I'd been pulled in.
The evening with Anna's family encapsulated a quality of Russian culture that I had often heard about in my classes but never experienced before living in the country myself—a warm curiosity about newcomers and strangers grounded in a deep tradition of hospitality. Since my first day in Tomsk (my host city), I've encountered this hearty welcome countless times in various manifestations: in the bustling care of my university supervisor, in the bright flock of colleagues welcoming me into my department faculty, in the shy but open questions of my students, in my first Russian friend's invitation to the traditional Russian banya (a steam room experience finished by a plunge into ice water or snow!). When I was preparing to move here, I expected to experience several months of loneliness and homesickness before adjusting to the new culture and rhythm of life. But through these continuous overtures and acts of kindness, I managed to undergo a virtually easy transition into life in Siberia.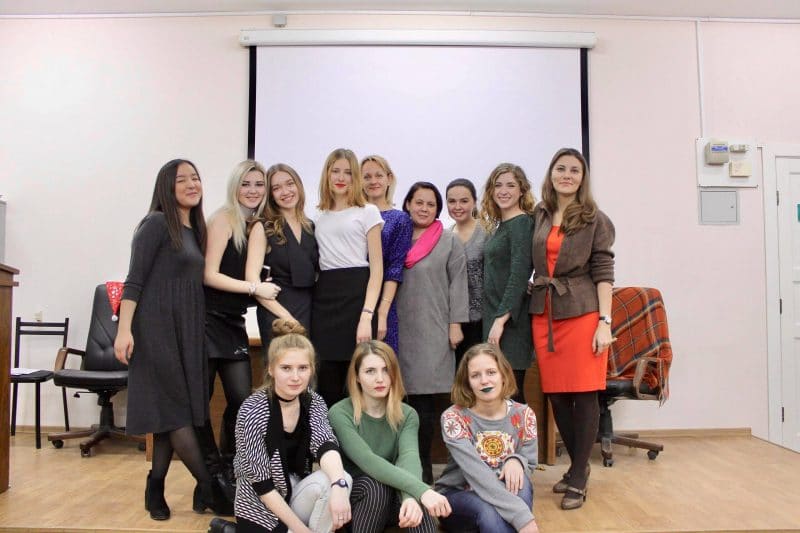 3. What tips would you give others applying to the Fulbright ETA in Russia?
From what I've gathered, the program seems to really value attributes that would make you a successful 'cultural ambassador'—characteristics like confidence, friendliness, and a sense of initiative. Teaching experience is definitely valued, and I believe that most of my fellow ETA's had some prior to their grant. However, I had very little, so I highlighted other skills that would transfer well into the classroom. The program also greatly values community engagement, so elucidating moments that showcase such engagement in your personal statement is critical. I think my second application was successful partly because I was living in France at the time and was better able to show how I adjusted to a foreign environment and got involved with the community there.
Try to take care to craft a specific narrative in your personal statement that will show the admissions committee what type of teacher you'll be. How will you engage your students and colleagues? How will you respond to questions about your country, questions that will range from naïve or overly-kind, to aggressive? The ETA experience involves simultaneously teaching English and offering first-hand experience of American culture to people who, for the most part, have only encountered images of the U.S. from online sources and movies. As such, I think that fellowship statements like these, unlike research proposals or graduate applications, should be focused more on presenting an image of how you will act and react, rather than what you will think or do. The old "show don't tell" bit of advice really comes into play here and was something I struggled with quite a bit throughout the process. Fortunately, I had friends and mentors to help me edit my statements, again and again, until the image I wanted to present shone through my words.
If you are offered an interview for the Fulbright ETA in Russian, as all semi-finalists are, you will have to answer a series of questions in Russian over video chat. Prepare for this as much as possible by planning out possible questions and answers, by practicing with another Russian-speaking friend, and by memorizing certain sentence structures or phrases that help transform simple ideas into complex ones. Be comfortable with what you want to say, and then just focus on saying it the best you can. An intermediate level of Russian is required to win the grant, but after that, people come in with all degrees of language skill.
Erin Brousseau grew up in a military family, moving several times between Washington, D.C., Augusta, Georgia, and Heidelberg, Germany. She attributes her love of languages and interest in intercultural communication to those years spent in different environments. She graduated from Amherst College in 2016 with a double major in French and Law, Jurisprudence and Social Thought and spent a year studying at the École Normale Supérieure in Paris before coming to Russia as a Fulbright English Teaching Assistant.  
Interested in applying? Bookmark the Fulbright English Teaching Assistantship to your ProFellow account.
© Victoria Johnson 2018, all rights reserved