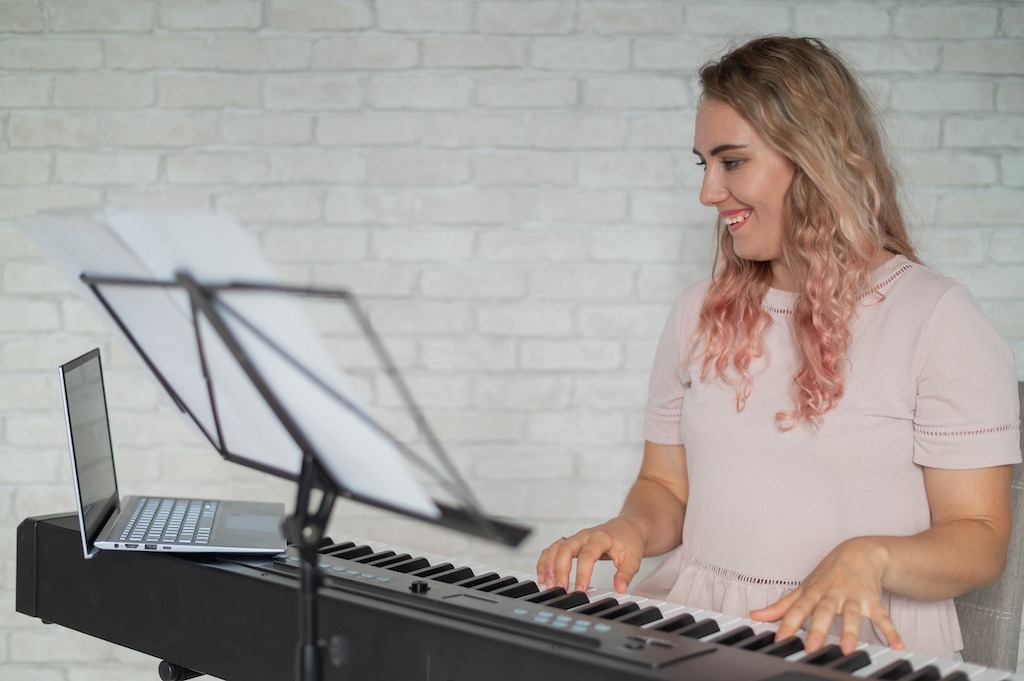 Fellowships and residencies offer artists the opportunity to build on their skills and grow in a community with other artists. The fellowships on this list include opportunities for both emerging and established instrumentalists, composers, conductors, and singers. Some fellowships offer financial coverage for tuition, housing, and meals.
If you are a composer interested in pursuing a fellowship or residency, check out this list! If any of these fellowships interest you, be sure to save them to your free ProFellow account.
The Atlantic Music Festival has established a tradition of nurturing young emerging artists through its fellowship program. Open to instrumentalists, composers, conductors, and singers, fellows receive complete financial coverage of tuition, housing, and meals during the six weeks of residency. AMF pays the highest regard for each fellow's contributions and talents. Residency at AMF is an excellent opportunity for young musicians to develop the necessary skills needed upon entering the world of professional concert artists.
Bellagio Residency Program: Arts and Literary Arts
The Bellagio Arts & Literary Arts residency in Italy is for composers, fiction and non-fiction writers, playwrights, poets, video/filmmakers, and visual artists who share in the Foundation's mission of promoting the well-being of humankind and whose work is inspired by or relates to global or social issues. The residency is for artists seeking time for disciplined work, reflection, and collegial engagement. The Center typically offers stays of 2-4 weeks long, in a community of 15 fellows that typically includes 3-5 arts, resident fellows. Artists of significant achievement from any country are welcome to apply.
The Good Hart Artist Residency Program nurtures artists, writers, and composers from various backgrounds and artistic disciplines and connects them with the local community in enriching experiences that empower people through the arts in the natural beauty of Northern Michigan. The Good Hart Artist Residency offers 10-21 day residency stays to visual artists, writers, and composers at any stage of their career. Each artist is housed in a private residence with a detached studio and provided with a $500.00 stipend, a kitchen stocked with basic foods, a few home-cooked meals from local hosts, and a quiet setting along the shores of Lake Michigan.
The Hodder Fellowship will be given to writers and non-literary artists of exceptional promise to pursue independent projects at Princeton University during the academic year. Potential Hodder Fellows are writers, composers, choreographers, visual artists, performance artists, or other kinds of artists or humanists who have "much more than ordinary intellectual and literary gifts"; they are selected more "for promise than for performance." Given the strength of the applicant pool, most successful Fellows have published a first book or have similar achievements in their own field. Provides a stipend of $75K. Open to all citizenships.
The Robert and Margaret MacColl Johnson Fellowship Fund provides up to three $25,000 artist fellowships each year, rotating among composers, writers, and visual artists on a three-year cycle. In all three disciplines, the fellowships will be awarded to emerging and mid-career Rhode Island artists whose work demonstrates creativity, rigorous dedication, consistent artistic practice, and significant artistic merit. The financial support provided by the fellowships enables artists to concentrate time on the creative process, focus on personal and professional development, expand their body of work, and explore new directions.
The McKnight Composer Fellowship provides recognition for mid-career music creators working in any musical approach or perspective. The program is designed to award artists whose work is of exceptional artistic craft, who have created a substantial body of work over a period of time, and who are at a stage that is beyond emerging. ACF will select four music creators based in Minnesota to support their continuing artistic practice. Four fellowships of $25,000 in unrestricted funds will be awarded.
The American Composers Forum will select up to two composers to design and produce their own residencies in Minnesota. Applicants from the full range of musical styles and a diverse pool of artists whose work demonstrates strong artistic merit are encouraged to apply. Visiting composers should expect to spend approximately 30 days in Minnesota, working on projects with a Minnesota community—or communities—of their choosing. The award is for $10,000 and projects are expected to be completed within 18 months of receiving the award.
The Mudhouse Residency is designed to provide a cultural immersion: living and working in the mountain village of Agios Ioannis, on the Greek island of Crete. The residency is inclusive of a number of artistic disciplines, with the facilities to accommodate studio artists, painters, printmakers, photographers, filmmakers, writers, poets, dancers, musicians, choreographers, and composers. The Duration of residency is two weeks and three residency sessions in a year. The residency program is ideal for professional artists with an established practice seeking the time and space to realize an individual project.
The NES Artist Residency, based in Iceland hosts more than 100 artists per year from around the world, all from various artistic backgrounds and at different moments in their individual artistic careers. All accepted artists are given an individual workspace within an open, shared studio. They coordinate access to additional facilities for dancers, composers, musicians, filmmakers, researchers, or anyone who might require additional space to work. The standard residency period is 2 months or more.
Princeton Arts Fellowships will be awarded to artists whose achievements have bee recognized as demonstrating extraordinary promise in any area of artistic practice and teaching. Applicants should be early-career poets, novelists, choreographers, playwrights, designers, performers, directors, filmmakers, composers, and performance artists. Princeton Arts Fellows spend two consecutive academic years (September 1-July 1) at Princeton University and formal teaching is expected. An $88,000-a-year stipend is provided. One need not be a U.S. citizen to apply.
The Ucross Foundation Residency Program is open to visual artists, writers, composers, choreographers, interdisciplinary artists, performance artists, and collaborative teams. Applicants must exhibit professional standing in their field; both established and emerging artists are encouraged to apply. Ucross Foundation provides residencies to approximately 100 individuals. Ucross Foundation provides each artist with living accommodations, meals, workspace, and uninterrupted time so that the artists can focus on their creative process. Residencies range from two weeks to six weeks in length. There is no charge for a residency.
Each year, the Creative Fellowship program at the Woodberry Poetry Room invites poets, writers, translators, artists, filmmakers, composers, and scholars of contemporary poetry to propose creative projects that would benefit from the resources available in the Woodberry Poetry Room. The Creative Fellow receives a stipend of $4,500, access to a range of Harvard Library special collections (including the Poetry Room), and in-depth research support from the WPR curatorial staff. The Creative Fellowship is open to US-based and international applicants. Applications to conduct a collaborative project with one or more artists are permitted.
Are you interested in finding more fellowships? Sign up to discover and bookmark more than 2,400 professional and academic fellowships in the ProFellow database.
© 2023 ProFellow, LLC all rights reserved