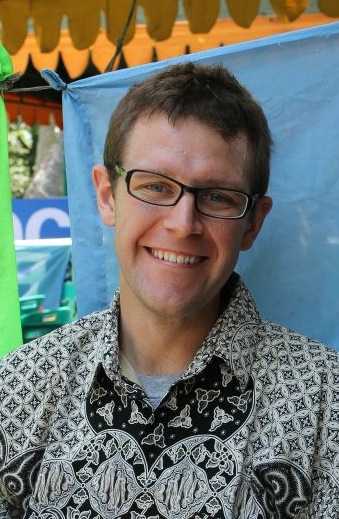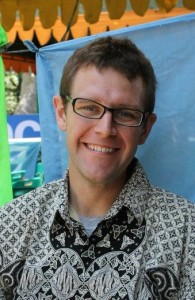 Jonthon Coulson pursued a series of competitive fellowships to put himself on path to a career in international education. After graduating in 2006 from the University of Missouri-Columbia with a Bachelor's and Master's degree in Journalism, Jonthon was selected for Teach for America, a national teacher corps of recent college graduates who commit two years to working in under-resourced urban and rural public schools. He taught for two years at the Bronx Center for Science and Math in New York City, and subsequently earned a Fulbright English Teaching Assistantship in Indonesia. His latest fellowship was the English Language Fellow Program administered by the U.S. State Department. The program recruits highly qualified U.S. educators in the field of Teaching English to Speakers of Other Languages (TESOL) to participate in 10-month-long fellowships at academic institutions throughout the world. We asked Jonthon more about his most recent fellowship experience.
1. What inspired you to apply to the U.S. State Department English Language Fellow Program and where did you go?
I learned of the English Language Fellow Program as a Fulbright English Teaching Assistant in Indonesia. Upon completing that program, I returned to America, finished the coursework for my second Master's degree, and applied for the program. I was first assigned to Brazzaville, Democratic Republic of the Congo, but declined the offer and was re-entered into the applicant pool. I was subsequently placed in Indonesia, which was my preference. The Regional English Language Officer subsequently placed me in Medan, the country's third largest city. At the request of the Cultural Attache, I moved for my second year to Banda Aceh, where I taught at the State Islamic Institution of Ar-Raniry.
2. What was your day-to-day experience on the fellowship? 
As an English Language Fellow at the State Islamic Institute of Ar-Raniry in Banda Aceh, Indonesia, my contractual week included fourteen hours of lectures and another six hours allotted to meetings with students, colleagues and to the facilitation of student council meetings and scholarship applications. In addition, I volunteered at the Human Resources Development Commission at the office of the governor of Aceh, and assisted with a volunteer education program in a rural area, Taman Pendidikan Masyarakat. I also traveled throughout the area and the country to participate in and facilitate conferences with pre-service teachers, active teachers, and other educational stakeholders. To be honest, there were few typical days; the fellowship allows for deep and meaningful involvement in the English language community and beyond, and fellows have a significant amount of control over their schedule. That said, I personally taught courses in Reading, Speaking, and Cross-Cultural Understanding three days a week, for four to six hours each day, and spent the other two days a week in one-on-one meetings or in small groups with students at the Governor's office – or in one of Banda Aceh's many fine coffee shops!
3. What do you want to do next?
I am interested in fostering educational equity at the international scale, and have a specific focus on Indonesia based on my experiences as a Fulbright ETA and English Language Fellow there. However, I hope next to obtain a position in educational reform here in America that focuses on teacher evaluation and development, or on institutional capacity, so that I might use what I learn later to help with these critical components of educational reform back in Indonesia.
Jonthon Coulson holds a Bachelor's degree in Journalism-Advertising and Master's degree in Journalism-Strategic Communication from the University of Missouri-Columbia and a Masters of Science-Teaching English to Speakers of Other Languages (TESOL) from Pace University in New York City. His professional interests include international education, educational reform and Indonesia.
© Victoria Johnson 2012, all rights reserved.