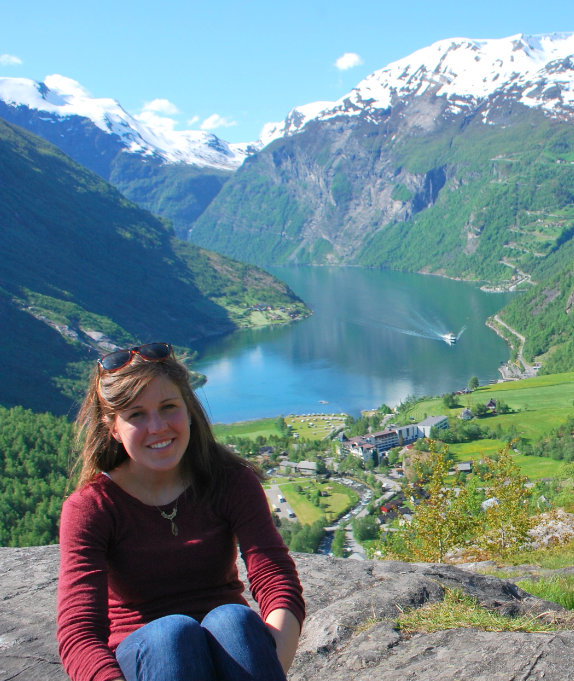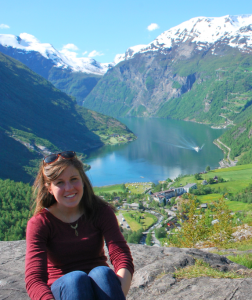 Joanna Blaszczak realized the Fulbright program offered the perfect opportunity to live and work abroad after graduation. After earning a Bachelor's degree in Environmental Science at Cornell University with not one, but two National Science Foundation (NSF) Research Experience for Undergraduate grants under her belt, Joanna pursued a Fulbright Scholarship in Norway to spend a year at the Norwegian Institute for Water Research (NIVA) in Oslo. Working in collaboration with scientists at NIVA, the University of Oslo's Environmental Chemistry Department and Cornell University, Joanna investigated mercury contamination in boreal streams and wetlands in southeastern Norway. Impressed by Joanna's passion for environmental science, we asked Joanna more about her Fulbright experience.
1. What inspired you to apply to a Fulbright Research Fellowship in Norway?
I approached the idea of applying to the Fulbright program with an open mind as to which country I would like to live in. The fundamental idea behind the Fulbright program, to "promote mutual understanding" between the U.S. and other nations around the world, was my original inspiration. As the daughter of Polish immigrants, I had spent most of my life learning about and sharing my Polish heritage with others, so the Fulbright was another opportunity to be part of a cultural exchange. Since I was graduating a year early from Cornell, I was searching for an exciting and challenging opportunity abroad. My main goal through the Fulbright program was to collaborate with and make a significant contribution to a foreign scientific community.
Norway is one of the world's leading countries in environmental science research. The country is known for its spectacular natural wonders, including gorgeous fjords and mountainous regions, and the Norwegian people for their love of the outdoors. The spirit for exploration and passion for the environment was something I hoped to find in common with Norwegians, so when the opportunity arose to apply to their country, I had a feeling it would be a great fit.
2. What do you think made your application stand out?
I chose to apply to Norway, not only because I thought it would be a wonderful experience to live there and learn about the Norwegian culture, but because they were specifically interested in environmental scientists. Understanding the mentality of your prospective country of choice, and grasping what their focus for the future is before you write your proposal is vital. The people who read your application work in the government, so it is essential to clearly communicate through your application how important your project is for helping their country move in the direction of their goals for cultural and scientific development. The diversity of projects of my fellow scholars speaks to the plethora of cultural development pathways that the Fulbright program is willing to invest in. My application in particular clearly demonstrated that I had an understanding of the current issues within their scientific community and the organizations that were most important to Norway for international collaboration. I was able to have that knowledge through extensive communication with my potential advisor during the application process, and emphasized the international connections that would be created between the U.S. and Norway throughout my project.
3. What tips would you give others for developing a strong project proposal and finding a host affiliation abroad?
Networking is essential to finding a host affiliation abroad. The likelihood of an institution agreeing to host you for the year is increased through a personal connection.
I began my search for a host institution with an open mind as to which country I wanted to apply to. I contacted my advisor at Cornell months before the application was due and started a discussion about my reasons for applying for a Fulbright and what I hoped to accomplish. Over a series of meetings, we began to contact her connections at various research institutions abroad that seemed like a good fit, and asked if they were interested and had the capabilities to host me for a year. From there, I was able to start a discussion with my future Fulbright advisor in Norway about what she thought would be a valuable project that would significantly contribute to the research at the Norwegian Institute for Water Research, where I spent the past year. Through my conversations with her, I was able to have an insider's perspective on what the most important research topics were in Norway at the time, which organizations were supporting our type of work in Norway, and realistic opportunities for international collaboration.
Despite the Fulbright funding, a host institution really has to invest many resources into a visiting scholar, so it is vital that they are just as excited as the applicant about the potential collaboration. A strong project proposal would emphasize how you will contribute to your host institution, as well as how those skills will be applicable upon your eventual return. Incorporating the goal of the Fulbright foundation "to promote mutual understanding" as a theme in your project proposal will make you a more attractive candidate for both countries to invest their resources in.
Joanna Blaszczak has a Bachelor of Science in the Science of Natural and Environmental Systems from Cornell University and is currently working in the environmental services sector in Boston, MA. Throughout her undergraduate degree, she conducted various biogeochemical research projects at several institutions including two National Science Foundation funded Research Experience for Undergraduates (REU) summer programs at Harvard University and the University of Idaho. She plans to pursue a PhD in the field of biogeochemistry at a U.S. institution while maintaining her connections to Norway.
© Victoria Johnson 2012, all rights reserved.