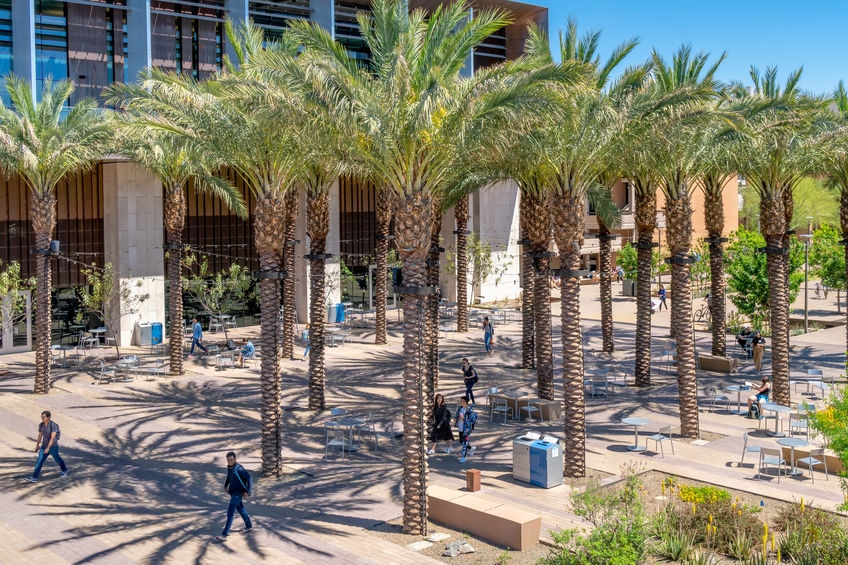 As part of our series How to Fully Fund Your Master's Degree, here is a list of universities that fully fund the studies of all or most of their Master's Programs in Communications and Journalism students. A Master's degree in Communications and Journalism can lead to careers in corporate communication, journalism, media, academia, and a wide range of other fields.
"Full funding" is a financial aid package for full-time students that includes full tuition remission as well as an annual stipend or salary during the entire program, which for Master's degrees is usually 1-2 years. Funding usually comes with the expectation that students will teach or complete research in their field of study. Not all universities fully fund their master's students, which is why researching the financial aid offerings of many different programs, including small and lesser-known schools both in the U.S. and abroad, is essential.
The ProFellow database for graduate and doctoral study also spotlights external funding opportunities for graduate school, including dissertation research, fieldwork, language study, and summer work experiences.
Would you like to receive the full list of more than 1000+ fully funded programs in 60 disciplines? Download the FREE Directory of Fully Funded Graduate Programs and Full Funding Awards!
University of Arizona (Tucson, Arizona): Funding Opportunities are available through graduate teaching and research assistantships, tuition scholarships, and other opportunities.
Arizona State University (Phoenix, AZ): All applicants to the Master of Arts in Investigative Journalism, Master of Mass Communication, and the Master of Arts in Sports Journalism are considered for merit-based funding in the form of assistantships and fellowships. Assistantship packages include full tuition, health benefits, and a stipend ($8,000/semester).
Ball State University (Muncie, IN): The department is committed to providing practical, hands-on opportunities through graduate assistantships that provide tuition and a modest stipend.
Baylor University (Waco, Texas): There are multiple opportunities for scholarship funding and graduate assistantships in the MA in Communication program and in other non-academic departments across Baylor's campus. The Department awards several fully-funded graduate assistantships that include a full-tuition scholarship and a $15,000 annual stipend.
Boston University (Boston, MA): The College of Communication's financial aid resources include various scholarship funds and graduate assistantships (teaching, research, administrative). All full-time students who apply for admission are also automatically considered for COM merit-based scholarships and some assistantships.
The University of California Berkeley (Berkeley, CA): All students admitted to the UC Berkeley Graduate School of Journalism will be considered for funding. About 40 percent of students receive some sort of departmental funding. Funding packages range from about $10,000 to $20,000 per year. 
University of Cincinnati (Cincinnati, OH): Many full-time MA students receive a graduate assistantship (GA), a competitive assistantship that pays their tuition and provides a $13,000 stipend each year for two years.
University of Colorado Boulder (Boulder, CO): The department offers various forms of funding for graduate students, including teaching assistantships (TA positions) and graduates part-time instructor (GPTI) positions (GPTIs teach stand-alone courses), research assistantships, summer dissertation fellowships, and summer research assistantships, professional travel awards and summer partial tuition fellowships.
University of Connecticut (Storrs, CT): Teaching and research assistantships are available to qualified M.A. students. A full-time assistantship provides an academic year salary and also carries a complete tuition waiver and highly subsidized health insurance benefits. Summer teaching and research positions may also be available.
University of Florida (Gainesville, FL): Funding consideration from College resources is part of the review for admission. No further action is needed for consideration. Graduate assistants have part-time teaching or research duties; they are required to register for reduced study loads, according to the schedule for their appointment. There are other funding sources available.
University of South Florida (Tampa, FL): M.A. assistantships are offered for 2 years. MA graduate students on teaching assistantships receive a stipend paid over nine months. All teaching assistantships include a tuition waiver.
Illinois State University (Normal, IL): Illinois State offers various opportunities to fund graduate education. Graduate Teaching Assistantships carry a full tuition waiver and a monthly stipend of approximately $1,060.
University of Kentucky (Lexington, KY): The Graduate Program in Communication offers several opportunities to finance your education.  Most funding is provided in the form of teaching assistantships, although research positions are occasionally available. Assistantships are offered for four semesters of master's work provided the student is making sustained progress toward the degree.
Marquette University (Milwaukee, WI): Financial Aid is available in the form of Research assistants, Teaching assistants, Scholarships, and fellowships. These positions are awarded on merit rather than financial need. TAs or RAs receive approximately $17,100 per year and free tuition for up to 18 credit hours during the academic year.
McMaster University (Hamilton, ON): Students admitted to the MA and Ph.D. Programs in Communication and New Media generally receive an entrance scholarship and a Teaching Assistantship, or funding-in-lieu of the TAship. Entrance scholarship amounts vary and are normally determined by the MA or Ph.D. Graduate Committee at the time of admission. The university also has various bursaries and scholarships.
University of Minnesota (Minneapolis, MN): In addition to scholarship and fellowship awards, graduate students may seek positions as research or teaching assistants. Students obtaining assistantships are eligible for resident tuition rates and partial or full tuition waivers as well as health insurance benefits.
University of New Mexico (Albuquerque, NM): There are several types of grants and scholarships available from the university. There are a limited number of teaching assistantships for M.A. students.  All assistantships are competitively awarded.
Ohio University (Athens, OH): Offers of financial aid are granted competitively to the top applicants each year and start at $11,000 per school year (a nine-month period), renewable for two years (four semesters).
The Ohio State University (Columbus, OH): The School of Communication funds every student admitted to M.A. and Ph.D. programs with either a Graduate Assistantship or some form of Graduate School Fellowship. M.A. students are funded for two years ($2,142/month stipend plus tuition waiver for a nine-month assistantship)
University of Oregon (Eugene, OR): Financial aid is available for qualified students. Through Graduate Employment in Eugene master's students receive a maximum of two years of funding. GE appointments come with a tuition waiver, partial student fee waiver, monthly stipend, and health insurance plan. Also, The Graduate School administers a range of annual fellowships and research awards for graduate students.
University of South Carolina (Columbia, South Carolina): The School of Journalism and Mass Communications offers a large number of scholarships for exceptional students. Graduate assistantships are available for master's degree students. They serve in many capacities and all positions provide a stipend and potential tuition supplement.
Texas Tech University (Lubbock, TX): The College of Media & Communication offers a variety of internal funding opportunities, including scholarships, fellowships, and graduate assistantship assignments. For M.A. students, an application is required to serve as a research or teaching assistant. These assistant positions pay a stipend of $5,000 per semester and waive many fees greatly reducing the cost of attending. In addition, there are a variety of scholarships and fellowships.
The University of Texas at Austin (Austin, TX): All admitted applicants for the Department of Communication Studies graduate program are considered for financial assistance. For the M.A. degree, financial assistance may be given for a maximum of two academic years. Teaching Assistantships (TA) are awarded to M.A. students. Entry-level M.A. assistantships currently pay $10,000 for half-time employment for the academic year. Incoming students are awarded fellowships based on the strength of their admissions application. Due to limited funds, competition for departmental funding is great.
UNC Hussman School of Journalism and Media (Chapel Hill, NC): Funding is available through generous fellowship packages. The school annually awards Park Fellowships to seven or eight new master's students who are U.S. citizens and it covers tuition fees, health insurance, and a $14,000 annual stipend for two years. The Pruden Fellowship offers the same benefits that are awarded to a student with demonstrated financial need. Eligible applicants are automatically considered for Pruden funding based on their applications for program admission.
University of Utah (Salt Lake City, UT): The Department strives to fully fund all admitted graduate students who request funding when they apply to the graduate program. Funding is offered in the form of teaching or research assistantships: full funding includes a full tuition waiver as well as an annual stipend and is offered for two years for masters.
To view over 1350 professional and academic fellowships, including fellowships for graduate and doctoral study and pre-and post-doctoral research, sign up to view ProFellow's fellowship database.
© Victoria Johnson / ProFellow, LLC 2021, all rights reserved.