AmeriCorps VISTA (Volunteers in Service to America) was founded in 1965 as a national service program to fight poverty in the U.S. It now sponsors more than 7,000 VISTA members annually who support community efforts to overcome poverty. VISTA members commit to serve full-time for a year at a nonprofit organization or local government agency, working to address illiteracy, improve health services, create businesses, strengthen community groups, and much more. The VISTA program provides a living allowance that enables volunteers to live frugally, like the communities they are serving. AmeriCorps VISTA is open to all U.S. citizens, nationals, or lawful permanent resident aliens age 18 and older.
We spoke with current AmeriCorps VISTA member Stephanie Mkhlian to learn more about her volunteer experience in Los Angeles and her VISTA application tips.
1. What inspired you to apply for AmeriCorps VISTA?
Prior to becoming an AmeriCorps VISTA, I obtained my Bachelor's Degree while living abroad in Rome, Italy. When I moved back to Los Angeles, I realized working for underserved communities was my passion. Growing up and being heavily involved in a small community taught me the value of service to others. Through AmeriCorps VISTA, I had the opportunity to work in the Mayor's Office of Economic Development under the Los Angeles Promise Zone. The LA Promise Zone is a federal anti-poverty initiative that started in the White House. Los Angeles was one of the first Promise Zones in the nation, embarking on innovative ways to solve the issues and needs of undeserved communities with the use of collective impact strategies.  As the Communications Associate for the initiative, I provide a voice for the work being done by our 65 partners in the various cultural communities of the LA Promise Zone. By becoming a VISTA, I hoped to gain experience in policy and community development. In retrospect, I gained much more than what I had initially hoped for. One of my favorite memories was conducting focus groups in the different languages and interpreting the perspective to then translate as part of the communications strategy.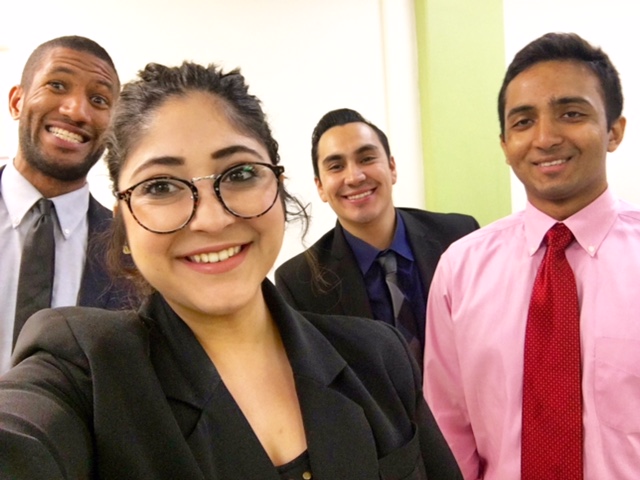 Stephanie Mkhlian with her AmeriCorps VISTA team
2. What are some of the benefits of the AmeriCorps VISTA program?
Some of the great benefits of becoming an AmeriCorps member are school loan forbearance, a living stipend, a choice between an end of service stipend or end of service education award, and online trainings and webinars open to all members and alumni.  Also, after you satisfactorily complete a full year of service, you earn non-competitive eligibility for federal jobs for one year beginning the day after you complete your service. This does not guarantee a position but rather gives you that extra edge when applying. Finally, one of the most influential parts of becoming an AmeriCorps VISTA is the opportunity to connect with current VISTAs and alumni who are always willing to help.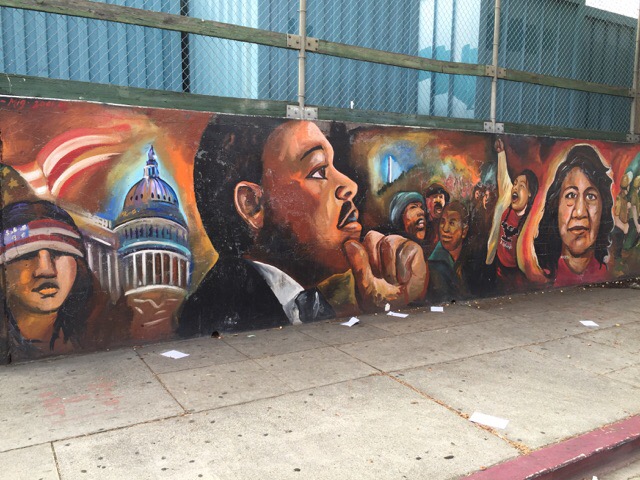 Mural in front of an elementary school in the LA Promise Zone
3. What tips would you give others applying to AmeriCorps VISTA?
AmeriCorps VISTAs have the opportunity to apply for positions at non-profit organizations or in public service. Each position comes with a different atmosphere and mission that you as a VISTA will support. The application process requires recommendation letters as well as a few essays where you discuss why civic engagement is vital to you and your career. I would recommend that applicants start asking for recommendation letters as soon as they begin to consider committing to a year of service. If you are selected, your host site will contact you and do an in-person or phone interview. If and when you are selected for a position, you are required to attend a pre-service orientation (PSO) where you will meet folks beginning their year of service around the same time as you from all over the country. PSO can be a travel opportunity for many and AmeriCorps aids you with the travel expenses.
AmeriCorps gives you the unique opportunity to travel to and work in a new place for 12 months and the support needed to make that transition as smoothly as possible. If you decide to move to a different state, I would encourage you to get involved through volunteer service and events pertaining to your year of service in order to gain local experience. My advice to current AmeriCorps applicants and members is to keep an open mind and be flexible because things are ever-changing and being open to opportunities leads to doors opening.
Stephanie Mkhlian coordinates, facilitates, and communicates for the LA Promise Zone, Mayor Eric Garcetti's anti-poverty initiative that aims to lift communities out of poverty. Stephanie is an alumna of Mount St. Mary's University where she earned her Bachelor's Degree in Global Politics and Political Science, with a minor in pre-law.  She currently serves on the board of the Gay and Lesbian Armenian Society of Los Angeles where she focuses on building community where culture and identity are paralleled rather than being in siloes.
© Victoria Johnson 2016, all rights reserved.