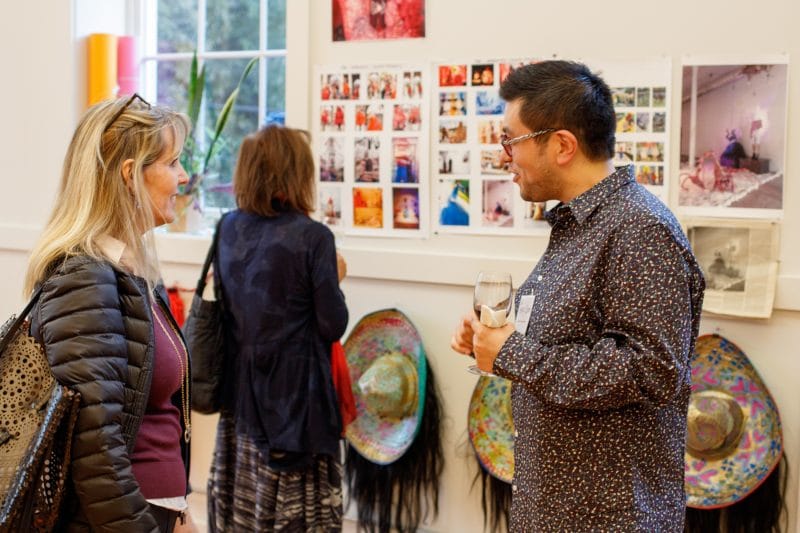 The Halcyon Arts Lab Fellowship is a nine-month residential program in Washington D.C. that was established to provide emerging artists with time and space to explore new ideas and ambitious projects in an environment of independent learning, study, and collaboration. The fellowship provides support and resources to emerging artists who desire to develop projects (at any stage) that promote meaningful social impact and for those who aim to become leaders in the field of socially-engaged art. Eight fellows are selected each year; six are national or international, while two are D.C. residents. Fellows receive a dedicated studio, a competitive financial scholarship, offsite residential accommodation, and other benefits, including vast networking opportunities.
We talked to Hoesy Corona, a recent Halcyon Arts Lab Fellow currently a Tulsa Artist Fellow in Tulsa, OK, to learn more about the program and get some application tips. 
1. What inspired you to apply for the Halcyon Arts Lab Fellowship?
I was attracted to the Halcyon Arts Lab Fellowship after reading about their mission to foster socially conscious artists in the capital of the United States as a part of their inaugural artist fellowship. I also wanted the opportunity to spend time with other like-minded artists.
While I don't consider myself a "political" artist, I am also not living in a vacuum and am very much aware and influenced by the world around me. I consider myself an uncategorized artist, working across a variety of media that include performance, installation, and sculpture among other disciplines that I am drawn to. In my work, I oftentimes silently confront and delight viewers with some of the most pressing issues of our time such as otherness, queerness, immigration, the construction of race in the US, and climate change. Find out more on my website www.hoesycorona.com.
My hometown base is in Baltimore, MD, and I was excited to have the opportunity to spend a significant amount of time in DC without breaking my bank account, as the fellowship offered housing, studio space, and a living stipend for close to 10 months.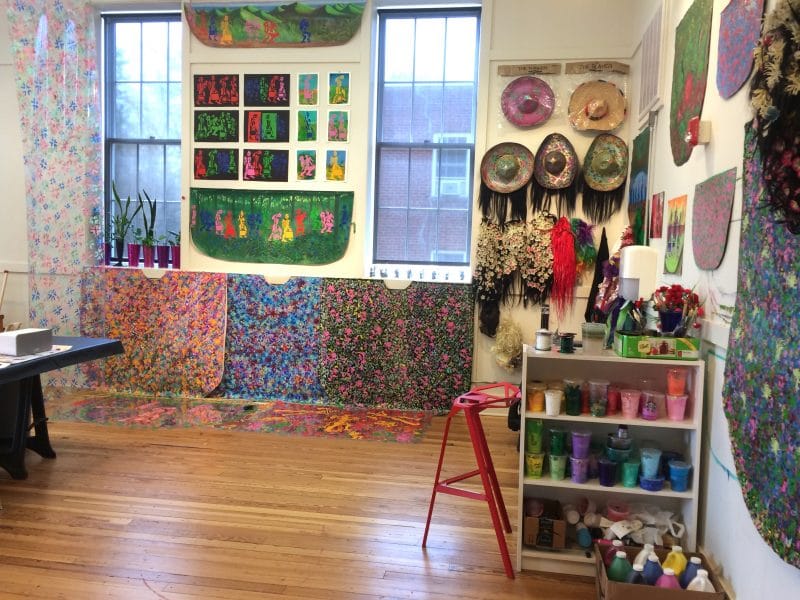 2. What did you enjoy the most about your fellowship?
The Halcyon Arts Lab Fellowship offered a plethora of professional artist development opportunities that I took full advantage of — a highlight included a workshop led by Camille Brewer around the importance of keeping detailed artist archives. Some other highlights were monthly open studios and weekly casual lunch dates organized by the fellowship director Nicole Dowd with local arts professionals that gave their insights on how to successfully navigate the mercurial art world.
I was also fortunate enough to be mentored by Alberto Fierro Garza, the current counselor for Culture and Education at the Mexican Cultural Institute, as well as the current executive director of the Mexican Cultural Institute. I reciprocated this mentorship by mentoring and helping Grace Ouabo, a talented Cameroonian-American high school student, manifest a multimedia performance as a part of her Halcyon Youth Fellowship.
And I certainly enjoyed having the luxury of crafting my schedule around my studio practice, which is where I spent most of my time. I shared my large and bright studio with the wonderful French fiber artist Chloe Bensahel in a repurposed school building. I was one of six out of town fellows and we lived in adjacent beautiful townhouses and shared the comfy back yard, where we often had drinks and communal dinners.
Additionally, as a way to connect to the local LGBTQ community, Antonius Bui, Estefani Mercedes, and I hosted weekly RuPaul's Drag Race viewing parties at our townhouse with Latin and Asian inspired foods that we made ourselves and shared with guests.
During my fellowship, I developed my newest body of work 'Climate-Immigrants' and created 10 'Climate-Ponchos' that consider the impending plight of climate-induced migration worldwide. I teased an excerpt at The Smithsonian during the inaugural By The People Festival (also organized by Halcyon!, the brainchild of powerhouse Halcyon CEO Kate Goodall!).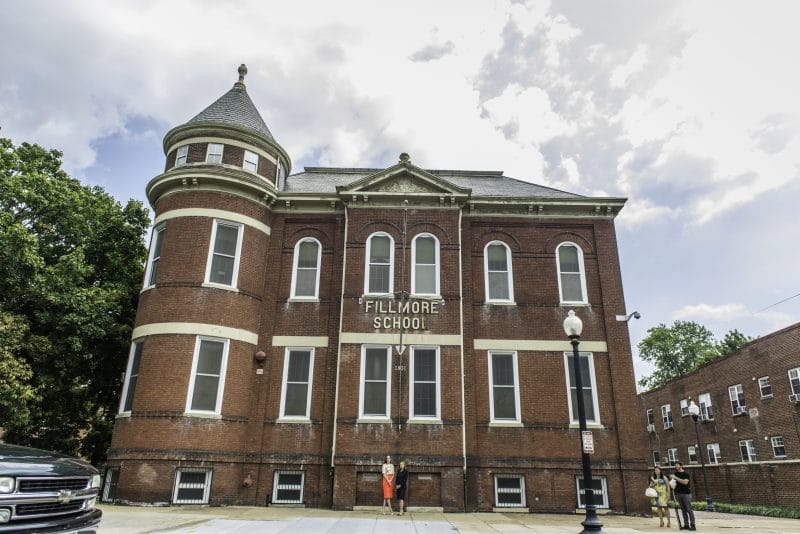 3. What tips would you give others applying to the Halcyon Arts Lab Fellowship?
The call for the third cohort is due on April 4th, 2019. If you are an emerging artist and socially conscious, this fellowship is for you! Applicants who articulate their commitment to a particular cause or community and how they envision spending their time in DC during the fellowship will stand out.
The fellowship receives around 200 applications, 20 advance to the interview stage, and 8 are selected. The interview, which is online, is very brief, lasting only about 10 minutes (5 minutes for the pitch and 5 minutes for Q&A from the jurors, who are renowned arts professionals).
My advice to artists is to read very carefully the description to know exactly what to prepare and what may come up during the interview.  Additionally, I advise applicants to be clear and concise in their pitch and to practice and time their talking points using their phones or rehearsing it with a friend ahead of time. I chose a neutral background during my interview and checked for technical difficulties at least 10 minutes before my virtual interview. The Q&A portion of the interview is an opportunity to show your passion and confidence in your practice to the jurors. Good Luck!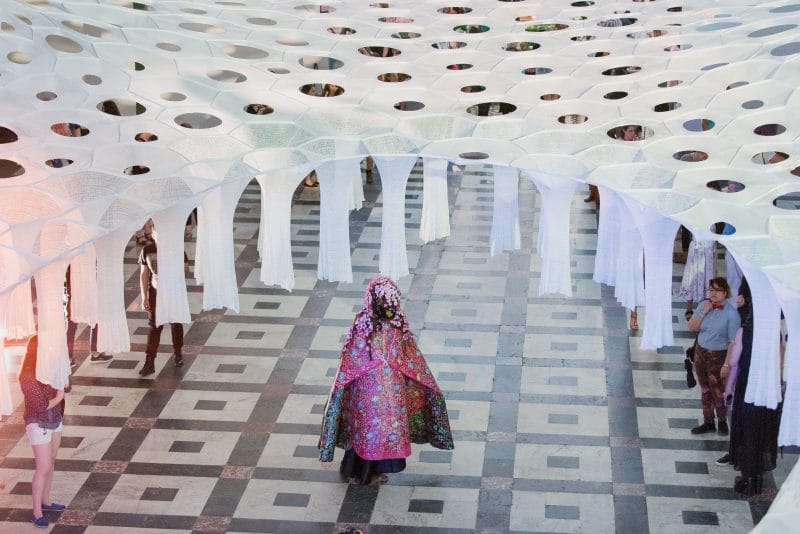 Hoesy Corona (b. 1986) is an emerging and uncategorized queer Mexican artist living and working in the United States. His work is executed across various media while considering what it means to be a queer latinx immigrant in a place where there are few. His performances and installations oftentimes silently confront and delight viewers with some of the most pressing issues of our time. Reoccurring themes of queerness, race/class/gender, nature, isolation, and celebration are present throughout his work. He is a recent Halcyon Arts Lab Fellow 2017-2018 in Washington, DC and is a current Tulsa Artist Fellow in Tulsa, OK. He splits his time between Baltimore and Tulsa. In addition to maintaining a prolific studio practice, he is the founding co-director of Labbodies (Jan 2014-present), a nomadic arts organization in the USA. He studied at the Maryland Institute College of Art. www.hoesycorona.com  @hoesycorona
Interested in applying? Bookmark the Halcyon Arts Lab Fellowship to your ProFellow account.
© Victoria Johnson 2019, all rights reserved.