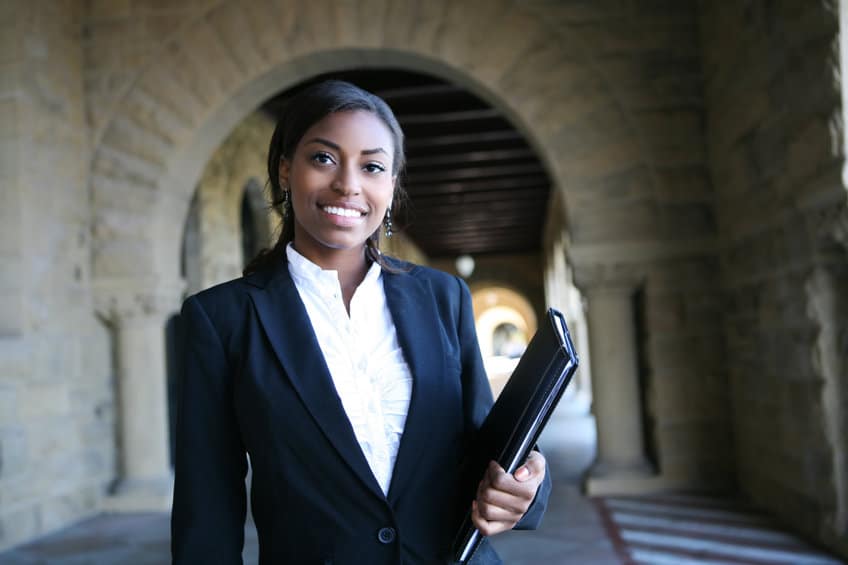 Earlier this year, Ketanji Brown Jackson was named the first Black woman Supreme Court Justice in its 233-year history. Of the 115 people who have served on the Supreme Court since its 1789 founding, all but three have been white, and Justice Sonia Sotomayor remains the only Hispanic woman to have ever had a seat on the bench — but law fellowships for women of color can play a role in elevating more diverse female lawyers. 
Women of color continue to face hurdles to both entering and succeeding in the law profession. A 2018 report on diversity in U.S. law firms, published by the National Association for Law Placement, found that women of color continue to be the most dramatically underrepresented group in the field, making up 8.08% of U.S. firm lawyers, and just 3.19% of lawyers at the partnership level.
The reasons for the lack of representation of women of color in law are various, ranging from compensation inequality to career advancement barriers; however, in addition to Judge Jackson's historic ascension to the highest court in America, there are other positive signs that women of color continue to make strides in the profession. Representation of female lawyers of color reached historic highs in 2020. 
Fellowships are an excellent way for women of color to access the mentorship, support, and enriching professional experiences to develop their expertise in the field and get their foot in the door at large firms or organizations. These 6 law fellowships for women of color could be the perfect opportunity for the next Ketanji Brown. 
See the right opportunity for you? Remember you can click the links below to bookmark your future fellowship to your free ProFellow account.  
AAUW Selected Professions Fellowships provide opportunities for women to pursue graduate and professional degrees in fields where women have traditionally been underrepresented and where the employment outlook and earnings potential are strong. AAUW Law Fellowships are exclusively available to women of color.
Named in honor of legendary civil rights attorney Thurgood Marshall and iconic civil rights litigator Constance Baker Motley, the Marshall-Motley Scholars Program (MMSP) is a groundbreaking commitment to endow the South with the next generation of civil rights lawyers. The Fellowship includes a full law school scholarship with tuition, room and board, summer internships with national and regional civil rights organizations, and a two-year postgraduate fellowship at civil rights law organizations in the South fighting to achieve racial justice.
The SEO Law Fellowship offers talented incoming law students from historically excluded backgrounds the opportunity to work at a top law firm the summer before law school. Law students begin the year-long Fellowship with a 10-week summer experience and receive supplemental academic tutoring during their first year of law school.
The Sidney B. Williams, Jr. Scholar Program assists STEM-educated individuals from underrepresented racial and ethnic groups seeking to attend an ABA-Accredited law school to explore a career in patent law in the U.S. The Scholar Program Offers selected scholars a $30,000 law school tuition grant and provides financial and non-financial assistance to scholars during the law school admissions process and throughout law school.
The Women's Law and Public Policy Fellowship Program (WLPPFP) offers Fellowships for public interest lawyers from the United States who are committed to advancing women's rights throughout their careers. Throughout the Fellowship year, participants gain invaluable experience by working on women's issues in Washington, D.C. with a public interest organization or governmental agency and by participating in educational and professional development opportunities organized by WLPPFP. The program offers both one-year and two-year fellowship opportunities. Fellows receive an annual stipend of approximately $50,000-60,000.
The University of Wisconsin Law School's William H. Hastie Fellowship Program has provided aspiring scholars an outstanding opportunity to prepare for a career in law teaching. The two-year law school Fellowship reflects a commitment to diversity and inclusion in the legal profession, and especially encourages applications from candidates of color and other underrepresented communities in the legal academy. Fellows pursue a scholarly agenda of their choice, typically prepare two pieces for publication, and receive mentoring in both their teaching and scholarly work. Fellows are required to be in residence in Madison and enrolled at the University of Wisconsin Law School. Fellows are provided a stipend of $48,000 per year.
Are you an aspiring lawyer? Learn more about How to Choose the Right Law School for You.
© ProFellow, LLC 2022, all rights reserved.