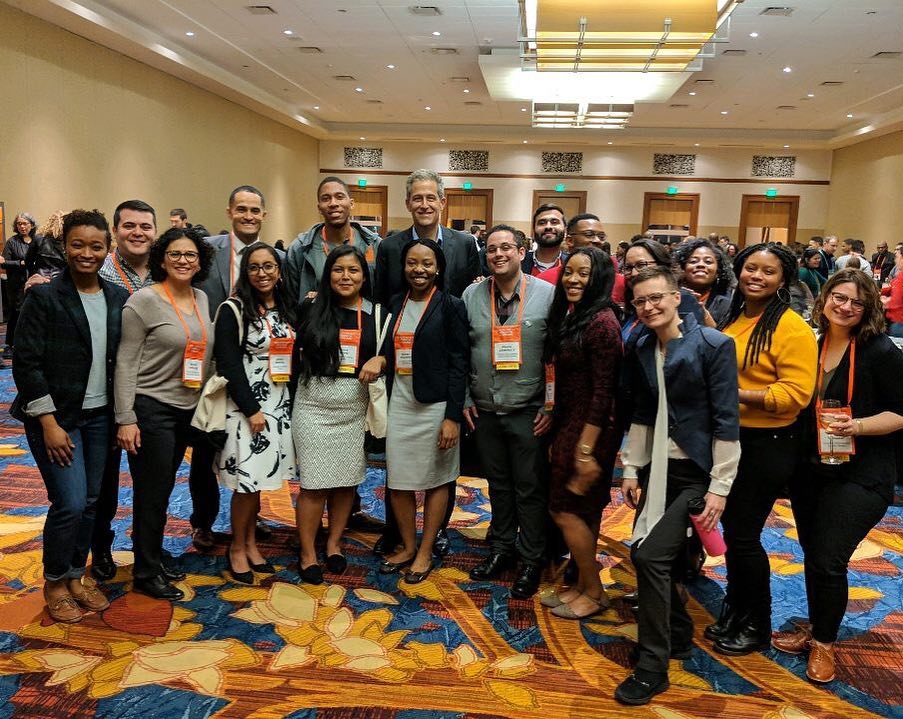 The Health Policy Research Scholar Fellowship is a national change leadership development opportunity for full-time doctoral students from underrepresented populations or historically disadvantaged backgrounds. Fellows can be from any academic discipline as long as they are training to be researchers and are interested in health policy research. Participants complete their doctoral programs at their home institutions across the U.S. and attend at least one annual gathering, participate in leadership development trainings, coursework and mentoring, and receive an annual stipend for up to four years. 
We talked to Alberto Cifuentes, Jr., LMSW, a current Health Policy Research Fellow, to learn more about the program and get some application tips.   
1. What inspired you to apply for the Health Policy Research Fellowship? 
My practice background is in community organization, policy advocacy, and program planning for marginalized groups, specifically LGBTQ+ individuals, undocumented students and families, incarcerated and formerly incarcerated folks, and people of color. I had been organizing with and mentoring LGBTQ+ middle and high school students for several years through GLSEN Connecticut, which advocates for the safety and affirmation of all K-12 students regardless of sexual orientation and gender identity or expression. I was inspired to pursue research questions that focused on how stigma and discrimination, especially in the form of minority stress, affected the LGBTQ+ community; however, I knew there were specific sub-groups within this community that were often ignored or dismissed by scholars and activists. 
After conducting my own independent research on LGBTQ+ youth and adults, I realized that many gender and sexual minorities, at various points of their lives, were engaged in survival sex and others forms of sex work (e.g., "prostitution," escorting, exotic dancing or "stripping," pornographic work, etc.). I found that sex work occurred on a spectrum of choice. Some exchanged sex as a response to a particular life situation while others were compelled to participate due to structural inequalities. However, there were narratives that were missing from the research I encountered on sex work: those that were more sex-positive and grounded in harm reduction, including the belief that sex work is work. I wanted to examine how sex work, especially the type rooted in choice and circumstance rather than coercion (e.g., sex trafficking), impacted health outcomes and systemic inequities. There is a noticeable gap in the behavioral and social sciences literature on studies of sex work that do not focus on trafficking and survival sex work. 
The Health Policy Research Scholar (HPRS) fellowship program is an interdisciplinary, collaborative leadership program rooted in using research to promote policy change. All of the 41 scholars in my cohort are from 17 different states and the District of Columbia; they also study a variety of disciplines, including neuroscience, anthropology, and urban planning. When I was applying for the fellowship, I was attracted to the rich possibilities of working and collaborating with students who were not only at the same stage of their doctoral careers as myself but also had divergent perspectives and fields of research. I also liked the program's concept of a Culture of Health, which focuses on prevention and sustainability rather than solely resolving the symptoms of a public health issue. In addition, I am an advocacy-based researcher that wants to work directly with the communities I am serving and involve them in the decision- and policy-making process. The HPRS program is extremely supportive of community-based research aimed towards helping underrepresented or marginalized communities change oppressive and unjust policies at a local, state, or federal level. I knew that the program would expand skills and resources for becoming a better advocate for not only sex workers but other vulnerable populations.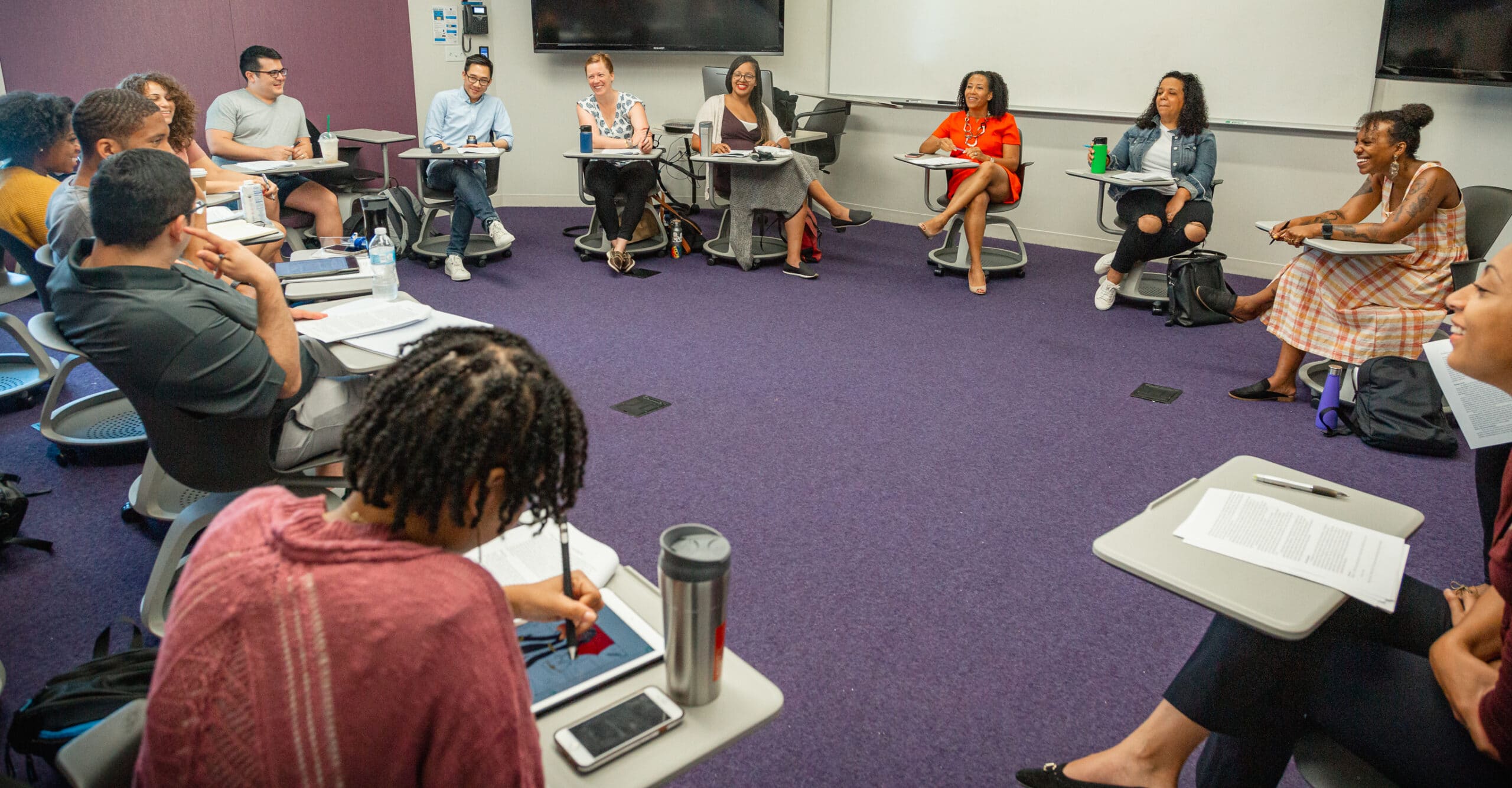 2. What are the benefits of the fellowship? 
I am grateful for the grant the HPRS program offers me, which helps cover my living, research, conference, and travel expenses. I am generously funded by this program for four years ($30,000 per year). Since I intend on graduating from my doctoral program at the University of Connecticut, School of Social Work, in May 2022, I will be funded for the rest of my doctoral career. In addition, HPRS offers a $10,000 competitive dissertation scholarship that I plan on applying for once I get closer to completing my dissertation. This HPRS fellowship has helped me narrow my research focus and integrate different methodologies for more equitably improving the safety and health outcomes of sex workers. 
HPRS also connects my cohort with Robert Wood Johnson Foundation (RWJF) leadership program scholars, such as those in the Culture of Health Leadership and Clinical Scholars networks, through their Annual Leadership Institute (ALI), which is taking place in late March 2020. This a great conference where HPRS fellows and other leaders from all across the nation are able to exchange resources and discuss potential collaborations for research geared towards changing public health policy. 
Lastly, my entire cohort participates in bi-weekly online classes on different health- and equity-related topics during the academic year, and we have received leadership and policy analysis training through these webinars as well as the Summer Institute. The Summer Institute this year focused on developing a policy memo and writing a testimony, which are two very important skills for researchers who want to make their arguments palpable for policy-makers and legislators. The feedback and input from my fellow scholars was invaluable to my own refinement on my problem statement and policy recommendations. I feel very blessed to be supported by such an incredibly empathetic and brilliant cohort of scholars. Thankfully, we have been able to keep in touch online and at conferences. Despite the physical distance from many of my HPRS colleagues and friends, their support and presence continues to be felt. 
Please check out my video of my research interests and benefits of the HPRS program here for more information.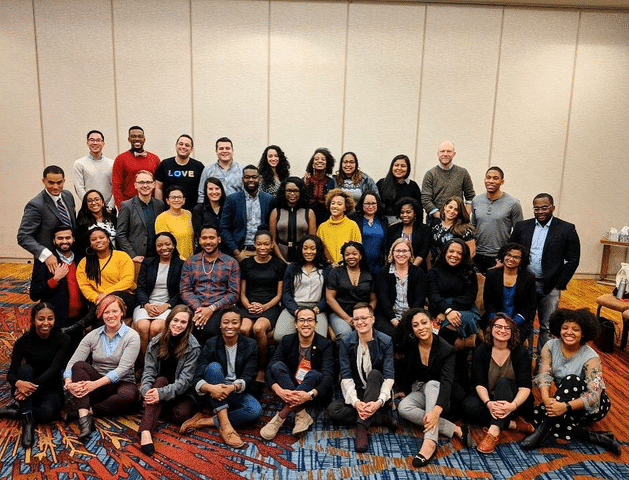 3. What tips would you give others applying to the Health Policy Research Fellowship? 
I think one of the most important things to remember is that you do not have to be a public health doctoral student to apply for this fellowship. You also do not have to be well-versed in policy or advocacy. However, you should have an interest in reducing health disparities amongst underrepresented or marginalized populations. You should also familiarize yourself with the RWJF's concept of the Culture of Health and how that applies to your research.

I learned a lot about the program through the webinar they offered to prospective applicants. You can sign up for their news and updates here so you will be informed of when they will have the webinar later this year. It is also very likely that you will have to work with the Grants and Funded Research Office of your college or university to complete and submit the application, so make sure you know who this person is before completing the application. As with any grant application, make sure to answer all questions completely and make direct connections between your research and the goals of the HPRS program. For me, I think the interview, which will occur if you become a semi-finalist, made all the difference. I was very prepared to address and elaborate on several aspects of my application and explain how my own interests in eliminating disparities impacting gender and sexual minorities were related to the Culture of Health framework.  
Finally, I encourage you to look at the profiles of all of the program's current scholars. This will give you a sense of the diversity of the scholars and why they felt the HPRS program was a great fit for them (My profile is here if you are curious). The application for the new cohort of scholars opens in early January 2020, but you can get a look at the application requirements, steps, and timeline here. 
For over a decade, Alberto Cifuentes, Jr., LMSW, has been a community organizer and social justice advocate for the LGBTQ+ community and other underrepresented populations. He received his BA in Media Studies and English from Southern Connecticut State University and his MSW from the University of Connecticut (UConn) School of Social Work. Alberto is a former leader of GLSEN Connecticut and current leader of several professional networks for the National Association of Social Workers Connecticut Chapter (NASW/CT). He is currently a third-year doctoral student and teaching assistant at the UConn School of Social Work where he focuses his research on the effects of stigma and criminalization on the health outcomes of commercial sex workers. Alberto's ultimate goal is to create and direct a non-profit organization that specializes in empowering and providing vital programs and services to gender and sexual minority groups. 
Interested in applying? Bookmark the Health Policy Research Scholar Fellowship to your ProFellow account.
© Victoria Johnson 2019, all rights reserved.