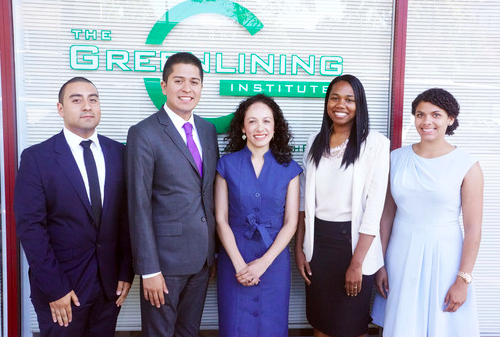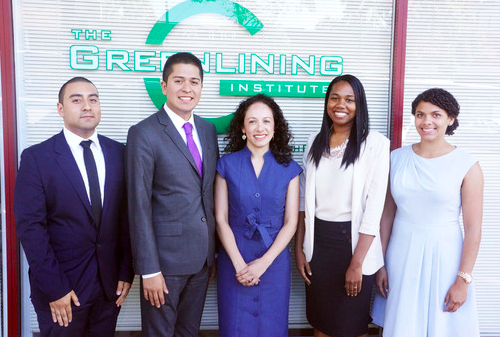 Danielle Beavers, a 2012 graduate of Stanford University, earned a position as the Economic Equity Fellow at the Berkeley-based Greenlining Institute. Greenlining is a multi-ethnic advocacy, research, leadership development, and public policy organization that aims to empower communities of color. Greenlining offers yearlong fellowships to college graduates in the areas of Economic Equity, Special Projects, Strengthening Our Democracy, Building Healthy Communities, and Law. Fellows are assigned to specific program areas and develop expertise under the mentorship of a program director. As today's guest writer, Danielle describes why she pursued a Greenlining Fellowship and her experience in Greenlining's exemplary leadership training program.
By Danielle Beavers
Precisely two years ago, I was on a plane going home during Winter Break of my junior year of college and I was agonizing about what I would do after graduation. I was an Ethnic Studies major with a passion for racial justice and an interest in policy, so pursuing a Masters in Public Policy seemed like a natural next step. When I returned for the remainder of my junior year, I began taking quantitative classes and attending networking events in the policy community. It was clear that policy was a powerful tool to enact systemic change, but I often found myself in spaces where people did not understand my ideals and the workplaces did not reflect and value the diversity I craved. I decided to hold off pursuing graduate school until I could find folks like myself in the policy world. I also knew I wanted to be at an organization where I would be trusted with meaningful work and not be confined to the copying room. By a series of coincidences and (I like to believe) fate, I ended up having both of those needs, and others fulfilled through the Economic Equity Fellowship at The Greenlining Institute.
What it's Like in the Deep End
While Greenlining offers a variety of fellowships in most of their issue areas, they all essentially serve the same purpose – to prepare the next generation of leaders to advocate for communities of color. To do so, the Greenlining work model is to throw their fellows into "the deep end" with a great deal of responsibility and independence on their projects. This practice is backed by the philosophy that high professional expectations push fellows to meet and exceed their potential and to develop subject-matter expertise. Even though I began my fellowship with only three economics classes under my belt, I was assigned to head up a project with federal regulators on the Dodd-Frank Act. I will admit that sometimes I do feel a little overwhelmed, but with the support of my team at Greenlining, I can see how my work will positively change how regulators and bankers treat people of color on a national level. Due to the training and support I have received, I can say all of this confidently just a few months into my fellowship.
In addition to the responsibility I am given, Greenlining distinguishes itself by the amount of exposure it gives fellows to decision makers in the private and public sector. The day after the election, the Economic Equity team and coalition members held meetings with top leaders at each of the financial regulatory agencies in Washington, DC. Our concerns and research were presented to esteemed people like Chairman Ben Bernanke of the Federal Reserve System and Director Richard Cordray of the Consumer Financial Protection Bureau. We spoke to them about our concerns on the lack of outreach on the Independent Foreclosure Review process for home mortgages and the progress of their Offices of Minority and Women Inclusion. All of this is made possible by Greenlining's long history and advocacy work with stakeholders. I know my impact is made possible because I am able to stand on the shoulders of champions that came before me at Greenlining.
Applying to the Fellowship
The Greenlining Institute is located in Berkeley, California and has proven to be a great location for policy advocacy. The West Coast, and in particular the San Francisco Bay Area, has a progressive culture and so many change makers are within reach. It is typical for me to meet bank executives and coalition members in Berkeley, Oakland, and San Francisco a few times a month. Depending on the project, Fellows also travel within the state or throughout the country to meet with policy makers and other stakeholders. So far, I have traveled to Los Angeles, St. Louis, and Washington, DC. In January I will go to New York City to meet with some of the foundations that support our work.
The application process is competitive, but is a very straightforward process. It consists of a two-page personal statement, two recommendation letters, and a series of Skype interviews. The fellowship lasts for one year and typically begins at the very end of August. Fellows are paid a salary and are expected to work 37.5 hours a week. They also receive dental and medical insurance. The next application deadline for the Greenlining Fellowships is January, 25, 2013.
Moving Forward
The nature of my work at Greenlining introduced me to like-minded people and organizations that I would have never met otherwise. My fellowship is not only teaching me the "language" of policy, but also how important it is to be able to communicate to folks and organizations coming from all walks of life. I am a big believer that engaging with multiple stakeholders in a collaborative fashion will lead to faster and sustainable change. In regards to my future career, Greenlining alumni have helped me identify graduate programs that better fit my interests. Greenlining has shown me that I'm happiest working on economic development policy focused on communities. If I had never spoken to seasoned professionals, I would have never heard of the degrees in Urban Planning that best incorporates and teaches about these principles. I plan to apply to graduate school next December, and am currently in the process of researching jobs that could better inform me of urban planning career paths.