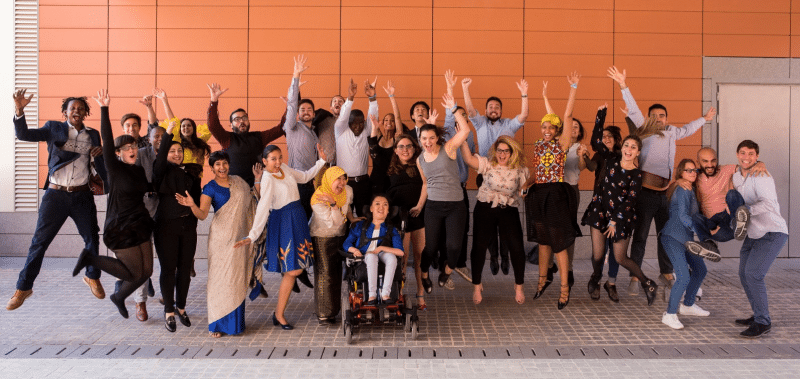 The Laureate Global Fellowship was established in 2001 to help young people pioneer positive changes throughout the world. Twenty fellows between the ages 18-29 are chosen each year based on their own founded or co-founded social ventures and their potential to grow as leaders in the collaborative learning environment of the fellowship. After a week at an in-person retreat, fellows benefit from opportunities such as one-on-one mentoring, peer coaching experiences, and online learning sessions. After the fellowship year, fellows become a part of a network that gives them unique access to a number of opportunities.
We talked to Ignacio Rodriguez, a Laureate Global Fellow for Youth Action Net, to learn about his experience and get some suggestions for creating a successful application. Ignacio is Founder and Director of Epix, a social and arts venture that connects Venezuelans through each of their stories.
1. What inspired you to apply for the Laureate Global Fellowship?
I saw that the directors of the program had genuine experience and knowledge about running fellowship programs for young people. They have a huge network, many initiatives, and great connections. One of the things I was attracted to the most was their YouthActionNet training curriculum, which consists of 57 modules, and is guided and informed by "Six Dimensions of Leadership" that are critical to the development of young social entrepreneurs. These are:
#1 Personal: A commitment to developing personal character, integrity, and empathy
#2 Visionary: Developing and sustaining an innovative mindset
#3 Political: The ability to mobilize public will
#4 Collaborative: Forming win-win partnerships
#5 Organizational: Effectively managing high-impact ventures
#6 Societal: The ability to foster long-term systems change
They are very detailed in their approach to social ventures and I was very much impressed with the seriousness of their work.
2. What is a typical day like as a Laureate Global Fellow?
During the fellowship, we received training, connections, lots of media coverage, and institutional and curriculum support for our home projects. Even though it is a one-year fellowship, they emphasize that it is a fellowship for life. I've seen that in the way they involve past fellows from older cohorts.
The program's in-person retreat was breathtaking. Not only did they have a strong track record, but also the team leaders were genuine, heartwarming, supportive and very smart. Likewise, sharing with the fellows was an incredible experience where I made friends and maybe even partners for future projects.
3. What tips would you give others applying for the Laureate Global Fellowship?
I believe they look for two things in fellows. First, they want people with a genuine interest in making an impact. It's important not to sell yourself short. Second, and most importantly, they will look at the person, their values, and how they present those values differently to the public. Also, I'd suggest that an applicant read the whole website and learn from past fellows. Lots of helpful information is on the website. I never asked them what made them choose me, but I think it was a combination of my work on empathy and storytelling and my personality. I tried to show both things strongly in my application.
Before founding Epix, Ignacio Rodriguez was the creator and photographer of the Hands of India project. In 2015, Ignacio co-founded Fremu to connect remote communities in Nepal, the Philippines, and India. Previously, he worked in education and ICT projects all over the world. He is a frequent international speaker and won the "Emerging Leaders" award at the 2012 New Media Consortium co-organized with MIT.
---
Interested in applying? Bookmark the Laureate Global Fellowship to your ProFellow account.
© Victoria Johnson 2018, all rights reserved