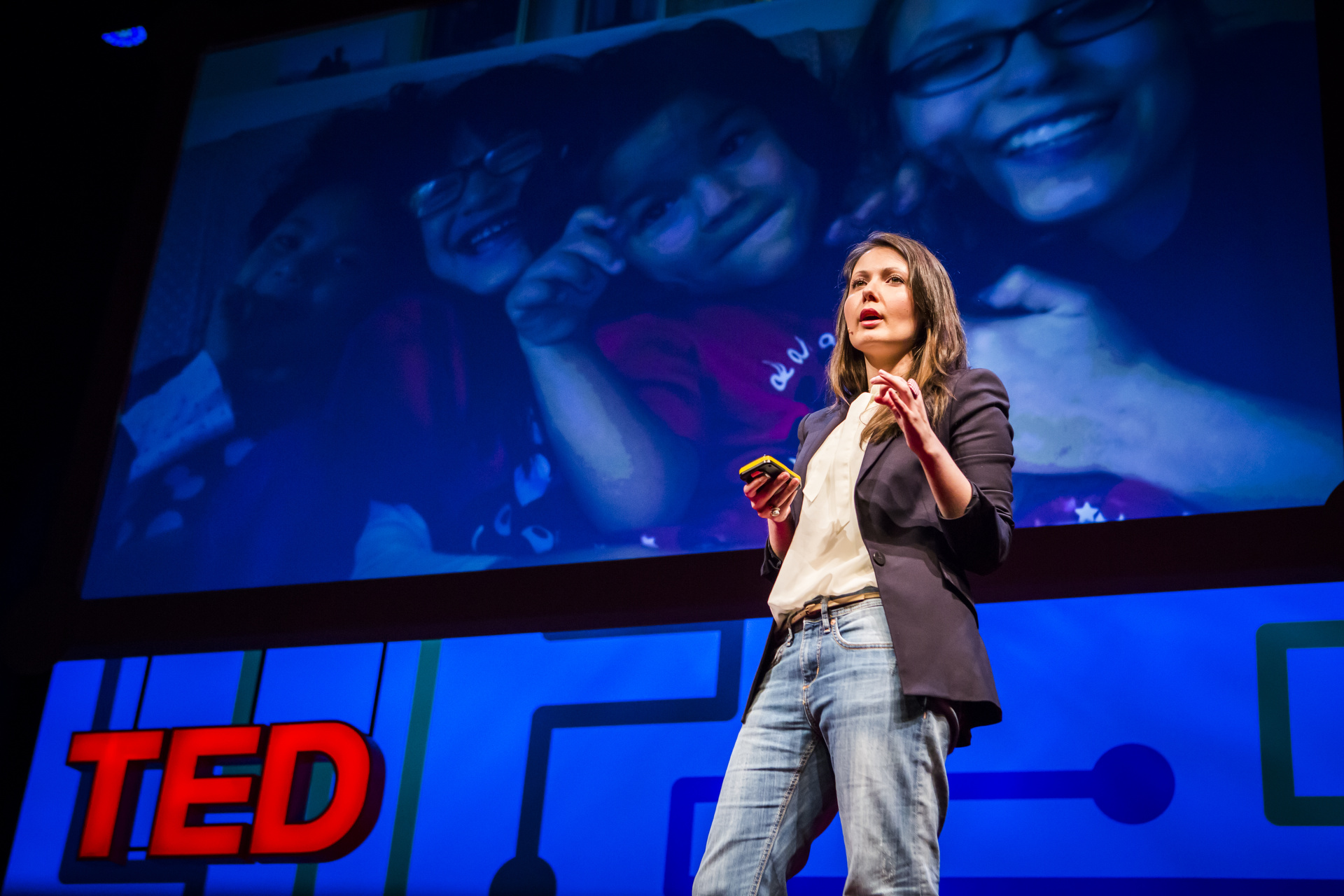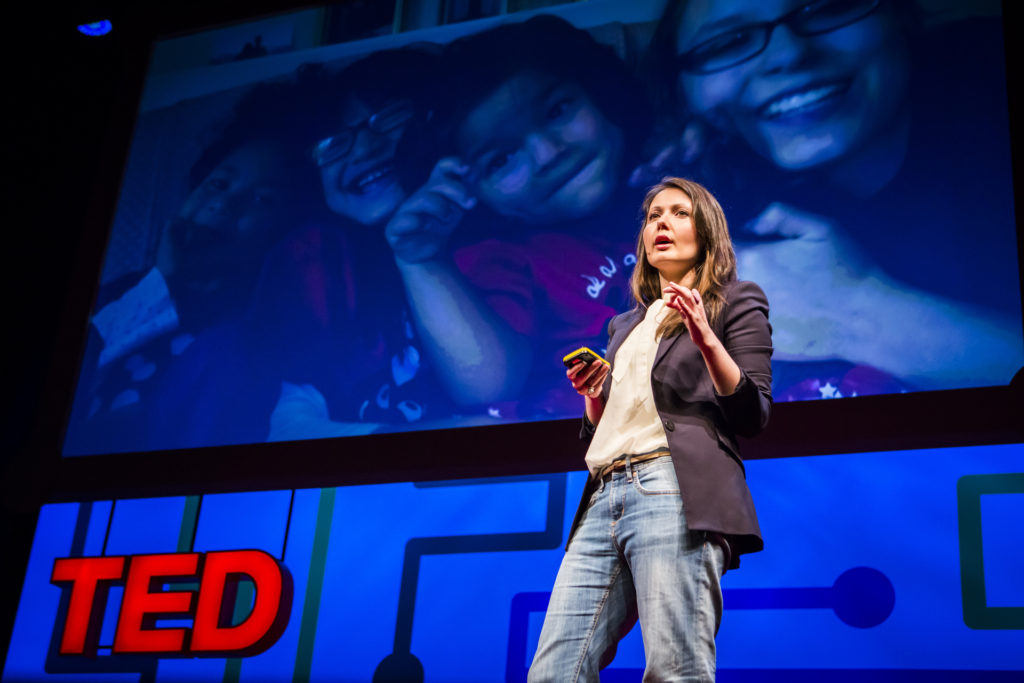 The TED Fellows Program is a transformational experience for 400 visionaries from around the globe. Selected from a rigorous application process, Fellows are invited to attend a TED conference where they meet and exchange ideas before giving their own TED talk. Fellows come from a wide range of disciplines but share in their professional achievements, strong character and innovative approaches to solving world problems. Fellows receive professional mentoring and coaching, along with an online support network and regional meetups throughout the fellowship.
TED Fellow, Yana Buhrer-Tavanier, took the time to share her experience with the program – first as a Global Fellow in 2011, and then as a TED Senior Fellow in 2014-15.
1. What inspired you to apply for the TED Fellows Program?
I applied for the TED Fellows Program in 2011. Back then I was an investigative journalist who had dedicated years to conducting undercover investigations in state social care institutions for people with intellectual and mental health disabilities across Eastern Europe. These are places where one is condemned to spend their entire life, usually in perpetual suffering.
The TED Fellows Program seemed like – and was – the perfect program to help me raise global awareness of the human rights abuses, inhumane and degrading treatment that was going on in these places. It shone a spotlight on my work, gave me access to an incredible pool of absurdly talented and passionate people, where I found friends, supporters, and collaborators.
The TED Fellowship is for life. "Once a fellow – always a fellow," as Tom Rielly, the Director of the program, often says. The program provides its fellows with continuous support – connections, publicity, brainstorming, opportunities to attend conferences and present new work on stage; and keeps the community closely knit through bi-annual retreats, smaller gatherings across the world, and the most engaged Facebook group I have ever seen.
2. What were some of the most memorable moments from the TED conference?
Standing on the TED stage for the first time is an incredible, life-altering experience.
Preparing for a TED talk is a scary and incredibly rewarding process. It usually takes months, and multiple revisions, and moments of "I don't think I can actually do this." The process is rigorous. the TED Fellows team is supportive, but also so thorough that you have no other choice but to give the most honest talk in your life- no pretense, no buzzwords, just you, your story and your passion. And in the end, you feel more connected to yourself, and more on purpose than ever.
Being in the audience, breathing the same air as some of your biggest heroes in life, is absolutely exhilarating. But in terms of the most memorable moment, nothing beats that first evening in our Edinburgh hotel lobby, where I met the other fellows for the first time. This was family. I was home.
This feeling repeats with each new fellowship class I have met over the past 6 years. In no other social environment have I felt so close to people, so fast. The one thing that unites the TED Fellows is actual, genuine passion – for what they do and for making the world a better place. Best bonding material ever.
3. How has joining the TED community impacted your current work?
TED's impact has been incredible. Because of the TED Fellowship, the visibility and impact of my work have increased immensely – both locally and internationally.
I left my first conference colossally inspired, bolder, with the overwhelming feeling that anything is possible. Shortly after that, I cofounded my first nonprofit, TimeHeroes – building a volunteering culture and fostering empathy in post-communist societies. The organization became a phenomenon in my home country, and today I am happy to serve on its board, admiring the great team that is running it.
Since 2011, I maintained my human rights focus. Currently, I am the Deputy-chair of the largest human rights organization in Bulgaria, the Bulgarian Helsinki Committee, and am also advising international organizations, like Amnesty.
However, the biggest impact TED has had on my work can be seen through my latest organization – Fine Acts. Fine Acts bridges human rights and art to instigate social change. We bring together activists and artists from across the globe to work on collaborative art projects. Fine Acts launched at TED 2015. It is co-founded by me and another TED Senior Fellow, Julie Freeman. The Fine Acts Collective currently features more than 40 TED Fellows and is growing to include other prominent artists and advocates. We have TED team members and fellows serving on our advisory board. I am forever grateful to the TED Fellows community for helping me bring this vision to life.
4. What advice would you give to someone interested in applying to be a TED Fellow?
Do it. Even if you doubt that you deserve it. Actually, if you have doubts – you must apply. Most fellows admit that at their first conference they suffered from "impostor syndrome" – they felt not worthy, and feared that at any moment someone was going to realize that there has been a mistake. Modesty and greatness often are best friends.
If you are truly passionate about what you do, if you feel like you are benefitting society, apply. If you think you are too shy, get terrible stage fright and can't possibly give a TED talk, apply. Because yes, you can. Remember that you are not doing it for yourself, but for something larger than you – your cause, your purpose in life.
Interested in applying? Bookmark the TED Fellows Program to your ProFellow account.
Yana Buhrer-Tavanier is a human rights activist, social entrepreneur, and award-winning journalist. She is co-Founder and Director of Fine Acts, a global platform bridging human rights and art to instigate social change. Yana is also co-founder and board member of TimeHeroes.org, the largest do-more-good platform in Bulgaria. She is Deputy-chair of the Bulgarian Helsinki Committee, the country's most influential human rights group. She is also one of two expert members of Amnesty International's Europe & Central Asia Regional Oversight Group. Yana holds BA in Mass Communications and MA in Political Science from Sofia University. She has completed executive education programs at Yale University, Harvard University, and Oxford University. She is a TED Senior Fellow, Young Global Leader of the World Economic Forum, and Fellow of the Royal Society of Arts.
© Victoria Johnson 2017, all rights reserved.