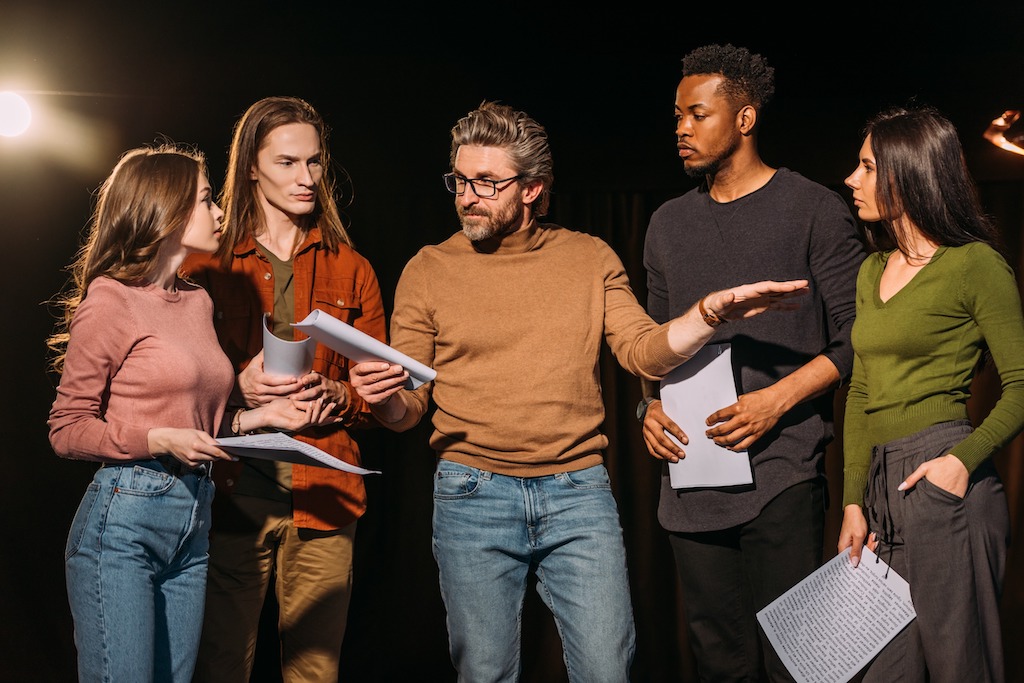 Theater fellowships provide both emerging and established theater professionals with funding and support to produce art, hone their craft, develop newfound skills, and network with industry leaders! Whether you're a playwright, director, actor, designer, choreographer, or technician, there is a wide range of theater-related fellowships that aspire to help you grow as an artist and advance your professional career!
In this article, we share a variety of theater fellowships, discuss the benefits of participating in a fellowship program, and highlight some of the most prestigious fellowships available.
If one of these Theater fellowships catches your eye, be sure to bookmark it to your free ProFellow account!
The BalletX Choreographic Fellowship selects one promising choreographer to create a world-premiere work for the BalletX company. Fellows receive a $7,500 choreographic stipend to create a 20-25 minute ensemble ballet with 10 of the company's dancers, access round-trip transportation to Philadelphia, set up a budget of $7,000 for costumes, scenic design, and music (original composition or rights), and produce a minimum of 6 performances at the Philadelphia Theater. To be eligible, applicants must have completed their first commission with a professional dance company within the past 5 years and be able to work in the U.S. for the duration of the residency.
Each year, the Beckmann Emerging Artist Fellowship Program awards fellowships to qualified and talented artists in music, dance, theatre, literature, media, and/or the visual arts. Artists will receive a monetary award of $3,500 to purchase supplies and cover other related costs as they develop their projects. Professional development and growth opportunities will also be provided throughout the year-long fellowship. This fellowship program seeks to introduce and provide experiences, connections, and relationships with arts institutions and professional artists in central Indiana. Artists must have at least 1-3 years of experience in their field.
The Combe Trust Fellowship intends to encourage outstanding interdisciplinary research, international scholarly collaboration, and networking activities between visiting Fellows and academics in the Centre for Theology and Public Issues (CTPI). Applications for visits of two to three months are welcomed from senior researchers in the following areas: public theology, religion and religious education, physiology, and health, Scots law, peacebuilding, prison reform, psychiatry, psychology and neuroscience, moral philosophy, natural sciences, or the arts (e.g. theatre, film, dance, visual arts). Funds are available in support of travel and accommodation costs, up to a maximum of £3,900.
Creative Capital is the only national grant-making organization with an open application process that supports individual artists across all disciplines. Creative Capital makes a multi-year commitment to its grantees, providing them with tailored financial and advisory support to enable their projects' success while also building their capacity to sustain their careers. Their grants are valued at up to $90,000. For each project, Creative Capital offers up to $50,000 in direct funding awards and an additional suite of career development services valued at $40,000. Applicants must be over 25 years old and have at least 5 years of work experience.
Through their creative fellowships, Define American supports immigrant creatives working in narrative art forms as they develop their practice and professional network. The six fellows selected for the Define American Creative Fellowship will participate in workshops and conversations about expanding their network and impact, become connected with additional resources, and gain support for their community engagement efforts. This fellowship is open to creatives in narrative-oriented art forms (writing, filmmaking, visual storytelling, theater, illustration, spoken word, digital journalism, etc.) with at least some experience (professional or amateur) in their chosen medium.
The Drama League Stage Directing Fellowships provide a wide range of opportunities for early-career stage directors, encouraging these artists to create multiple avenues of future success within the theater industry. Providing significant financial support and health insurance reimbursement, creative retreats, network development, and residencies at multiple theater companies, The Drama League Stage Directing Fellowships also offer opportunities to direct readings and productions throughout the two-year program. The scholarship prize for this opportunity is $100,000 over two years.
The Fox Foundation Resident Actor Fellowships aim to further an actor's artistic and professional development and deepen their relationship with a not-for-profit theatre. The Exceptional Merit award is $15,000 (with an additional $10,000 available to relieve student loan debt) and supports actors who are established in their careers as working professionals with 10 years or more of professional experience. The Distinguished Achievement award is $25,000 and supports actors with 20 years or more of experience who have amassed a substantial body of work. Recipients are awarded grants that allow them to look for opportunities that prolong continued growth and sustain the longevity of their careers.
The Hodder Fellowship will be awarded to writers and non-literary artists of exceptional promise to pursue independent projects at Princeton University during the academic year. Potential Hodder Fellows are writers, composers, choreographers, visual artists, performance artists, or other kinds of artists or humanists who have "much more than ordinary intellectual and literary gifts"; they are selected more "for promise than for performance." Given the strength of the applicant pool, most successful fellows have published their first book or bear similar achievements in their own field. This fellowship provides a stipend of $88K and is open to all citizenships.
This Creative Fellowship is a collaboration between IASH and the Traverse Theatre, Scotland's leading New Writing Theatre. This fellowship is open to writers with a story or idea for an ambitious and entertaining new play that speaks to urgent issues impacting our lives now and into the future. This fellowship occurs over a 9-month period, which provides the writer with the time, space, and support needed to research and write the play while also working around other commitments. The stipend for this fellowship is £10,000-12,000. Candidates must have had at least one professionally produced play to be considered.
Based in Detroit, Kresge Arts provides significant financial support for Kresge Artist Fellowships annually. Each fellowship consists of a $25,000 award and professional practice opportunities for emerging and established metropolitan Detroit artists in the dance/music, film/theatre, literary arts, and visual arts. The Kresge Artist Fellowships are awarded to artists whose commitment to artistic achievement (in contemporary or traditional forms) is evident in the quality of their work. Eligible applicants are artists who are currently legal residents of the metropolitan Detroit tri-county area (Macomb, Oakland, or Wayne counties) in Michigan.
The LIFT–Early Career Support for Native Artists program provides one-year awards for early-career indigenous artists to develop and realize new projects. Fellows' work should aim to uplift communities and advance positive social change. Eligible applicants must be individual Native artists working in dance/choreography, fiction/poetry writing, film/video, multi-disciplinary arts, music, performance art, theater and screenplay writing, traditional arts, or 2D/3D visual arts. LIFT awards consist of up to $10,000 for a proposed project with $2,500 earmarked for the artist's benefit and well-being. Up to 20 artists will be selected to receive LIFT awards.
The MacDowell Colony is the nation's leading artist colony located in Peterborough, New Hampshire. Each year, approximately 300 fellowships, or residencies, are awarded to artists in seven disciplines: architecture, film/video arts, interdisciplinary arts, literature, music composition, theatre, and visual arts. A MacDowell Fellowship consists of exclusive use of a private studio, accommodations, and three prepared meals per day for two weeks to two months. MacDowell encourages applications from both emerging and established artists representing the widest possible range of perspectives and demographics. Enrolled students are ineligible.
The McKnight Theater Artist Fellowships at the Playwrights' Center recognize theatrical artists other than playwrights. The intent of this program is to recognize and support mid-career artists living and working in Minnesota who demonstrate a sustained level of accomplishment, commitment, and attributes of artistic merit. These $25,000 fellowships are intended to significantly advance recipients' artistic work and professional careers. Selection is based on a commitment to theater arts, evidence of professional achievement, and a sustained body of work over multiple years. The McKnight Theater Artist Fellowship is open to actors, directors, dramaturgs, stage managers, and theatrical designers (including puppetry).
The SHIFT–Transformative Change and Indigenous Arts program is a two-year award that provides financial resources, professional development opportunities, artist/stakeholder convening, cross-sector collaboration, critical evaluation, and exhibition/presentation opportunities for Native artists, cultural practitioners, and community partners. This program brings attention to indigenous communities with the intention of shifting pre-dominant narratives of invisibility, misunderstanding, and misappropriation. SHIFT is a monetary award totaling $100,000 for two years, with $50,000 of the award earmarked for the lead artist or artist collective. Up to 10 projects will receive SHIFT awards.
The Miranda Family Fellowship Program is an ambitious workforce development program designed to provide talented candidates from historically excluded groups (particularly from Black and Indigenous communities) with job experiences, resources, and training protocol necessary for building careers as arts administrators or theatre technicians. Each fellowship is structured as a paid, entry-level and department-specific position that provides health insurance benefits. This position is full-time, year-long, and non-exempt. The Miranda Family Fellows Program intends to disrupt inequitable fellowship systems by compensating fellows with full-time pay of at least $22.07/hour and health care benefits.
If you are interested in finding more fellowships in theater or similar fellowships, sign up for the ProFellow database, which includes more than 2,500 funded opportunities for professional development and graduate study.
© 2023 ProFellow, LLC all rights reserved