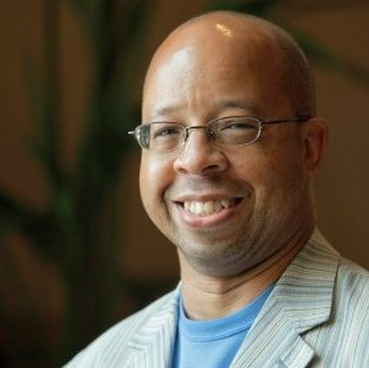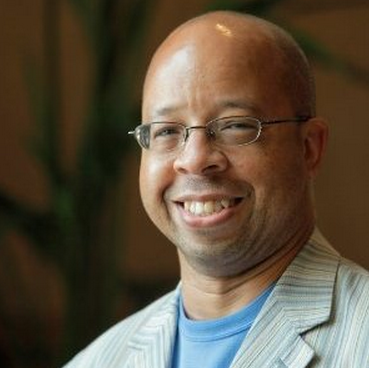 Talk less and keep your ears open.  And visit museums, because you can better understand a country by observing how that country documents its history. This is the advice Doug Mitchell gives to incoming fellows and others preparing for work and study in a foreign country.
When Doug speaks, you listen, because he's been there and done that.  A professional journalist and recognized national media trainer, Doug has worked for National Public Radio (NPR) for over twenty years and is actively involved in identifying new talent for induction into the world of public broadcasting. In 1994, what he terms "the silo days", Doug began to focus on professional development for minority journalists by establishing training programs for students in partnership with the National Association for Black Journalists.
In 1996, Doug's work turned global when the Universidad Catolica de Chile in Santiago asked the International Center for Journalists for a visiting expert in public radio broadcasting, an industry that did not exist in Chile at the time. Supported by the prestigious Knight International Press Fellowship, Doug spent five months in Chile developing and teaching a curriculum for a soup to nuts university lab that taught students everything from testing radio sound quality to storytelling. The students and university appreciated Doug's work so much that he now has a permanent desk at the university and an open-ended invitation to return whenever he likes. Doug returned in 2003 on a U.S. State Department "Visitor Exchange" grant and again in 2007 on Fulbright Senior Specialist grant. While on the Fulbright grant, he helped students at the Universidad Catolica de Chile establish a new internet college radio station, RadioUC.cl. Five years later, RadioUC.cl is still on air.
Today, Doug is leading a new and very timely initiative – entrepreneurial boot camps for journalists of color.  When the economy crashed, many journalists lost their permanent jobs and were faced with the limited alternatives of freelancing, competitive fellowships or pursuit of an entirely new career. With support from UNITY and the Ford Foundation, Doug and his colleagues founded the New U Entrepreneur Fellowship Program to mentor minority journalists and media professionals on how to develop successful, scalable businesses.
"Many of the large successful startups born in Silicon Valley – Apple, Google, Zynga and others – are now 'old money' companies. The market is so saturated by these large companies, new competitors are not aiming to build "the next Google." Small, niche websites are the future, which is where these entrepreneurial journalists can have a stake," said Doug. "They know how to create quality content, but not how to make money from their content. So we provide mentorship in entrepreneurship, such as training in market evaluation, as well as the opportunity to pitch to investors. We also mentor journalists on whether he or she should go into entrepreneurship, because it requires a certain mindset."
To date, the New U Entrepreneur Fellowship Program has graduated 30 Fellows, ten of whom have received early stage seed grants ranging from $3,300 to $10,000. Many of the fellows have taken the opportunity to establish social initiatives. Fellow and grantee Cynthia Liu founded the K12 News Network, a news and advocacy platform for public school communities.  Another, Jason Frazer, founded the Wealth Empowerment Network, a content syndication services that helps media organizations better educate audiences about building and sustaining personal wealth.
Talking about his fellowship experiences, Doug expressed how the Fulbright helped him make a meaningful connection with so many students and professionals at different levels in their career. "The Fulbright enabled me to feel like I was really valuable in a lot of ways. What I knew, other people wanted to know as well. That is what Fulbright is about, answering the question 'What can I do to affect change?'"
Doug worked at NPR for over two decades, most of that time as a producer and director for each of NPR's national newsmagazines. During his time at NPR he founded a hands-on media training program targeting college students, which he dubbed "next generation radio." It launched in 2000 with streaming audio and video of stories conceived, reported, written and produced by college students. Currently, Doug is Co-Director of the New U Entrepreneur Fellowship Program and chair of the National Association of Black Journalists Media Institute.  The Institute is designed to provide a wide range of media-specific, hands-on professional training to members of NABJ.  Follow Doug on Twitter (@nextgenradio).
© Victoria Johnson 2012, all rights reserved.