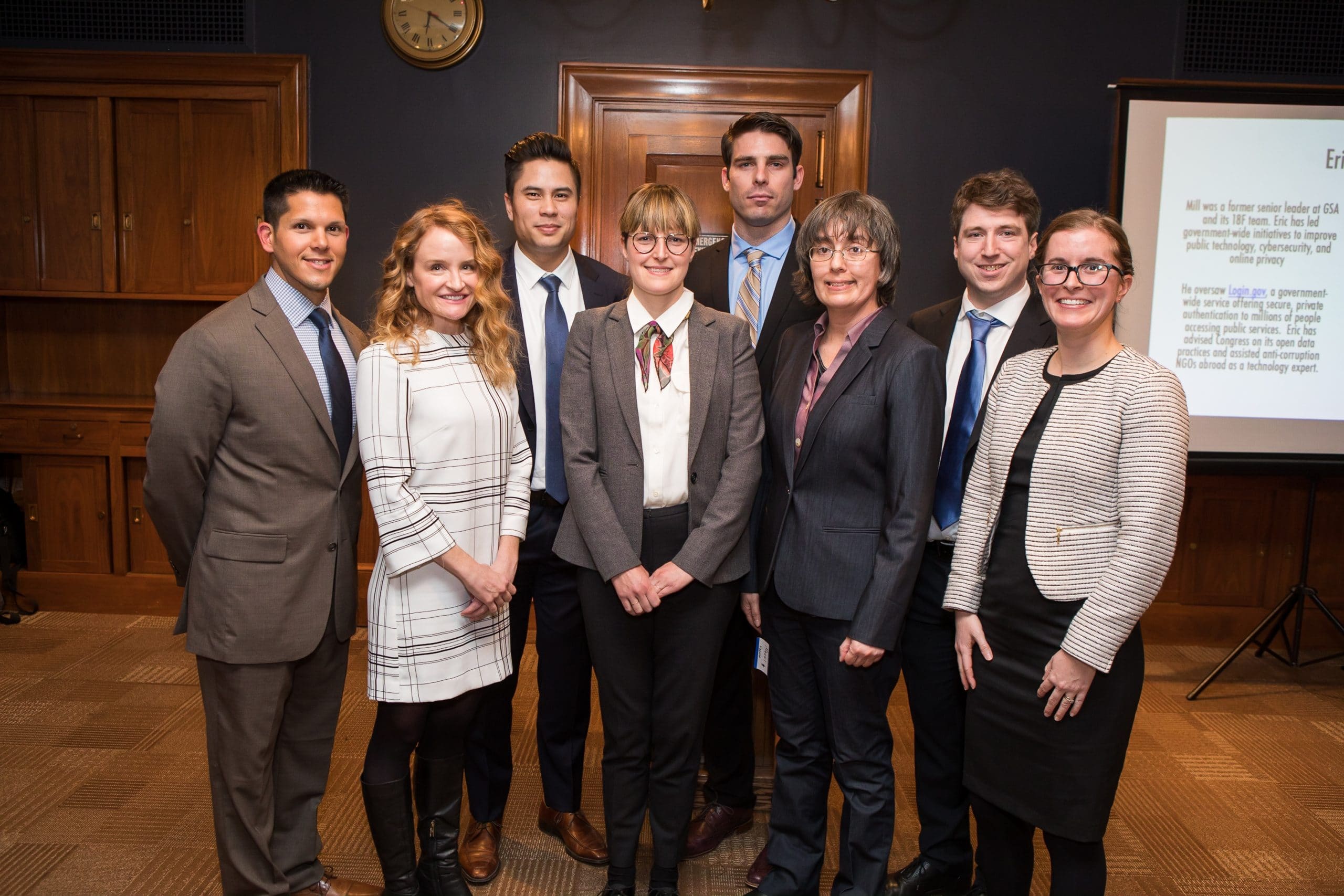 TechCongress is building 21st-century government with technology talent through their Congressional Innovation Fellowship. For one year, starting in January, Fellows work with TechCongress to choose a placement with a Member of Congress or Congressional Committee and report directly to a senior staffer (like a Chief of Staff or Staff Director). Fellows also develop and produce a fellowship project on an issue of their choosing. Fellows have at least four years of work or postgraduate study. Benefits include a $82,400/year stipend plus health insurance supplement, relocation and travel allowance.
We enjoyed talking with Emily Paul, a 2019 TechCongress Fellow, to learn about her experience and get some application tips.
1. What inspired you to apply for the TechCongress Innovation Fellowship? 
I first heard about the TechCongress fellowship in the summer of 2018. At the time I was working at Salesforce and involved in worker organizing against the company's contract with Customs and Border Protection. I was growing increasingly frustrated with how hard it felt to push back against the company's profit incentives even when questions of ethics and humanity were at stake. Through both that and my experience seeing the impact the EU's General Data Protection Regulation (GDPR) had on product design in my work as a user researcher, I was curious about the possibilities for law and regulations to counteract the capitalist incentives that drive technology development. I hadn't previously thought about working in Congress, but I had been thinking about shifting to social justice policy work so this felt like an interesting next step. The TechCongress fellowship caught my attention, and the more I thought about it the more excited I was about the opportunity to understand how federal policy decisions are made and the possibilities for using federal policy to push back against the inequitable ways resources, power, and access to opportunities are distributed in our country.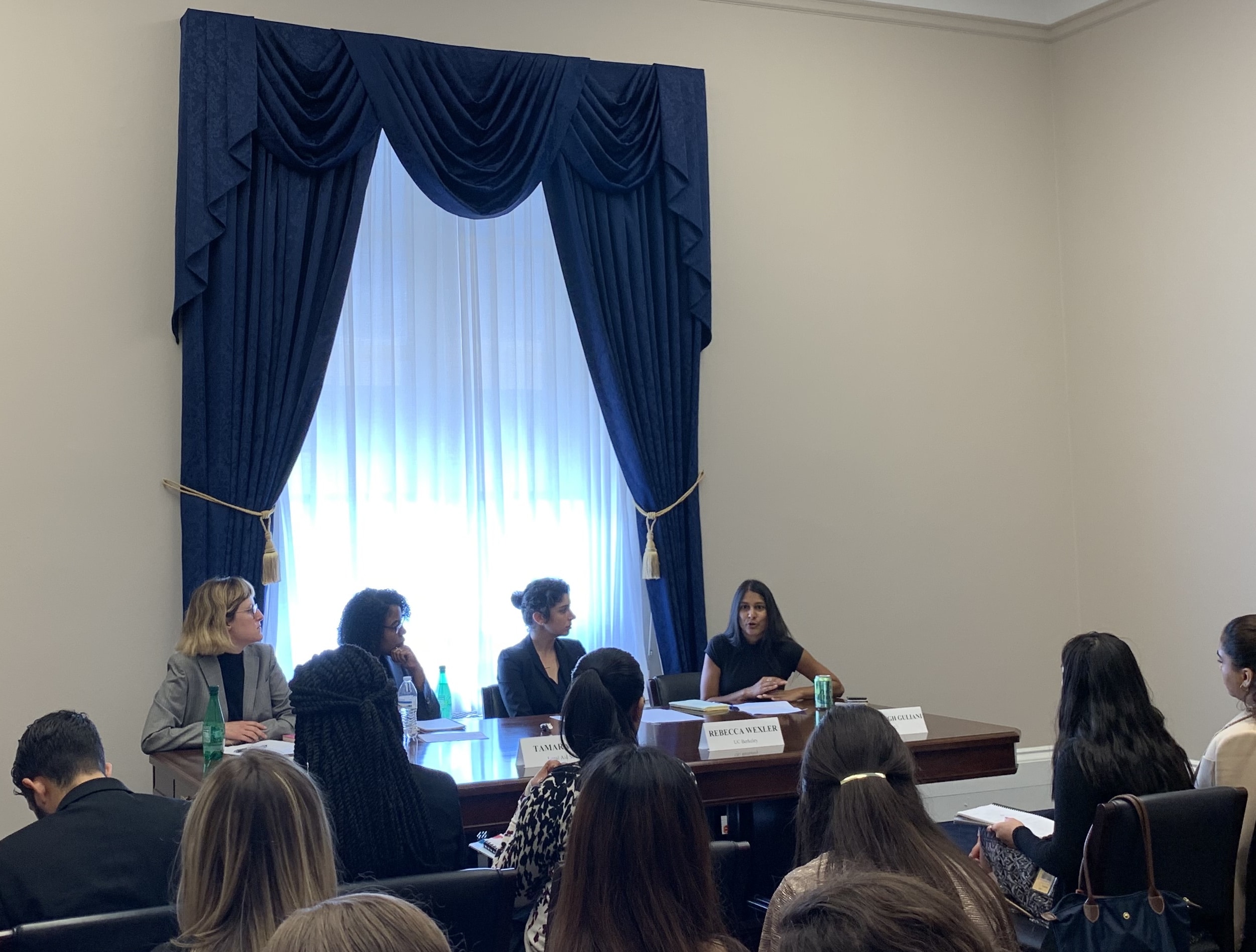 2. What is a typical week like for a TechCongress Innovation Fellow? 
My weeks varied quite a bit during the fellowship. There were a few weeks where I was staffing the Congressman for an event or drafting an op-ed and those weeks involved working with the Congressman and his communications director, scheduler, deputy chief of staff, legislative director and others to finalize the remarks or op-ed. I had the chance during my fellowship to work on a bill from the early research stages through its introduction, so I also had plenty of weeks that were more focused on research, talking to stakeholders, and drafting memos to summarize what I was learning. I would also make sure every week to attend briefings and hearings on issues I was interested in and to have coffee with people I met, often at those briefings, or who were also interested in issues of race, class, and power in technology. 
During my fellowship I got to go on a Congressional staff delegation to China that was focused on artificial intelligence so that week was quite amazing! We traveled to Beijing, Shenzhen, and Huangzhou and met with various government officials and technology companies to learn about what they were working on. I also had the chance early on in my fellowship to visit Riverside, California in the Congressman's district and take part in the annual staff retreat which was a really great way to get to know the district and staff. 
3. What tips would you give others applying to the TechCongress Innovation Fellowship? 
The best tip I can give is to figure out your unique story and throughline; think of it like a thesis statement for why the fellowship is the best next move for you and make that clear and consistent throughout your application. There is not one version of what a TechCongress fellow looks like. People come in with a range of backgrounds, interests, skills, goals, and political views. So rather than try to look like a "TechCongress fellow," think about what you have to offer and why you want to do the fellowship and speak to that. 
Emily Paul is a policy analyst at Upturn. She was previously a 2019 TechCongress Fellow in the Office of Congressman Mark Takano (CA-41). In Congressman Takano's office she drafted and helped introduce the Justice in Forensic Algorithms Act and the Office of Technology Assessment Improvement and Enhancement Act and ran a series of design thinking workshops for Congressional staffers. Prior to TechCongress she was a user experience researcher at Salesforce, where she conducted research with customer service workers to inform the design and development of Salesforce's customer service software. While at Salesforce she co-authored an open letter to the company's CEO challenging Salesforce's contract with Customs and Border Protection, which was signed by over 900 employees. Prior to working in technology, Emily worked in fundraising and communications at The New Press and at the Center for Global Development. Emily has a master's from UC Berkeley's School of Information and a B.A. in Economics and International Studies from Emory University.
Interested in applying? Bookmark the TechCongress Innovation Fellowship to your ProFellow account.
© Victoria Johnson 2020, all rights reserved