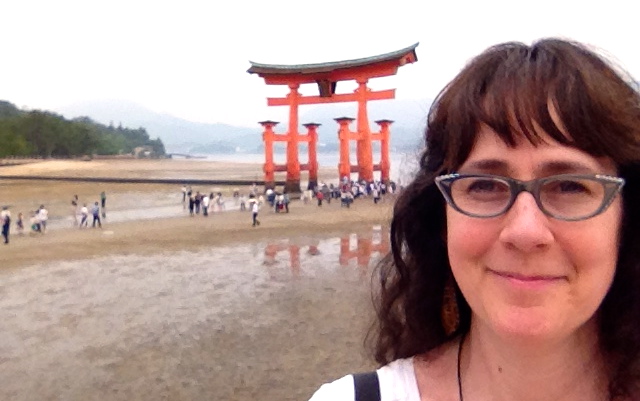 Each year, Fulbright's International Education Administrators Program (IEA) provides U.S. international education professionals and senior higher education officials a unique opportunity to attend a two-week study tour abroad to learn about the host country's education system as well as establish networks of U.S. and international colleagues. The mission of the fellowship is to provide grantees an enhanced ability to serve and encourage international students and prospective study-abroad students. In 2014, grantees visited India, Korea, France, Germany and Japan. To learn more about this opportunity, we interviewed Debra Clemans, Director of the Fulbright and Boren Programs at Portland State University, on her recent experience as a Fulbright IAE Fellow in Japan.
1. What inspired you to apply for the Fulbright International Educators Administration Program?
I've been working with Fulbright scholars and students at Portland State University for about ten years. This role is in addition to my duties as the international affairs chief finance officer. I had been aware of the Fulbright IEA throughout that time and contemplated submitting an application for at least the past five years but family matters and work responsibilities made it seem too challenging. I watched as some of my colleagues applied for Fulbright IEA programs. Being familiar with what Fulbright looks for in a strong application, I helped guide them through the process, assisting as they created institutional statements or reading their draft proposals and giving feedback. Then, in July 2013, I attended a session on Fulbright IEA opportunities at the National Association of Fellowship Advisors Conference in Atlanta, Georgia. I listened to other people in the field talk about their experiences in Germany, Japan, and Korea, and I was convinced. It was time for me to apply.
In the months before the deadline, I started contacting potential references and writing my essays. But I knew I was applying for a very competitive program! I knew that all my years of experience with Fulbright was not a guarantee. Yet I hoped my own Fulbright experience would help me develop a better understanding of what Fulbright programs are really like, to help me improve my Fulbright advising.  I wanted to learn about Japan and it's educational system because I had never been there before.  A previous visit to China led me to think about comparing and contrasting these two major Asian countries.  Plus, my institution had old ties to Japan that had diminished somewhat in recent years.  I wanted to learn about this place and the people and bring that fresh information back to my campus, to incorporate a new focus to my current responsibilities.
And there was another reason I wanted to apply to Japan.  One of my teen-aged sons would soon finish his second year of Japanese language.  If I was successful, I planned to have my kids join me in Japan once the IEA program ended, thereby creating an important travel opportunity for them as well.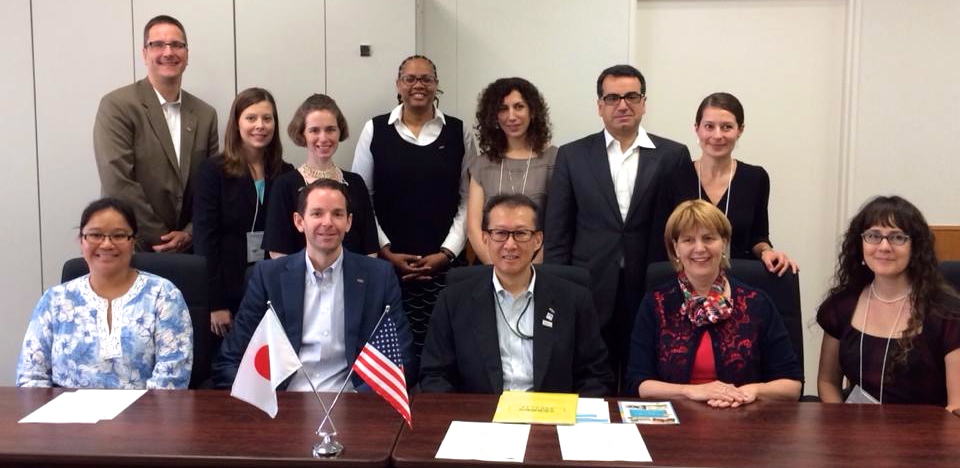 2. What was the fellowship experience like and how has the fellowship impacted your current work?
My group of ten Fulbrighters came from many different states and institutional types.  We represented public and private higher education, from small liberal arts colleges to large research-one universities. We were made up of international student advisors, fellowship advisors, honors program directors and deans. We ranged in ages and backgrounds. But we respected each other and got along really well. We went into each new meeting with a desire to learn, to ask questions, and share our expertise as well. We visited interesting cultural and historic sites and posed for more photographs than ever before!  We wished the program had been longer so we could visit more places, meet more people, and tour more sites! Our afternoon at Nijo Castle in Kyoto, the evening explorations in Tokyo, and the visit to Miyajima and Hiroshima Peace Park were outstanding! We would have gladly seen and done more things like that.
Once I returned home to Portland, Oregon, I found myself presenting about my experience, encouraging colleagues to apply to the IEA Program, and talking to students about the interesting differences in job searches and graduate education. I've sent messages back to some of the places we visited in order to cultivate partnerships between our institutions and I've made email introductions for some of my Portland State colleagues. I hope to see these efforts, like small seeds, grow and develop as the months and years progress.
3. What do you think made your application stand out?
Senator J. William Fulbright wanted to create opportunities for mutual understanding and cultural exchange.  In a globalized world, it's critical that we understand other people and places, that others learn what Americans are really like and not simply what they see on television and in the movies. Having never visited the country, having a role that directly relates to future Fulbright applicants, and sharing my interest in learning more about how international offices in Japanese universities manage their financial resources seemed like three good reasons for me to apply. Each was something Fulbright might look for in an applicant. I wrote about my desire to learn, to represent the US and my university, about Japan as a major influence in Asia, and how my previous travel in Asia had lead to some important insights as I worked with international communities at home.
One thing I didn't write in my application was my plan to bring my family to Japan at the end of the program even though I knew Fulbright values seeing their investments make exponential impacts. I focused my application on all the other reasons I wanted them to send me to Japan. I wanted those reasons to stand on their own. Then, bringing two teen boys to Japan would be extra special. And in the end, it was just that! For example, my kids got a tour of Nishi-Waseda University that would never have been possible without my Fulbright experience. It had quite an impact! My son who said he wouldn't take third-year Japanese language reconsidered after this trip. Perhaps my kids will one day decide to study at a Japanese university, thereby helping meet the educational exchange goals of Japan's government. It's too soon to know for sure but it's now a possibility that wasn't there before. Can a Fulbright really change your life or the lives of those around you? Maybe. There's only one way to find out.
Debra Clemans lives in Oregon and has worked at Portland State University since 1989, with the exception of a year at the University of Arizona. She's represented several PSU departments—the Writing Center, Liberal Arts and Sciences, Facilities Accounting, etc. For the past 17 years, a zeal for international education and the support of students has been her focus.
© Victoria Johnson 2014, all rights reserved.