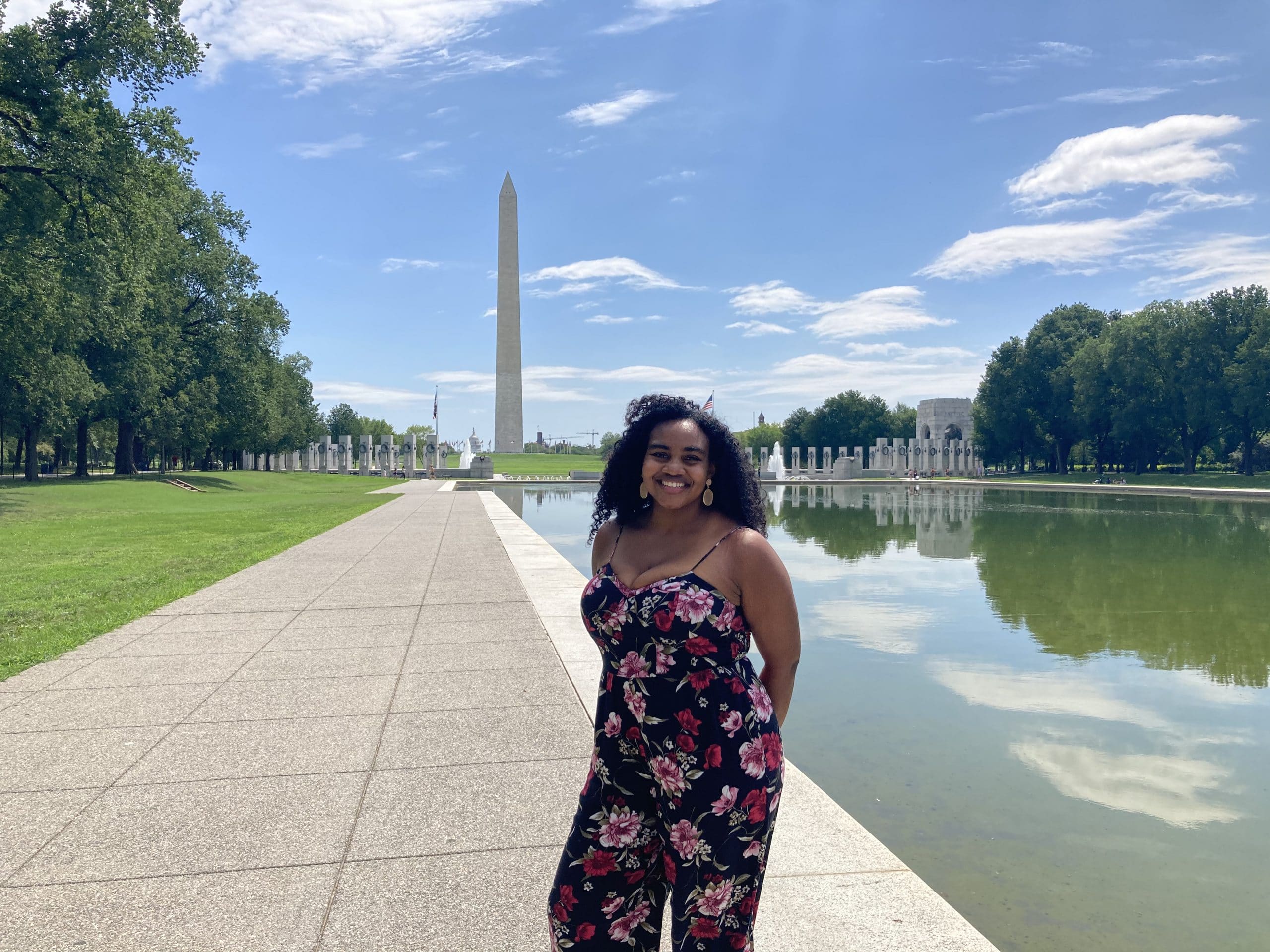 For those who want to become Foreign Service Officers in the U.S. Department of State, the Rangel Graduate Fellowship Program provides benefits of up to $95,000 over two years toward a two-year master's degree, arranges internships on Capitol Hill and at U.S. embassies, and provides mentorship and professional development support. Fellows can use the fellowship to attend two-year master's programs in U.S. institutions where they can study any area of relevance to the Foreign Service. Applicants must be college seniors or graduates looking to start two-year graduate programs in the fall, have GPAs of at least 3.2, and be U.S. citizens. 
We talked to Tiffany Brown, a 2021 Charles B. Rangel International Affairs Graduate Fellow who will attend Columbia University's School of International and Public Affairs. She told us more about the program and gave some helpful and practical application tips.  
1. What inspired you to apply for the Rangel Fellowship?
As I mentioned in my previous ProFellow article, I was inspired to apply to the Rangel Fellowship after my experience as a Fulbright ETA in Colombia. As an ETA, I engaged in citizen-diplomacy and gained experience telling a more nuanced and inclusive American story to international audiences. I didn't know this at the time, but a lot of the work that I did and would later come to love about my successive roles was that of a Public Diplomacy officer.
Later, as a Princeton in Latin America Fellow in the Dominican Republic, I managed education programs, trained multicultural and multilingual staff members, and organized experiential learning tours to connect international visitors with members of the local community where I worked. I gained so much personally and professionally during this time and it really solidified my desire to have a career of global impact. I realized my passion for connecting people across languages and cultures, which ultimately inspired my decision to pursue a career as a diplomat through the Rangel Fellowship.  
I was initially inspired to apply for the Rangel Fellowship when a fellow Colombia ETA alum announced that she had been awarded the Pickering Fellowship. After looking more into this career track and doing some informational interviews with current and former diplomats, I discovered that I could do all the things that I truly love about international work as a Public Diplomacy Officer.
As someone without a traditional undergraduate degree in international relations, I knew I wanted to gain more formal education in graduate school. The Rangel Program was a perfect fit because in addition to graduate school funding and a guaranteed position as a diplomat, another major element of this program is the plethora of professional development, mentoring, and networking opportunities. 
After exploring a variety of options, I ultimately decided that this career and fellowship program was the perfect fit.
2. What are the benefits of the Rangel Fellowship? 
The fellowship offers $42,000 annually in assistance for tuition, room, board, books and other related expenses. Additionally, there are paid internships the summer before and after your first year of graduate school. The domestic internship is on Capitol Hill and the overseas internship is at a U.S. Embassy of your choosing. Fellows also benefit from ongoing mentoring and professional development throughout their fellowship experience. Upon graduation, they enter the Foreign Service. 
I just finished my Congressional internship at the end of July. It was a virtual experience, but I still learned so much in such a short time. In addition to learning about the role of Congress in shaping our foreign policy, I've gained so much more insight into the challenges that policymakers face in shaping and informing constituents about our domestic policy. My most memorable experience from this summer was drafting social media copy that was used by the Congressional Black Caucus commemorating the passing of Juneteenth legislation. As someone who didn't have much formal exposure to policy or foreign affairs previously, this internship has been eye-opening!
Another major benefit has simply been the wonderful people I've had the opportunity to meet this past summer. We are a cohort of 45 from diverse ethnic, social, and professional backgrounds. Despite meeting only virtually, we've still managed to cultivate a tight-knit and supportive group. Each week, we've had an exciting line-up of professional development workshops ranging from speaking with ambassadors and congressional staffers to preparing for our future careers through crisis management and writing exercises. Another memorable highlight was meeting  our program's namesake, Congressman Rangel and learning how diversity and inclusion in public and international affairs has evolved over the years. The professional development has been intense, but it has been the crash course in all things foreign affairs and writing that I've needed. I haven't written this much since I graduated undergrad in 2014! In the short time I've been a fellow, the program has already exceeded my expectations. 
I look forward to expanding my knowledge through my graduate studies this fall! 
3. What tips would you give others applying to the Rangel Fellowship? 
Here are 8 tips that helped me navigate the application process:
Focus on mindset and believe in yourself.

I was initially so intimidated by the process that I almost didn't apply! I knew nothing about diplomacy and reading prior fellows' bios gave me a serious case of imposter syndrome. I initially believed that I was at a disadvantage because it seemed like so many fellows majored in international affairs or political science and had a very clear "trajectory" so to speak. When I expressed my concerns with former fellows, they told me that the U.S. Foreign Service seeks people that embody the

13 Dimensions

. In the U.S. diplomatic corps you can find people from a variety of educational and career paths, ranging from former zookeepers to former Peace Corps volunteers. 

Conduct informational interviews.

This is especially important if you are not particularly familiar with the Foreign Service or the fellowship application process. I tapped into my personal networks and looked at the fellowship directories to connect with diplomats and former fellows before conducting informational interviews. Not everyone has time to speak with you, but oftentimes, they can connect you with someone who does. The contacts I made were incredibly reassuring and supportive throughout the entire application process. I'm still in contact with most of them and look forward to their mentorship as I progress throughout the fellowship and my career. 

Attend the webinars!

Rangel hosted many webinars for prospective applicants during the 2020 recruitment cycle. I learned a lot about the fellowship as well as the application process just by attending and asking questions. 

Embrace the 13 Dimensions!

This is how you are assessed in the application and interview process. Make sure your application tells a compelling narrative about your motivations to become a public servant and ensure that you embed each of these dimensions throughout. 

Have multiple editors!

I always recommend reaching out to your undergraduate fellowships office and writing center to help with essay review. 

Reach out to your recommenders early.

When requesting the letter, briefly explain the fellowship to them and share drafts of your application essays and your CV. I also shared a copy of the 13 Dimensions with them and asked that they emphasize appropriate examples that demonstrated them. 

Apply!

You miss 100% of the shots you don't take. Remember, it's ok if you aren't successful in this application cycle. Many fellows that were unsuccessful in previous application cycles were later able to secure the fellowship in a later year. Don't forget to also apply for the Pickering and Payne Fellowships simultaneously. 

Bonus tip for those that are invited to the interview stage:

  Relax and breathe. You've made it this far and you can definitely do this. The most important aspect of the interview process is to know yourself, know your why, and know the 13 Dimensions!
Tiffany Brown is an advocate for diversity and inclusion in global education. Shortly after graduating with a BA in Spanish (2014) from the University of Georgia, she moved to Medellin, Colombia and worked as a Fulbright English Teaching Assistant at la Universidad de Antioquia. Later, Tiffany spent two years working as a Princeton in Latin America fellow at an education nonprofit in the Dominican Republic, where she pursued her interests in social justice and community education. She has continued her commitment to inclusive global education through her work with various organizations supporting equitable access to experiential learning opportunities. As a 2021 Charles B. Rangel International Affairs Graduate Fellow, Tiffany will be attending Columbia University's School of International and Public Affairs. In her free time, Tiffany enjoys traveling and dancing. She is fluent in Spanish and has studied Portuguese and Haitian Creole. 
Interested in applying? Bookmark the Rangel Fellowship to your ProFellow account.
© ProFellow, LLC, all rights reserved 2021