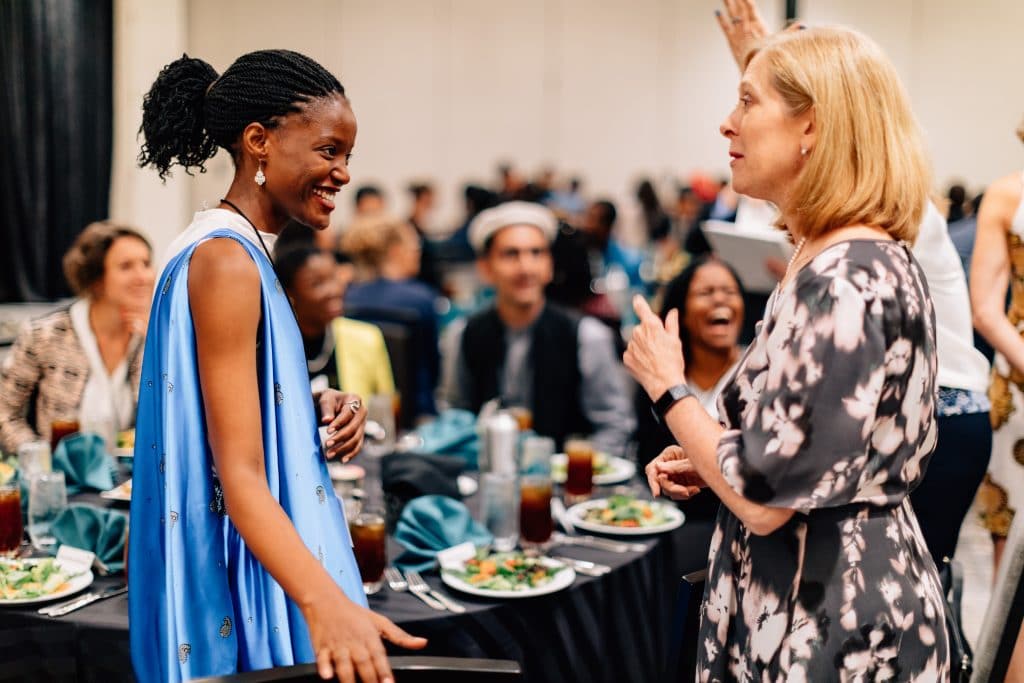 The Community Solutions Program is a professional leadership development program for the best and brightest community leaders worldwide. The program supports any emerging leader that is working towards creating positive change in their communities in one of the four thematic areas: tolerance and conflict resolution, environmental issues, transparency and accountability, and women and gender issues. 
The Community Solutions Fellows complete a four-month fellowship with a U.S nonprofit organization or local government agency. The Community Leadership institute also provides an integrated leadership curriculum and individualized coaching throughout the fellowship. Fellows then return home to apply their new skills through a Community Action Project.
The Community Solutions Program is sponsored by the U.S. Department of State with funding provided by the U.S. Government and supported in its implementation by IREX.  
We talked to Maureen Nirere, a 2019 Community Solutions Fellow placed at a nonprofit in Rochester, New York, to learn more about the program and get some application tips.  
1. What inspired you to apply for the Community Solutions Program? 
For the past five years, I have served as a Programs Coordinator for Acts4Rwanda, a grassroots nonprofit in Rwanda that supports the education of needy and vulnerable children. I also volunteered for the Women's Initiative International, a nonprofit that empowers women and girls through vocational and entrepreneurship training and employment.
I was inspired to apply for the Community Solutions Program because I felt that the fellowship provided a unique opportunity for me to develop my leadership skills and learn the tools and strategies I needed to strengthen my development work in Rwanda. 
Each year, the fellowship brings together 80 community leaders and activists from all over the world. Fellows come with different experiences, perspectives, and approaches to solving world complex challenges. Getting to be part of such a rich community of thought leaders on various issues also inspired me to apply for this prestigious fellowship.
Each Fellow is matched with a host organization in the United States of America, and for the four-month duration of the practicum, fellows and their hosts exchange knowledge, experiences, and expertise. I was inspired to apply because I saw this was an opportunity for me to acquire world-class experience and develop my professional network.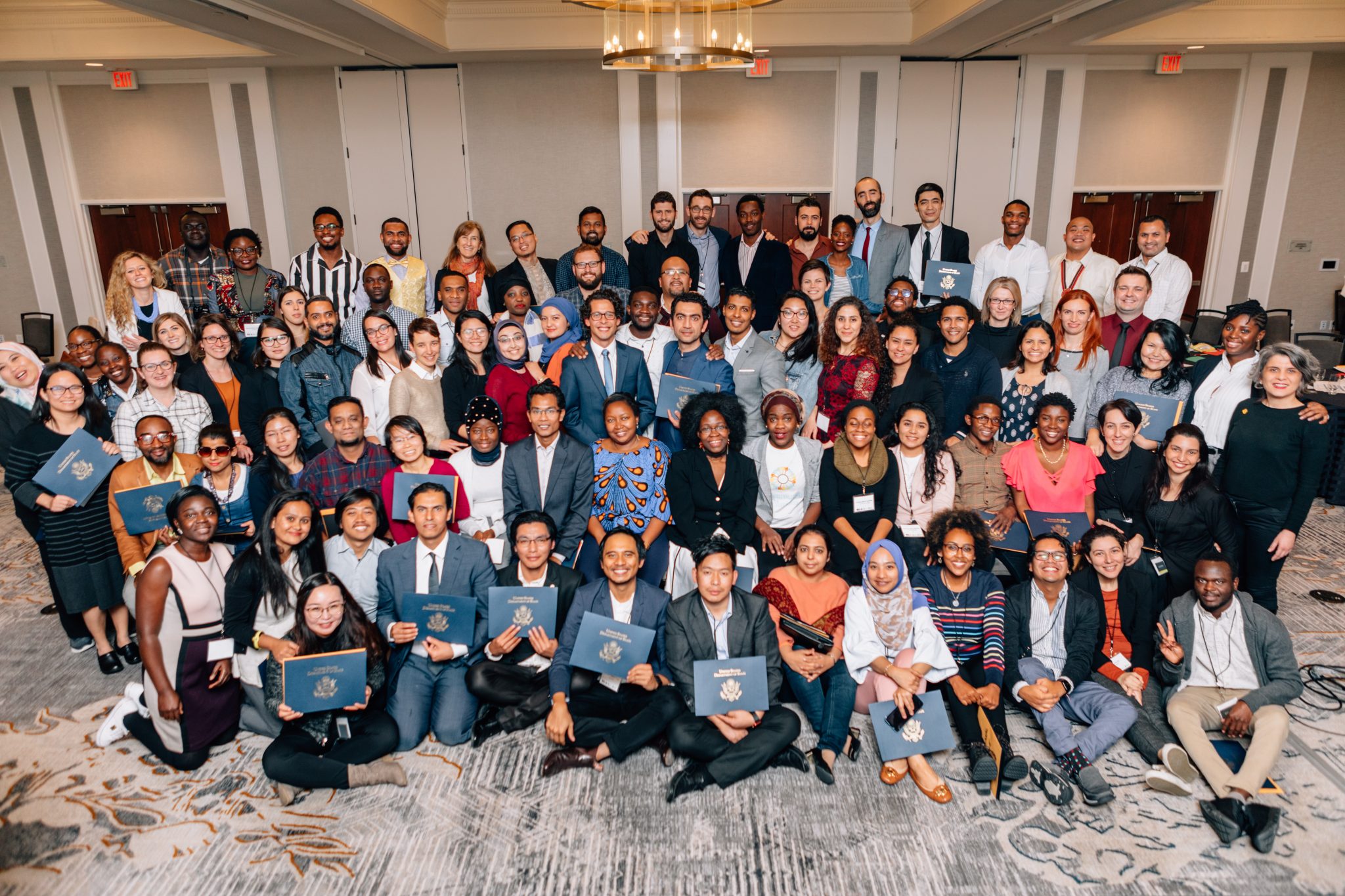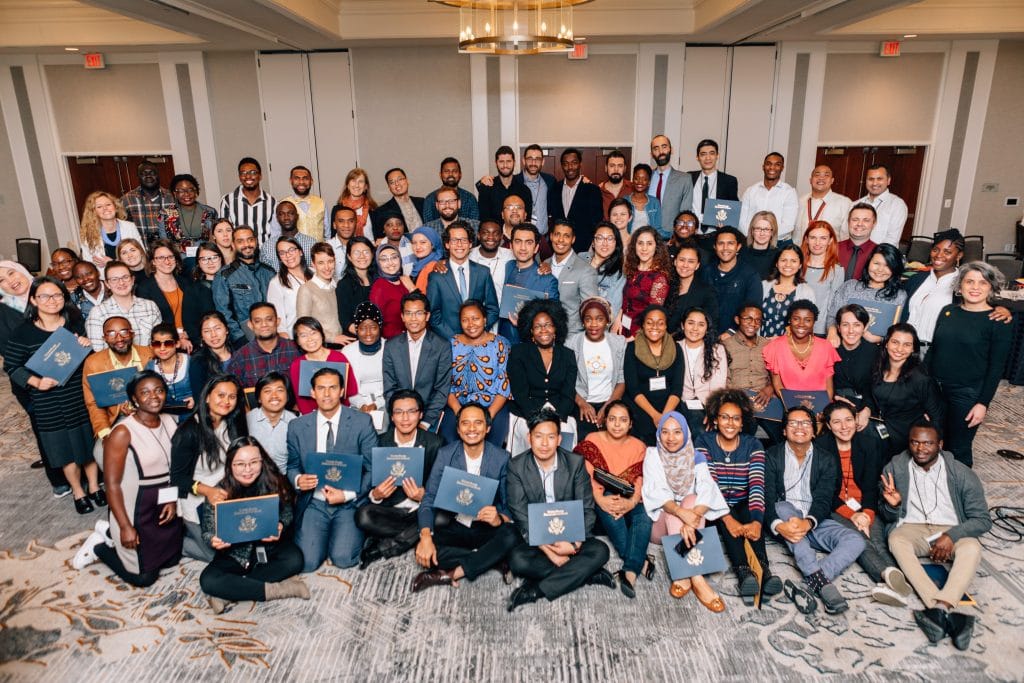 2. What have been some of the most eye-opening moments during your program?
I was placed in Rochester, New York at the Young Entrepreneurs Academy (YEA!), a groundbreaking nonprofit organization that transforms local middle school and high school students into real, confident entrepreneurs. I had never seen any program like this in my home country, and this was an eye-opening moment of my fellowship.
My day-to-day wasn't routine, which made the overall practicum experience outstanding! I got to work in different departments and on various projects at the Young Entrepreneurs Academy that spanned from marketing the Academy, helping with recruitment of students, client relations, social media, research, grant writing, logistics, to managing the class.
I also had an opportunity to be part of the team that prepared the Rochester Cover Girls and Model women project, an event that will bring together influential and successful businesswomen in the Rochester community to inspire young girls to become entrepreneurs. The event will also raise funds that will provide need- and merit-based scholarships to promising young female entrepreneurs.
My highlight of the fellowship was having Dr. Deidre Combs as my personal leadership coach. Through the four months practicum, she guided me as I defined my personal vision, code of conduct, leadership brand, and so on. Dr. Combs pushed me out of my comfort zone and helped me keep pushing myself to grow. I can confidently say I discovered so much about myself and my place in the world throughout my practicum.
I also made time to meet people outside my work and learn about other things not necessarily related to my work at the Young Entrepreneurs Academy. For instance, I got to learn about childhood trauma and emotional health through the Children's Institute based in Rochester, NY, something I was interested to learn about because I work with children in Rwanda. 
Above all, nothing compares to the life-long relationships I developed throughout my fellowship. I attained a family of friends from all over the world that are an email or call away to offer support, knowledge, advice, encouragement, and love. This – and so much more – is what the Community Solutions Program offers!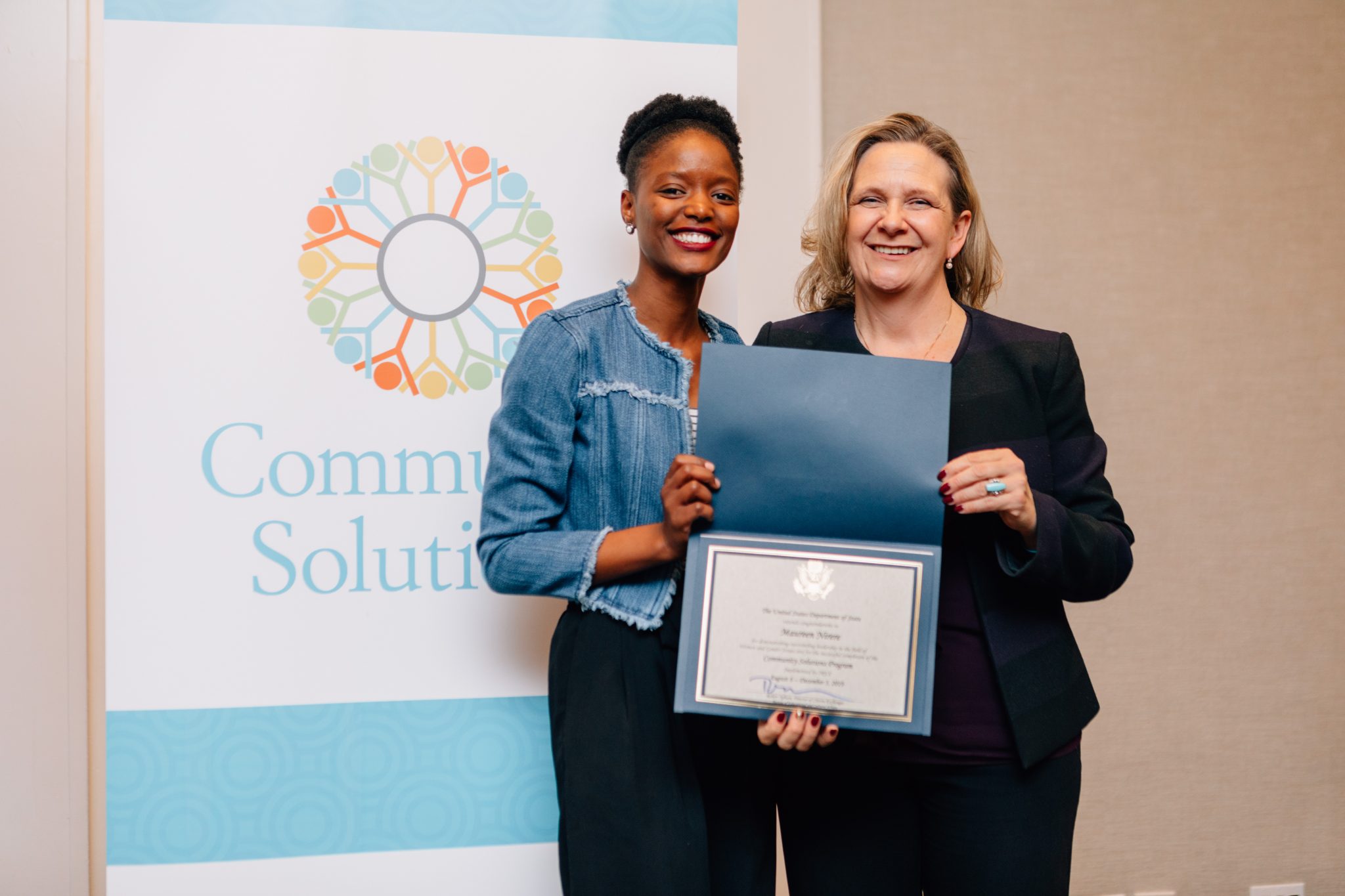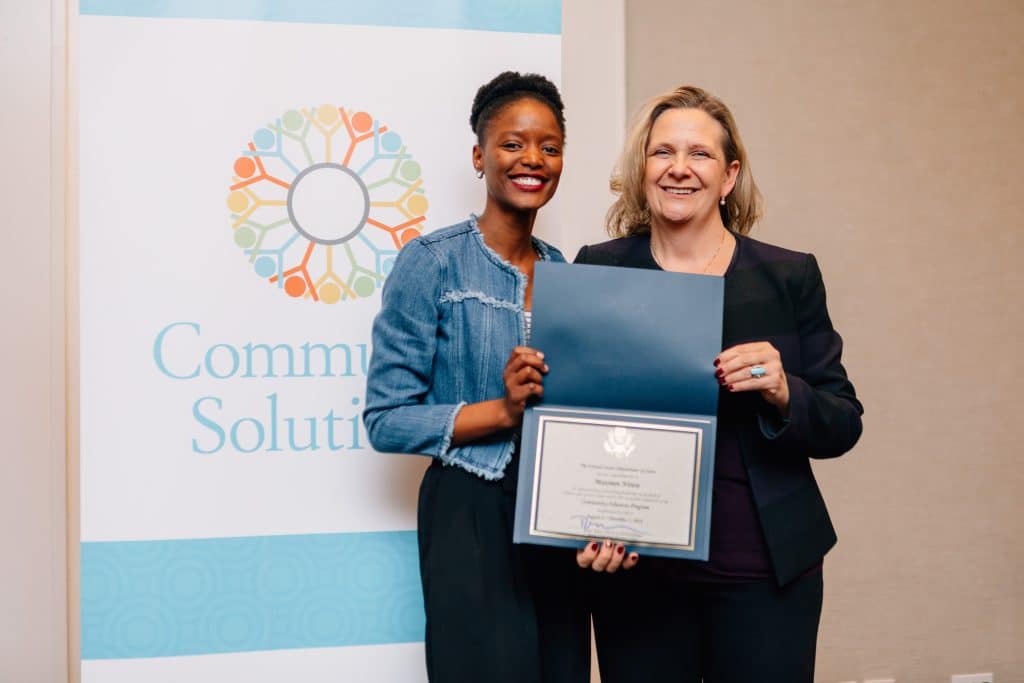 3. What tips would you give others applying to the Community Solutions Program?
If you are a passionate community leader who wants to improve your capability for local community development and problem-solving, then this is a fellowship tailored just for you. 
The Community Solutions Program is always looking for candidates working in the area of environmental issues, tolerance and conflict resolution, transparency and accountability, or women and gender issues. Believe in yourself and just apply for this life-changing fellowship! 
For any aspiring Community Solutions Fellow, I have six tips highlighted below;
1. Stay updated
Follow the "Community Solutions Program" page on Facebook, Twitter, or Instagram to stay updated on the Application timeline or check on the Program's website.
2. Don't wait until the last minute to apply
The Community Solutions Program is an extremely competitive program, and it attracts thousands of applicants. Therefore, start the application process as soon as the application is live. Don't wait for deadlines! 
There are mainly three main phases in the application and interview process.
In the first phase, the applicant will click on a link on the website and respond to a number of essay questions which may include, but not be limited to:
Why are you applying for the program? 

What problem are you working on in your community? 

What is your motivation to work on the specific issue? 

What challenges have you faced in your community work and how have you responded to them? 

What do you hope to benefit from being part of the Community Solutions Program? 
If you are selected as a Semi-finalist, you will respond to several questions in a video recording. 
Finally, if you are selected as a finalist, you'll be required to take an English Proficiency test, which is mostly the TOEFL test (Test of English as a Foreign Language). It is important that you practice for the test months prior so that you get an excellent score. You will also be required to take a medical exam at this stage, and your job is done at this point!
3. Be authentic
For your application to stand out among thousands of applicants, be your authentic self. The essays and video recordings should be about you, your work and experiences. Don't forget to let your character and personality shine throughout your application! The best interviews are always unique and are outstanding!
4. Know your why!
I think this is the most important tip that I would give anyone applying for any fellowship. Know your why! Ask yourself, why do you want to apply for this specific fellowship? Why do you do the work you do?
When you are certain of your why, the application process will go smoother because you'll remember what you're working towards.
5. Be bold and confident 
Exude confidence throughout your application. Don't shy away from mentioning accomplishments and clearly stating what you can contribute to the fellowship. I struggled in the past stating my "minor" accomplishments and missed out on many opportunities! Don't be like Maureen!
6. Accurately meet every requirement
Finally, make sure you answer every question to the best of your knowledge and accurately meet every requirement throughout the application and interview process. 
I truly appreciate your taking the time to read this article. I wish you all the best as you pursue your dreams and hope you join the growing family of the Community Solutions Program. Don't tire from doing good as you keep impacting lives through your work. 
Maureen Nirere is a 2019 Community Solutions fellow and currently resides in Kigali, Rwanda. She attended the University of Dar es Salaam in Tanzania where she earned her BSc. in Molecular Biology and Biotechnology. After graduating from college in 2014, she returned to Rwanda where she started volunteering for Acts4Rwanda, a local nonprofit that supports the education of vulnerable and needy children in Rwanda. She is currently the Country Director of Women's Initiative International, a nonprofit based in Arkansas, USA that works with impoverished women around the world to train in trade, build confidence, and partner with them to grow their small businesses. Maureen Nirere has experience managing nonprofit organizations and is passionate about empowering women and girls, and advancing youth education. 
Interested in applying? Bookmark Community Solutions Program to your ProFellow account.
© Victoria Johnson 2020, all rights reserved.