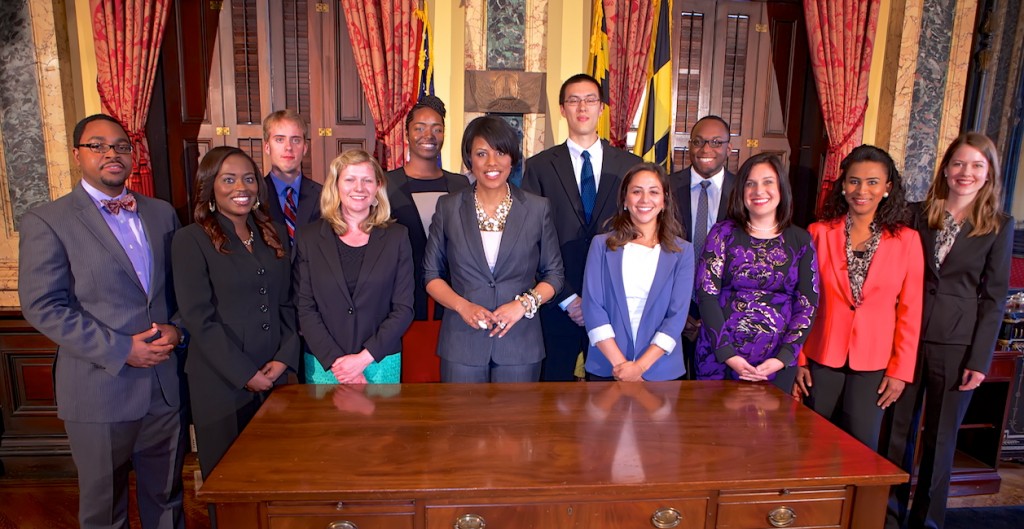 Seeking a summer policy fellowship in city government? The Baltimore City Mayoral Fellowship provides a 10-week full-time placement in a mayoral office or Baltimore City agencies, during which Fellows are placed in agencies based on their background, interests, and the needs of the agencies and departments. Under the direction of senior level government officials, Fellows are assigned to projects that focus on myriad public policy issues and challenges. Mayoral fellows also participate in weekly brownbag lunches with officials and community leaders, to discuss issues such as business development, housing, crime, civic engagement, education, health, and community redevelopment. Fellows also participate in teambuilding, networking, and social activities throughout the summer. Eligible applicants must have completed the junior year of their undergraduate degree by the start of the fellowship program. Fellows receive a stipend of $4-5,000. To learn more about this unique program, we asked recent Mayoral Fellow Michelle Rau about her experience on the fellowship and her fellowship application tips.
1. What inspired you to apply for the Baltimore City Mayoral Fellowship?
I applied for the Baltimore City Mayoral Fellowship to explore a city planning career on the east coast. I discovered my passion for urban policy as I embarked on a college career in Eugene, Oregon, a small college town bent on the Willamette River, Douglas firs, vintage Shwinns and local everything. I grew up in Los Angeles, the city of sprawling freeways, tract homes and not enough aqueducts. It wasn't until leaving my hometown that I realized the immense amount of strategy and decision making required to support millions of people's every day and community needs. I received my first internship in the City of Eugene Planning Department where I got my first insights on economic development, transit-oriented development and community engagement. Post internship, I decided to follow my lifelong dream of discovering east coast cities with a focus on public policy. I saw the Baltimore City Mayoral Fellowship as an exciting challenge as the city is on the cusp of overcoming a myriad of challenges that can be solved through strategic policy-making.
2. What are the benefits of the fellowship?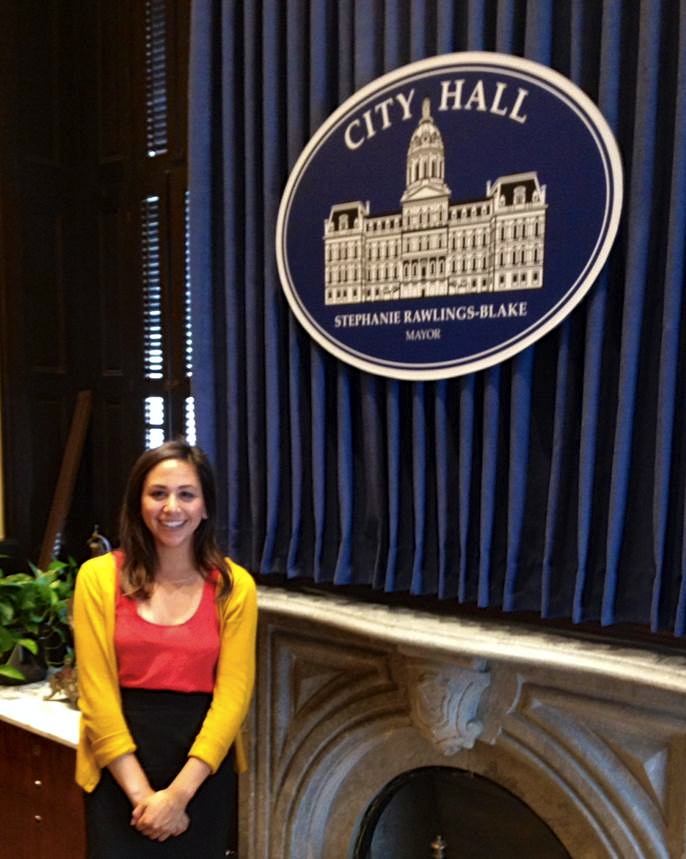 The Baltimore City Mayoral Fellowship was an incredible opportunity because the program offers much more than a valuable professional experience. Primarily, fellows are handpicked to take on high profile policy issues the city faces and offer compelling and actionable solutions. Fellows dive in to the issues with full support from their agencies and experience firsthand challenges and triumphs working in local government. Fellows have the unique experience of being both a fly on the wall, gathering any and all information, and an active agent of change putting together research and analysis on a 10-week deadline. Throughout the program, fellows are encouraged to reach out to high level decision makers for project support and ultimately present their findings and policy recommendations to the Mayor and senior staff.
In addition, fellows have weekly opportunities to meet with the city's senior staff and agency heads, corporate executives and community leaders to engage in conversation about the city's top initiatives. Some of my favorite events were a tour of the city's past and present via bicycle, a tour of the iconic Domino Sugar Factory and an all-night police ride-along. Lastly, fellows experience the fellowship as a cohort of young, driven and talented 20-somethings from the region and beyond, striving to make the City a better place. Having moved from across the country for the fellowship, I was thrilled to get to know the other fellows I found so inspiring and make long lasting friends and memories.
Lastly, the objective of the Mayoral Fellowship is to acquire and retain young talent working for Baltimore City. For individuals seeking careers in public service, the Mayoral Fellowship is the ideal platform to get your foot in the door. Some fellowship alumni that have continued to work for the city are amongst the most influential people in the city.
3. What tips would you give others applying to the fellowship?
To others seeking the Baltimore City Mayoral Fellowship, I would advise that applicants have strong skills in research, policy analysis and most importantly, garnering support amongst stakeholders. In local government, it's all about relationships. Anyone interested in breaking onto the scene is going to need some skills in navigating the political scene, so it's critical to make connections and foster relationships. Applicants should focus on experience with project management and decision making, whether in the local government field or not, in their application and interviews. While fellows will focus on a single issue, coordination and managing priorities are essential skills for the fellowship. Above all, prospective fellows should be passionate about local public policy issues and eager to embrace a new challenge. A shout-out to the Ravens or Orioles will probably also go a long way!
Born and raised in Los Angeles, Michelle Rau has a passion for urban policy. After studying planning & public policy at the University of Oregon, she spent nearly a year with the City of Eugene to implement key economic development initiatives in the city's newly adopted 20-year plan, Envision Eugene. Since her Baltimore City Mayoral Fellowship, she has continued to work for the City of Baltimore as an Analyst for the Department of General Services.
© Victoria Johnson 2014, all rights reserved.