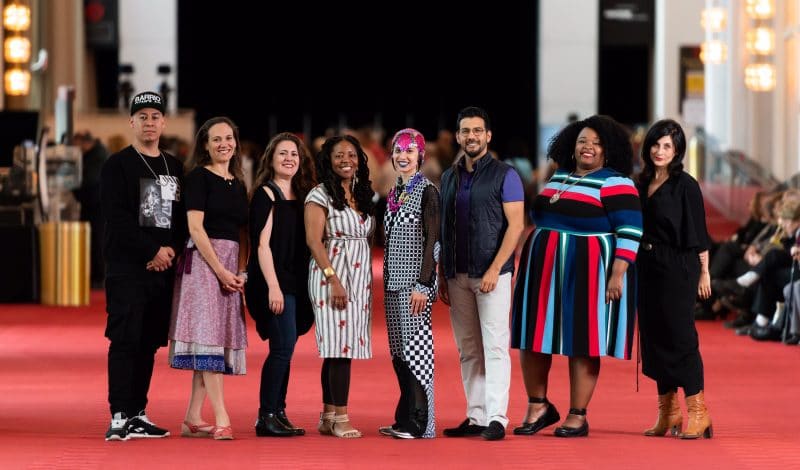 The Kennedy Center Citizen Artist Fellowship provides fellows with customized resources and support to advance their work. The year-long program provides mentorship, participation and presentation opportunities at the Kennedy Center's annual Arts Summits, conference calls with Kennedy Center staff, as well as consultations and personalized coaching. Most of the fellowship occurs in the fellows' home communities, but all transportation and housing for Arts Summits and a Summer Retreat are provided by the Kennedy Center.
We talked to Mi'Jan Celie Tho-Biaz, an oral historian and 2019 – 2020 Kennedy Center Citizen Artist Fellow, to learn more about the program and get some application tips.  
1. What inspired you to apply for the Kennedy Center Citizen Artist Fellowship? 
The Kennedy Center Citizen Artist Fellowship is by nomination only for artists across the United States who utilize their art forms to create a positive impact in their local communities while embodying President John F. Kennedy's ideals of courage, freedom, justice, service, and gratitude. Each Citizen Artist is chosen through a competitive nomination process and represent artistic, geographic, and cultural diversity in the United States.
I feel extremely honored receiving this recognition at this point in my career, and the key highlights that I am personally excited about and looking forward to are:
2019 and 2020 Arts Summits, where I get to gather and community-build with the other seven Fellows, as well as national thought leaders from the arts 

presenting a public program during the Kennedy Center's REACH Opening Festival week, which is my opportunity to share a small portion of my oral history story series that I am producing and to pull the curtains back on my practice by teaching some of my methods 

attending the multi-day Citizen Artist Fellow Retreat, where I will join  other Fellows and individually and collectively work on building my Professional Development Plan while receiving mentorship from Kennedy Center leadership and artistic partners,

and an opportunity to present my newest body of story series work on the Millennium Stage.
While I am just beginning my year as a Citizen Artist Fellow, I have to say that one of my best surprises so far has been the Kennedy Center leadership and staff's authentic desire to build relationships and provide mentorship. My cohort and great Fellows from previous Citizen Artist cohort years do a great job of maintaining this emphasis on relationships and mentorship as well. 
2. How has the fellowship experience influenced your current work?
I have to say that prior to being a Citizen Artist Fellow, I found it difficult to bring my whole self forward professionally. I lead and design regional equity programming in the nonprofit sector; I serve as faculty in a cultural leadership program at the Banff Centre in Canada; and I design and produce justice-based, community-reflective story series projects nationally. All of these aspects of my cultural portfolio body of work make absolute sense to me and the community partners I collaborate with; however, having an expansive creative practice does mean that I do not fit into one clear box, which confuses some people. 
Being honored by and in community with our nation's cultural center through the Kennedy Center Citizen Artist Fellow recognition helps to contextualize my work, bonds me together with a community of outstanding cultural workers and artists, and provides support, mentorship, and a national platform for me to braid each of the parts of my practice into one body of work.
3. What tips would you give others applying to the Kennedy Center Citizens Artist Fellowship? 
Nominations open up in the fall of each year, and there is no interview process. My biggest and strongest recommendation is to speak with previous Fellows from your region, or aligned with your artistic background, to get a sense of this recognition program and how you may best fit. Then, of course, speak up! Talk with peers and seasoned mentors who would love to nominate you.
When I consider why I was chosen, I believe that my personal ethics combined with my community-based documentarian and oral history practices, as well as my cultural work research and justice-based teaching experiences, strongly match the values and ideals of the Kennedy Center Citizen Artist Fellow Recognition program. I showed how I fit into their vision of the program not just for this fellowship year, but into the distant beyond.
Dr. Mi'Jan Celie Tho-Biaz, Ed.D., is a cultural leader, oral historian and documentarian who works with communities across the themes of sovereignty, transformation, healing and equity to honor their past, make meaning of their present, and vision loving and liberated futures. 
A 2019 – 2020 Kennedy Center Citizen Artist Fellow, one of Santa Fe New Mexican's 2017 "10 Who Made a Difference," and University of San Francisco's 2018 "Living the Mission" award recipient, Mi'Jan Celie is the founder and directs the New Mexico Women of Color Nonprofit Leadership Initiative at the Santa Fe Community Foundation, and serves as faculty with the Banff Centre. 
As a national speaker, Mi'Jan Celie shares stories from her community engagement work, recently keynoting at Stanford University's "Culturally Responsive Pedagogy and the Arts" conference, as well as the Create Justice Forum at Carnegie Hall. 
Visit www.mijancelie.com to follow her wanderings and wonderings.
Interested in applying? Bookmark the Kennedy Center Citizen Artist Fellowship to your ProFellow account.
© Victoria Johnson 2019, all rights reserved.