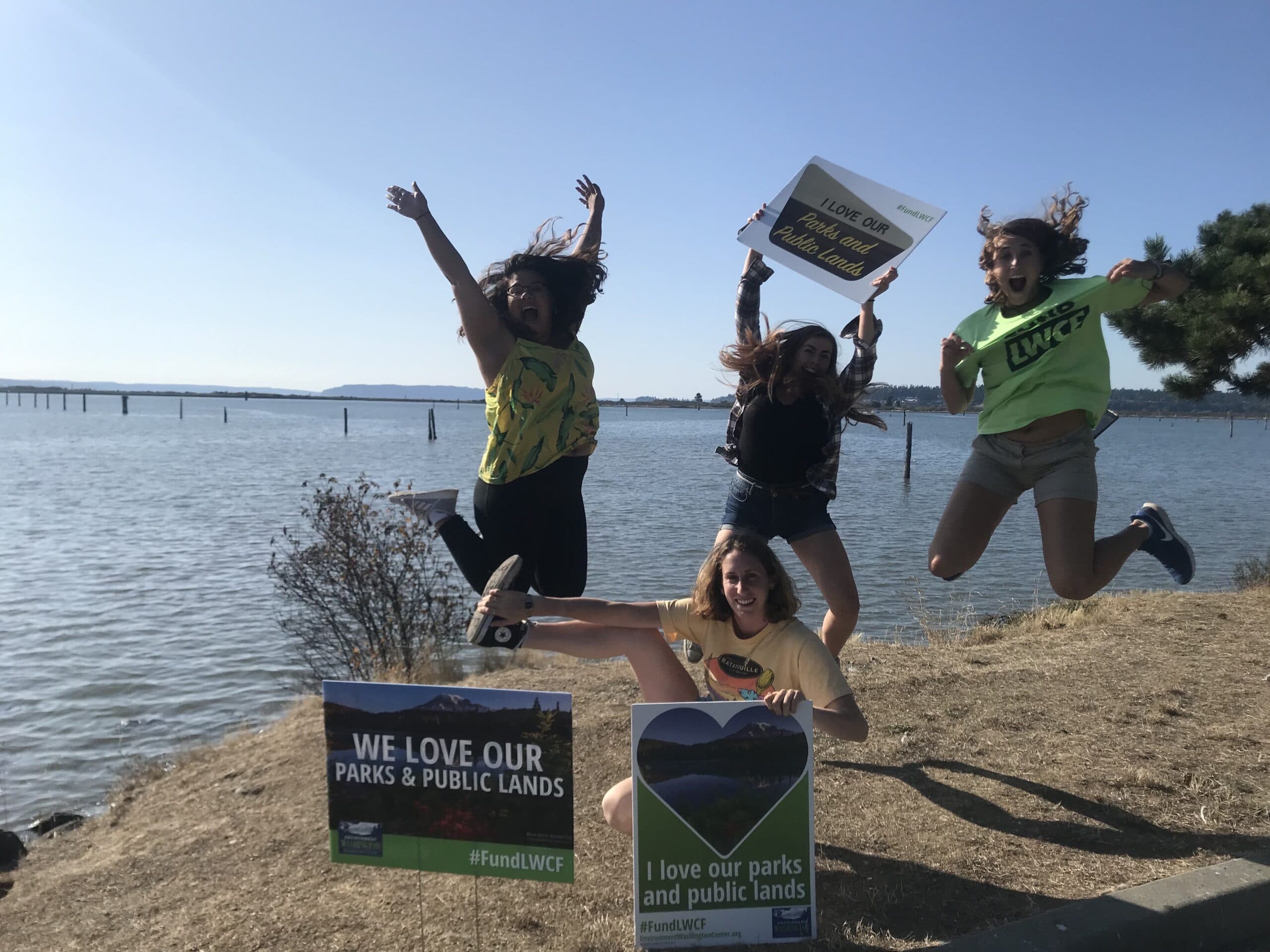 Environment America's mission is to transform our ideas and imaginations into change that makes our world a greener and healthier place. The organization builds support for clean, renewable energy, campaigns against pollution and climate change, and protects wildlife and wild places. They do what it takes to turn public opinion and political momentum toward a greener, healthier world. 
The Environment America Fellowship plays an integral role in this process. Fellows build powerful coalitions, learn how to earn attention from traditional and social media, lobby elected officials, research and write reports, and identify donors. Each summer, fellows run a grassroots campaign office, hiring and managing canvassers, raising money, and winning key campaigns. The target annual compensation for this position is $27,500. Environment America offers a competitive benefits package.
We talked to Jamie Lockwood, a current Environment America Fellow in Washington, D.C., to learn more about the program and get some application tips.  
Applications for the Environment America Fellowship are now open! Learn more and apply now for positions in 2020.
1. What inspired you to apply for the Environment America Fellowship?
I entered college with the intent of studying environmental science and specializing in wildlife conservation. My passion and academic pursuits took me to Northern Vietnam for a summer to work at a pangolin rescue, rehabilitation, and release center. It was exactly what I was looking for; however, I found myself thinking that I wasn't making enough of a long-lasting change. There was always the chance that the animals we released would again end up in the same situation that harmed them in the first place. That's when I altered my studies to focus more centrally on policy. 
The Environment America fellowship stood out to me because of the amount and breadth of experience you can gain in just two years. Early in the program, you become an expert on your campaign and at writing and submitting op-eds, lobbying to elected officials, and in some cases even writing legislation. I wanted to not only gain those skills but also more completely understand the full life cycle of policy, starting with visibility work in communities. 
2. What kinds of campaigns have you been involved in and how has the program empowered you to make a positive impact? 
My primary campaign is securing permanent funding for the Land and Water Conservation Fund (LWCF). The LWCF has been our country's most successful conservation and recreation program for the past 54 years. It has funded projects from the Grand Canyon to local neighborhood parks. 
Despite all the great work the program has done, Congress has almost never fully funded it. There are now bills that would change that. I have been working in communities to connect people's favorite places to the LWCF and raise visibility for the issues. I also lobby Congressional staffers to increase support on Capitol Hill for the bills. 
This campaign has empowered me to make an impact because it bridges many political gaps. Everyone can identify with a park. Whether you have traveled to an American icon or grew up on a playground funded by the LWCF, parks and public lands are something we can all have a connection with. This campaign has shown me that there are some policies and bills that have wide-sweeping support regardless of what side of the aisle someone might be on. 
3. What have you enjoyed most about your fellowship so far?
No day on the job is exactly the same. I juggle multiple projects at once that are constantly changing and evolving. There are plenty of events to attend and new people to meet. It is a really dynamic job; you could be called away from your desk at any moment, which I find really exciting. 
4. What are the benefits of the fellowship? 
The people you meet and the responsibility you take on are the biggest perks of the position. The other people working for the organization have accomplished so much and are driven by great passion. They are inspiring to work next to and great mentors that actually take the time to invest in my professional development. I also feel as though I am getting five years of experience in a two-year span because of the role and responsibilities that I have taken on right off the bat. 
5. What tips would you give others applying to the Environment America Fellowship? 
Environment America is looking primarily for candidates that are driven by more than ambition. We want passionate applicants that are ready to make a difference in the world. While the fellowship is a catalyst for professional development, we are more interested in candidates that want to work towards a greener world than to elevate themselves. We are also looking for candidates that are engaging and able to speak to anyone about the issues about which they are passionate.
Jamie Lockwood was born in Beaverton, OR, but raised mostly in Richmond, Va. She went to school at Duke University where she graduated with distinction and was captain of the Varsity Women's lacrosse team. Jamie is passionate about sustainability and conservation and is currently working as an Environment America Fellow in D.C. In her free time, Jamie is fostering dogs and exploring D.C. one run at a time.
Interested in applying? Bookmark the Environment America Fellowship to your ProFellow account.
© Victoria Johnson 2019, all rights reserved.