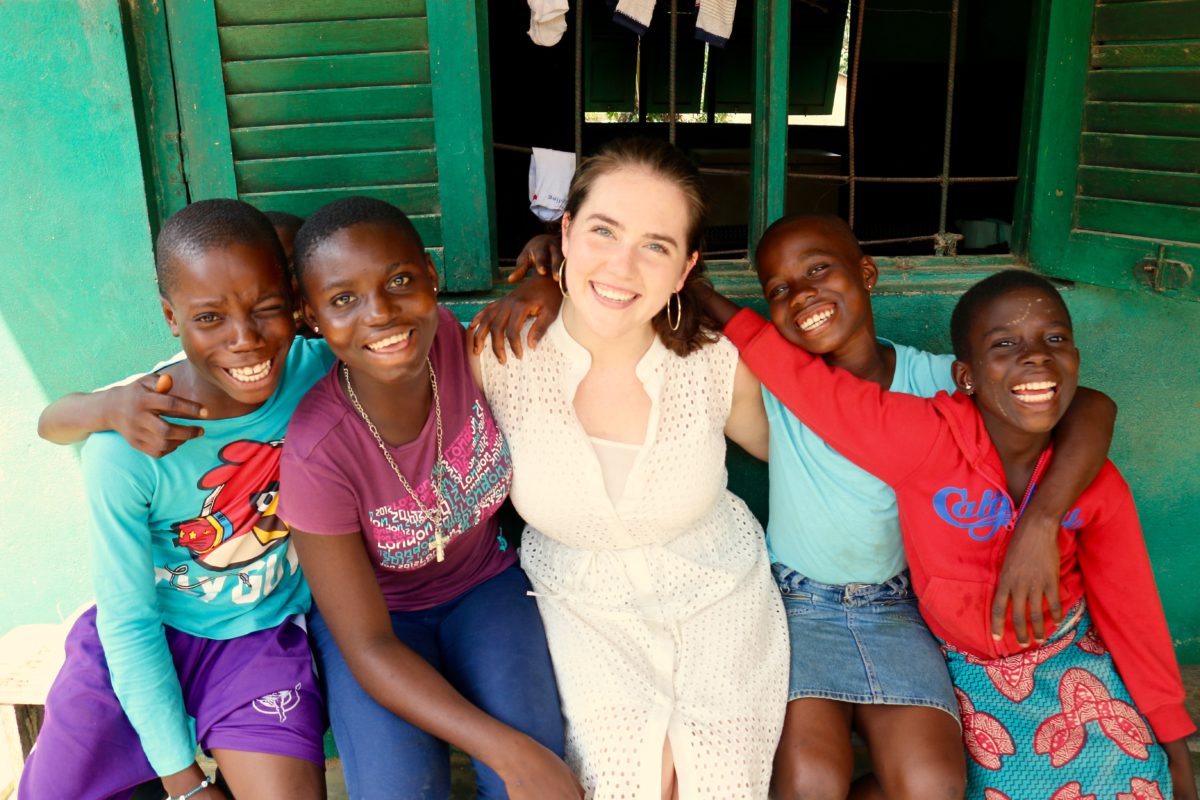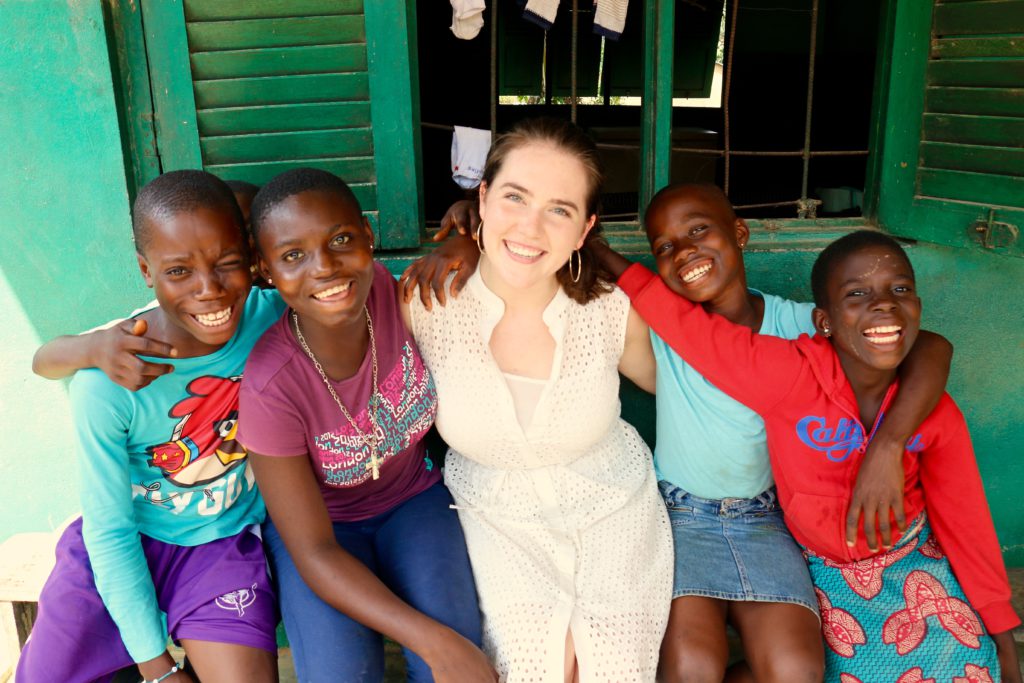 The Fulbright English Teaching Assistantship (ETA) is a year-long opportunity for recent graduates to teach English abroad and experience the culture of another country. With a focus on personal diplomacy, the Fulbright ETA program places fellows in schools where they offer English language support to classrooms. The flexibility of the ETA program allows for fellows to design much of their own experience outside of the classroom – such as organizing after-school clubs, taking language classes or joining a local sports club.
Cathryn Peirce, a current Fulbright ETA in Côte d'Ivoire, spoke with us about her experience as a fellow and some of the initiatives she has taken to make her experience a memorable one.
1. What inspired you to apply to the Fulbright ETA?
Whereas some people discover their core beliefs in a place of worship, through familial traditions, or even in a near death experience, I discovered my core beliefs in classrooms.
I've always said that a good education refines a student's mind, but a great education refines a student's character, and I was lucky enough to receive the latter. My high school and college teachers – whom I admire as much as, if not more than, the writers, scientists, advocates, and philosophers to whom they exposed me – made education a process through which I evolved as an academic and a person. With total confidence, I can say that I discovered myself through my education, and more specifically, through the incredible teachers I was blessed to meet along the way.
Having had such a transformative experience at school, I couldn't conceive of a more rewarding, challenging, and invigorating way to spend my first year out of college than to share my passion for education with others in a new country and culture. Of all the fellowships and job opportunities that I considered, the Fulbright ETA stood out as the most immersive, high-impact, and exciting way to accomplish that goal. Having had an incredible time so far, it's my hope that Fulbright will be the first of many career steps I take that reflect my values, passion for social advocacy, and positive determination to make a difference.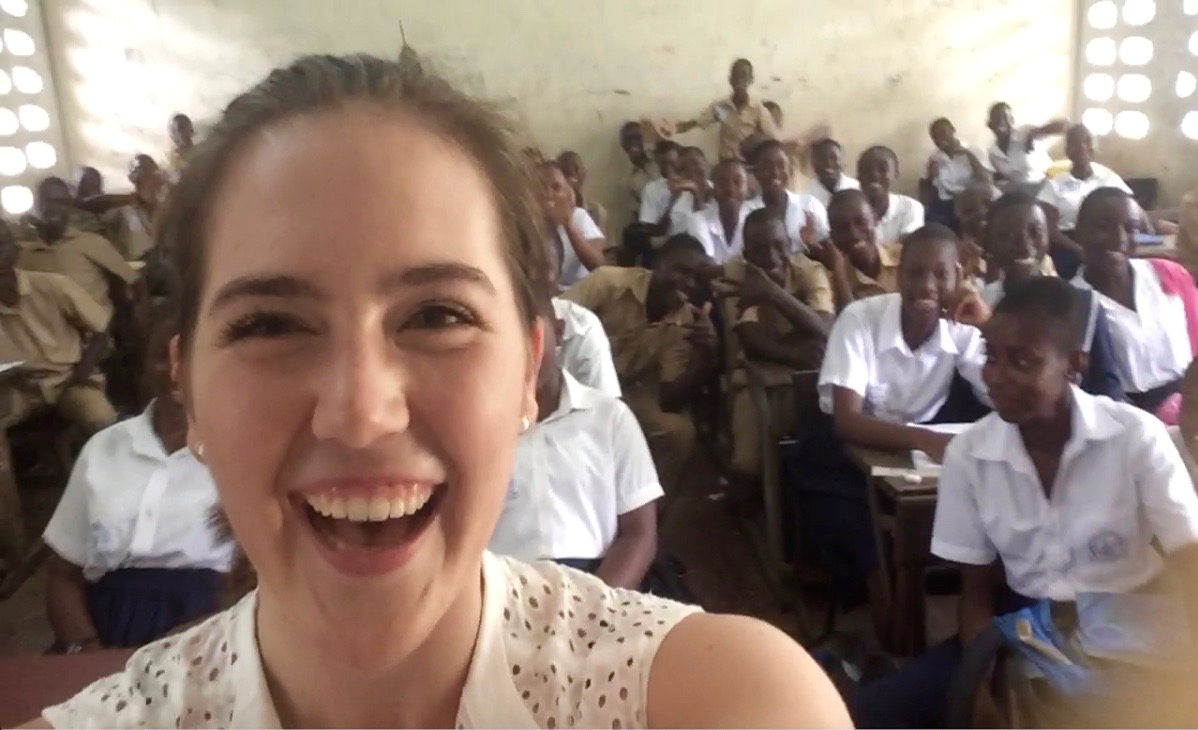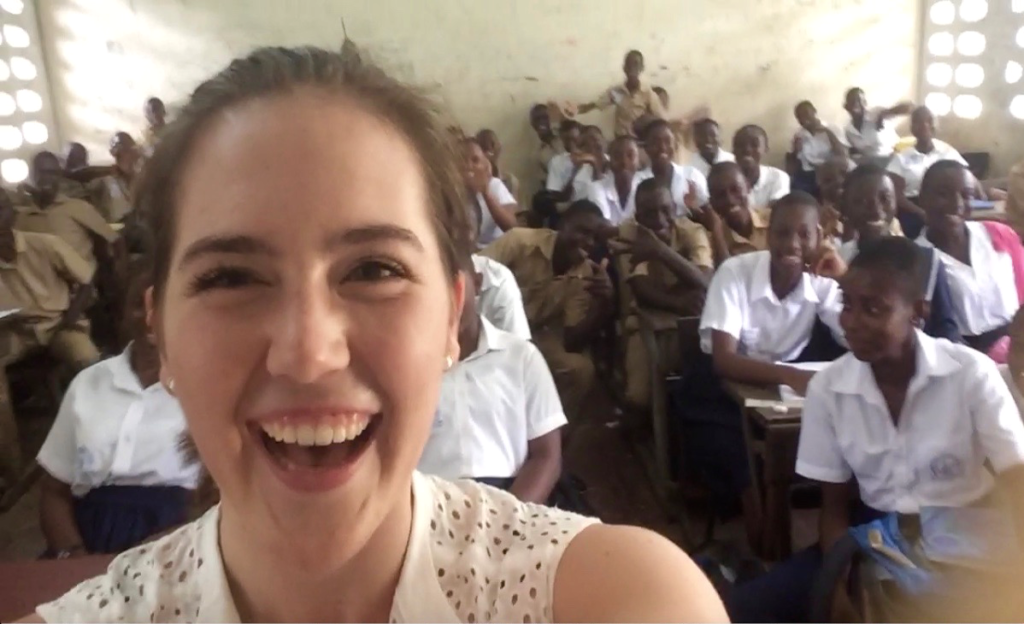 2. What is a typical week like for a Fulbright ETA?
As a Fulbright ETA in Abidjan, Côte d'Ivoire, I regularly experience joy, amazing food, laughter, price haggling, and community – everything else is constantly changing. Strikes, exams, schedule changes, holidays, and even militia mutinies can mean a lot of flux from week to week, but it's all part of the adventure! If, however, a school week isn't interrupted by one of those things, it goes a little something like this.
I wake up at 6am and need to be out the door, hailing a taxi by 6:30am to avoid morning traffic. I eat my breakfast in the teacher's lounge at Collège Moderne de Cocody, and give my greetings to all the other staff. In Abidjan, it's a social rule that you must say hello to someone if they walk into the room, even if you're in the middle of another conversation. Most mornings, therefore, we spend a majority of our time greeting each other and asking about each other's family.
From 7:30am-4:30pm we have classes. Unlike traditional teachers, I don't have set classes. Instead, I circulate through all 57 English classes at Collège Moderne de Cocody, working with a total of 4,500+ students from ages 9-18. My average class size is about 80 students in classrooms that are really designed to fit 60, so it's often very cramped and very hot. Since we don't have any wifi or technology in the classroom, we do most of our exercises on the chalkboard. To prepare lessons for such a variety of classes and skill levels, I routinely consult the other English teachers and stay apprised of the progress they make in the class textbooks. On the days when I'm in the classroom, I pick up where the teachers left off in the textbook, but infuse the lesson with examples, activities, and reading prompts that I have chosen. In this way, I strike the often difficult balance of respecting the school's curriculum while making the lessons my own. I especially love using songs, poems, and articles to open discussions on self-confidence, human rights, and self-expression, so there's often a lot of singing, dancing, and performing in my classrooms!
After school, I do different activities depending on the day of the week. On Wednesday afternoons, I host an English club for about 100 students that can entail anything from writing skits to hosting our own Ivorian Thanksgiving. On Thursdays, I teach English at the Andrew Young Center for Entrepreneurship and then take African dance classes with my friend Masina, a professional dancer from Togo. Most nights during the week, I grade tests. Though my school schedule keeps me busy, my goals for the new year are to offer computer literacy courses for teachers at Collège Moderne de Cocody, create a young women's development club to discuss and address gender inequity in Côte d'Ivoire, and to offer seminars to students on the Dos and Don'ts of writing application essays for American Universities and fellowships.
On the weekends, the other ETAs and I reap the benefits of everything Côte d'Ivoire has to offer! We travel to villages outside the city, visit the beach, attend concerts and weddings, eat at our favorite maquis (an outdoor restaurant that serves traditional food like foutou, attiéké, poulet braise, alloco, etc.), go to parties with friends, buy local fabrics, get clothing made, prepare lessons, and start all over again on Monday!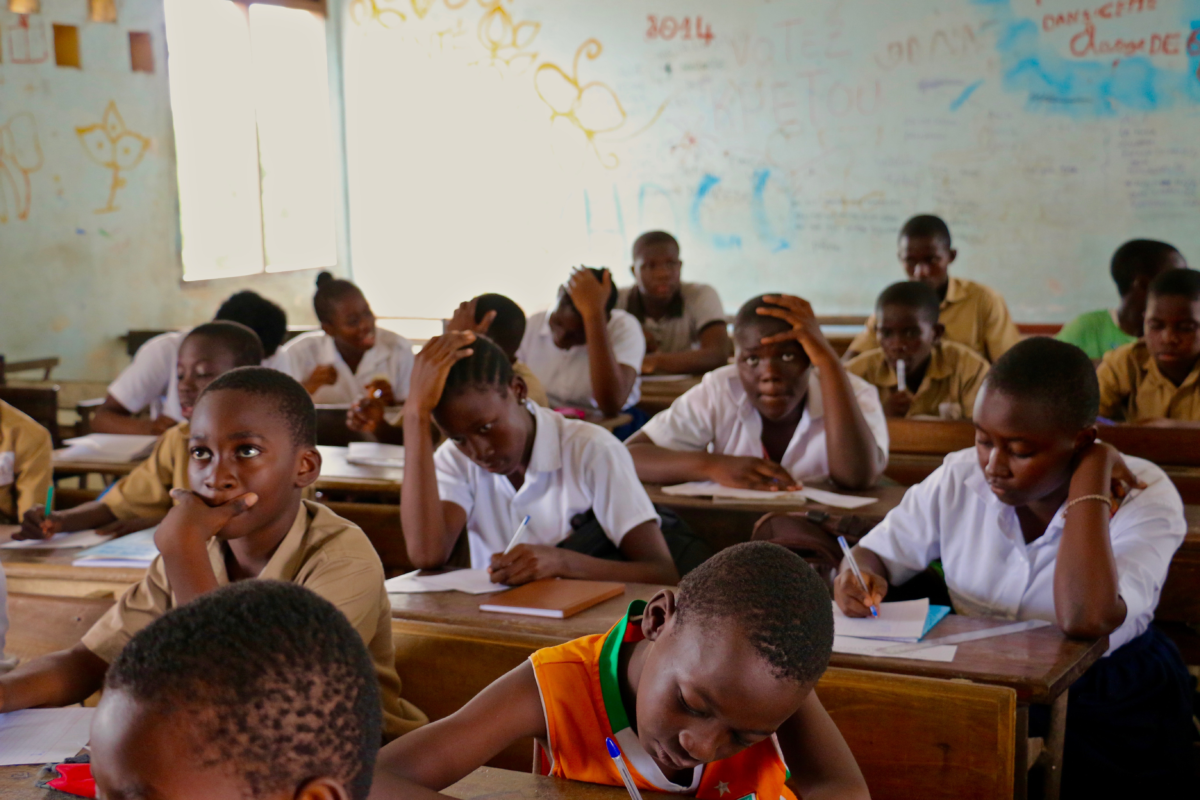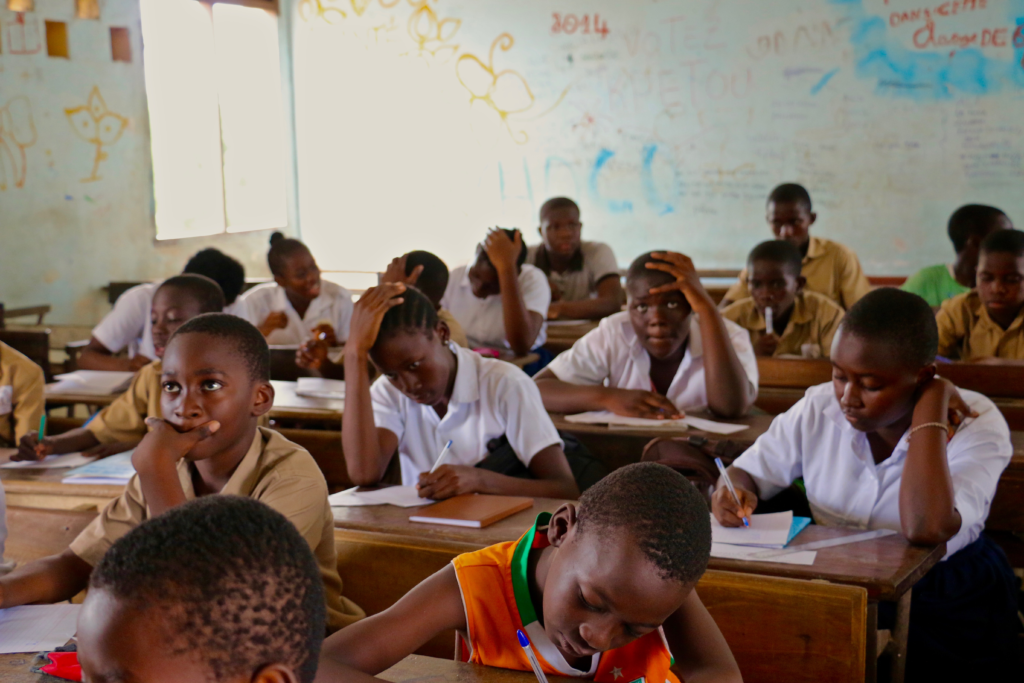 3. What advice would you give others applying for a Fulbright?
Obviously, each country has slightly different priorities and there's never an exact formula for receiving a Fulbright grant. Nonetheless, I think that these things made a difference when I applied:
Experience in Tutoring: I emphasized how being a Fulbright ETA would be a natural transition from the tutoring work I had already done throughout college and high school. If you haven't acted as an English tutor in the past, use examples of work that you've done as a discussion facilitator, counselor, or club leader – something that suggests your ability to devise lesson plans, lead instruction, and manage a classroom confidently and capably.
Familiarity with the Country: The more specifically that you can articulate why you want to be in X country, the better. Host institutions want to know that your decision to be an ETA in their country is born of something more substantial than whims, wanderlust, or high acceptance rates. As much as possible, relate your reason for choosing the country to your studies, passions, experiences, identity, and ambitions.
Language Proficiency: A huge part of the ETA experience is engaging with the community outside of the classroom in the local dialect! In fact, the US embassy in Côte d'Ivoire has a mandatory interview to ensure that its finalists speak French proficiently. In your application, demonstrate your foreign language skills via studies, clubs, and study abroad experiences. For the interview, brush up on your speaking skills, review your grammar, and even consider joining sites like My Language Exchange or Language-Exchanges, which enable you to practice the language with native speakers in exchange for English conversation. Not all programs require foreign language skills, but if they do, take the requirement seriously.
Flexibility, Diplomacy, and Open-Mindedness: These are hard to demonstrate on a resume, essay, or during a short interview, I know. That being said, I really do believe that these character traits play a huge role in receiving and making the most of a Fulbright grant. Regardless of where ETAs are stationed, they are going to encounter bureaucratic red tape, idiosyncratic inefficiencies, cultural differences, strikes, unfamiliar approaches to education, and/or general work frustrations. The State Department, the Fulbright Program, and the host countries all want to know that their ETAs will handle such challenges with flexibility, diplomacy, and open-mindedness, and that obstacles will become opportunities for growth and cross-cultural partnership instead of conflict. Be prepared to talk about experiences when you successfully worked with people who had different political, cultural, religious, and/or social views than yourself, how you approached that dynamic, and what made it successful.
Interested in applying? Bookmark the Fulbright English Teaching Assistantship to your ProFellow account and check out our Fulbright application tips.
Cathryn Peirce was raised in the suburbs of Philadelphia, Pennsylvania where she attended the William Penn Charter School. In 2016, Cathryn graduated Summa Cum Laude from the University of Pennsylvania with double majors in European History and Cinema Studies and a minor in French. As a campus leader, Cathryn used her roles in student government and peer mentoring to advocate for sexual violence prevention, intersectional feminism, and social justice. Cathryn enjoys Ivorian food, New York Times crossword puzzles, dancing, reading, watching films, and living by the belief that strangers are friends yet to be made.  
© Victoria Johnson 2017, all rights reserved